Scot Gray's Eclipse GSX Featured on Overboost.com
Scot's GSX just got shot for SCC magazine and will be coming out next month there. Here it is on www.overboost.com right now:
1994 Mitsubishi Eclipse GSX
8/25/2000
John C. Naderi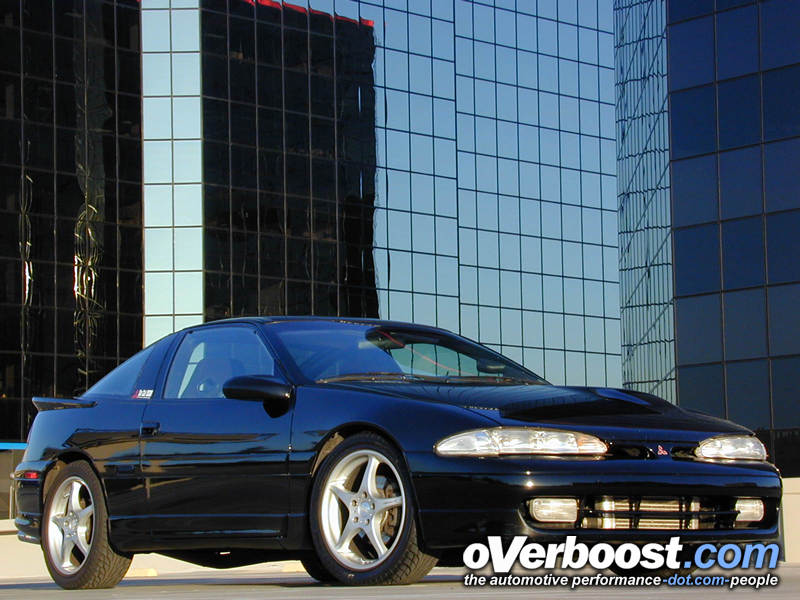 Throughout the DSM circles and chat forums the tales surrounding this car (and its owner's prodigious driving talents) have grown to mythical proportions. We know this because our web architect is the proud owner of our Project Eclipse and he constantly regales us with starry-eyed stories about this car's exploits. We've heard many different accounts of this car and driver manhandling Porsches, Ferraris, Vipers and 'Vettes on strip and street circuits. With this in mind, we nervously ventured out for an appointment with the man who belongs to this legendary machine. Upon our arrival we half-expected to find a Thor-like gladiator standing next to the Batmobile in front of some fog-enshrouded castle.
What we found was actually a mild-mannered Scot Gray standing in front of his equally mild-mannered 1994 Mitsubishi Eclipse GSX. After we completed our photo session Scot agreed to take us for a "relaxing" drive through the hills by his home. Once behind the wheel Scot quickly shed his Bruce Wayne image. Straight line acceleration runs are not really dramatic affairs as the all-wheel drive delivers you to warp speed in the same fluid fashion as the Millennium Falcon. But it was through the twisties that both the Eclipse and Scot's tremendous driving talent shone through. We've had the opportunity to be both pilot and passenger in some of the most powerful race and street machines on every circuit from Willow Springs to the Nürburgring but nothing could have prepared us for this ride. "I've been to Skip Barber's school and I've put the car through over 120 track sessions," Scot told us nonchalantly. This was not cocky bragging on his part but rather something he probably says to alleviate passengers before reducing them to frightened, whimpering sacks of limp flesh.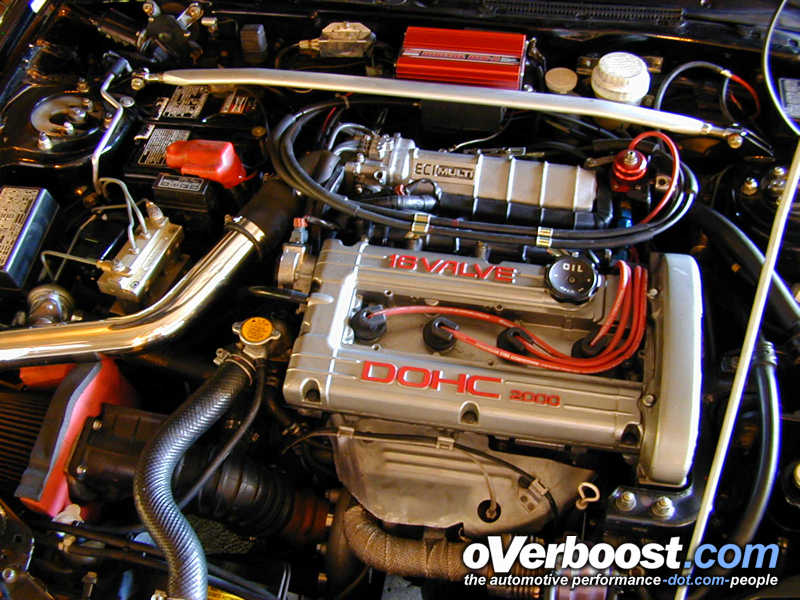 Our brief ride with Scot confirmed the many fantastic tales we've heard so many times before. We're obliged to report that both the car and driver, do indeed live up to the hype. Through a series of second and third gear hairpins and sweepers we experienced firsthand the Eclipse's incredible adhesion and slot car-like transitions. "You have to drive it brave," Scot says in terms of the GSX's quirky AWD demeanor. In order to demonstrate Scot trails the throttle into a hard left and we begin to plow directly into the side of a rather solid looking mountain face – it takes a heavy right foot to bring things back under control. During a recent paper magazine test (one which the little black DSM dominated in virtually every category) even the highly-skilled automotive journalists couldn't get a handle on the Eclipse – as indicated by the heavily "chunked" front tires (those who can't drive cars, write about them-OVB).
But it was on Malibu's famed Kanan Road that we felt the true power of the beast. We happened upon a Fly Yellow Ferrari 360 Modena and a black 911 Turbo (993). As we slowly came around the pair of supercars Scot blipped the throttle a couple of times but the Ferrari owner wouldn't bite (probably one of those Hollywood types more concerned with how he looks in the car as opposed to how he drives it-OVB). But for a brief moment the Turbo driver gave chase – we say "brief" because in that moment Scot reduced the Porsche to a tiny spec in the rear view mirror – a mirror that reads – "Objects in mirror are getting their asses kicked (perhaps Scot's only concession to ego, albeit well-deserved-OVB)." Even if the Stuttgart Wunderkind had run full-out it would have still been futile. Look at these numbers:
Car Comparisons

top speed,
mph

Ferrari 360 Modena
Porsche 911 Turbo (996)
Scot Gray's Eclipse

But when the weather outside turns frightful the Porsche and the Ferrari may turn tails (literally) but with a flick of the wipers the AWD Eclipse is ready to go. Zero-to-sixty in the wet still comes up in 3.9 clicks and on a puddle-laden skidpad the little black coupe will still hold 1.02 g's. The 490 horses under the hood equates to 412 when measured on the Dynojet 248C. While this is the most recent dyno sheet but Scot tells us that the car makes noticeably more power now. So how did Scot Gray manage to turn his Eclipse into the supercar stalker you see here?
As the song lyrics go, Scot gets by with a little help from his friends. The Eclipse's monumental performance upgrades are courtesy of Road/Race Engineering. It is safe to say that the crew at this Huntington Beach, California shop knows a little something about Diamond Star cars. The Road/Race crew is revered as god-like when it comes to DSM tuning. These guys know all the tricks and they utilized them on Scot's Eclipse. The factory head was ported and polished and treated to an HKS Metal Head Gasket and ARP Head Studs. A '95-Spec exhaust manifold was ported as was the throttle body elbow and MAF Sensor. The stock bump sticks were tossed in favor of a pair of Web Cam units. But the real gem under the hood is the Frankenstein Stage 2 Turbo from Texas Turbo. The high-output turbine is complemented by a "crushed" stock blow-off valve, TIAL External Wastegate, HKS front mount intercooler, an Intercooler sprayer (custom-fabricated with help from Home Depot), RRE intercooler piping, Buschur Racing polished upper intercooler piping and a 3-inch RRE O2 Eliminator Downpipe.
Big turbos produce big heat and since the massive HKS front mount occupies such a large frontal area RRE supplied one of its "Racing" drop in radiator replacements and Scot fabricated a clever ducting system to direct fresh air to the engine bay. In addition to extra cooling big turbo set-ups require extra fuel and this was accomplished with a CarTech External Adjustable Fuel Pressure Regulator, Blitz 660cc injectors and a hardwired Walbro 255Lph HP in-tank fuel pump. Waste gases exit through a Random Technology 3-inch high-flow catalytic converter to a 3-inch RRE exhaust with Dynomax SuperTurbo muffler.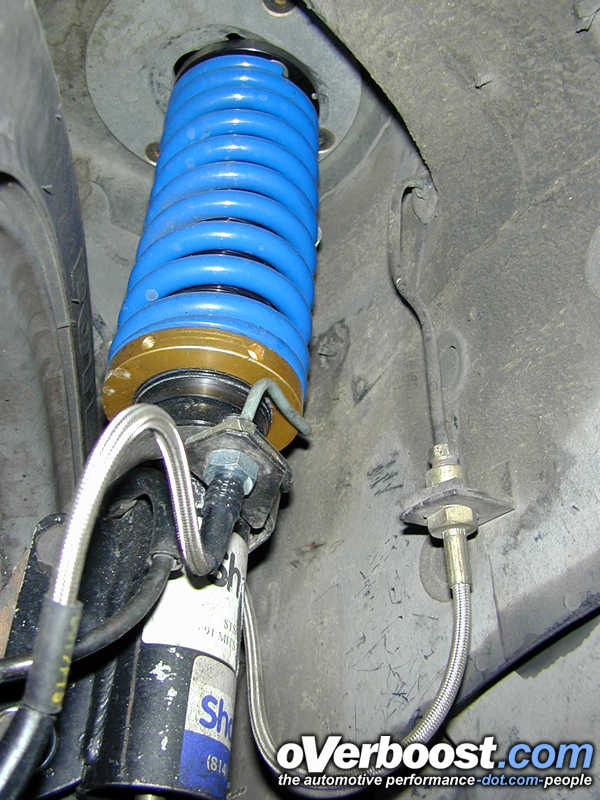 Engine management is assisted by a TechnoMotive Stage III ECU and Data Logger, A'PEXi AFC and an MSD DIS-2 Ignition Amplifier and 2 Stage Rev Limiter. Scot monitors the engine vitals with a GReddy Turbo Timer and Digital EGT gauge and an AutoMeter boost gauge. And, believe it or not, Scot uses a Radio Shack intake temperature gauge, narrow range LED A/F meter and an A/F ratio digital-volt meter.
Scot enlists a wide variety or tire/wheel combinations to help him create supercar stats on the streets, strips and circuits of Southern California. On the street Scot rolls on SSR Integrals in a 17×7 fitment with Bridgestone Potenza rubber. For the drag strip he uses his stock 16-inch alloys with Dunlop SP8000s inflated to 20 psi. Scot tells us this provides a relatively low traction combination so the car will spin all four tires briefly off the line and help spool the turbo (good-OVB) and not snap the axles (bad-OVB). Four hundred and ninety horsepower and AWD make for intense drivetrain abuse. The Eclipse's five-speed tranny is beefed up with a Quaife Torsen-style center differential and an ACT 2600 Street Disc clutch with a lightened flywheel (Scot says even this clutch is prone to slippage). For circuit racing on a real track Scot's current choice is 16-inch Prime 5-star wheels with Kumho VictoRacer V700 Rs or Toyo Proxes RA1s – depending on what is available. But Scot claims these wheels are ridiculously heavy and really ugly (his wording not ours – OVB legal department), but hold air and fit on the car. He is planning to replace them with Kosei K1's soon.
To create over 1 g of cornering capabilities Scot utilizes an RRE coil-over suspension with custom-valved Bilstein front struts and GAB Adjustable rear shocks. RRE's own "Anti-toe" rear lower control arm modification and front Adjustable Camber Plates were also added. A Suspension Techniques rear antisway bar and Racer Design front and Extreme Motorsports rear strut tower braces help reduce chassis flex. To help shave speed rapidly Powerslot rotors with Axxis Metal Master pads and Goodridge stainless steel lines are also used.
With the talented Road/Race team Scot has truly created one super car for much less than a supercar (with even more performance to boot). Beware exotic car owners, your large checkbooks can't compensate for this little black beast and sooner or later its owner will have his sights set on you. For more info visit Scot's site at www.dsmporn.com
Car Specs

1994 Mitsubishi Eclipse GSX

Engine Type:

DOHC 16-valve four-cylinder

Engine Mods:

Ported and polished factory head; HKS Metal Head Gasket; ARP Head Studs; Ported '95-Spec exhaust manifold; ported throttle body elbow and MAF Sensor; Web Cams 264 Intake, 272 Exhaust; S&B Air Filter; Texas Turbo Frankenstein Stage 2 Turbo, Ported, 10 Degree Clip; "crushed" stock Blow-off valve; TIAL External Wastegate; HKS front mount intercooler; Intercooler sprayer (Home Depot); RRE intercooler piping; Buschur Racing Polished upper intercooler piping; 3-inch RRE O2 Eliminator Downpipe; MSD DIS-2 Ignition Amplifier and 2 Stage Rev Limiter; Magnecore plug wires; NGK BP7E plugs; Ported O2 sensor housing; RRE "Racing" drop in radiator replacement; CarTech External Adjustable Fuel Pressure Regulator; Walbro 255Lph HP in-tank fuel pump (Hardwired); Blitz 660cc injectors; Random Technology 3-inch high-flow catalytic converter; 3-inch RRE exhaust with Dynomax SuperTurbo muffler.

Engine Management:

TechnoMotive Stage III ECU (No Fuel Cut) TechnoMotive Data Logger; A'PEXi AFC

Drivetrain:

Five-speed manual transmission with Redline MTL; Quaife Torsen-style center differential with Redline Shock-Proof; ACT 2600 Street Disc Clutch with lightened flywheel

Suspension:

RRE coil-over suspension (375 lbs front, 425 lbs rear) with custom-valved Bilstein front struts and GAB Adjustable rear shocks; RRE "Anti-toe" rear lower control arm modification to; RRE front Adjustable Camber Plates with upgraded Perches; Suspension Techniques 1.25-inch rear antisway bar with polyurethane bushings; Racer Design front and Extreme Motorsports rear strut tower braces

Brakes:

Powerslot rotors; Axxis Metal Master pads; Goodridge stainless steel lines

Wheels:

Street – SSR Integral 17×7; Circuit – Prime 5-Star 16×7; Drag – '94-Spec Mitsubishi Eclipse GSX 16×6

Tires:

Street – Bridgestone Potenza RE730 All-Season 225/45ZR17; Circuit – Kumho VictoRacer V700 R compound or Toyo Proxes RA1 tires 225/50R16; Drag – Dunlop SP8000 205/55R16

Exterior Mods:

1997 Montero Sport Mitsubishi logo; clear turn signal lenses

Interior Mods:

Corbeau Targa Racing Seats and Schroth AutoControl Harnesses; RAZO billet aluminum pedal set

Mobiletronics:

GReddy Turbo Timer and Digital EGT gauge; AutoMeter Boost gauge; Radio Shack intake temperature gauge; narrow range LED A/F Meter (.70-.95 Volt); A/F Ratio digital-volt meter; Pioneer DEN-245 head unit