---
---
---
---
---
---
---
---
---
---
Nine Lives – 2003 Mitsubishi Lancer Evolution VIII
An Evo That Just Won't Die
By Luke Munnell
Photography by Eric Kieu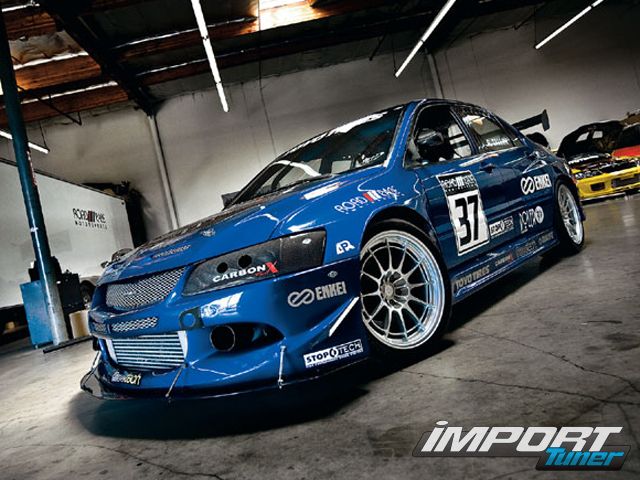 Not all Lancer Evolution VIIIs made it into public driveways. Some were destined for other fates, the most common of which being something we journalists know intimately as "press car" status. In most cases, press cars are destined to be crushed after their short test phase, because they are released before seeing approval from the Department of Transportation and the EPA. It sounds like a sad story, but really you'd be hard pressed to find a rental car as abused as most press cars are.
Think about it. These things are driven by hundreds of different people for one week at a time, with no concern whatsoever for break-in miles, warm-up time or anything else of the kind. If you think the Evo on these pages has ever slowed for a speed bump or been rubbed with a diaper, you are sorely mistaken. Press cars age in dog years. A press car with 20,000 miles on it is already gone. That's not to mention that this particular press car started life in rainy mainland Malaysia and went on to a career in racing before evolving into the wide-body race car you see before you.
So you're looking at an anomaly-the press car that just won't die. Not because it hasn't wanted to a few times in its life, but because it's had too many Dr. Frankenstein owners force it back to life when all it wanted to do was call its long career in. In the hands if its current owners, Road Race Engineering (RRE) in Santa Fe Springs, Calif., it won't be facing its demise in the jaws of a metal junkyard monster any time soon. According to RRE's Mike Welch, "We don't get rid of cars, we race them until they reach the end of their life cycle, then we own them some more."
This Evo VIII started life at RRE as a race car back in 2003. This isn't your typical story of a car that started small and moved on to the big modifications. The car had barely been in the RRE garage for a week before stock parts were torn off. The stock turbo was ditched in favor of a GReddy turbo kit and front-mount intercooler, while the factory suspension was tossed and replaced by a system from JIC. A four-wheel big brake kit from Stoptech with four pistons on each caliper and 355mm rotors all around got the party started right. Finally, a custom sheetmetal intake manifold from Magnus helped to increase airflow into the engine.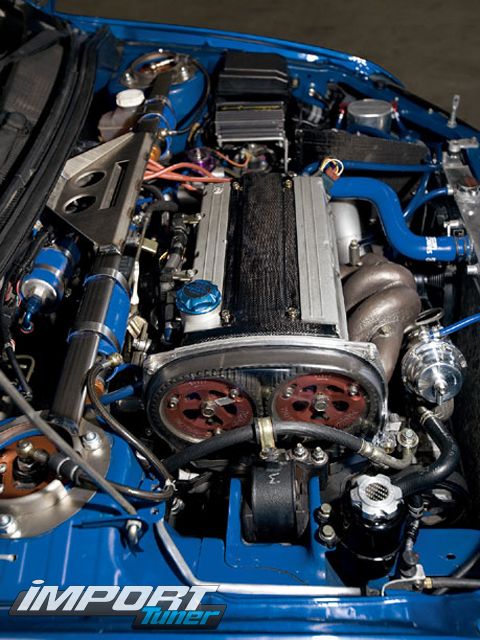 But as the American Evo aftermarket developed, Road Race Engineering was afforded a larger list of specialized components from which to choose. In addition, RRE developed many custom parts itself, like a cast turbo manifold-less prone to breakage than a tubular unit. The GReddy wastegate was exchanged in favor of an external unit from TiAL, while the GReddy Type-S blow-off valve was left to vent into the atmosphere. Intercooler piping leading to the GReddy core was replaced with a custom set from RRE. While Road Race was fabricating, it belted out a custom downpipe to guide hot air out of the turbocharger and into a Magnaflow exhaust. Being as inventive as the guys at RRE are, a Subaru up-pipe was used on the other side of the turbocharger and a custom intake was quickly fabbed up.
The turbocharger would be blowing boost into a 2.4-liter engine, machined out by Millenium Motorsports in Temecula, Calif. Before the new block was bolted to a Cosworth head, forged Wiseco 9:1 pistons were installed on top of forged Eagle H-Beam rods to keep the bottom end from turning into a boiler room for hot metal projectiles. The rods were then fastened around a balanced and counter-weighted crankshaft using ARP rod bolts.
The aforementioned Cosworth head seems to be the hands-down choice for all who race Evos. Maybe that's because the only work teams have to do is unwrap the cellophane, bolt it on and race. It comes with a 272-degree camshaft for both the intake and exhaust sides of the valvetrain, stainless steel polished and oversized valves and polished combustion chambers. The valves stay seated with proprietary valve springs and retainers. Finally, a pair of cam gears from AEM was added to regulate valve timing events. Cosworth also clearanced the stock oil pan and a Setrab oil cooler was installed to keep temperature down during long race days in the California desert.
To keep the race car reliably fueled, RRE turned not to the aftermarket but to a car that has been on race tracks since the '60s in some form or another, the Porsche 911. In this case, the Evo employs a Bosch external pump from the vaunted 930 Turbo in conjunction with a Denso internal pump, which in tandem provide fuel to a set of RC Engineering 1000cc/min injectors.
Since this Evo was built before the days of the American Evo RS, it was absent a limited-slip differential up front. RRE remedied the loss by installing a locking LSD from Quaife. To ensure all the power made it to all three differentials, a clutch and lightweight flywheel from Quartermaster were used.
Peak Performance of Lake Forest, Calif., teamed with Advanced Suspension Technology (AST) to provide a set of competition coilovers, while RRE teamed up with Progress Suspension to create the kind of anti-roll bars an all-wheel drive car equipped with copious amounts of rubber would need to rotate on the track. The rear bar measures 27mm in diameter.
The massive rubber comes in the form of 335/30/18 Toyo Proxes, wrapped around gargantuan 18×10.5 Enkei NT03+M wheels. Because of the APR wide-body kit, the wheels have a 25mm offset, something otherwise uncharacteristic of cars coming from the island of Japan.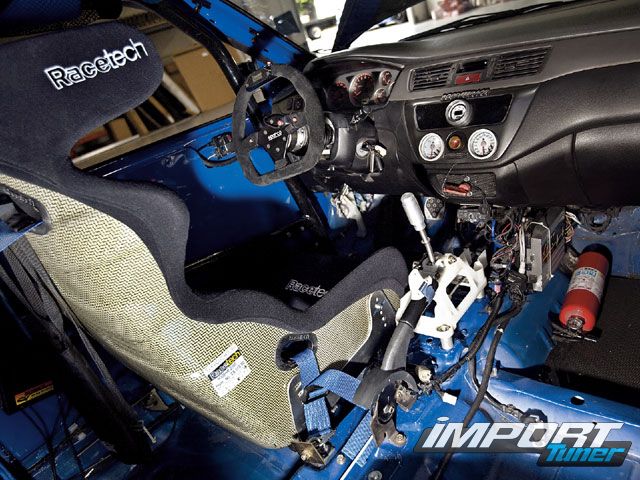 Inside, Racetech carbon-kevlar seats occupy an otherwise lonely cockpit-stripped and roll cage equipped in-house by RRE. Carbontrix stepped in to add firewall and floor panels, but only because they serve a purpose on the racetrack. You might care about a good audio system, but the guys at Road Race couldn't care less. To our "sound system components" question, they simply responded, "Magnaflow 3-inch exhaust, no interior."
This thing was built to go fast, not impress the girl on roller skates at your local Sonic. And go fast it does-driver Robert Tallini has already taken home the gold at the '04 FIA Mexican Championship (Open Class) as well as the Redline Time Attack in Fontana, Calif., (Overall Winner). If there's such a thing as a car having nine lives, this one wrote the book. It's been rebuilt more times than we can count and it's attended SEMA as many years as the Evo has been alive in the states. Thanks to Road Race, it doesn't look like it will be disappearing off the scene any time soon, either.
---
---
---
---
---
---
---