Scot Gray's Eclipse in SCC Magazine – September 2000
RRE tuner Scot Gray got a nice feature in Sport Compact Car Magazine article on his 1G AWD  Eclipse this month.
Double Entendre
By Shiv Pathek
Sport Compact Car Magazine September 2000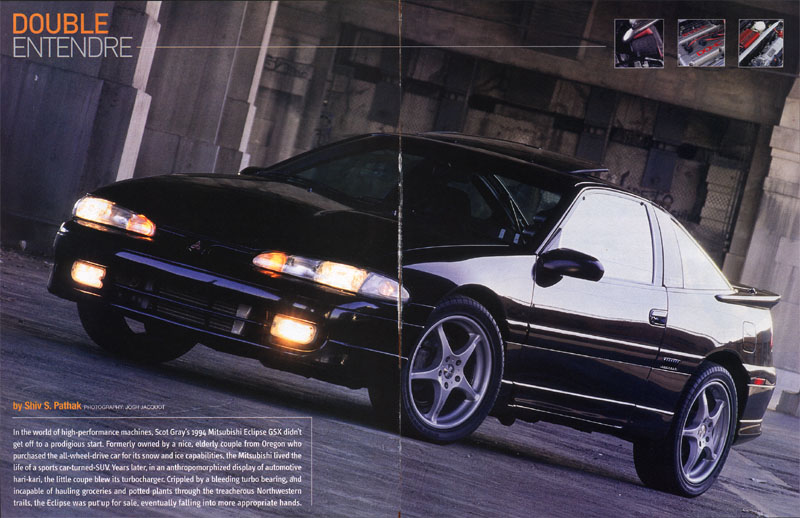 In the world of high-performance machines, Scot Gray's 1994 Mitsubishi Eclipse GSX didn't get off to a prodigious start.  Formerly owned by a nice, elderly couple from Oregon who purchased the all-wheel-drive car for its snow and ice capabilities, the Mitsubishi lived the life of a sports car-turned-SUV.  Years later, in an anthropomorphized display of automotive hari-kari, the little coupe blew its turbocharger.  Crippled by a bleeding turbo bearing, and incapable of hauling groceries and potted plants through the treacherous Northwestern trails, the Eclipse was put up for sale, eventually falling into more appropriate hands.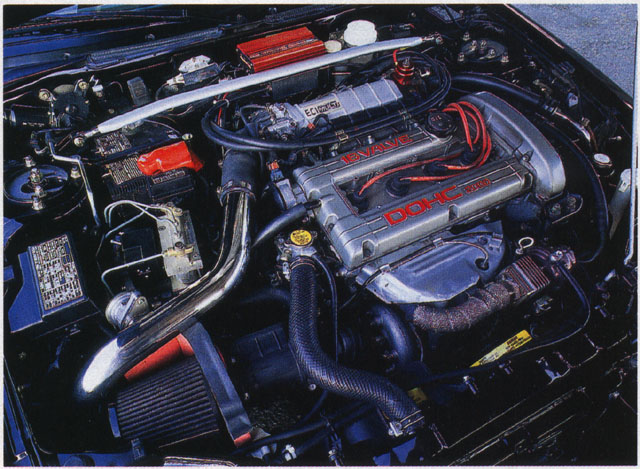 Three years later an abridged performance history of Gray's Eclipse would have you believ­ing that it has made up for lost time. "I upgraded the turbo twice," Gray confessed.   "The factory turbo performed very well, enabling me to run 13.3 E.Ts in the quarter-mile. Later, I upgraded to a ported and clipped (10 degrees) Mitsubishi 16G turbocharger. This upgrade significantly improved top-end power with only a minimal increase in lag."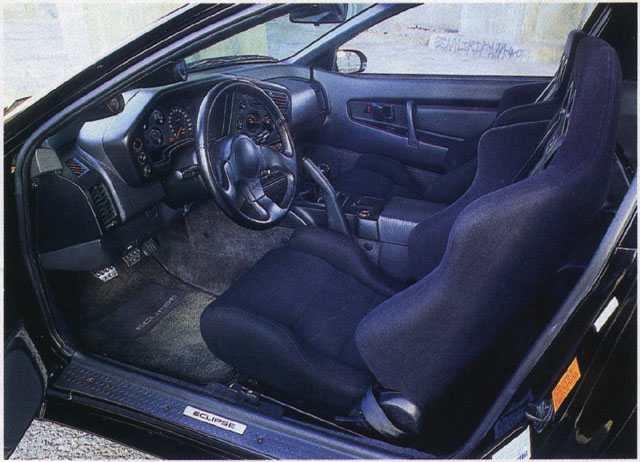 Capable of running mid 12s at the drag strip, all was well until our protagonist ven­tured to Buttonwillow Raceway, overheated the car and warped the cylinder head. Now bitten by the road racing bug, Gray wasted no time in procuring a new factory head. With the assistance of Road Race Engineering (Santa Fe Springs, Calif.), the unblemished head was thoroughly ported and polished. The bottom end, receiving its fair share of attention, was rebuilt with the inclusion of stock 1995 model year 8.5:1 pistons.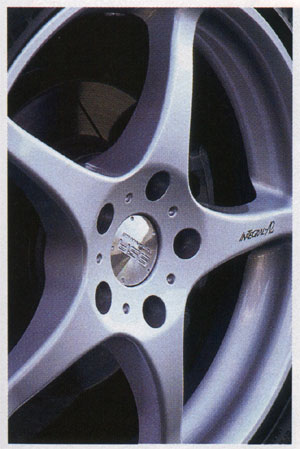 On the road, the performance improvements were obvious. Perhaps a little too obvi­ous, as the combination of higher compression pistons and better-flowing heads resulted in a nasty case of boost creep. To remedy the situation, a generously sized external wastegate from TIAL was ordered. But somewhere between the order and the delivery process, Gray decided to up the ante even further.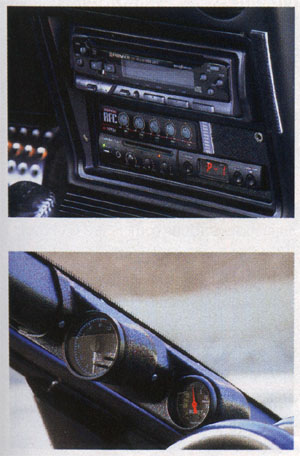 "I decided to upgrade the turbo [again] to make full use of the new wastegate." After a quick long-distance call to Texas Turbo, a "Frankenstein Level 2" turbocharger was on the way. Of course, swapping turbos and wastegates isn't as easy as it sounds. with different flanges and wastegate configurations, Road Race Engineering had to craft a custom 3-inch down-pipe and exhaust manifold.While all this fabrication sounds like a lot of work, there is no doubting its merits. Empirically, the new turbo should be capable of generating more airflow, with less heat and with reduced exhaust back-pressure levels—all of which translate to more horsepower. However, airflow is useless without sufficient fuel delivery and properly timed spark advance.In an effort to meet both requirements, Gray installed a TechnoMotive ECU upgrade. Featuring a number of welcome EPROM tweaks, this cost-effective upgrade removed the boost and fuel cut in addition to raising the rev limiter. As an added bonus, the stock low-resolution, dashboard-mounted analog boost gauge can easily be configured to mon­itor air/fuel mixture, ignition timing, battery voltage or knock sensor output. Coupled with TechnoMotive's optional data logging system, Gray is able to tune the car for maxi­mum power with minimal drivability compromises. In fact, despite driving a car capable of whipping off mid-11-second passes, Gray claims to record better-than-stock fuel economy (25/20 hwy/city to be exact).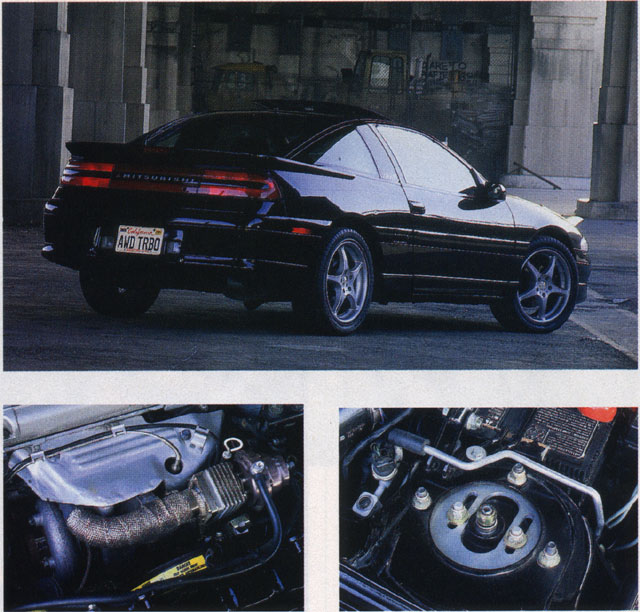 Like the engine, the rest of the car has been set up with both street and track use in mind. For a clutch, Gray chose a sturdy Advanced Clutch Technology 2,600 ft./lbs. pressure plate with a streetable organic friction disk. To strengthen the Eclipse's notoriously fragile drivetrain, a Cusco clutch-pack center limited slip differential was installed. Supporting all four corners are GAB Super HP shock absorbers with 2.5-inch race springs and adjustable threaded spring perches from Ground Control. To ameliorate some of the Eclipse's nose-heavy handling balance, Gray installed a 1.25-inch rear anti-roll bar from Suspension Techniques. And of course, a good road racing suspension wouldn't be complete without a sticky set of R compound tires.
So how does it drive? Ridiculously well, that's how. With a 0-to-60 mph sprint taking a mere (and official) 3.8 seconds, Gray's Eclipse is one of the quickest cars SCC has ever tested. Quite remarkable ending for a formerly pedestrian go-getter.