---
---
---
---
---
---
---
---
---
---
Flow And Low, That Is Our Tempo
Project Ralliart Gets A DC Sports Exhaust, KW Coilovers And SSR Wheels
September 30, 2010
By Jonathan Wong
Photography by Jonathan Wong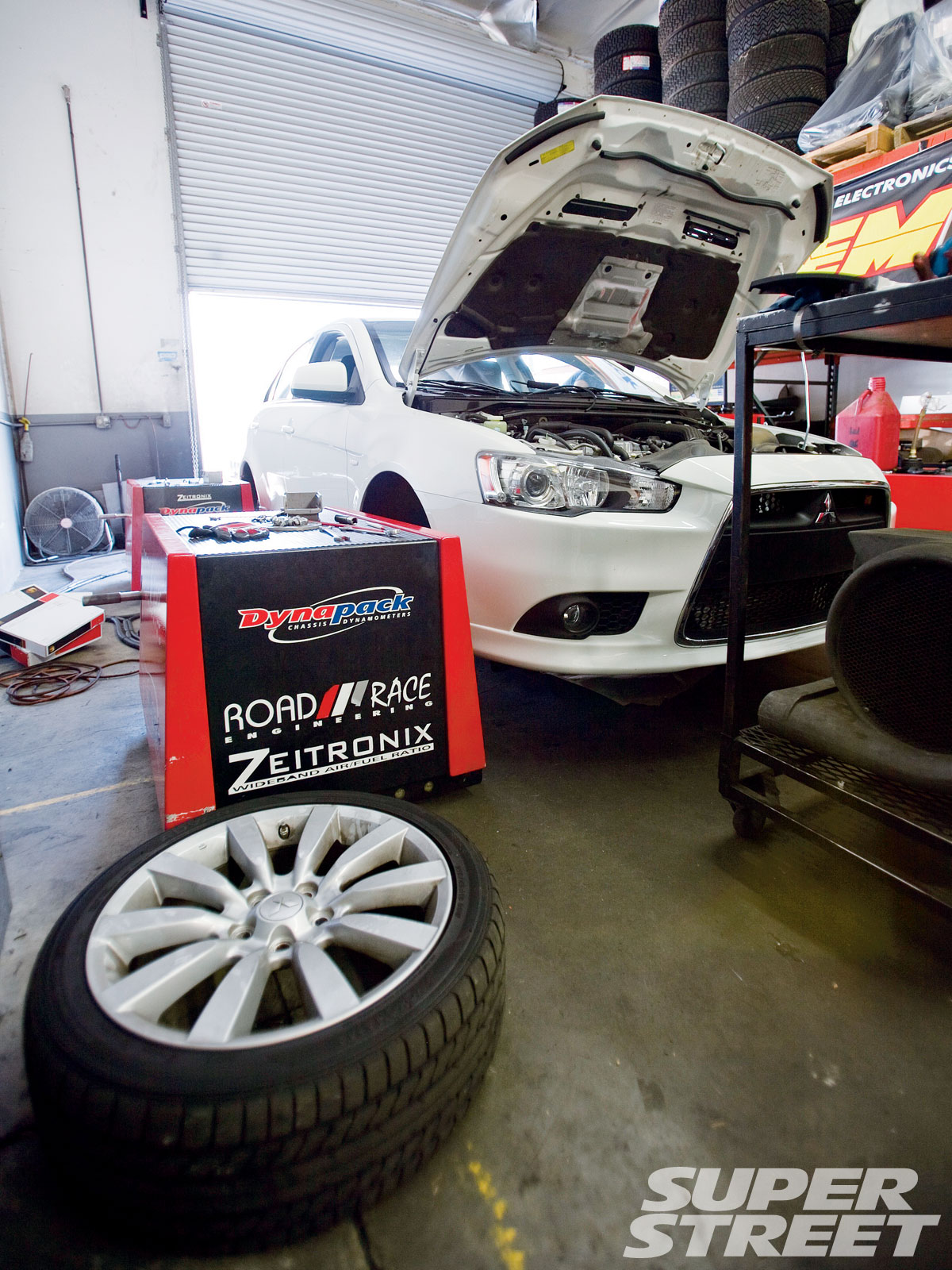 In our last update for our Ralliart Sportback project, we did a simple upgrade of swapping out our engine valve cover with that of Modified's Evo X project – not exactly hardcore tech. So to make up for this, we are going to give you a massive update, ranging from power-adders to the suspension and wheel package we've been dying to install. First up, it's a relief to see that all the products that have been long under R&D have finally reached their final production units and we're grabbing the first ones off the line. And probably like most of you, these are some of the first few mods that people do first to their cars, so we're following right in line with the masses. We think you'll be pleasantly surprised with the results.
DC Sports Exhaust, Upper Intercooler Hard Pipe and K&N Drop-In Filter
In our quest to hit stock Evo X power figures, we had to start somewhere. We learned quickly from Mike Welch at RRE that intake systems don't affect power on the Ralliart quite like it does on the Evo X (due to the variance in intake design and the way air hits the air flow sensor), but an exhaust does wonders. To keep a close-to-stock appearance, we chose DC Sports' DTS (Dual Tip System) after-cat exhaust, which is a three-piece kit made from mandrel-bent, 3" T304 stainless steel. Compared to the stock exhaust, this shiny happy replacement eliminates all the restrictions and improves flow roughly 40%, according to DC Sports. With a couple of friends, installing this exhaust is a breeze with only a few hand tools; just give yourself 20 minutes and a willingness to work out your arms.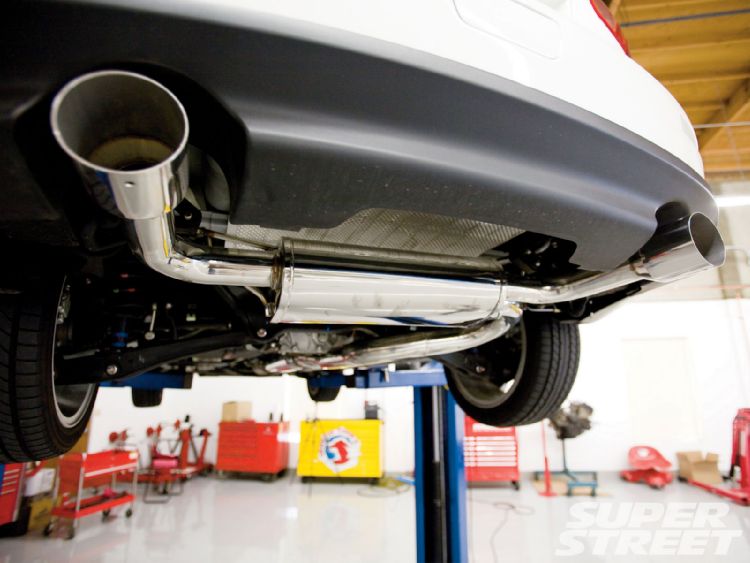 Next, we went back to RRE and put it up on their Dynapacks to see what kind of power improvements we'd see from the DC DTS exhaust. For those of you who are new to this project, in purely stock form, our initial runs resulted in 210hp (200.13hp corrected) and 192lb-ft (164.31lb-ft corrected). Not bad and lots of room for improvement. With just an exhaust modification alone, we saw a surprising total of 228hp (213.60hp corrected) and significant torque increases of 236lb-ft (175.37lb-ft), which gave all of us a reason to smile as it brings us that much closer to hitting our stock Evo X goal. For kicks, we also decided to install a K&N drop-in filter anyway, just to see what it would do. Even with Mike's doubts as to whether a drop-in would perform based on previous experiences, we actually came out surprised once again as we picked up an additional 2hp and saw a more smoothing effect of the power curve in higher rpm. While a K&N drop-in filter may not work wonders on all Ralliart engines, we were sold and would recommend this as an affordable modification.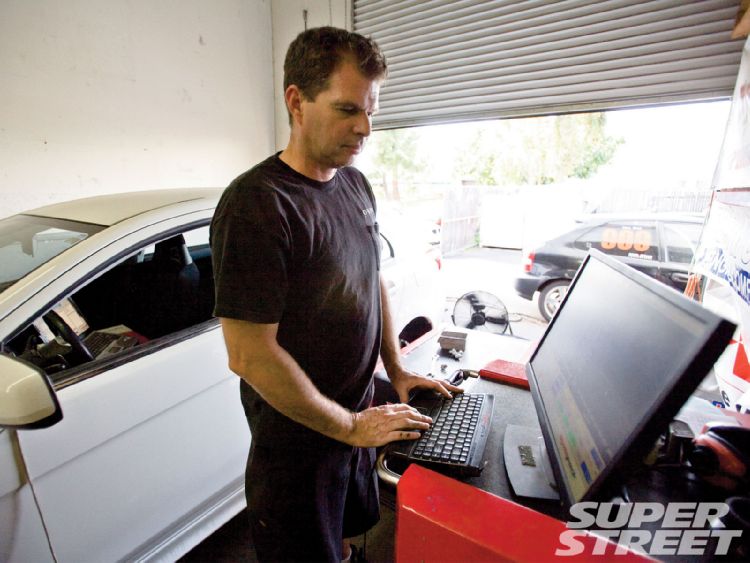 KW Variant 2 Coilovers/SSR Type F Wheels/Toyo T1R Tires
Though there are quite a few excellent choices when it comes to selecting a coilover manufacturer, it was actually more difficult to find a coilover kit for the Ralliart Sportback at all, simply because this isn't an Evo X, due mostly to differences in subframe design. But there was one company who was willing to take on the Pepsi Challenge. KW Suspension, big in the European market and gaining big ground in the US, are huge car and motorsport enthusiasts, recognized the Ralliart's tuning potential based off their Evo research on chassis stiffness, and decided to offer the Variant 2 kit solely for Ralliart buyers. Why only the Variant 2? The car isn't cheap enough to warrant Variant 1s and isn't quite the motorsport beast the Evo X is, so scratch the Variant 3. No doubt, the Variant 2 coilovers still provide superb handling without sacrificing ride quality, a crucial must-have for a street build like ours.
Read more: http://www.superstreetonline.com/techarticles/sstp_1010_project_ralliart_sportback_upgrades/viewall.html#ixzz1fBNboEYI
---