---
$122.99 inc the E85 Hose and clamps and Priority Mail 2/3 Day Shipping
The new AEM 340 lph drop in fuel pump for the EVO X (AEM part number 50-1220) is currently our go-to fuel pump for the best fit and best reliability. We never had much long term luck with the other drop in pumps for the EVO X. Premature wear and clogged up filters were becoming too common.
We have also seen many stock fuel pumps die, some on the dyno right in front of us. While the stock pump when everything is working perfect will keep up with up to 350 whp on pump gas, once the pump and fuel gets hot some random fuel pressure drop offs become common. This has caused some busted spark plugs and the resultant mess from running lean.
When we sell or install the AEM 50-1220 drop in pump for the EVO X, we include a new fuel pressure hose that is compatible with E-85. Even if you have no plans of running E85 now, sooner or later you will :-)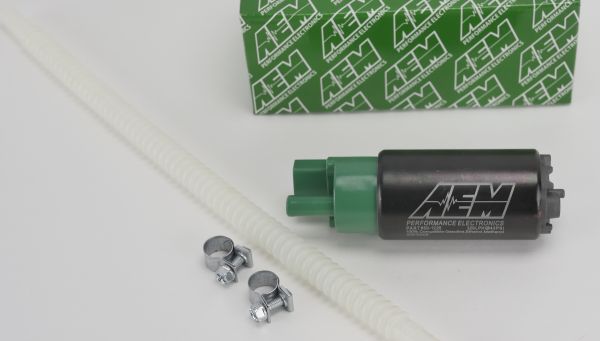 There will be random reviews around the web on other versions of AEM fuel pumps. They are older reviews and "How-To's" before this EVO X specific pump was available. Some people try to use the Walbro 255 size pumps and they require special expensive adapters that eliminate the fuel filter housing. Look! No filter housing :-P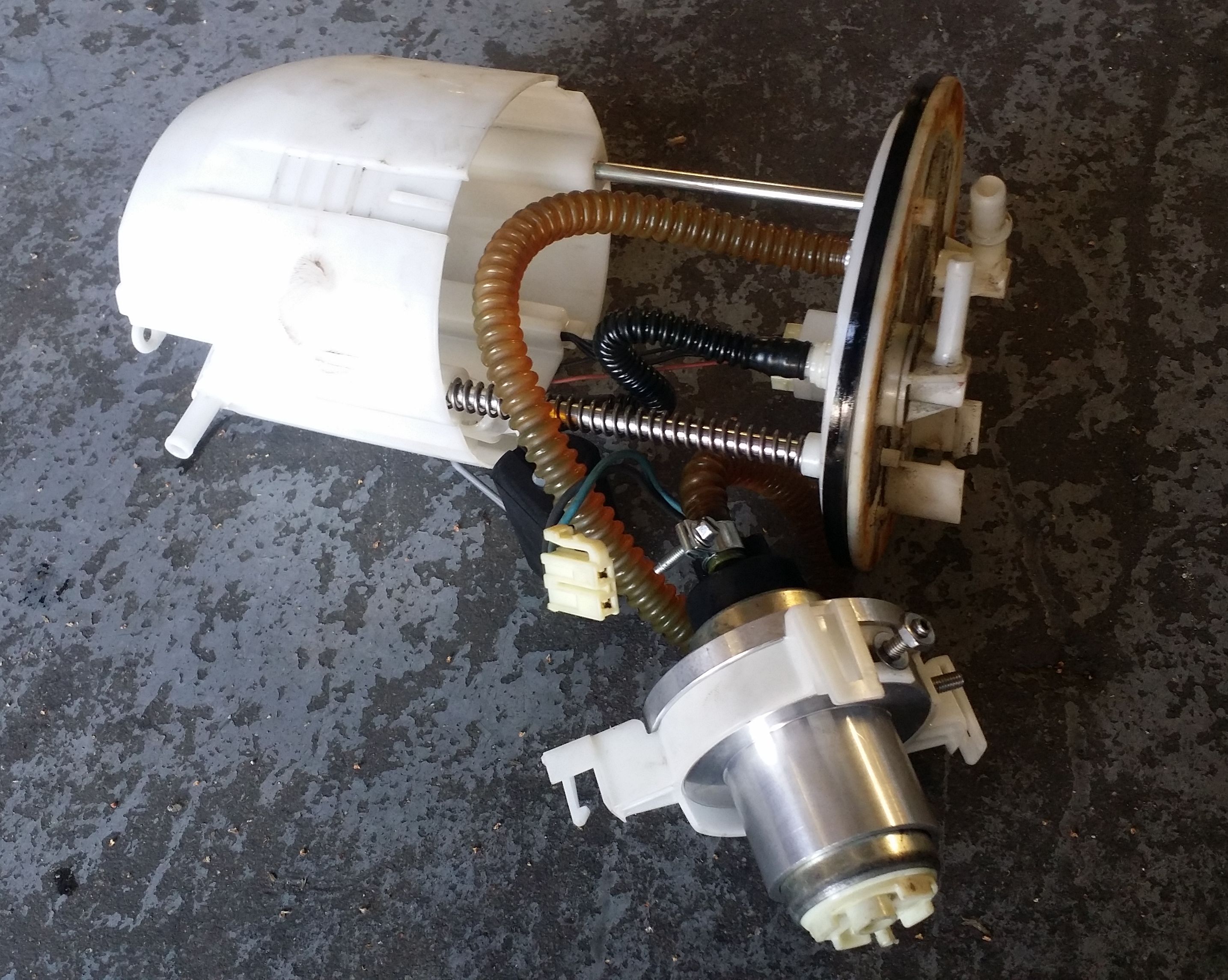 In addition to running no pick up sock, the car that this pump came out of had no fuel filter under the hood either. He was on his second motor after breaking sparkplugs on his first motor with this setup.
Many people confuse the fuel pre filter on the bottom of the pump for the actual fuel filter. That pick up pre filter is just there to keep swarf out of the fuel pump. You need a proper filter after the fuel pump (miniature inline screen filters don't count)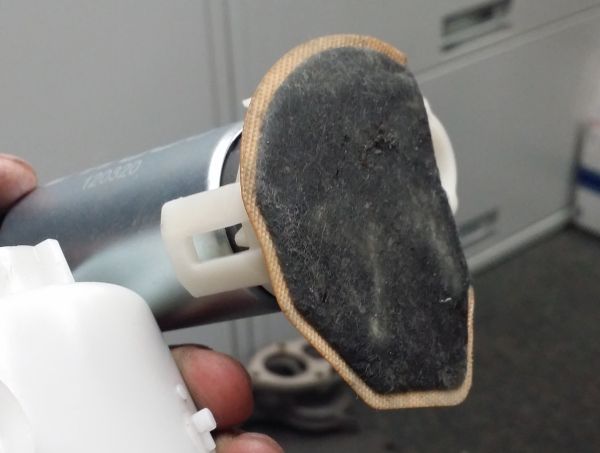 This means that we prefer to keep the factory filter housing in place and functional. We have also seen some seriously sketchy fuel pump installs. Some by under water basket weavers, many with kinked hoses. Often with the wrong hose not rated for high pressure. Somehow something that seems easy to install ends up making a mess.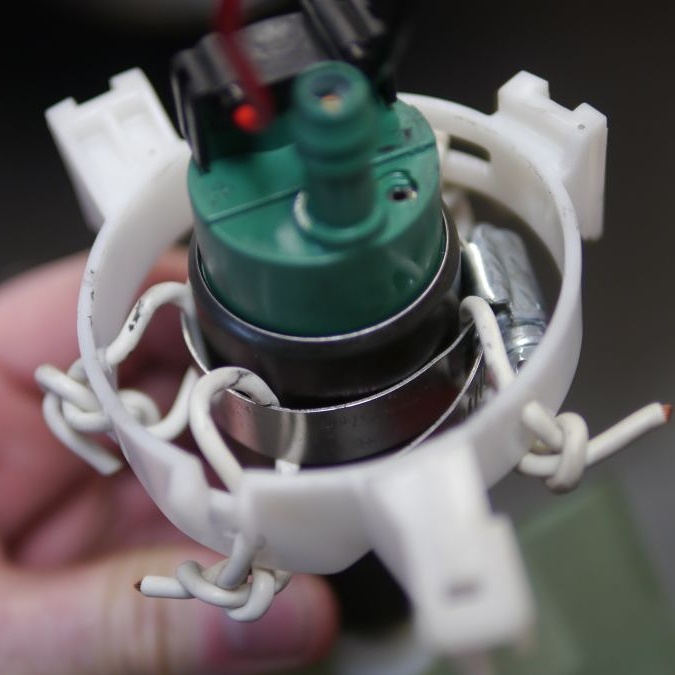 The AEM 50-1220 fuel pump also fits several other vehicles besides the 2008-15 EVO X and RalliArt. Here is AEM's propaganda for all vehicles:
AEM's 340lph E85-Compatible High Flow In-Tank Fuel Pumps feature robust internal construction that is designed to withstand the low lubricity characteristics of ethanol and methanol fuels, and are tested to work with ethanol fuels up to E100, methanol fuels up to M100 and all types of gasoline. This physical size of this fuel pump makes it a great replacement for the 2000-'09 Honda S2000, 2000-'05 Honda Civic, 1992-'01 Acura Integra, 2002-'06 Acura RSX, 2002-'15 Mitsubishi Evo, 2002-'07 Subaru WRX, 2013-'15 Subaru BRZ, 2013-'15 Scion FRS and many other popular enthusiast applications (NOTE:The plug wiring may need to be updated for some applications). Its compact, short body design (65mm length) with mounting hooks also makes it ideal in universal applications that have fuel tanks with tight tolerances.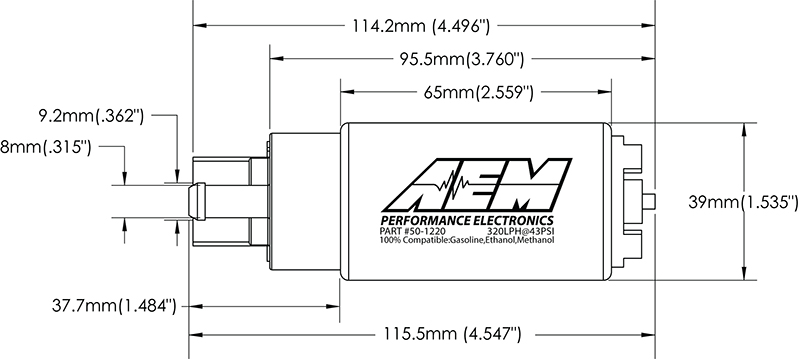 The AEM 340lph E85-Compatible High Flow In-Tank Fuel Pump is designed for in-tank mounting on high performance naturally aspirated and forced induction vehicles. It features a compact 39mm diameter that fits most applications and an offset inlet design that eases installation.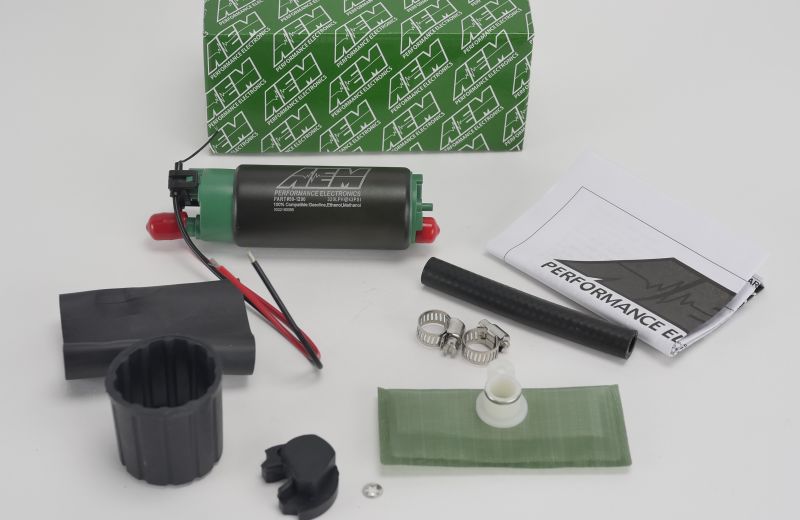 The 320lph E85-Compatible High Flow In-Tank fuel pump includes a wiring harness, pre filter and O-rings. Every AEM 320lph E85-Compatible Fuel Pump is tested to flow 340 lph at 43 PSI before it is packaged for sale.
Tested and compatible with ethanol fuels up to E100, methanol fuels up to M100 and all types of gasoline
Designed for high output naturally aspirated and forced induction EFI vehicles
In tank design
Each pump is tested to flow 340 lph @ 43 PSI
Compact body (39mm diameter x 65mm length)
Includes pre filter, hose, clamps, flying lead, end cap and rubber buffer sleeve
---
---
---
---
---
---
---
---
---
---
---
---
---
---
---
---