---
---
---
---
---
---
---
---
---
---
---
---
---
---
---
---
---
Art's personal S2000 came out this month in Modified Magazine. Art is a fabricator here @ RRE and has been slowly working on this car for the last couple years. Congratulations on the article Art!
–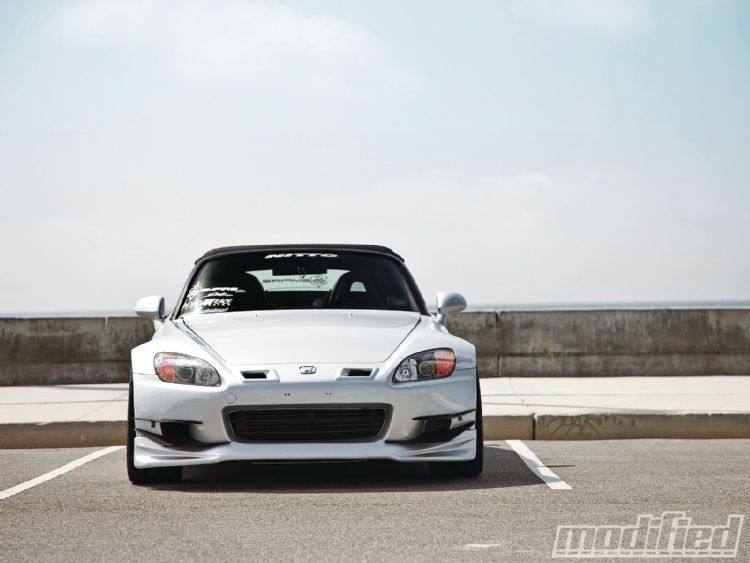 2002 Honda S2K – Home Brew Done Right
Art Thavilyati cooks up a sweet street S2K
From the May, 2011 issue of Modified Mag
By Nate Hassler
Everyone has hobbies when they're growing up. For some, it's playing sports like baseball or football. Other people collect cards or play video games, while another group prefers putting things together with their own two hands. Most car guys (and gals) are in that faction and are introduced to building models or seeing cool cars that family or friends have built at a fairly young age. Art Thavilyati is one of these people, and he first became enamored with motors when his cousin picked up a Honda Prelude and began tinkering around trying to make it faster. "I've been into cars since I was a kid," Art says. "I was introduced to it by my older cousin, who had a nicely fixed-up Prelude. From then on, I met a friend who always worked on his own cars. Since I was about 15 years old, we worked together on his cars in his backyard — he would teach me as we went." If only we could all be so lucky, right? Having so much hands-on experience through his teen years has taught Art a lot, and he has put it to good use on his AP1 S2000.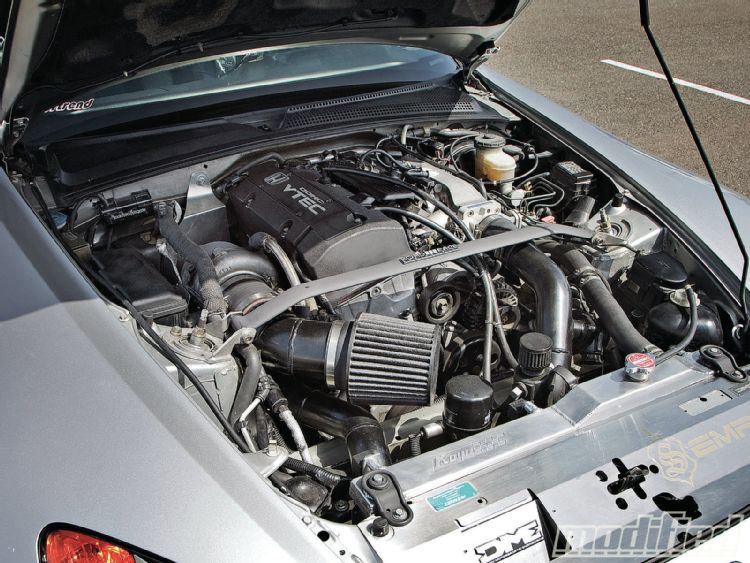 "We were always into Hondas," Art says. "So when the 'ultimate Honda' came out in '99–00, the S2000, I knew I had to own one some day." We remember this feeling and can completely relate to Art's desire to own one of the most well-rounded sports cars of the modern era. The S2000 has been widely accepted by the tuning community because of its amazingly well-balanced chassis and nearly perfect NA motor. The engineers over at Honda really did something right when they designed the F20C. After more than a decade of trial and error, the general consensus is that if you want to make more power out of this motor, there's really only one option: forced induction.
For Art, this is no problem, seeing as he works as a tech at Road Race Engineering, a Southern California speed shop that specializes in Mitsubishi and Nissan cars. The turbo kit Art has pieced together for his S2K is a bit of a unique setup. Opting to use a top-mounted GT3076 and a log-type manifold, this interesting setup feeds boost into a built and fortified bottom end. A custom catch can and intercooler piping add a nice touch to the homemade feel, and the resulting 403 hp means Art's car can certainly scoot its way around town or the track. A set of JIC adjustable coilovers keep the S2K planted, with the help of sticky Nitto NT05 tires. The rolling stock of choice is a big set of Work XD-9 wheels, sized at 18×9 inches up front and 18×10 inches in the rear.
---
---
---
---
---
---
---