JOON "Gentle" MAENG
MotoIQ just posted a great interview with JOON MAENG.
http://www.motoiq.com/magazine_articles/articletype/articleview/articleid/2085/driver-profiles-joon-maeng.aspx
Before getting in to that however, I have to say, all that stuff you hear about Joon is true.  I got the chance recently to hang out with Joon over the weekend at Redline Time Attack when RRE was out supporting his S13 for the event July 2-3 at Big Willow.  Joon and I shared a hotel room, so we hung out a bit on and off the track.  After careful study of Mr. Maeng, I have to say, he is just as cool as the media describes him as.  The guy has a magnetic personality and he is just golden to be around even when his car was overheating in the 112 degree heat (that translates to something like 10000000 degrees on the track).  Joon took the whole weekend in stride, the ups the downs and even me, snoring while he was trying to get some sleep.  It was a great weekend and I hope to get the chance to hang out with the RRE crew and Joon again soon!!
Also, The fact that Joon is the first Korean American pro drifter is no joke in the Korean community.  Koreans take stuff like that seriously and the community is behind this guy with their love and support!!  There is a minidoc on this here:
[youtube]http://youtu.be/TAalvOrqnLY[/youtube]
….enough said…  Here is the interview.  Don't forget to check out MotoIQ!!  Their site is worth at least a day wasted in the office at your cubicle monitor!!  ALSO, I changed ALL the pictures on here, so the MotoIQ story will have pics. of Joon in his beastly RX-8.
Another fan favorite, Joon "Gentle" Maeng is the driver of the Nitto Tire/Bergenholtz Racing Mazda RX-8! While he was given the nickname, has he always been so gentle? What does he drive? Want to know more? Read on as you see how this driver went from gangster to drifter!
1. Profile Information

Name: Joon Maeng
Birthplace: Seoul, South Korea
Hometown: Cerritos, California
Age: 29
Nickname: Gentle Maeng
[Old Set up for the S13]
2. Car Information

Car Number: 51
Sponsors: Bergenholtz Racing, Nitto Tires, Mazda, Mazda Speed, Lucas Oil, Genius Tools, LS Automotive, Sam's Auto Land, Advanced Clutch Technology, Enkei Wheels, K1 Speed, KW Suspension, Titan Motorsports, Mazda Trix, Steen Chassis, HKS, Sparco, WPC, SEIBON, CSF, The Driveshaft Shop, Bakers, MoTec, Golden Eagle, RC, Burns Stainless, Tial
Car (Year/Make/Model): 2009 Mazda RX-8 R3
[JOON'S current FD car taken from http://omgdrift.com/ which is another great site you should check out]
Engine/Transmission/Drivetrain: MazdaTrix  3-Rotor, HKS Sequential 6-Speed Transmission, Driveshaft Shop
Tires (Make/Model): Nitto NT05
Wheels: ENKEI PF01
Aero/Body Parts: SEIBON CARBON Doors, APR Spoiler, Bergenholtz Racing Splitter
[1 more of the current car from OMGDRIFT.  How crazy is this!?  FORZA!!!!!!!!]
[I don't know who this other guy is in the picture with JOON.  He looks like this guy I used to do some freelance for at DROORS CLOTHING…I wonder what my old boss is up to these days?]
[JOON repping the S EMPIRE crew!!]
[old black livery repping RRE]
3. Questions

 – When was the first year you started drifting and your age?
The first year I started drifting was in 2001 when I was 19 years old.
– Who or what influenced you to start drifting?
I made good friends that loved cars and got into a racing crew called S-Empire in 1998. We would look forward to meeting up every weekend to watch drifting clips on-line and on VHS Option Video.  It was definitely my friends that influenced me to start drifting.
– Where did you learn to drift?
I started drifting in industrial areas and local canyons when there's no one around usually 2 in the morning. I learned the hard way, getting countless amounts of tickets, fines and even rolling down Malibu Canyon from this type of activities. I didn't know better and learned from my mistakes I've made in the past. Drifting at local track events is the way to go!
[youtube]http://www.youtube.com/watch?v=vrWJzTxFs6U[/youtube]
 – What was your first drift car?
My first rwd platform drift car was a 1985 Corolla SR-5.
– Was your first experience drifting odd or was it a natural feeling?
My first drifting experience was thrilling and full of excitement! Once I felt the adrenaline rush of sliding the vehicle sideways I was hooked and kept thinking of ways to improve. It surprisingly came naturally.
– When and where was your first Professional drifting competition?
2007 Formula Drift Round 1 in Long Beach was my very first Professional drifting competition. That day was full of surprises!
– Did you use your first drift car or did you use another?
I used my 2nd drift car which was a 1989 Nissan 240sx coupe built in the backyard of my friend's house, Lod Tongkul. After work we would spend all night long working on the car with a tiny budget. Without the support of my friends at S-Empire, it would have been difficult to get out there.
[current livery repping RRE]
– Did you do well, as well as you expected, or not as well as you could have?
I knew we could have done better but unfortunately after qualifying I totaled the vehicle on turn 9 during the practice session. The T25 turbo has seized right at the wrong moment which caused the vehicle to lose a significant amount of hp, so the rear tires gripped up and went straight into the wall. I felt so bad because of all the hard work my friends put into the car just went down the drain. They still cheered me on and we starting building the S13.5 instantaneously to attend the next round in Road Atlanta.
[versatile…drift…grip…groceries…whatever]
– Who was your first major sponsor that helped you in your Professional Career?
It would have to be Road Race Engineering. They helped tuning, fabricating and even fixing the front end after a big hit at Irwindale Speedway. Without shop space to work out of it's very difficult to maintain and bring out a competitive vehicle. My friends at R.R.E./S-Empire made it possible to keep the car up to par in the 2007 season.
– What made you want to be a Professional drifter instead of a grassroots, doing it only for fun drifter?
The competition is fierce out in the Formula Drift sanction. I wanted to improve as a driver and competing in a professional series helped me to push myself to improve that much faster. I still have a lot of fun drifting in the Nitto Tire Mazda RX-8!
– How has losing Full Tilt Poker at the beginning of this year affected you and your team? How have your current sponsors helped you for 2011?
My Team Manager Ron Bergenholtz is always optimistic and will do whatever it takes to get the team out there onto the track! I was utterly amazed how he transformed the team in only a week. This includes redesigning the exterior of the Mazda RX-8, team jerseys, awning, race suit, helmet and the list seemed to never end…  We are so grateful to have support from all of our partners! Everyone played a role in making it possible for us to compete at every Formula Drift Rounds.
[JOON representing for DOKDO Island and RRE!!]
 – How did you get in contact with Ron and Ed Bergenholtz?
Actually I encountered Ron and Ed Bergenholtz at Long Beach in 2007. They were pitted right across from me and their professionalism and passion for the sport of drifting caught my attention. Kevin Wells @ LS Auto actually helped me to get in contact with Bergenholtz Racing and played a big role in making my dreams come true!
[youtube]http://www.youtube.com/watch?v=tddcxitlACg[/youtube]
4. Competition Questions

 – Why do you think there is a jump to V8s? Is it really as simple as the car becomes easier to drift or costs, or do you think it's something else?
That's what I've been hearing from others. It's really hard for me to say because I've never drifting a V8 platform. From what I've seen they do have the advantage having that linear power band which provide instant torque that helps to drift at ease. Drifting a non- V8 is still competitive, there are more driving techniques that's involved to match up/over run a V8 platform. I love the sound and performance of the Rotary and am happy to be running the 3 Rotor setup! I hope to see more non v8's on top of that podium!
– Do you think a that something has to be put in place besides tires to level the playing field? (Like Weight Restrictions, Power Restrictions, Engine Modification Restrictions, etc.) Or, do you feel like the "run what you bring" status of Formula Drift is perfect?
I feel "run what you bring" type of attitude. Everyone is different in this world and all the teams express their characters and talent through the cars they built. That way it doesn't limit the competitiveness of the sport of drifting. If there is a will there is a way to beat the most powerful high budget team, what comes from the heart will succeed.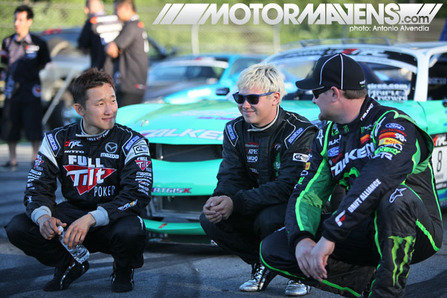 [I don't know much about FD but I love the vibe.  Everyone I have met seems super cool and down to earth]
– What are some of the ways you keep up, considering you're in a 3-rotor Wankel and you're facing off against V6s and V8s? How do you keep a close tandem versus those bigger cars and engines?
Bergenholtz Racing did a phenomenal job setting up the Mazda RX-8. Running the Nitto NT05's wrapped around the light weight Enkei PF01 and KW Suspension provides the traction, handling and performance needed on the track. Without it we'd be left in the dust. Those products play a big role and it's crucial to have a reliable clutch (Advanced Clutch Technology) because of the driving techniques involving a lot of modulating the clutch pedal.
– Is the RX-8 a difficult chassis to drift versus the Silvia? If you've had a chance to run the RX-8 in a Time Attack or track day, how does it compare to the Silvia?
When Kevin Wells at LS AUTOMOTIVE helped setup the Lucas Oil Nitto Tire S13.5 it was like an automatic drifting machine. It almost felt like it could drift on its own. It took some time to get used to in the Mazda RX-8 but after testing and dialing in the setup I felt super confident behind the wheel.
Team Bergenholtz Racing took extra measures to deliver nothing but the best and comfort in the vehicle. The seat position relevant to the steering wheel is the same as the S13.5. Wow, if the RX-8 ran in Time Attack it'll most likely fly through the track. The Mazda RX-8 will win by far compared to the S13.5.
– Who are some of the competitors you look forward to facing?
I look forward to facing the top 3 FD Championship leaders. It'll be a good measuring stick to see the capability of the RX-8 and myself as a driver. I mostly look forward to facing Chris Forsberg because he pushes super hard but yet drives a clean line! It'll be great to meet him in the finals.[youtube]http://youtu.be/nlsHrSYZb6U[/youtube]
[this commercial is shot really well BTW]
– Who was the best tandem you're ever run with?
That would have to be Chris Forsberg! When you feel like you're going to hit the lead car and you don't that means you were inches away. That's what I felt when running with Forsberg.
[youtube]http://youtu.be/9d6hRGOBQz8[/youtube]
[this video is pretty amazing]
– Who is responsible for keeping your car going? Does Ron or Ed do everything or do you have anyone else that helps? Do you have to work on the RX-8 at any point?
Ron Bergenholtz manages a lot of things in the program. He never fails to amaze me with how much he does to deliver the best. Ron makes sure all is in line and ready to go between rounds and during rounds.
Ed Bergenholtz does all the tuning, high tech computer data/tuning (Motec M800) and spots at the tower.
My crew chief, Derek Ige communicates with me and makes the calls on necessary changes.
Kurt Gasper is always right there to help out Ron whether it be early in the morning or an all nighter.
Mark and Ernie Manasala makes sure the car is spotless in person and online.
Rommel Figueroa sprays, cools the car down in between runs and the list goes on for each member of the team. Everyone plays a role to keep the car going.
[If you did not grow up in the 90s, you might not know what a huge deal the Bergenholtz family has been to import racing ever since the drag days.  They have been here since before me and everyone in the import community from drag to drift has much respect for the Bergenholtz family!!]
5. Random Questions
– What is the most fearful or exciting thing you have done? It doesn't even have to be in a car!
The most fearful thing I've accidentally done was rolling/flipping down Malibu canyon in my 1985 Corolla. It was a freak accident but somehow I survived the wreck. There was no cage in the vehicle and the roof caved completely and had about a foot left only on the driver side. I truly thought it was my last day here when I saw small tiny lights down the canyon which were houses a couple thousand feet down. It was a miracle night and God definitely had HIS hand upon me.
– Who is the person responsible for keeping your spirits up if you lose or have a bad run?
My Team Manager, Ron Bergenholtz keeps my spirits high. He goes above and beyond to share stories, sit down with me to draw out every detail of the track layout to discuss what's the best approach to excite the fans and countless things he does to lift me up. Even when we have a bad run he looks very carefully to see what we can do to improve. He is an innovator and is always thinking of great ideas.[youtube]http://youtu.be/4BwF5fa8KkQ[/youtube]
[PANAMA!!!!!!!!!]
– What car is your daily driver?
It's a 1985 Corolla GTS.
[the holy grail right here.  I hope to own one of these some day. AE86!!]
– What is your dream car?
It'll have to be the Z32 Twin Turbo
– What is your occupation outside of drifting, if you have one?
I help manage the family restaurant called Daily Udon and Sushi out in Garden Grove, Ca.
– Do you race cars outside of drifting? If so, what all do you run and where?
Yes, I do drive my personal vehicle Lucas Oil Nitto Tire S13.5 with the MotoIQ Pacific Tuner Car Championship. This is my first year out in the MotoIQ Championship and It's a great experience. I believe it's good to know how to drive well in drift and road racing. It'll only make you a better driver at the end of the day.
[something I completely agree with, the Z32 was an amazing link in the Z lineage! jr. high and high school dream car status!!]
– Do you have any hobbies outside of anything automotive?
I enjoy mountain biking, playing soccer, basketball and anything active.
– We all call you "Gentle Maeng," but from what I understand and unbelievably so considering how we in the drifting world have gotten to know you, you weren't always Gentle. Can you elaborate on that and what brought about the change?
I wasn't too gentle back in the gangsta days. In 7th grade there were a lot of gangs at school and fights going on. It's something that couldn't be avoided. Being gentle was the last thing on my mind. Once I realized that fighting back did not resolve anything but made matters worse I decided to change my lifestyle by going to church. There always was an empty black spot in my heart and knew I was missing something in my life.
I learned a lot of good life lessons through the Bible and one of them was to love your enemy. It was really hard to do but once I put it into action the enemy and I became friends after about a year of being friendly to him although he hated it. It was a life changing experience for him as well.
Wow, what a blessing it was to have my life transformed and light to fill up that empty spot with the WORD and love of JESUS CHRIST. I never felt this complete and happy in my life before.
– You are also a devout Christian, what lead to that path?
Curiosity for a purpose driven life lead me to this path. I knew there was more in life to live for. Once I accepted Jesus Christ as my Lord and Savior, my life was filled with joy and heart was ready to serve. I became an optimistic person and had faith that all will work out! The way I thought and lived was completely different. It was like night and day.
– And teach a Sunday School? What Age Group, if there is one you specifically teach?
I love being involved at church for Sunday Youth group grades 7th-12th and even elementary department. Being a teacher at Han Mi InJoy Ministry CRC for 5+ years really helped me to keep myself in check. We have to be a good example to the young ones by our actions and not only by words. It was a wonderful experience! It's great to give a helping hand to a fellow brothers and sisters.
– Finally, who do you want to thank or tell people about that has helped you though your career and/or life?
I would like to thank:
My mother for dealing with all of the mess I made working on the car at home, always being supportive of my dream to live as a drifter.
My good friends, Lod Amphol Tongkul, Art Thavilyati, Kevin Lee (Nexus Visuals), S-Empire crew that made it possible to get out there, build our first drift car and compete since the very beginning.
Kevin Wells, Sergio Ramirez and Chris Forsberg at LS Automotive/CFR for making it possible to finish the 2009 Formula Drift season with good results and made drastic improvements with their expertise on and off the track.
Ron, Ed Bergenholtz, Derek Ige, Kurt Gasper the whole Team Bergenholtz Racing for furthering my dreams as a Profession Drifter! Driving for B.R. in the Nitto Tire Mazda RX-8 is a big dream come true and will do my best to be on top. Their passion and drive gives me nothing but energy to drive my heart out!
Diehard fans that always roots us on no matter what circumstance! I appreciate all of your inspirational comments!
Nitto Tires, Mazda, Mazda Speed, Lucas Oil, Genius Tools, LS Automotive, Sam's Auto Land, Advanced Clutch Technology, Enkei Wheels, K1 Speed, KW Suspension, Titan Motorsports, Mazda Trix, Steen Chassis, HKS, Sparco, WPC, SEIBON, CSF, The Driveshaft Shop, Bakers, MoTec, Golden Eagle, RC, Burns Stainless, Tial, Road Race Engineering, Enjuku Racing and all of the supporters of our team!
[youtube]http://youtu.be/BjsnUAnlico[/youtube]
[youtube]http://youtu.be/702GU2n5IKU[/youtube]