We decided to drive the RRE Rally Box Van to Colorado to help Danny George prepare to run his FD Miata up Pikes Peak. We met him at John's house there in Colorado Springs to help make the conversion from drift to grip. We pretty much took over the driveway, garage and turned the basement into a dorm room with 7 guys all camped out on the floor.
http://www.youtube.com/watch?v=[HcqUu6j00TQ/embed]
Pics are in the gallery below. Once the car was ready, we took it to Pikes Peak Raceway to do some practice with the grip setup. Then up the mountain at 4am to be ready to run when the road opens up for practice at 5am. Then they run to 9am when the road is open to the public. They divide the course into 3 sections and each day you practice one section with your run group.
---
Well www.speedhunters.com says it well… "the biggest man in the smallest car" Jeff Abbott got into the big show Friday by qualifying 27th on Friday night under the lights at the House of Drift in Irwindale. At the drivers meeting to announce the qualifying it was all: "Good news, you qualified 27th, you are in!" and then it was "bad news… you go up against Dai Yoshihara for your first run!"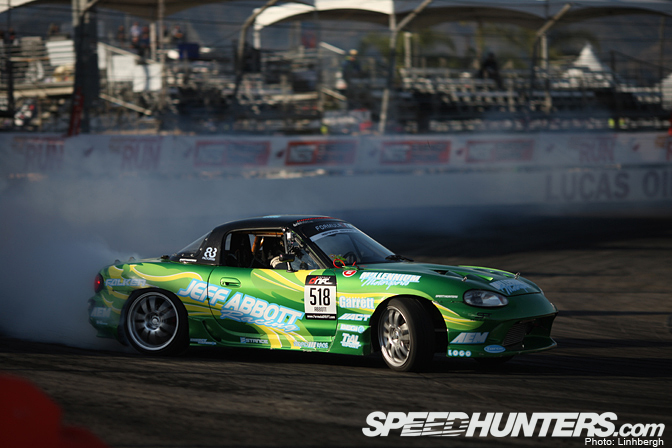 Jeff drove his heart out. Dai led on the first run and you could just see Jeff pedaling as fast as he could trying to keep up to the V8 powered S-13. On the second run with Jeff leading he pulled off a great run. But with Dai making everything count with his potential championship on the line, there wasnt much the little 1.8 liter Mazda had to hold him off. The run would have been enough to advance to the sweet 16 against many other cars. Oh well, it was Dai's night in the end.
Jeff ends the season with bigger motor visions dancing in his head. We'll see what comes over the winter!
---
OMGWTF?  RRE Works on Miatas?
[youtube]http://youtu.be/OF5F5ODSMkE[/youtube]
Mike @ RRE tuned the AEM EMS Series 2 ECU on Jeff Abbott's FD Miata.  It is not only DSMs and EVOs all day every day.  There are some weird things going on at RRE like JOON MAENG'S S13 and JEFF ABBOTT'S Miata.  Come by the shop and see what is going on!!
Everyone who is anyone reads MOTORMAVENS!  You are in your favorite PJs sipping some coffee and you see a MIATA and ask, IS that an RRE sticker on that MIATA??
Why yes, that is an RRE sticker.  Get out of your PJs and come to an FD event to support these fools!!
---