RRE – Rob Rallini -Tecate Grand Prix 2001

http://www.youtube.com/watch?v=sCBiZAUubQ
After our triumph in Vegas, we headed south of the border to Tecate. This event is entirely different from races we do in the U.S. The track is a temporary street course approximately 1.9 miles in length. It is rough, dusty, and unforgiving. We again brought our 1G Eclipse. Many other gringos from the Porsche Owner's Club, Touring Car Club, and NASA joined us. Having previously dominating our Group A class in the Border series, we were nicely "invited" to run our car in Open Class from now on. Open Class is just that, anything goes.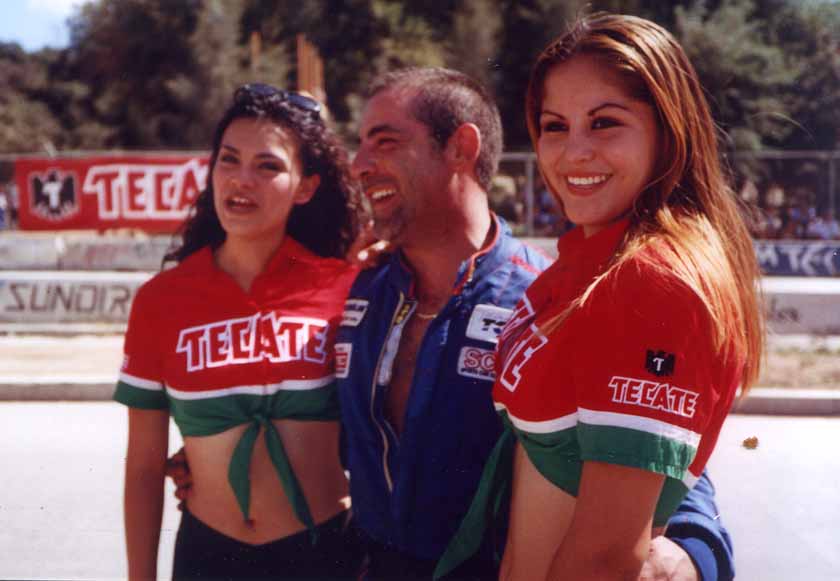 The primary change we made to the car was all new JIC shocks and springs. Our old suspension had a lot of mileage and it was time to upgrade to something more current. The weather was mild by comparison to Vegas so we felt confident with the engine as it was set up. Suspension tuning was our primary concern.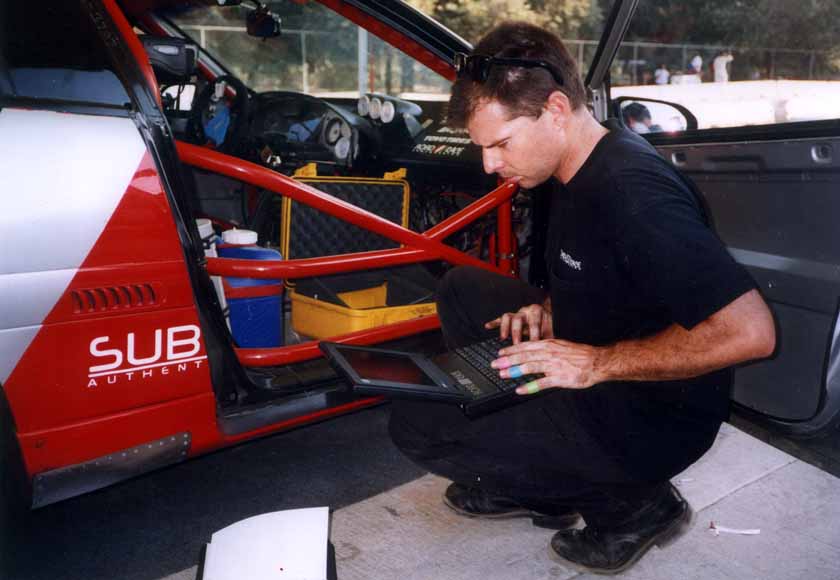 Tallini went out for practice and returned shaking his head. The track was so rough and the springs we were given so stiff, it made the car undrivable on what was effectively a paved rally course. "The car is always off the ground!" Tallini said. Literally, as there were two "yumps" on the front straight away. We worked frantically to soften up sway bars and tire pressures in order to minimize this problem before qualifying. Since we weren't the only ones dealing with the rough track, all the teams were busy dealing with suspension set up.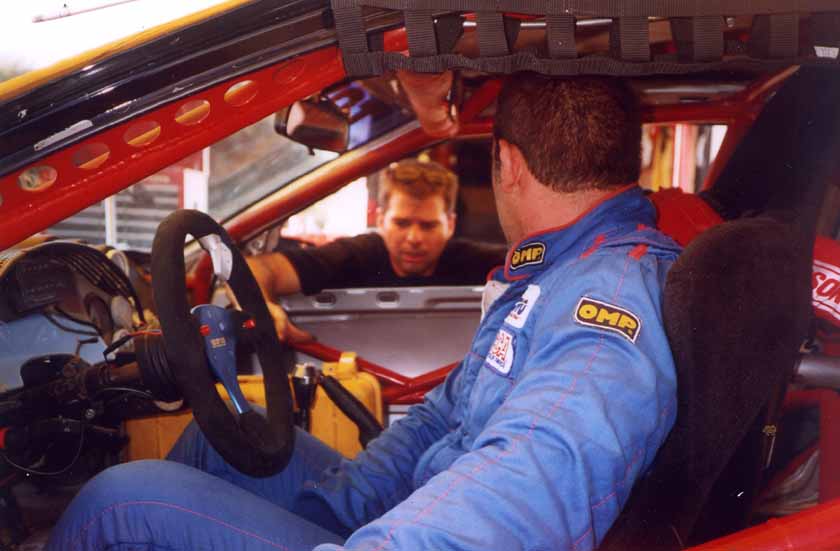 Qualifying was uneventful. We did our usual routine of hiding from the competition, laying down a few fast laps, and then sneaking up behind them in order to size them up.  Tallini came back with second overall fastest time. One of the POC Porsches, Dino Casamasima, had put down a time a whole second faster than us.  We felt like we had a little more car left but we were afraid we might break something in the driveline. We thought it was prudent to save the car for the race on Sunday.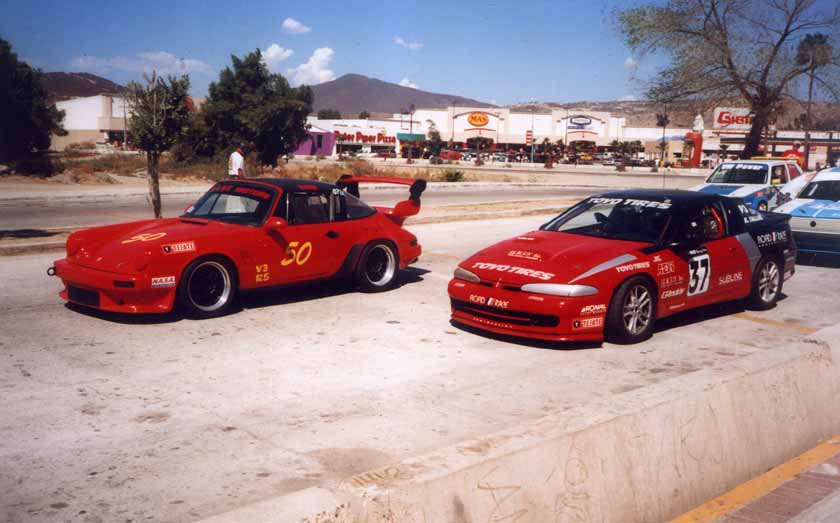 Warm ups in the morning should have been uneventful, but after 3 laps Tallini pitted with smoke pouring out from under the hood. We broke the turbo oil return line (rally style) and fortunately had a spare in one of the rally boxes. No problem.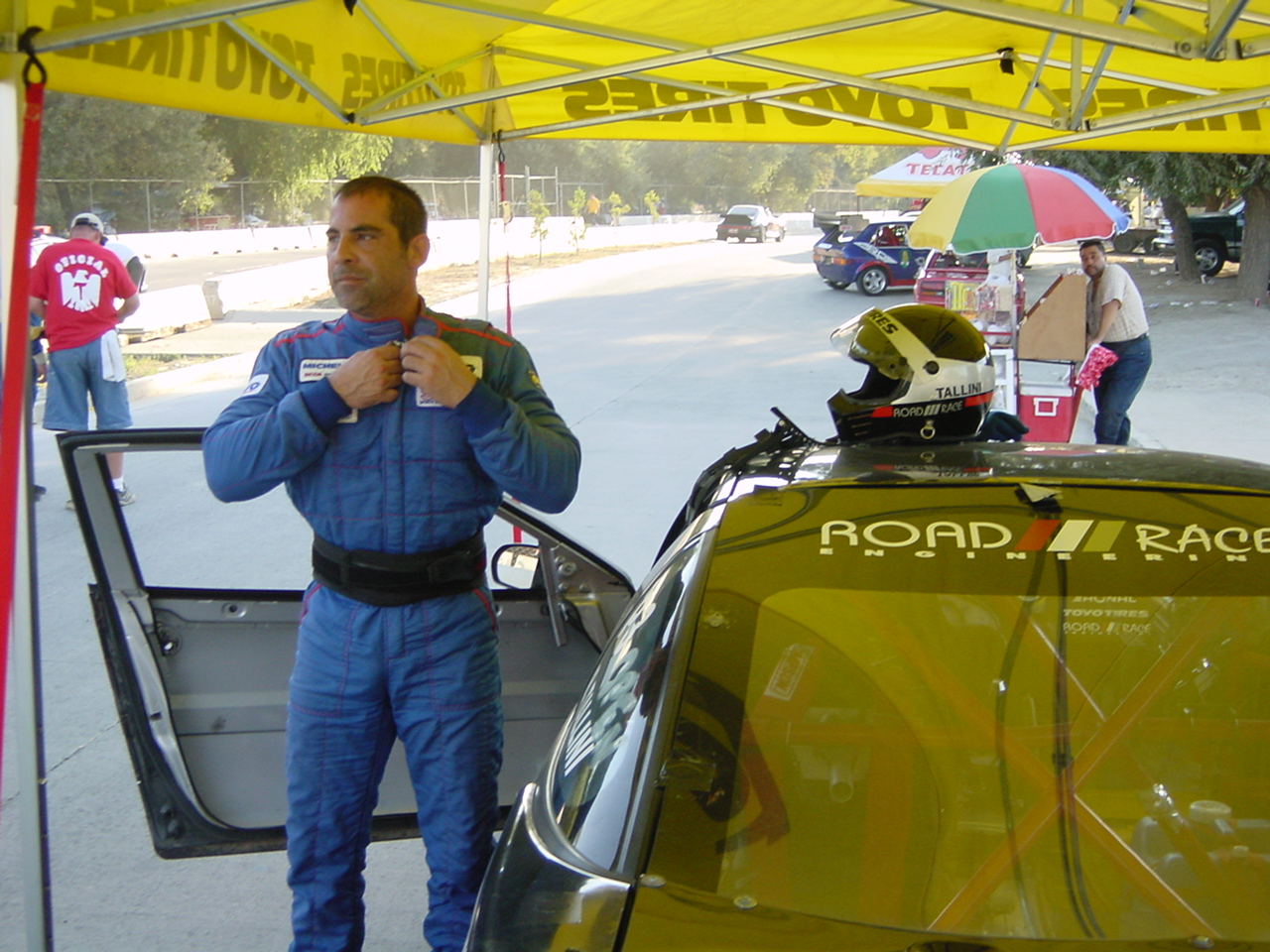 Before the race we discussed how to handle our pole sitting Porsche.  We decided, go for the win or break trying. Standing starts usually work to our advantage. On the outside of a staggered front row, Tallini launched hard on the Porsche and beat him into the first turn. Nose to tail for laps, the Porsche kept taking stabs at us and even got past in the braking zone at the end of the front straight. Tallini immediately worked him over and retook the lead. The race was turning into a gladiator match. Unfortunately for Porsche, we hired a meaner Italian and the gladiator match was over. After squeezing each other in the braking zone, Dino ran wide, clipped a curb and developed a leaking right rear tire and he slowed. SET, MATCH, GAME!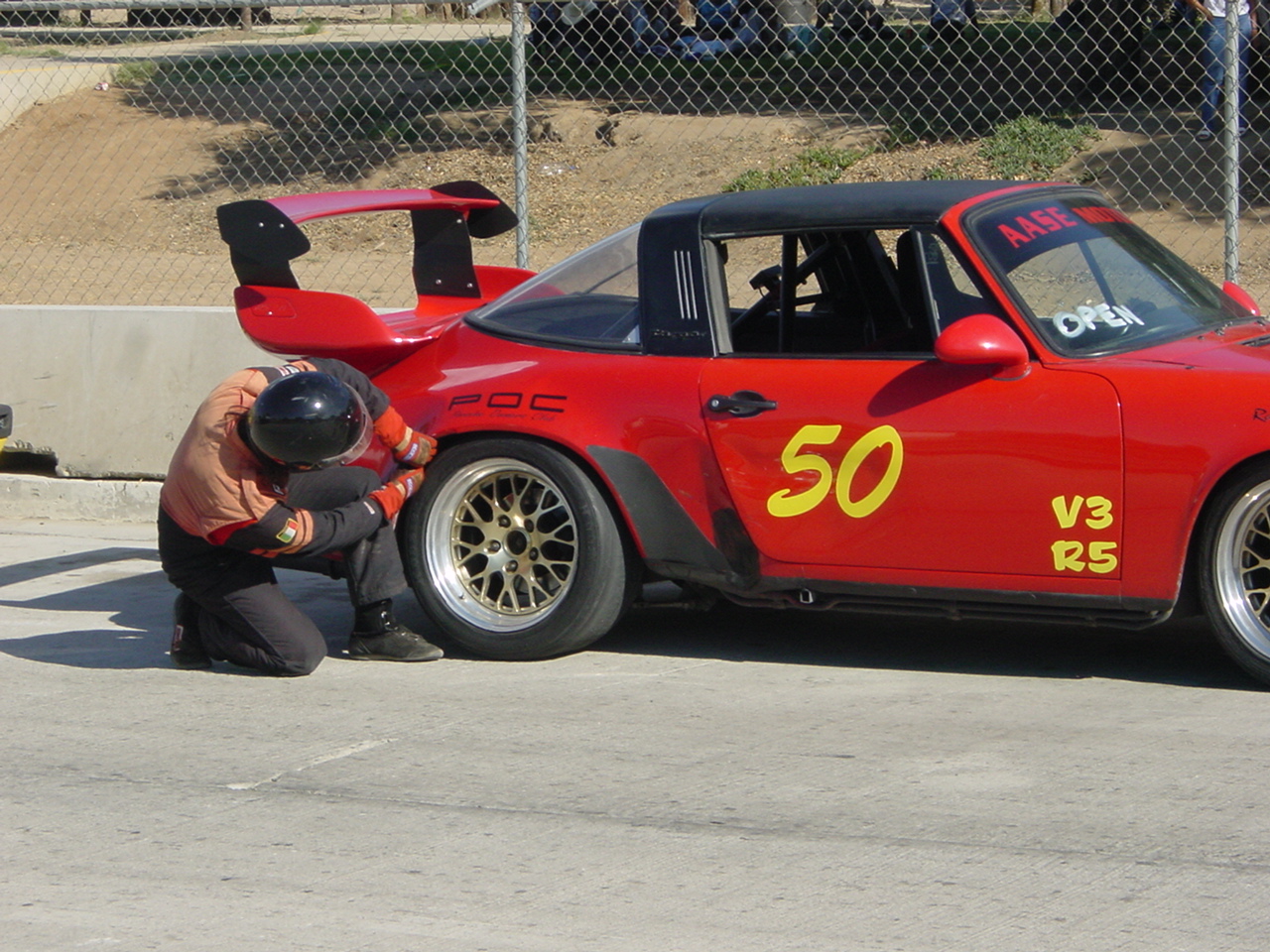 We smoothly sailed home to victory. With thousands of spectators lining the track. Tallini took Welch for a victory lap and saw first hand just how rough it really was. They love us in Mexico!!  Fan clubs, Tecate girls, appreciative people, Mexico has it all. We can't wait to go back.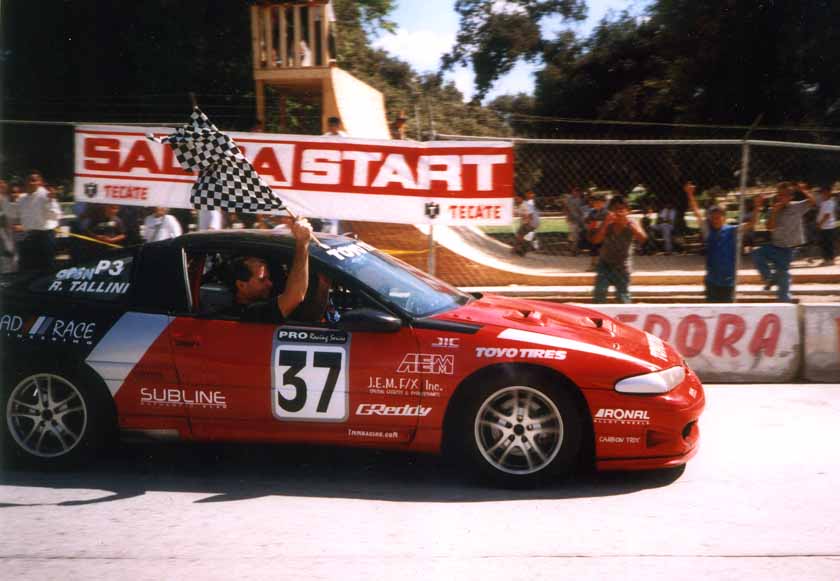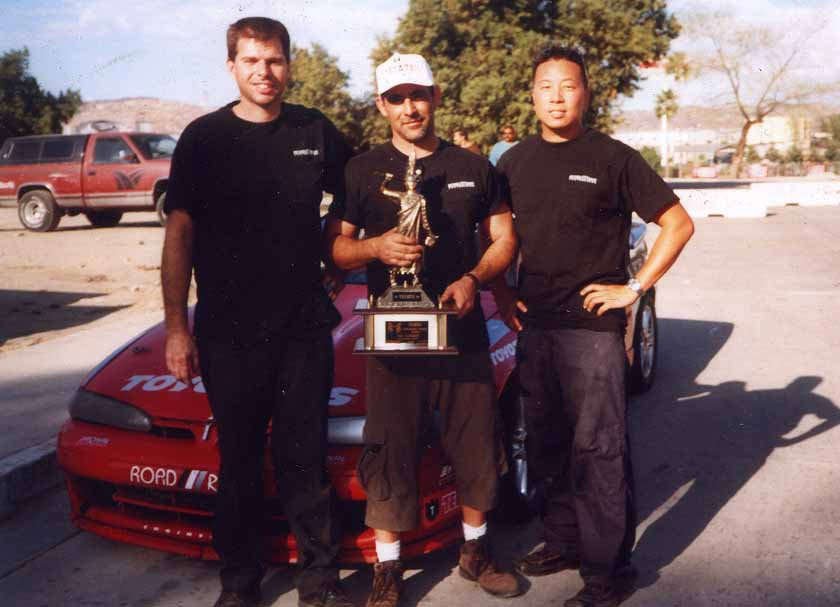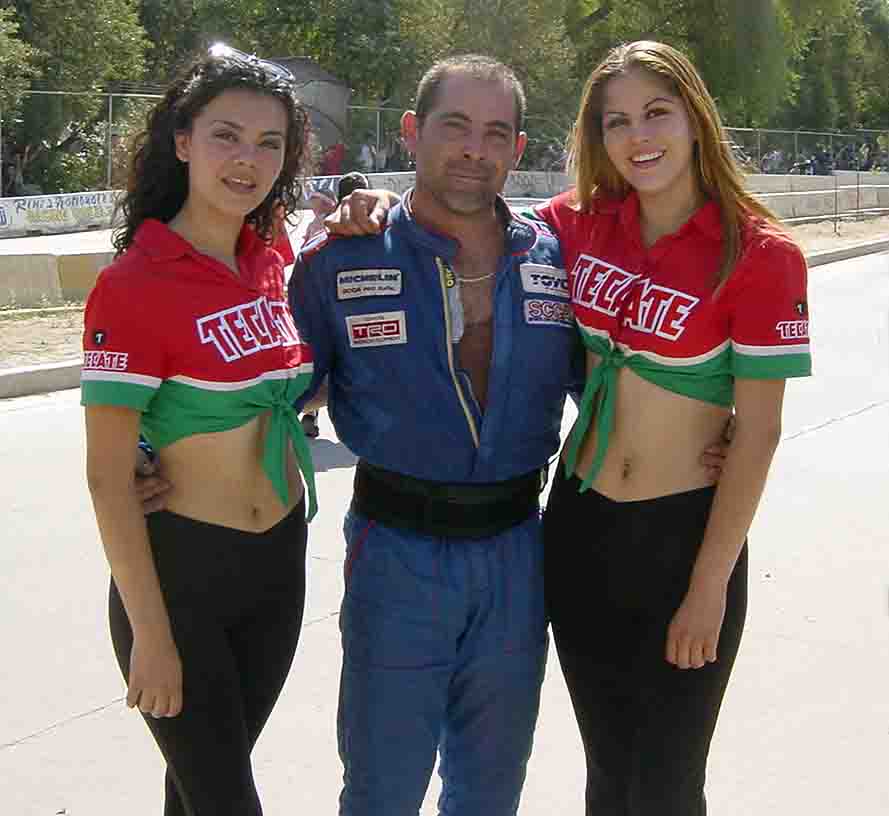 Our friends from Open Track Ryan Flagharty and Gus Heredia also ran their 4AG Corollas in the Group B class. Gus won Group B.