Greg Collier – 1G Eclipse GS-T – March 12-13, Race Report
By Greg Collier – Diary of first NASA race of the season at California Speedway.
NASA Pro-Racing Season Opener At California Speedway March 12-13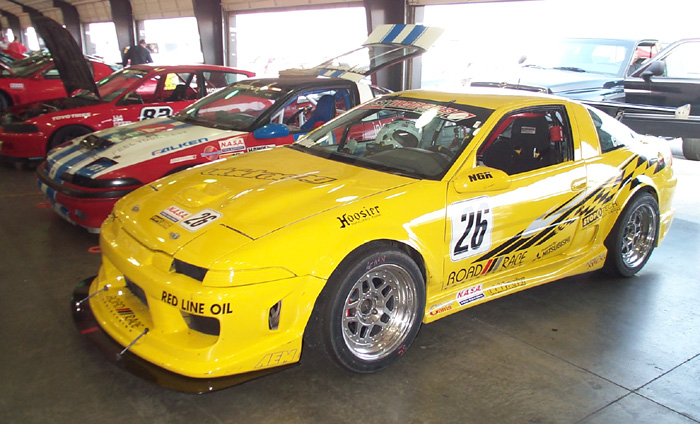 It was a sunny 80 degree southern California day when arrived at the track on Friday morning. We got situated in our garage space and got ready for our annual tech and then do some track testing. This being the beginning of the race season an annual safety inspection of the car is necessary. Technical inspectors check the roll cage configuration, tube thickness and approved padding, dates of fire extinguisher and or fire system, SFI approved drivers suit, shoes, socks, gloves, all in case you have a car fire, 6-point seat belts and window net which have to be replaced every 2 years since Dale Earnhardt's accident. Then they start on the vehicle inspection checking wheels/tires, steering/suspension, and engine for fluid leaks, no anti freeze, overflow containers, battery secured, so-on and so-forth. You've got two or three guys checking every nut and bolt for about 15 minutes. You get your race log-book signed and you're ready for the season. At any time in the following races of the season they can do a surprise inspection to make sure you didn't change anything. If they find something you'll get fined $ and until you pay the fine and fix the problem you can't race.
With our tech complete we took the car to our garage space, gassed it up, checked the tire pressures, and waited for our track time. We were scheduled for (4) twenty-minute sessions starting from 1-PM that afternoon.
I took the first track session pretty easy. We had just installed new Stop Tech brakes the day before so we had to do a rotor and pad seating procedure. I ran a couple of medium warm up laps so I didn't have to brake that hard in the turns. Then I ran 3 laps pushing harder each lap until I brought the brakes up to racing temperature. I ran a cool down lap and brought it back in the garage not touching the brakes at all. When your breaking in new rotors and pads if you keep your foot on the brakes after you heat them up you'll embed the pad on the rotors. I don't even want to go there…………
While in the garage RRE's Scot Gray, the wizard of EMS tuning, plugged his lap top into my AEM and made some critical air/fuel and idle adjustments before our next session which was an hour from the first one.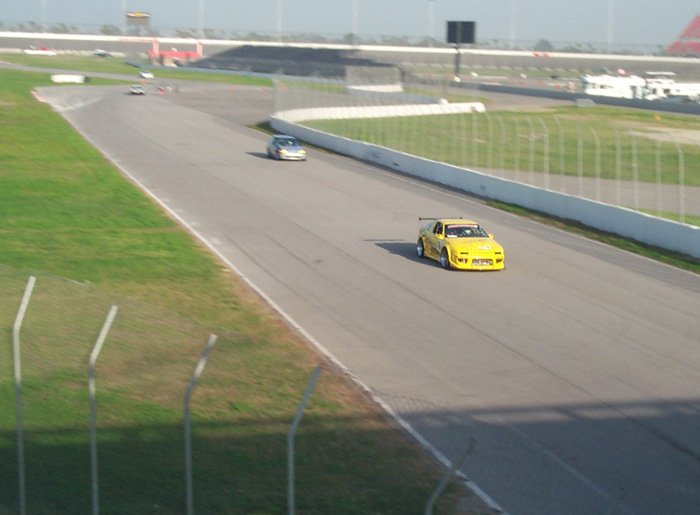 California Speedway Grand AM road course configuration is a 2.8 mile, I'm going to call it 14 turn very high speed race track. Top speed for me on this track has been around 160 MPH. You pick up speed on the front straight and take turn 1 on the oval fairly high, as you approach turn 2 you want to shoot down towards the bottom of the track and sling shot out on the back straight setting up for turn 3 that puts you onto the infield road course. So basically you're going from 160 MPH down to about 40 MPH to make a hard sharp left turn then hard sharp right turn. It's so cool!
After going through turn 3 and 4 you have a small straight that approaches a left hand sweeper. I usually start wide on this turn then pull a tight apex on the other side and sling shot way wide right onto another little straight. Pedal to metal you come up to a little quick left and right then hard braking into a very tight right hander (35MPH). Full throttle through a cork screw down a very fast straight away under the Toyota bridge to a ball busting, flat spotting, spin out, sharp right hander which is the beginning of very slow S's. Once you make it through the S's it's a balls out almost right handed power drift back onto the ovals front straight. You immediately feel the down force from the incline of the oval and your instinct is to floor the accelerator pedal. It's like you knew if you had wings you'd be taking off over the grandstands. It's frigging awesome!
I ran my 3 other practice sessions with about 30 other cars, flat spotted a brand new Hoosier tire at the ball busting turn just before the S's, and got the car dialed in for Saturdays qualifying and race. All in all it was an excellent test day.
My Competition
Because my car has so many modifications I run in the Super Unlimited class. This class is usually made up of the biggest, badest, fastest cars in the field. Vision Racing brings their "Rolex" series 996 500 HP and 800HP twin turbo Porsches. There was another "Grand AM or Rolex" series Porsche, a yellow custom fiber glassed body full race 911 SC pushing about 350 HP, and a new twin turbo Nissan Z who won a past SCC time trial. Now we'll get to the fast cars, next to me in the garage was 2300lb. 750 HP tube framed Corvette Z06, a "Trans Am" series 700 HP Mustang Salleen, and lets not forget about Johnny Pag's fleet of Ferrari's, but he only drives one at a time. So this puts my race group at a total 9 cars.
On the track at the same time for this particular race event are the NASA "AI" (American Iron) series and the "CMC" (Camaro-Mustang Challenge) see www.americanironracing.com . These are fully race prepped, slick tires, 350 to 400 HP good ol American racecars. These two race groups include about 28 additional racecars on the track at the same time. This put the total field of cars racing at 37.
Race Day
We woke up to a cold, foggy, and drizzling morning. We got to the track and prepared for a warm up session before qualifying later in the morning. Because the track was wet and foggy we took 6 laps behind a pace car. It was kind of a waste of time but you new your car running.
Qualifying
It was 11 AM and time for qualifying. Because there's so many different race groups running the track the same day your entire race group qualifies on the track at the same time. You get 20 minutes of track time to do your fastest lap, and that includes passing slower cars in the process. I did crappy in the "Super Unlimited" class running a 2:01 which put me 9th and last in my starting position and I think 14th overall with all the other cars on the track.
Race
After a drivers meeting where we discussed good sportsmanship (no dive bombing or spinning your competitors out), we prepared for our race. It was 3 PM and cloudy so track temperatures were ideal for our engines but less then perfect for our tires. I strapped in my car with my Hans devise, seatbelts drawn tight enough it's hard to take a real deep breath, window net up, motor running and showing good oil pressure, EGTs, and solid boost pressure. I drove to pre-grid where we set up in our starting order for the race. This particular day we were having 2 rolling starts. The "Super Unlimited" group would go first then the "AI" and "CMC" would keep about a hundred feet behind us and start second with two separate green flags.
We pulled onto the track behind the pace car with its lights flashing blue, at about a fifty mile an hour pace. We scrubbed our tires to get built up tiny bits of melted rubbing off, then speeding up and braking hard to get some heat in the tires. We did a full lap behind the pace car through the road course coming up to the front straight on the oval. The pace car pulled off and we tightened up our nine-car group waiting for the green flag to be dropped.
A flash of green (I was in 3rd gear) and we were off. The field of cars began to spread out with the Rolex Porsches taking an instant lead. I passed the fiberglass bodied 911 (also yellow in color) and turn 3 onto the road course came up real quick. From that point it was a blur of concentration. The constant shifting, braking, turning, accelerating, checking your mirrors, checking your gauges, oh yeah, looking where you're going all seems so mind-boggling. How cool is that?
The races are timed sprint racing. That means its balls out for 45 minutes straight. Your car screws up, you blow a tire, you spin out, you lose. The only way you become a descent driver is seat time. Practice, practice, and more practice. But what a great way to learn!
Back to the race: I got passed by two really loud 400HP Mustangs. I know the drivers in both cars are racing school instructors. I'm not making any excuses but the last time I drove my racecar was four months ago and my daily driver is a Dodge Ram V10 2500, 6600lb. truck. Anyway, it's about the middle of the race and I'm learning how to use my new Stop Techs. I can now brake at 25 feet before a turn where it used to be 50 feet. I've got that yellow 911 Porsche on my ass the whole time. It was lap 10 and I doing about 110 MPH on the small back straight coming up to the S's before the oval when I lock up my brakes and flat spot my front right tire. I kept it under control but now my front wheel is bumping like a sewing machine.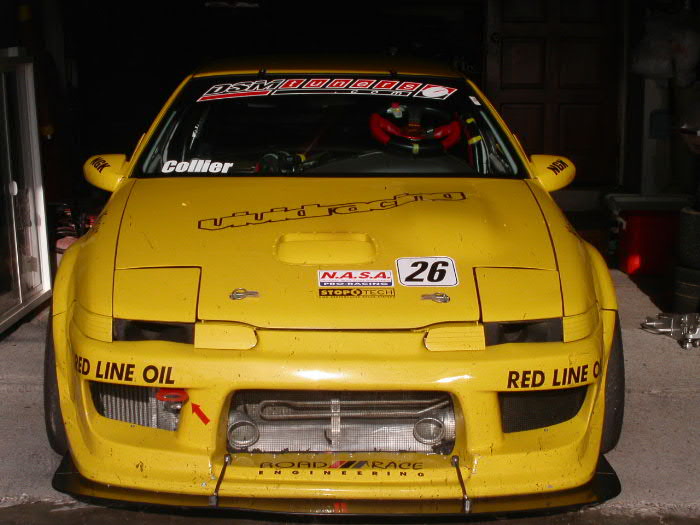 I get out on the front straight of the oval and accelerate to about 140 MPH and I fell the car lifting off the track so I begin to feather the pedal. I'm able to keep the Porsche behind me and I'm still on low boost. I got onto the road course and continued to push as hard as I could. There's nothing better then a little adversity to make you want to go faster, even with a flat spotted tire. All of a sudden the two "Rolex" Porsches lapped me but I see I'm coming up on the Ferrari. I make it to the oval and pass the Ferrari with that dam yellow 911 still behind. It's 140 MPH again and the car starts to lift and I feather keeping my ground. Another couple of laps go by and I've lapped at least a half dozen Mustangs and Camaros when I see the white flag come out.
I'm not ashamed to say I was tired and beat up but I kept that yellow 911 at bay. It's the last lap and I'm on the back straight of the oval going from 140 MPH down to 40 MPH when a Mustangs spins out right in front of me. He doesn't make the turn and goes off the track and I lock up my new brakes and do a half spin on the track. The yellow Porsche goes by with two Mustangs behind him. I put it in first and do my DSM drag car impersonation and end up passing the Mustangs and get that dam yellow Porsche in my sights. The 911 made it through the S's before the oval and I'm probably 75 feet behind. I hit boost 2 (like turning on a super charger) and was only 10 feet behind him at the checkered flag.
Oh man!!! It was a great race and I was friggen exhausted. But it's the best kind of tired I could ever feel. We all pulled into the paddock area and parked out cars behind each other, got out, shook hands, and recapped the whole race with each other. They gave out trophies, took pictures with drivers and trophy girls, and we put our cars in our garages to get ready to do the whole thing over the next day. I'm hoping that's what it'll be like in heaven.
Results
Saturdays race I placed 6th in class ahead of the Ferrari, Corvette Z06, and the Salleen DNF'd. I took 10th overall with 37 cars running and was doing 1:56 laps. This will all be official when the AMB transponder results are posted on the NASA site.
Sunday race and results
Sundays race was cloudier and colder. With fresh Hoosiers on the front, the car ran great and I felt a bit more confident. I didn't flat spot any tires and I beat that dam yellow 911 Porsche that hounded me the day before. The Salleen and Rolex series Porsches took one, two, and three. I placed 5th and I think 8th or 9th overall and I think my lap times dropped a second or two. Not bad for a 2.0 liter four cylinder engine against a bunch of V8's and factory built European racecars.
Carnage
I flat spotted 3 new 275/40-17 Hoosiers down to the cords. Cracked my front splitter in half and tore up my front valance a bit. All easily repairable for the next race at Button Willow Race Park near Bakersfield Ca. on April 9-10. Oh yeah, the tube framed $250,000.00, 2300lb., 750 HP, Corvette Z06, blew up his engine and is looking at $50K to $75K rebuild.
I love my DSM…
Greg