Whopsssssshhhhh!! RRE Shop EVO 8 gets famous in Greece's "Street Racer" Magazine!!
Street Racer magazine sent Jay Canter to the shop a couple months ago to get some pics of our shop EVO 8 race car. It just came out in their August issue!  We went to the closed refinery down the street and took some beauty shots and also ran the car through Turnbull Canyon for some driving shots. Here is how it turned out. What's it say about the car? Who knows. It is Greek to me :-P.  -Mike W.
If any Greek readers out there can translate this for us, a prize will be awarded.  Meanwhile, I have done my best to translate through using my otherwise useless Philosophy degree. -James Singer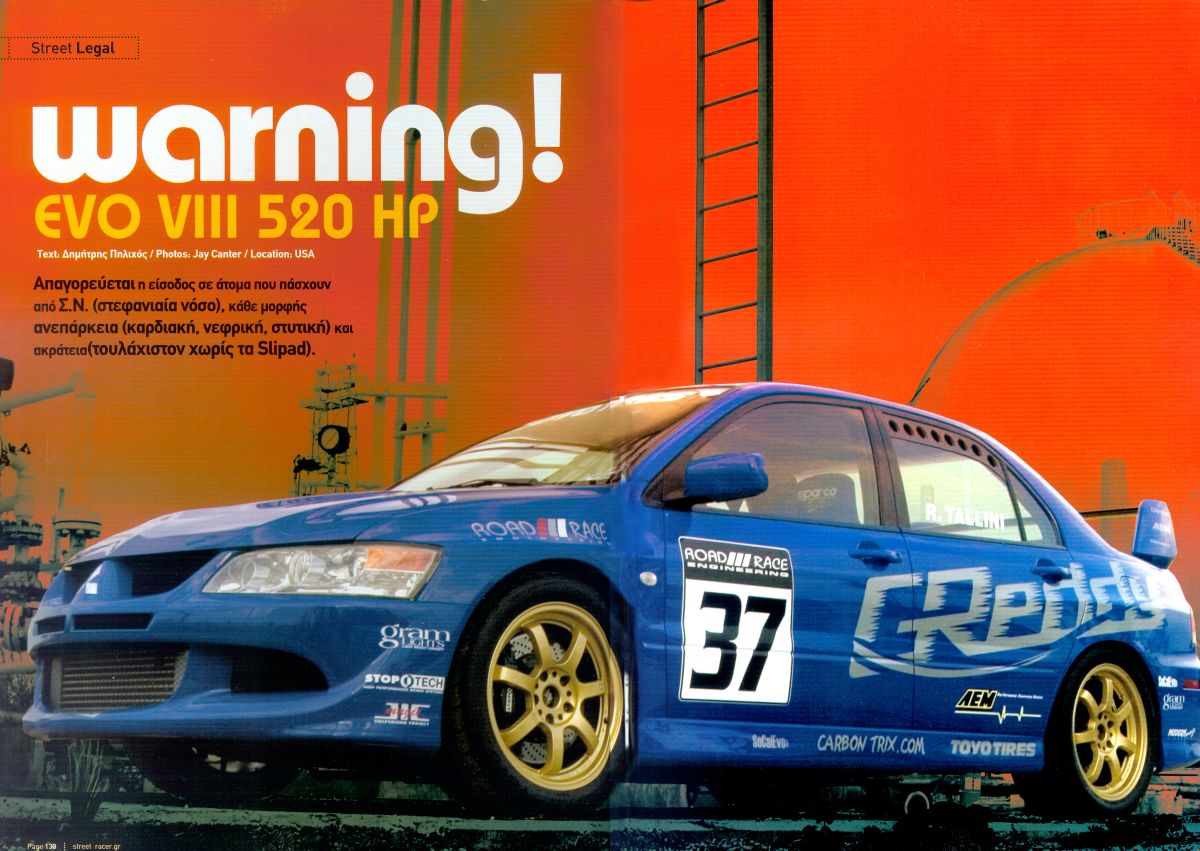 [click on these smaller images to GO BIG!]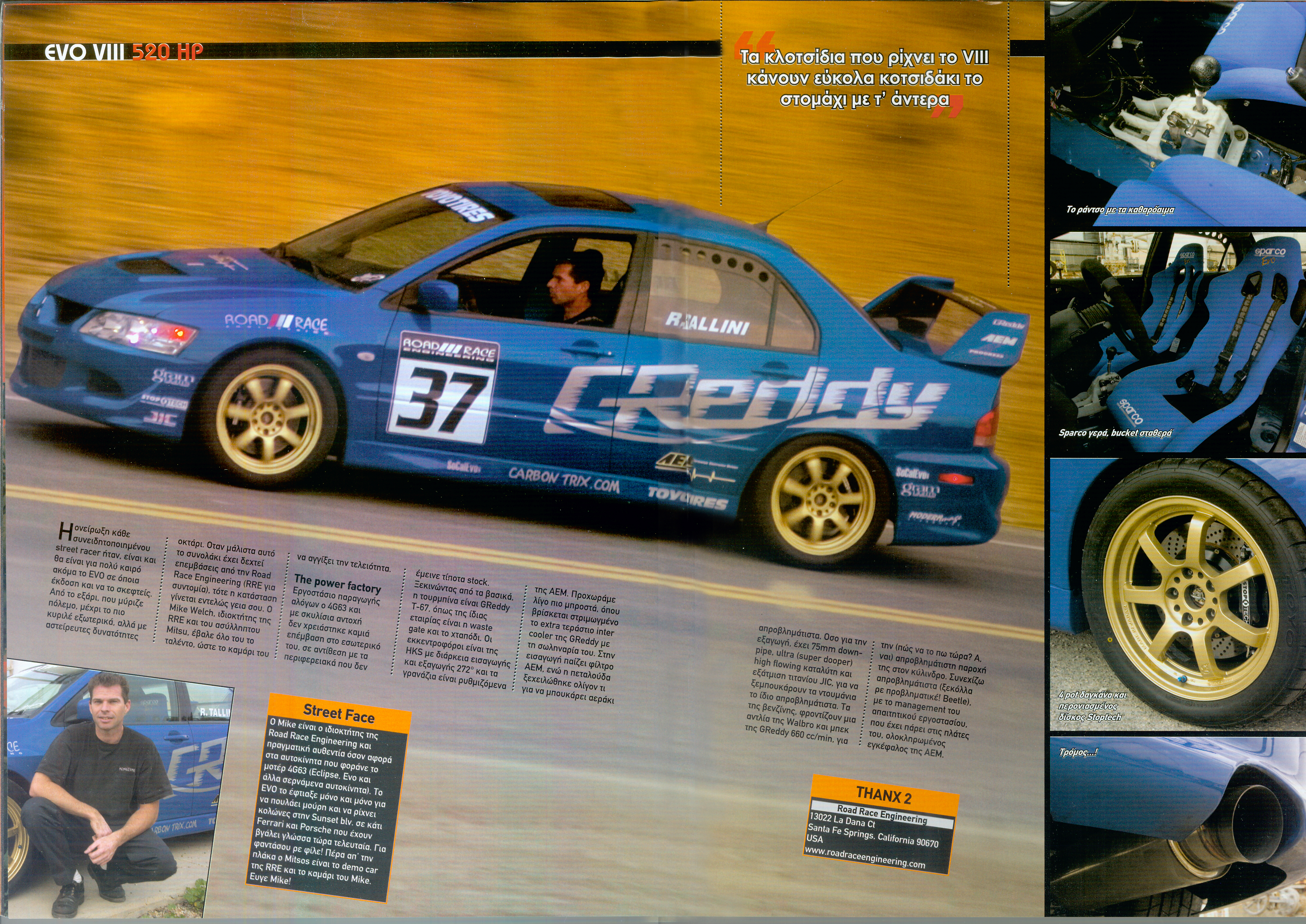 When Mr. Mike Welch of Santa Fe Springs, CA announced he would shortly be celebrating his Elevnty-First EVO build with a canyon run of special magni-ficence there was much talk and excitement in Santa Fe Springs, CA.
As you can see here, Mike really likes the color blue.  In fact, everything on the car is blue or blueish.  The outside parts of the car have been painted blue and the Sparco Evo seats inside are also blue.  Even the valve caps are blue.  Also, the guys at Road///Race also really like stickers.  Without the stickers, this car could pass under the radar of most California Highway Patrol Officers (CHP) but with all these stickers, the car gets pulled over by every single CHP Officer they pass, which in California, seems to equal the amount of residents 1 CHP Officer to every 10 residents.  Besides this massive amount of stickers, the car looks pretty stock on the outside.
However, if you look closely at some of the details on the car, you will notice that although the stickered up exterior is stock, what lies underneath is quite a different tale.  The first thing that pops out are the non-blue wheels.  These wheels are 17×8.5 Gold Gram Lights wrapped in sticky 255-40/17 Toyo Proxies RA-1s.  Behind the pretty gold Gram Lights, a set of biggie Stoptechs are also noticeable (but oddly, not blue).  These 4 pot Stoptechs are an upgrade from the stocker Brembos because they are lighter and have less issues with overheating.  They also don't look like a pigeon crapped all over them after a few canyon runs or one track day. In combination with the upgraded calipers the Stoptech big brake kit also includes some 355mm ventilated rotors and pads to help round things out.  Sitting just behind the upgraded braking system is a set of JIC coilovers and Progress sway bars that radically enhance the EVO VIIIs handling characteristics.
As a (Greek) car guy, when I look and see some meaty wheels with big boy brakes sitting behind them, I immediately wonder what warranted such stopping power.  Popping the hood on the RRE EVO VIII does not disappoint in this category.  The first thing noticeable is the T67 Greddy turbo shining for all hood poppers to see.  Luckily, this car's focus is not daily driving, so things can get quite a bit rowdier and rowdier as time goes on.  To feed the turbo, a charge of cooled So. Cal. air is a well matched Greddy FMIC with RRE custom UICP and LICP plumbing work.  Unnoticeable to the unaided eye are a set of matching HKS 272 degree intake and exhaust cams.  Helping the cams spin in a more finely tuned fashion are a set of AEM cam gears.  Also, dinosaur bones are more quickly vaporized with a Walbro 255lph upgraded in-tank fuel pump and Greddy 660cc Injectors.  The spent CA pee pee (91 octane :/) leaves the car through a custom cast manifold and RRE exhaust ending with a nicely polished dolphin tip.  Also noticeable is a Greddy BOV and TiAL wastegate.
Looking inside the cabin of the RRE EVO, you can see that things are stripped out and pretty spartan (get it?? Sartan!  haha).  The Sparco Seats and Schroth harnesses keep the driver focused on the Sparco steering wheel.  When asked if the steering wheel was for sale, Mike replied, "Pfft, that's mine! I even paid retail for it!"  You can also see some other minor details like fancy air vent window thingies that race car drivers use to vent out the BO smells.
All this stuff adds up to 520hp at 7300RPM on the RRE dyno.
Last, there is this little box that says STREET FACE and it is about this guy Mike Welch who wears togas while teaching mechanics and offering psychological counseling.  It says Mike has been working on cars forever.  You were probably not even a thought in your father's pants when he was working for Millen back in the day.  He has worked on Rally cars and suitcase cars and all other kinds of weird and wild creations.  Then in the golden era of the 90s when the 4G63 Eclipse hit our shores Mike went DSM and claims, "once you go DSM you never go back."  It is a weird quote because it does not rhyme but maybe it sounds better in English.  We are not really sure because we only understand Greek and Frat party lingo like, "KEG STAND!!"  Nevertheless, Mike knows the 4G63 better than anyone.  In fact, in So. Cal. if someone claims they know something about DSMs or EVOs, it is probably because Mike taught them.  Mike can do backwards circles on a unicycle and tune an EVO better than anyone.  This has been proven over and over and over in every type of racing.  Mike is a pretty quiet dude in public but secretly, he gets nuts in his cars in secret.  You know that scene in The Fast and Furious where Dom and Brian roll up in the dude in a ferrari?  That scene was written about Mike rolling on Sunset Blvd. smashing on Ferraris and Porsches only Mike wasn't in a Supra!  The year was 1995 and Mike was in a fluorescent orange Eclipse GSX with 500 pounds of neon underglow weighing him down and he still won!!  He has made more people cry in their sportscars on the west side of LA than anyone else.  If you see this blue monster rolling up on you in the streets hide yo wife and hide yo pink slipz!!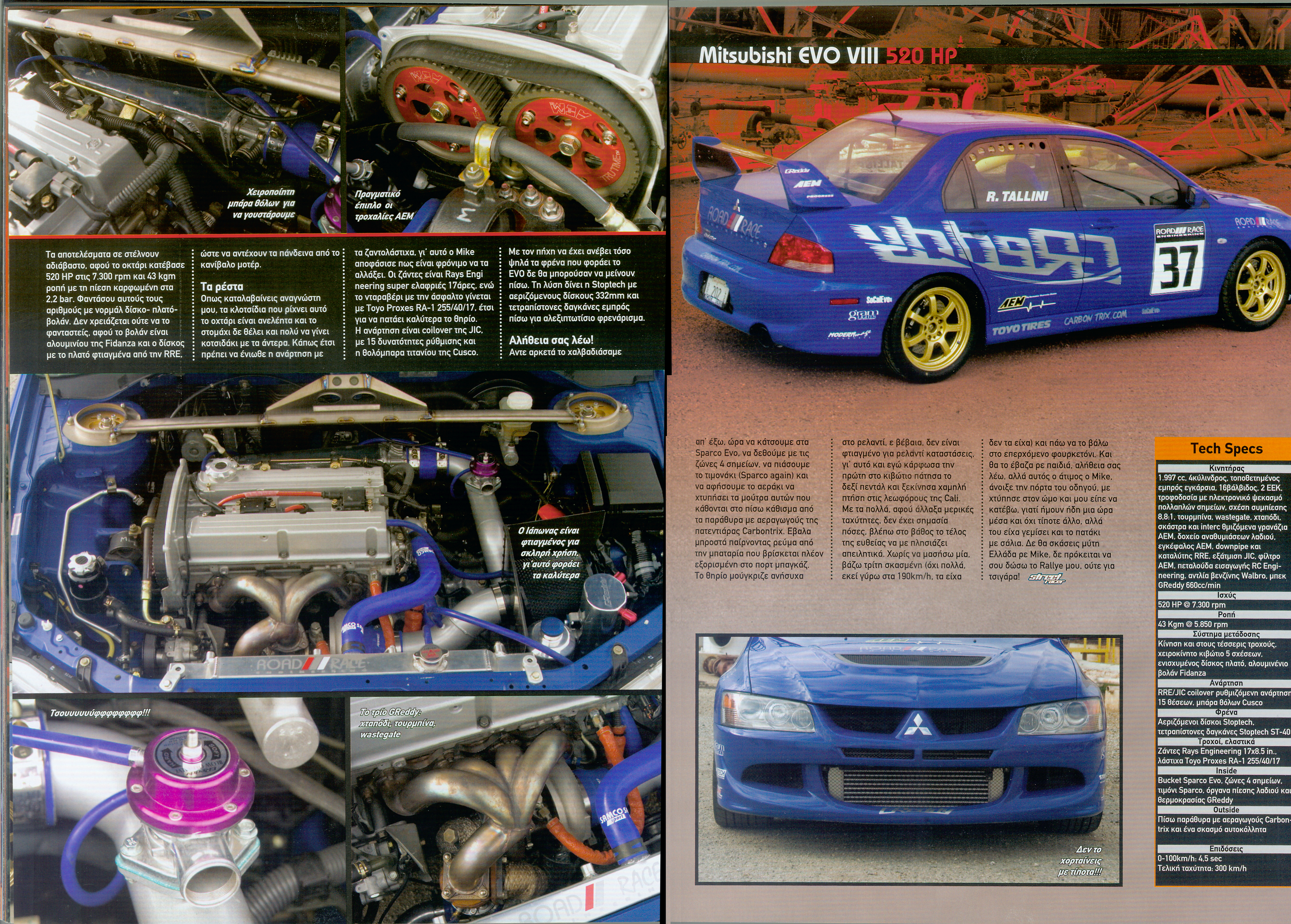 In related news… in Greece you can put nipples on the cover of your car magazines 8-O YE-Yeah!!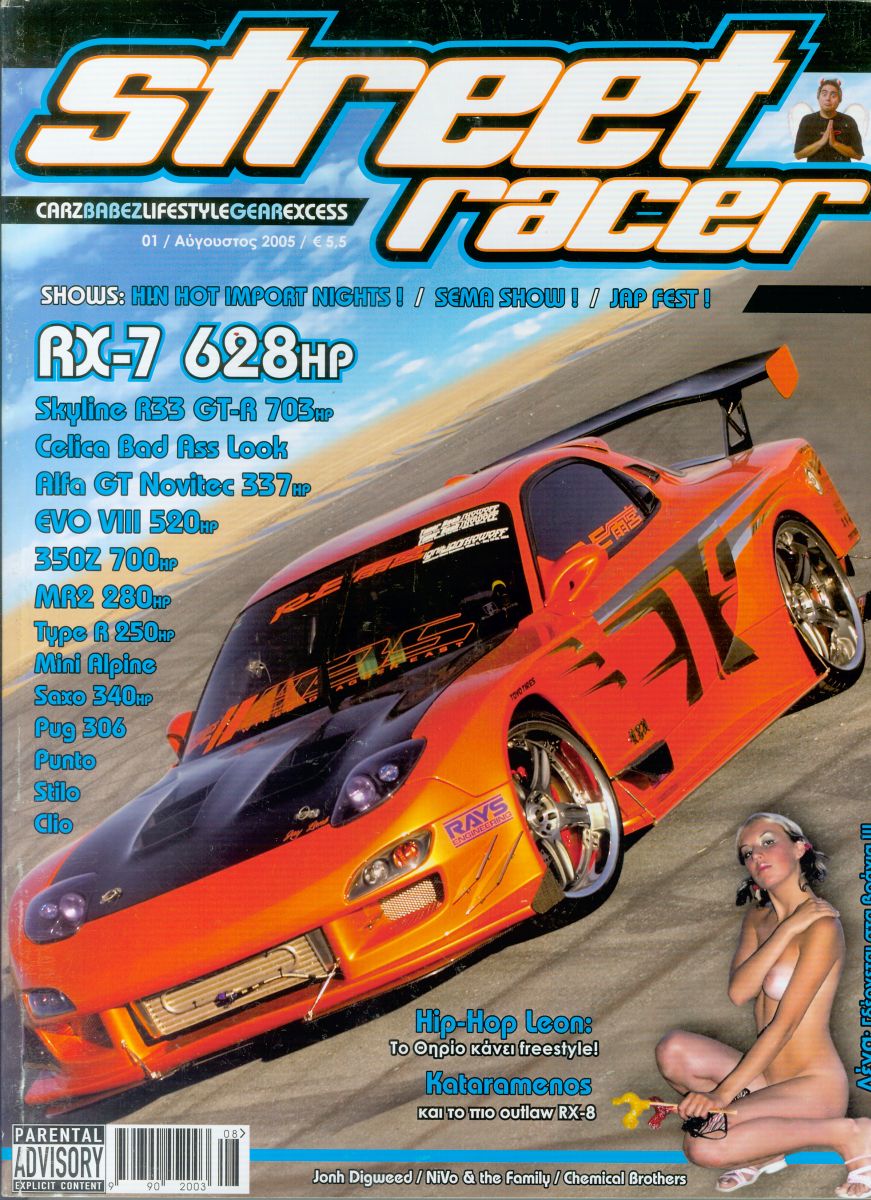 Fancy Parts (sticker roll):
Modern Image (stickering cars since the 90s!!)
SoCalEvo (online RPG EVO community/warzone)
CUSCO (not stickered)
TiAL (also unstickered)
WalBro (let's face it folks, they just ran out of sticker space on this car).