Ed Nazarian – Results: 2009 NASA National Championship
By Ed Nazarian
Results: 2009 NASA National Championship
The 2009 NASA National Championship was September 10-13 at Miller Motorsports Park (MMP), in Utah. It was a week packed with challenges stacked with more challenges. We endured a great deal of hard work and perseverance. I realized for the first time how much my real sponsors care. They are the reason why we were able to get things done.
(Getting ready)
About a month or two before Nationals, we started preparing my car at RRE. My cars home away from home is at RRE, so we have spent tons of time there working on lots of different things. There are a few things we upgraded on my car before I went: brake duct kit, fuel surge tank, and a turbo kit. RRE reached out to AMS who set me up with their fuel surge tank. Thank you AMS! RRE then set me up with an AMS brake duct kit that they found locally for me. And the biggest one of all, RRE totally hooked me up with their GT3076 turbo kit.
RRE is a primary example of what a sponsor is all about. If it wasn't for Mike, I don't see how I would be able to race. Mike is not only a veteran, but he is a genuinely nice and caring guy. More than anything I consider Mike and everyone at RRE my friends. Everything I say about them I say from the bottom of my heart. And I say it not because I have to, but because I want to.
RRE is there to help me progress. Their support is tremendous. And most importantly, they help me out because they want to. I don't have to beg and plea with them to get them to help out. They have families, and a personal life outside of all this, but they somehow make the time to help me out. You have no idea how many nights and days, including weekends, they have spent with me, and my car. There is no way I can articulate how amazing RRE has been for my racing program. On top of all that, Robert Ramirez (a.k.a. Honda Robert) made arrangements to come up to Miller for the entire week to crew for me. Honda worked extremely hard all week. He was the brains and muscle at Miller. I'm not sure how I would have been able to get through the challenges we encountered if he wasn't there.
Before we left, there was a great deal of time spent on lots of little things. Beyond all that, since my wheel bearings hadn't been replaced in about a year, I figured it would be best if we replaced all 4 to be safe. So I made a call to South Coast Mitsubishi, and they sponsored me with 4 new wheel bearings. SCM's support doesn't end there for my National Championship trip. All those details will be noted later in this thread accordingly. But to keep things relatively short for now, I want to say a big thank you to South Coast Mitsubishi for sponsoring me with some more vital parts. Those parts were the only reason why we were able to continue at Nationals. We encountered some braking issues, and SCM shipped me a master cylinder and 4 OEM calipers overnight. Something had malfunctioned and our only solution was to replace those parts. I don't have a spare for every single part, so we had to find those parts somehow. I called South Coast Mitsubishi and within a few hours they shipped me those parts overnight. Thank you so much!
At this time I also want to say a thank you to my newest sponsor,Robispec. Robi has joined the team and is now doing my suspension tuning. Robi is one busy guy, but he sure is enthusiastic. Even though he had his hands full, and given the limited amount of time he had to help me prepare for Nationals, he stepped up to the plate with open arms. We are taking baby steps, but what we are doing is for the better. Robi did quite a bit of work on my car before Nationals. Even though we are starting from scratch and have a great deal of work ahead of us, I'm happy for the first time with that regard. Robi has a great deal to offer, and just like RRE, I don't have to beg and plea with him to get him to help me out. He is forthcoming with ideas, and all he does is try to help me progress. Before we left for Nationals, he even made arrangements so that we can do a test day at Big Willow. Totally last minute, but he made it happen. All I had to do was show up and drive, that's it.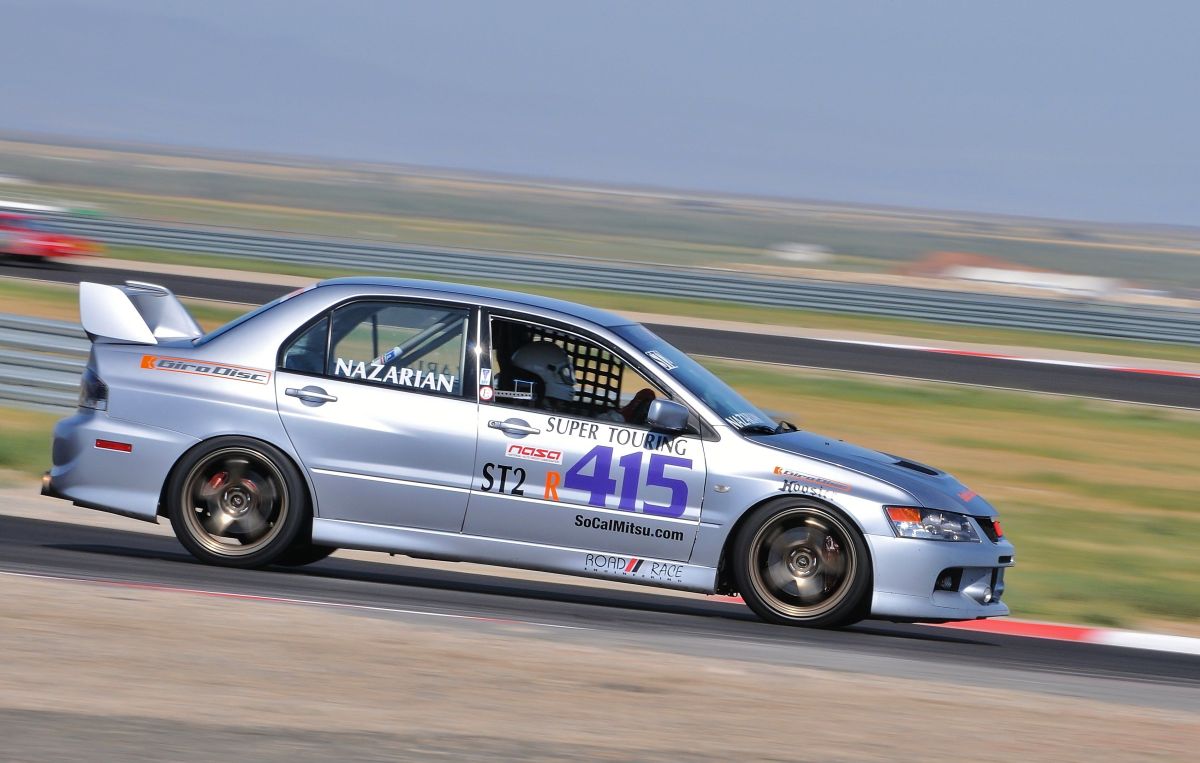 ( Tuesday, September 8 )
We arrived at the track late Monday night. Honda was already there and ready to go. MMP offered a separate test day on Tuesday, but it was a bit too expensive for me, so I opted to skip the Tuesday test day. Instead, I used Tuesday to unpack everything and get situated. Spent most of Tuesday just getting situated, learning the facility, and meeting some people. I must say that Miller has a really nice facility.
( Wednesday, September 9 )
The NASA test day was on Wednesday, so I couldn't wait to get out on track and learn MMP. I realized for the first time on Wednesday that MMP is much harder on brakes than I had estimated. My brake pedal didn't feel normal, and it gradually got worse as the day progressed. Something didn't feel normal, but I wasn't sure what to think. I also noticed right away that my peak boost was down a good 2psi due to the altitude. Prior to going, from what I had gathered I was supposed to lose around 2psi of boost, but either way it was interesting to actually see it happen.
As for the track, other than the front straight, it really doesn't have any other sections that are extremely high speed. Coming off the front straight, T1-4 are the last set of corners that are relatively high speed. The rest of the track involves short straights that are coupled with low-mid speed corners. It's a great deal more technical than I had anticipated. It's a very deceptive track. Overall it's a flat track, but it does have some elevation changes. And there really aren't any major reference points, so it took me a few laps during the first session to remember where I was. I found myself braking a few times where I needed to be on the gas. Overall, I was captivated by its challenges, and couldn't wait to get back out every session.
Before I get into the results, I want quickly explain how Nationals works. During Nationals we have 3 days of racing. Our group was group D, which comprised of Super Unlimited, Super Touring 1, Super Touring 2, American Stock Car, and Performance Touring A cars. Our races were scheduled on Thursday, Friday, and Sunday. On Thursday and Friday we had a Practice session, followed with a Qualifying session, and then a Qualifying race on each day. When a race is finished, you get points according to how you finished, 100 for 1st, and so forth. NASA then adds your points from both races, which then determines what your grid position will be for the National Championship race on Sunday.
( Thursday, September 10 )
Practice Session:
Since my first race was scheduled on Thursday, Honda and I bled my brakes on Wednesday night. My brake pedal felt ok, but it never felt normal. I was confused, so I didn't know what to think. I thought that maybe it was just me, but my gut feeling was that something was not right. We ran our Practice session and then our Qualifying session.
Qualifying Session:
Since something didn't feel right with my brakes, I didn't focus on laying down fast laps. I stuck to my routine and worked on different scenarios. During our Qualifying session I qualified 7th out of 9 cars with a 2:09.080. Here are the results from our Qualifying session:
1 – 2:06.164 – Jon Van Caneghem – Mazda GT
2 – 2:06.653 – James Wagaman – Mazda GT
3 – 2:06.770 – Ron Farmer – Corvette Z06
4 – 2:06.817 – Bobby Fischer – Cadillac CTS-V
5 – 2:07.293 – J.R. Smith – Corvette Z06
6 – 2:08.157 – Kenneth Smith – Corvette Z06
7 – 2:09.080 – Ed Nazarian – Mitsubishi Evo 9
8 – 2:12.839 – Tom Dragoun – Mazda GT
9 – –:–:–.— – Scott Howard – Mazda RX7
Qualifying Race:
Since something didn't feel right with my brakes, my plan for the Qualifying Race was to just get out there and feel things out. However, the challenges were endless, and they began to unfold from the beginning of the race. While parked at the grid, some car in the front of the pack was having problems. Some cars were let out, then the rest of us were held up. A bunch were let out again, then when I approached I was held up. By the time they let me out of grid my group was gone. At the time I didn't know how far ahead they were, but I never imagined what was about to happen.
I worked on getting my tires up to temp, but I knew I had to catch the field so I tried to drive around during that warm-up lap a little more quickly. By the time I hit T13 I realized it was too late. My group was in formation and was waiting to take the green flag. By the time I hit the front straight the green flag had already dropped and my group was entering T1. I couldn't believe it. At that point I figured my 1st race was done. Fortunately, my group got a little bunched up and I was able to catch the back of the pack by the 2nd lap. I made a few moves the next few laps and I progressed from 7th to 4th place. My brakes were not feeling right and I could feel my brake pedal deteriorating. Two of my competitors were on my tail and I tried my best to hold my position. Unfortunately, my brakes did not hold up. With about 3 laps to go my brake pedal got extremely soft. I further extended my braking zones, and started pumping my brake pedal. Then my brake pedal dropped to the floor with 1 lap to go. I started pumping my brake pedal urgently but there wasn't much of a response. There were only a few corners left before the race ended, but I had no other choice but to let my 2 competitors by. With a few corners left I lost my 4th place position, and fell back to 6th. During the cool-down lap I had to use my e-brake a few times, but it didn't help. My brake pedal was on the floor. I coasted around the track and carefully exited. Honda had to physically slow me down as I rolled into impound. The last few laps were very nerve wrecking because all I could think about was my brake pedal. And when the race was done I had to keep my distance from everyone and everything because I was afraid of simply rolling into someone or something. Here are the Qualifying Race results:
1 – 2:05.889 – Kenneth Smith – Covette Z06
2 – 2:06.280 – Bobby Fischer – Cadillac CTS-V
3 – 2:04.803 – Ron Farmer – Covette Z06
4 – 2:08.246 – Scott Howard – Mazda RX7
5 – 2:09.283 – Jon Van Caneghem – Mazda GT
6 – 2:09.286 – Ed Nazarian – Mitsubishi Evo 9
7 – 2:14.261 – J.R. Smith – Covette Z06
8 – 2:05.930 – James Wagaman – Mazda GT
After the race I still didn't know what to think. My gut feeling was that something was not right with my brakes, but I thought that maybe it was just me. Maybe I was too hard on my brakes. But I have been much harder on my brakes before, namely my Socal Regional races at Buttonwillow in May. I had (2) 35min races that weekend against the Mazda GT's. Both races were intense from start to finish. And each one was much longer than this Qualifying race. My brake pedal got soft during those 2 races also, but my pedal didn't fall to the floor. And like I said, each of those races were much longer. As you can see, I was confused, and didn't know what to think. Honda helped me and we went through a few bottles of brake fluid that night in preparation for Friday.
( Friday, September 11 )
Practice Session:
I was optimistic with my brakes because we had gone through a few bottles of brake fluid on Thursday after my race. My brake pedal was firm, and we figured there was simply lots of air in my system. But since my pedal was firm we thought everything was good to go. Friday morning I got suited for my practice session and got ready to go. I turned on my car and applied my brakes. My pedal went down half way and my heart stopped. I was really confused because my brake pedal was firm the previous night. I pumped my brake pedal and my pedal got firm, but then a few seconds later it would get soft again. I was stressing out. I couldn't believe what was happening. I kept thinking…what am I supposed to do? What is going on? Why is this happening now? I decided to still go out for the Practice Session, but I was going to take it easy and feel things out. I did a lap or two very carefully, but I didn't feel that it was safe for me to continue. I exited and Honda and I started discussing our options.
We figured that we needed to replace my master cylinder and my calipers. Problem was that I didn't have an extra master cylinder, let alone extra calipers. We got on the phone and started making some calls. I called South Coast Mitsubishi, Girodisc, and some local Utah racers that I had met. After a bunch of back and forth phone calls, and a whole bunch of waiting and stressing out, SCM found me a master cylinder and calipers. They assured me everything was good to go and they were going to overnight me everything so I could have it all on Saturday. They had to overnight everything because it was Friday. Packages don't arrive on Sundays, and since my National Championship race was on Sunday we had to receive everything by Saturday to get it all installed and ready to go. One of my local contacts called me back and said he found me some parts also. He knew Vesko Kozarov and Lara Tallman, who were the people that had campaigned an Evo 9 in SPEED World Challenge. I kept them as my backup for the just in case factor.
( Saturday, September 12 )
First thing I did Saturday morning was I went to shipping and receiving. I checked to see if my package had arrived, but they said no. I went back several times and the anticipation was killing me. As the hours progressed the anticipation evolved into more of an overwhelmingly stressful situation. I had this bad feeling that was brewing because everyone told me the package would arrive in the morning. I checked again around noon, and I noticed a few packages had arrived. But the MMP worker told me none of them were mine. He then said that if it hadn't have arrived by then, maybe something was wrong. My heart dropped and I was stressing out tremendously. If I couldn't get those parts, my trip to Nationals was pretty much done. I couldn't sit around and wait any longer. I got in touch with the local MMP racers I had met and they put me in touch with Vesko. I called Vesko, and I was surprised that he made the time to actually help me out. He was in the midst of preparing for a Grand-AM race, but he took the time to find the parts I needed. I told him the situation about how my package hadn't arrived yet, and he said he had the parts I needed ready to go. If my package didn't arrive all I needed to do was to give him a call. Even though I didn't have his parts in my possession, it was a relief to know he had something for me as a backup. Shortly after that I went back to shipping and receiving and to my surprise my package had finally arrived. There is no way for me to describe how relieved I was. A big thank you goes out to South Coast Mitsubishi for sponsoring me with those parts, and getting them to me overnight. Its times like that when you realize who really has your back.
I rushed back with the package and Honda got started. It was around 1pm, and we only had about 3 hours. I had 1 practice session on Saturday at 5pm, so our plan was to get the car ready so I could test it then. Honda took everything apart and worked like a mad man. I helped him as much as I could, but we couldn't get it done in time for me to make the 5pm practice session. It was a really long stressful day, and Honda attacked it like a freight train.
Before leaving for MMP, since I didn't have any extra brake pads, I called Martin at Girodisc to get some as backup. Martin shipped them to the track for me, and they arrived on Friday. It's a good thing Martin set that up for me, because my pads were starting to wear a little thin. When I had Martin set me up with those pads my plan was to keep them as my backup set. Instead, we ended up installing the entire set on all 4 corners. Thank you Martin! Honda left with his ride and I finished everything up that night. Since I missed the Saturday practice session, I went for a little test drive on Saturday night when I finished. I figured if my braking issue was not resolved by then, there was nothing else left that we could do. Right away I knew my brakes were back to normal. I tested them out on some backroads and everything felt solid. But given what I had been through, I was going to wait to see how things would be the next day.
( Sunday, September 13 )
Practice Session:
There was a great deal of anticipation brewing. I got suited and got ready for my only practice session on Sunday. If my brakes didn't work then, my trip was over because our National Championship race was a few short hours later. I got out there and gradually got up to speed. My brakes felt solid, but I couldn't help to feel a little skeptical. I gradually pushed it more and more, and everything felt fine. At that point I knew everything was finally working again.
The weather forecast indicated that it might rain on Sunday, and it did. It periodically rained. Honda helped me bleed my brakes one last time. Then at some point it started getting extremely windy. For a second I remembered the 2008 Nationals. Last year at Mid-O, during the last day at Nationals we got hit with remnants of Hurricane Ike which pretty much obliterated the entire Mid-O facility. So when it started getting extremely windy at MMP, all I remembered was 2008 Nationals. As if our challenges were not enough, this out of control wind came flying in, the irony. I was in the midst of changing my engine oil, and it was quite the challenge. We surrounded the front of my car with all sorts of contraptions to block the wind. Otherwise my engine oil was going to splatter all over the place as it drained. That ended up taking a lot longer than I had anticipated. A great deal of my time was lost accordingly. Next thing I knew I was about 45min away from my National Championship race. Honda unfortunately had to leave because of his ride, so I was rushing desperately. I had to finish that up, get my wheels/tires mounted, fueled up, and wrap up everything in between. By the time I got suited and strapped in I could see my group getting situated at the grid. I was in a mad rush. I drove over to the grid, and as I pulled into my spot they called 1min. I had a few seconds to compose myself and the next thing I knew they were signaling us out on track.
National Championship Race:
Our National Championship race is 45min long. All my races thus far have been 35min long, so my overall plan was to take my time. Since I had missed our Qualifying Race on Friday, I had the least amount of points in my class. Therefore, I was grid up in last place in our group, which was comprised of Super Unlimited, Super Touring 1 and Super Touring 2 cars. We were one of the groups that had a special internet broadcast deal with SpeedCastTV, so we had the 1st rolling start, and we were lined up as one entire group. I was in no hurry to challenge my competitors, so I was not going to make any aggressive passes yet. I kept telling myself that it was a long race, and that I was going to stay away from everyone. If someone was going to pass me I was going to let them by with ease. We did our warm-up lap and I couldn't wait any longer. As we went through the last set of corners I remember thinking that I couldn't believe we had made it through all those challenges. It had been one hell of a journey, and there is no way I can explain how significant of a trip it had been. We turned onto the front straight in formation and moments later the green flag dropped. However, like I said in the very beginning, "it was a week packed with challenges stacked with more challenges. A great deal of hard work and perseverance." Little did I know then that my challenges were not over just yet.
After the green flag dropped everyone took off down the front straight. Some people were pretty settled while others were weaving around looking for holes. I stuck to my plan and passed a few cars down the front straight because they were low risk maneuvers. We were a long train of Super Unlimited and Super Touring cars all bunched together. I was towards the back, but had already moved up 2-3 spots in my class. I had 2 Mazda GT's on my tail and was in no big hurry to maintain my position. We approached T5, and I noticed they took the inside line. I backed off, gave them plenty of room, allowed them to pass me, and tucked in right behind them.
During that 1st lap there was an incident, and as we turned onto the front straight a double-yellow was presented at start/finish. Everyone backed off, but one of the Mazda GT drivers didn't see the double-yellow and went flying by the entire field. It was pretty funny. The pace car came out eventually and collected the field. We did that 1 lap under the pace car, then as we came around onto the front straight the pace car exited, and the green flag dropped restarting the race. I had another low risk pass on the Mazda GT down the front straight, so I took it. He trailed me through the next few corners and we approached T5. I maintained the outside line and as I turned in I noticed that he moved over and tried to tuck in on the inside of me again. Something inside me told me to give him more room this time. So instead of turning in even more, I moved over far right to give him all the room he needed. I remember glancing over and thinking there was enough room next to me to stick another car there. The next thing I know he comes crashing into me sending me off track. I was shocked. I couldn't believe that he came crashing into me. There was tons of room next to me. I just couldn't believe it. I was a little dazed. I waited for some cars to pass, and when the coast was clear I got back on track. Right away I realized something was wrong. My car was limping around, and as soon as that happened I realized that my National Championship race was over. I was devastated. I just couldn't believe what had happened. I knew of the driver who had hit me because he is a Socal racer. And I know he is a veteran racer, so on top of that I was shocked that out of all the people he was the one who hit me. I limped around the last few corners, pulled into impound, and that was that. We both filled out incident reports. NASA officials looked at our forms, checked out our cars, and asked some questions. They finally came over and told me that he was DQ'd and I was free to go.
I eventually made my way back to my spot and started packing up. He came over later on and I could tell he felt horrible about the situation. He apologized and admitted that it was his fault. He admitted that he came in too hot. He also acknowledged that he saw me move over far right to give him more room. I was thankful that he apologized and that he admitted that it was his fault. Either way I was devastated. I couldn't believe that after all the hard work Honda and I had put in that week, it all came to a crashing end on the 1st lap of the restart. I'm a rookie racer, so my experience with such matters is just beginning. Either way, I have never endured as many challenges and hardships at any event. Honda and I worked really hard all week. I came back without any trophies/rewards, but the experience I gained in result of how we persevered is priceless. There really is no way I can explain how significant of a trip it was. And I owe that all to my sponsors, and my crew, Honda Robert.
The ironic part of that race was that I ended up getting 4th place. As the week progressed we lost 2-3 ST2 cars. In the final race 7 of us started the race, but only 3 finished. The driver who hit me was DQ'd, so he took last place. And the other 2 had issues and did less laps than me. Even though I was hit, which ended my race, I had done more laps than them so I ended up with 4th place.
On a side note, it seemed like quite a few people had issues also. Namely, some of the Socal guys I know. Terry Free was having issues all week also. He first went into the wall at the exit of T6. I was behind him when that happened. He almost had it, but his rear end stepped out way too much and into the wall he went. They repaired his damage and he was back out. Then he had clutch issues which apparently never got resolved. To top it all off his engine blew again. Terry has had quite a few engine issues, so it was sad to hear his trip ended in that fashion. Beyond Terry, my friend Scott Howard was battling issues also. Scott is a fellow Super Touring 2 racer who races a 1985 RX7. I don't recall his issues in detail, but I think he was having electrical issues at the end. His troubles ended up preventing him from racing in the National Championship race. I'm confident that if he was able to race, he was in a position to win it. He was down on power, but regardless of his issues, he ran a pretty fast time in one of the practice sessions, a 2:04xxx. The really sad part is that he didn't get to race during the 2008 Nationals either. He blew his engine last year on the first day. Its 2 years in a row now that he has gone to Nationals, but hasn't been able to race. I know that once he gets his car sorted, he will be one of the fastest guys in Super Touring 2.
As you all can see, the only reason I am able to race is because of my sponsors. And the only reason we were in a position to persevere at Nationals was because of them. Without them I would not be able to do any of this. So a big thank you to all of them:
– RRE
– Robispec
– Girodisc
– SCM
– ACT
– Island tire
– And all my friends
Beyond them I also want to thank my crew, RRE veteran, Robert Ramirez (a.k.a. Honda Robert). Honda was the brains and muscle at MMP. We had so many challenges thrown at us all week, and Honda literally attacked them all like a freight train. If he hadn't have come, I don't know how I would have been able to progress, let alone make it through the entire week. You are one of the people I trust and know that I can count on. Thank you for everything!
(In-car footage)
Here is my in-car footage from the 1st Qualifying race. I've adjusted the position of my camera, so you should notice that the footage is much better now:
Here is in-car footage of the National Championship race from another driver. For whatever reason, my camera malfunctioned so I don't have any in-car footage from this race. This car is in Super Touring 1. You will see me in the picture from around the 40sec marker. I get hit a bit after the 7min marker in T5:
In-car footage of me getting hit (@7:10):