Ed Nazarian @ ACS Roval 3/13-14/10: Super Touring race results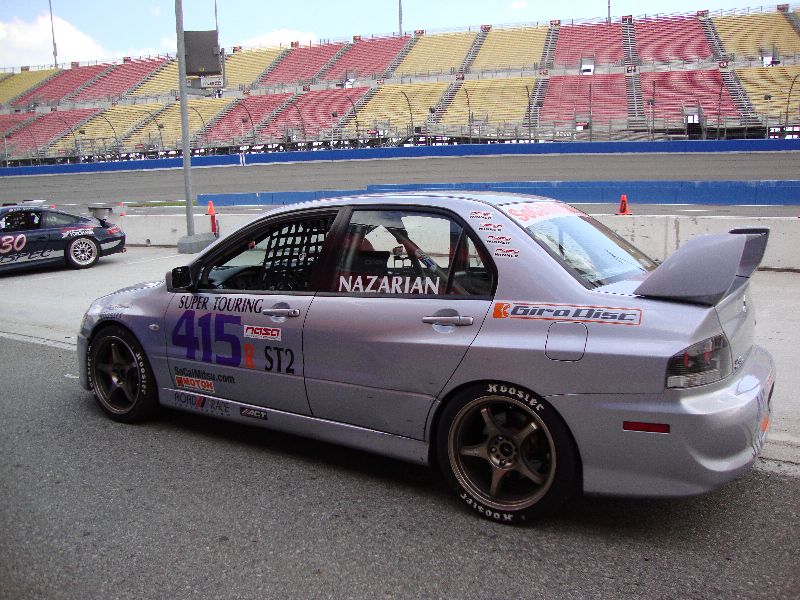 Write Up by Ed Nazarian (driver/author of stories in boldface)
Snippy comments and edits by James Singer (slow driver/book reader)
We were racing at ACS last weekend, March 13-14.  Last time I raced at ACS was this same event in 2009, so it's been a year since the last time I raced there.  Since I used our Super Touring season opener in February at Big Willow mainly as a shakedown event, I was ready to start pushing it progressively at ACS.  Despite all my efforts, it turned out to be another weekend of struggles.  However, it ended on a completely unexpected result.  I will get into the details accordingly, but for starters I want to say a quick thanks to Mike Welch from RRE for showing up and helping out, and also to Robert Fuller from ROBISPEC for providing me trackside suspension tuning for both races.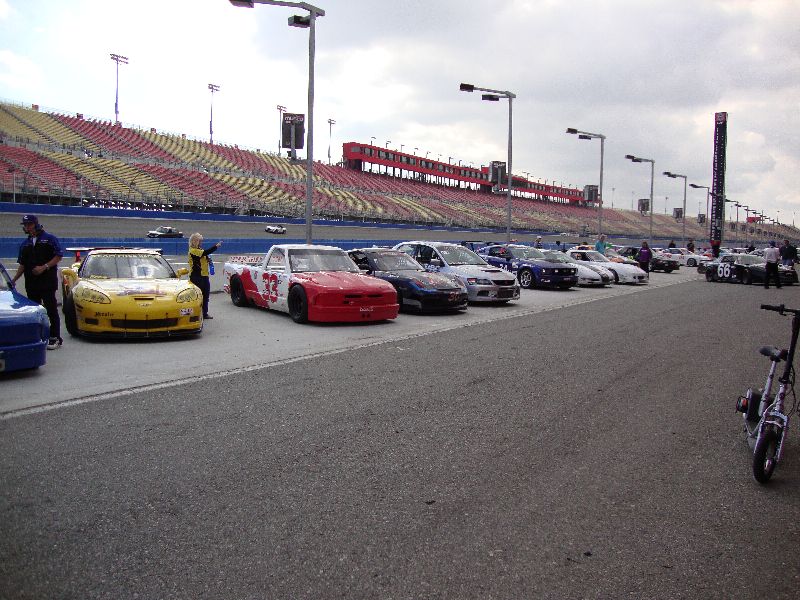 [all the crazy cars Ed has to race with lined up in a row.  The first time I attended a NASA event, I was blown away with how much diversity there is in his field.]

Thus far I have tried to be as patient as possible with mods for my racecar.  I have been patient long enough, so I decided it was time I upgraded something.  One of the mods I've been considering is the TRE rear-diff.  I contacted Jon at TRE and we set everything up through RRE.  Being the cool guy that Mike is, he gave me an extra rear-diff and then shipped it to TRE.  This way we can keep mine as backup.  Thanks Mike!  TRE Jon shipped it back to RRE and the guys at RRE installed it for me.  Thanks guys!  Since [forum-restricted] does my suspension tuning, we will be setting up the car from track to track as things progress throughout the season.  I'll post a separate thread regarding my initial impressions of the TRE rear-diff coupled with [forum-restricted]s suspension tuning as the season unfolds.  But for now I'll say that driving my car with the TRE rear-diff feels like I'm driving an entirely new car.  And I'm looking forward to seeing how we can develop my car with it.  Beyond upgrading to the TRE rear-diff, Martin from Girodisc sent me a new set of front 2-pc rotors.  My second set had run its course, so it was time for another set.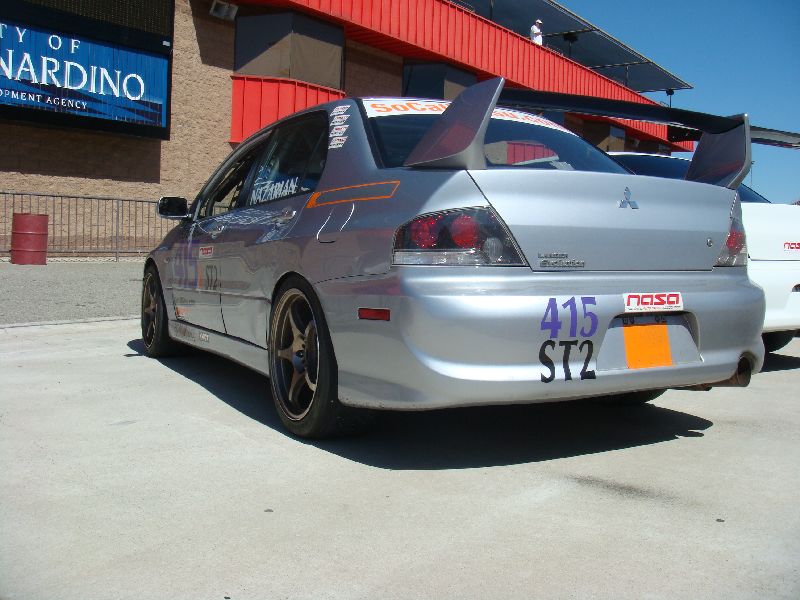 [note that in the group Ed runs in, they trade paint.  This isn't for pretty boys.  Every single time I have been to the track, this group gets rough and tumble with each other.  Look at ST2 cars and you will see battle scars]

(Saturday Qualifying)
I noticed right away that the track was setup a bit tighter than last year, especially the last set of turns leading onto the Roval, T16-21.  Since that section leads us onto the Roval, it decreases our exit speed, thereby decreasing our speeds onto the Roval.  I gradually pushed it more and more from our Practice session, to our Qualifying session.
Before I proceed with anything else, I want to give a little welcome to an Evo newcomer, John Hsu.  I think John approached me on Friday while I was getting situated.  He recently purchased an Evo 9, and decided to race with us that weekend in Super Touring 2.  He's a Honda Challenge driver, so he's not new to racing, just new to Evos.  He was racing his Integra in H2, and his recently purchased Evo 9 in ST2.  I hope he continues to race his Evo 9 with us in ST2 because it will be really cool to see another Evo out there.  Other than us 2 Evo 9s, there was Scott Howard with his white Rx7, Ryan Cashin with his white Vette, and a guy named John Gordon in his blue 996 Porsche.  The Mazda GT guys skipped this event.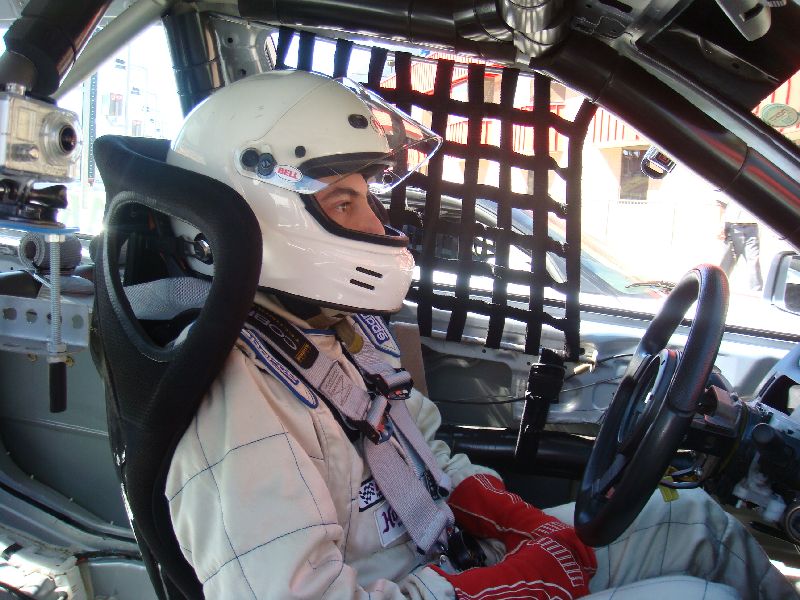 [See Ed's eyes in this picture?  Dude is intense.  What is going on up there?  I have been trying to figure it out by having him ride with me and riding with him in my car because when he gets this look on his face, he is about to destroy the earth in his EVO.  Super intense focus!!]

(Saturday Race)
We were part of race group B, which consisted of SU, ST, ASC, GTS, AIX, AI, CMC, and FFR racecars.  Most of the classes didn't have enough cars, so our rolling start was combined including SU, ST, ASC, AIX, and AI.  And they set our grid according to the overall lap times with respect to each rolling start, not lap times within each class.  So despite qualifying in P2 for my class, I was in P10 for our rolling start.  That meant we had out of class cars in between us which made things a bit difficult.  For whatever reason, there is always one or more out of class drivers that end up racing other drivers.  They hold you up by drag racing you down the straights.  There were plenty of those guys at this event.
Some guys botched the start so a bunch of cars passed me through T1 and T2.  After watching my in-car, 8 cars passed me, 3 of which were my competitors (Vette, Rx7, Evo9), and 5 out of class cars (2 AI cars, 2 AIX cars, and 1 ASC car).  I was held up quite a bit and had to overtake several of those cars.  But my biggest challenge occurred early in the race on lap 3.  On the first lap someone knocked the cone that's in between T10-11 into the middle of the infield straight.  In lap 3 I was nose to tail with Scott exiting that chicane.  I stepped out to pass him and that cone ended up eating my lip, my entire undertray, and some of my IC.  I didn't know any of that until the race was done.  After hitting the cone I could hear something dragging around my RF, and I thought it was part of that cone.  After the race I found out it was my undertray.  The entire undertray was hanging by (1) zip-tie the whole time!  I somehow finished the race in 3rd place.  A pretty good result considering my struggles in that race.  Unfortunately, my camera shut off about 8min into the race.  Therefore, you won't be able to see the out of class cars that were drag racing me the whole time, who btw had none of their competitors around them.  Don't worry, you'll see plenty of that from my Sundays in-car race footage.
As for the cone that ate my lip, undertray, and some of my IC, my friend Mark was able to help out.  Mark drives an Evo 9, so he loaned me his lip and undertray.  Thanks a bunch Mark!  On Sunday morning Mike brought me an extra undertray, lip, and a whole bunch of plastic clips.  Mike helped me finish up the rest with some zip-ties.  Thanks Mike!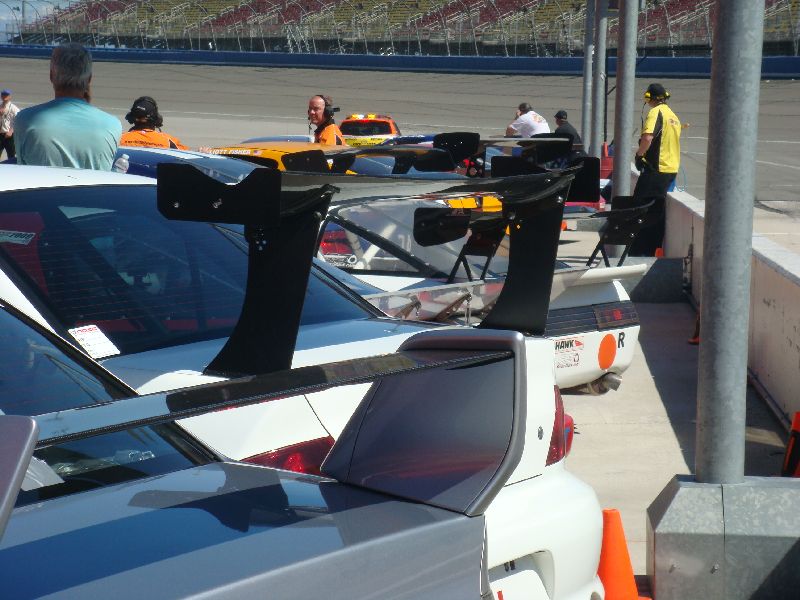 [wing envy.]

(Sunday Qualifying)
Mike and my friend, Scott Pennock, helped out by checking my tire temps and pressures.  The undertray and lip felt fine so I pushed it more and more, and it felt like things were progressing.  Unfortunately, I found out afterwards that I forgot to mount my transponder so the officials had to somehow time me manually.  I didn't get a good qualifying time because of that.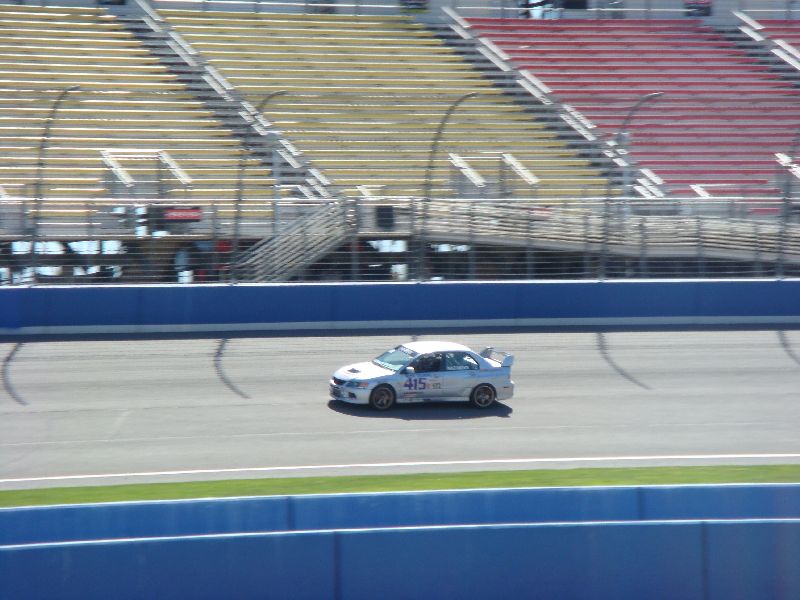 [I am secretly scared to run on this track as a n00b.  I know Ed has the skills but ACS is FAST! Look at Ed Go!  Blurry fast is faster than just background blur!!]
(Sunday Race)
For some strange reason, this event had a whole bunch of drivers who were flat out horrible.  Drivers drag racing out of class cars, incorrect/late grid formation, start jumping, and who knows what else.  It has never been this bad, so I'm a little confused as to what happened.  One in particular was an Orange AIX Mustang.  We were all over him in the braking zones, and the corners, but within a few seconds he would become a dot down every straight.  Then we're all over him again in the next corner.  Not sure why he wouldn't just let us by.  There was only 1 other AIX Mustang in that race and that driver was days behind the Orange one.  He was all by himself, and wouldn't let us by.
As for the completely unexpected result, I won on Sunday.  That race on Sunday is by far my biggest come from behind win, while trying to get around more out of class cars that were drag racing me when they didn't have any of their competitors around them.  As if that wasn't challenging enough, the car that took 2nd place, Blue 996 Porsche, hit me on the last lap.  Fortunately, I was able to save a potential spin/off and maintained the lead for a completely unexpected win.  The Porsche was on my tail at the finish line trailing me by .152 seconds.  Meanwhile, the Orange AIX Mustang almost ruined my lead again.
I don't know how I caught the Porsche in the first place.  I felt like I was so far behind that catching the leader never even crossed my mind, let alone having a chance at winning.  You have to watch the entire race to understand why.  As for getting hit by him, it happened at the apex of T4.  He went in too hot into T3 and nearly drove off track.  I passed him on the inside of T3 and was in front of him shortly.  I was then already turned in and committed to T4 and he came crashing into my right-rear.  Sounds like he went for a last minute out of control pass because you can hear his car slide into mine as his tires lock up.  I'm not sure what actually happened to him, but my best guess is that he went in too hot into T3 and lost control.  And then maybe he was a bit over-zealous and thought he could save it while nearly off-track, and also regain the lead with a last minute pass.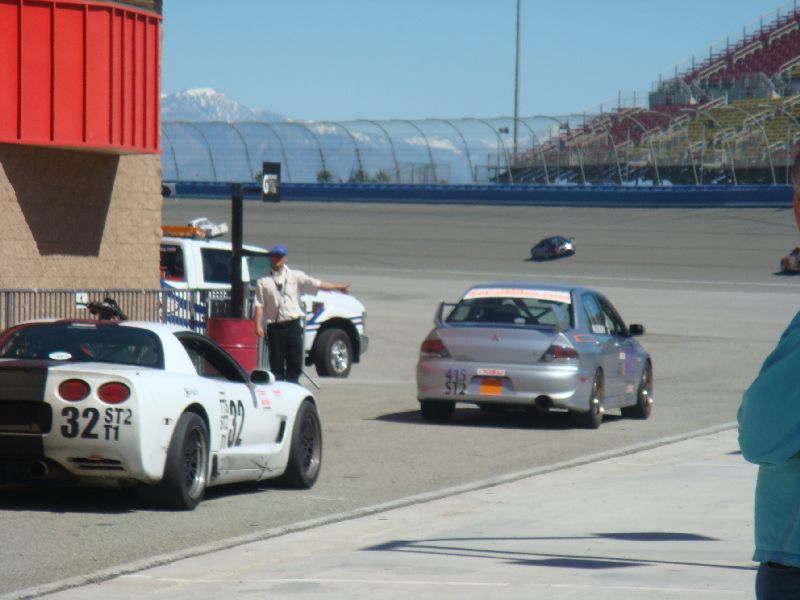 [look at this pic.  Getting on this track IS NOT intimidating to you?  Are your scared?  You will be!]
Saturday Qualifying times:
1.  1:48.848 – John Gordon #30 Porsche 996
2.  1:50.331 – Ed Nazarian #415 Mitsubishi Evo 9
3.  1:51.720 – Team Cashin In #32 Chevrolet Corvette Z06
4.  1:52.079 – Team Howard Racing #70 Mazda Rx7
5.  1:52.567 – John Hsu #2 Mitsubishi Evo 9
Saturday Race results:
1.  1:49.222 (in lap 3) – John Gordon #30 Porsche 996
2.  1:49.358 (in lap 8 ) – Team Cashin In #32 Chevrolet Corvette Z06
3.  1:50.144 (in lap 10) – Ed Nazarian #415 Mitsubishi Evo 9
4.  1:50.794 (in lap 6) – Team Howard Racing #70 Mazda Rx7
5.  1:55.052 (in lap 3) – John Hsu #2 Mitsubishi Evo 9
[vimeo]http://vimeo.com/10477595[/vimeo]
Sunday Qualifying times:
1.  1:50.799 – John Gordon #30 Porsche 996
2.  1:51.688 – Team Howard Racing #70 Mazda Rx7
3.  1:52.618 – John Hsu #2 Mitsubishi Evo 9
4.  1:53.986 – Ed Nazarian #415 Mitsubishi Evo 9
Sunday Race results:
1.  1:49.913 (in lap 11) – Ed Nazarian #415 Mitsubishi Evo 9
2.  1:50.558 (in lap 4) – John Gordon #30 Porsche 996
3.  1:52.660 (in lap 3) – John Hsu #2 Mitsubishi Evo 9
4.  1:50.652 (in lap 3) – Team Howard Racing #70 Mazda Rx7
5.  1:50.192 (in lap 3) – Team Cashin In #32 Chevrolet Corvette Z06
[vimeo]http://vimeo.com/10264004[/vimeo]
Watch out for Ed at the track.  If you are a n00b like me, you can learn a lot from a guy liek Ed.  If you are a sponsor, well, what are you waiting for?  Shout outs to John Gordon and Team Howard.  These guys also rule.  I have shared garages and parking spots with them and they are all really good at being supportive to me even when I went off and got a tidal wave of dirt in my car on my first weekend