Meadesports – Pikes Peak – Day 1 Done and dusted!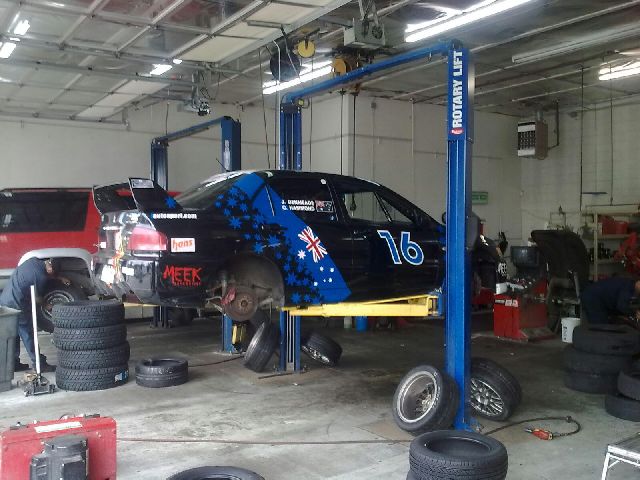 Well we got up at 2;30 am to be at the mountain by 3:30 am to be in position for our first practice. We had the middle section today, tomorrow we are on the very gravelly top, and Friday we will be running/practicing on the bottom. This works out very well for us as they use the bottom section for qualifying, so those that had it today, ie; all the bikes, quads etc, were in fact qualifying. We wont have to worry about that for another couple of days.

We did 6 test runs and learnt a lot, we saw no need to do anymore as it just wears on the clutch and tyres.

We also were given a test set of Elig competition brake pads, and I have to say, these were good, flying up to the first hairpin, flat in 4th gear, my notes say brake at the sign, but flying up to it foot down in 4th, 3000 foot drop off the side I thought 'am I crazy, that's too close to the turn', but I gave it a shot and whammo'd the brake pedal and the car stopped 20 feet short of the corner. Great pads!!

The evo got its new tyres mounted yesterday, so we were bedding the tyres in and heat cycling them, but they came through on their first run.

Right now we really need a nap, not just because of the early start, but because we both didnt sleep last night, and we get to do it all again tomorrow. Umm, I mean tonite, well, you know what I mean.

On a sad note, Dave Kern blew his engine in his evo, it was an AMS special stroker, and it wouldve been a true powerhouse, but it seems the timing belt broke, so Dave has taken it back to his house and we've offered to help in any way. We hope it gets back together real quick.