SCC Magazine – 2002 Ultimate Street Car Challenge: Mike's on the Guru Panel
Sport Compact Car Magazine, March 2002
Reprinted with permission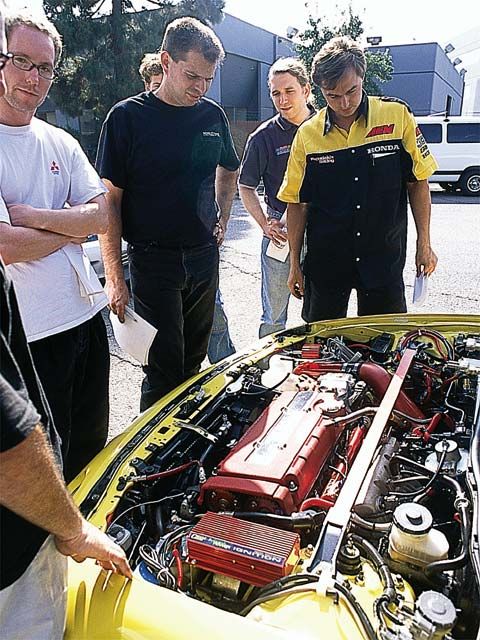 There's no quicker way to discredit your work than to show it to an engineer. Our panel of technical gurus consisted of Mitch Terry from AEM, Chris Weisberg from Magneson, Mike Welch from Road/Race Engineering and Jason Kavanaugh, a talented engineer who's currently between jobs.
Our panel poked, prodded, admired and criticized the cars from every angle, evaluating the engine, drivetrain, suspension, brakes, body and interior for functionality and quality of execution. Then they came up with an overly complex scoring system that we won't repeat here (because we don't understand it) and rated them.
It was little surprise Tod Kaneko's spotless Datsun 510 found itself at the top of the pile, but the number two finish of the Mustang raised eyebrows. Apparently the purposeful build-up of the Ford impressed our judges. Everything is focused on speed and reliability on the drag strip, with no effort wasted on frivolous modifications.
The Sentra scored a close third, thanks to its very sano turbo system and thorough performance-oriented approach to all the mods. Criticism from most of the judges focused on the disco paint job and the stock interior.
At the sad end of the score sheet was the largely unfinished and hideously complex MR2. Upon gazing unto the Toyota's cramped engine bay, Mike Welch noted "For every cool part, something else is rigged, hacked, twisted or leaking." These guys can be brutal.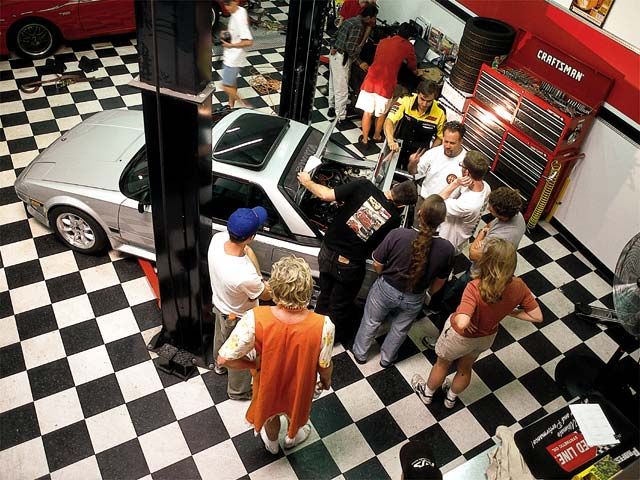 The Hyundai, despite its massive performance, disappointed the panel. Most liked the concept, but the crude engine management, stock brakes and under-developed suspension offended their perfectionist sensibilities.
ENGINEERING JUDGING
RANK  CAR   POINTS   NOTES
1   Datsun 510                    100   Cleanest engine compartment in L.A.
2   Ford Mustang               84   Much improved on sucky dinosaur design
3   Nissan Sentra               83   Intentionally conservative
4   Acura Type R               82   Well thought-out engine mods Nissan 300ZX82Insane motor/heavy wheels
5   Nissan Skyline GT-R   79   Ghetto-flo test pipe
6   Toyota Supra                75   Too much power for stock brakes
7   Ferrari F360                 71   Italian elegance/Japanese aroma
8   Toyota MR2                  67   Rats nest
9   Hyundai Tiburon        64   High concept/low execution
Full article with links to all the tests hosted now on ModifiedMag.com:
Read more: http://www.modified.com/features/0203scc_streetcar_challenge_guru_panel/index.html#ixzz1hRXmjxl8