1st Annual RRE Toy Drive To Benefit City of Hope 2012
Words by James Singer
Pictures by tons of different random people (but all the best ones are taken by David Karey because he actually knows what all the knobs and buttons on a DSLR do).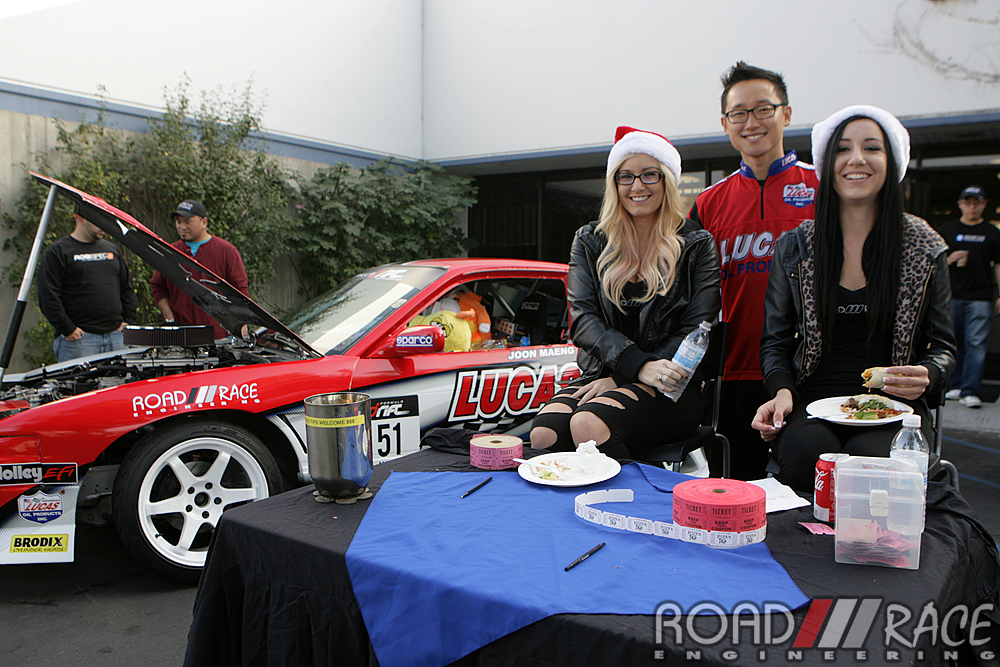 Rossy had an idea to get a bunch of people together for a toy drive to benefit the kids at City of Hope in time for Christmas.  The result went WAY beyond expectations.  The event was a huge success.  There were a bunch of DSMs, EVOs, some drift cars and even one STi that showed up.  Also, Joon Maeng was on hand signing autographs while his car was filled to the brim with toys that he and Rossy
would deliver to the kids at City of Hope personally.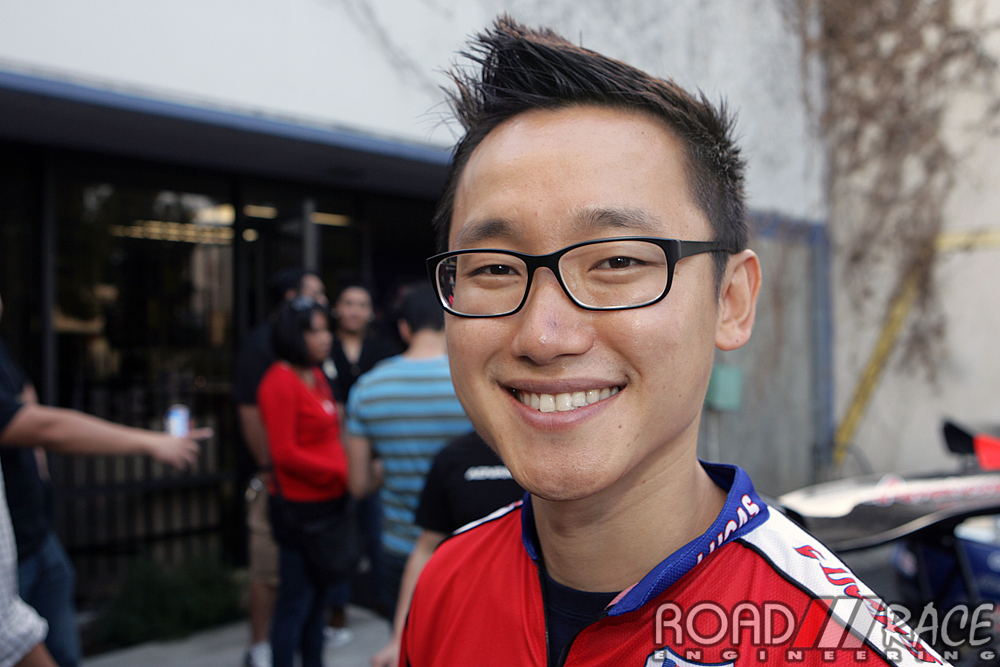 Joon is such a genuinely awesome guy.  All those good things you read about him are true.  I have seen him more tired than I have ever been in my life (which is actually pretty damn tired), and he is still golden.  You might wonder why everyone at RRE loves Joon so much.  I can tell you one reason beyond what you have already read about his personality…FOOD!!  Joon ALWAYS brings the RRE crew food when they are working on his car.  A small display of appreciation goes a long way.  I am just saying.  I learned this from Joon.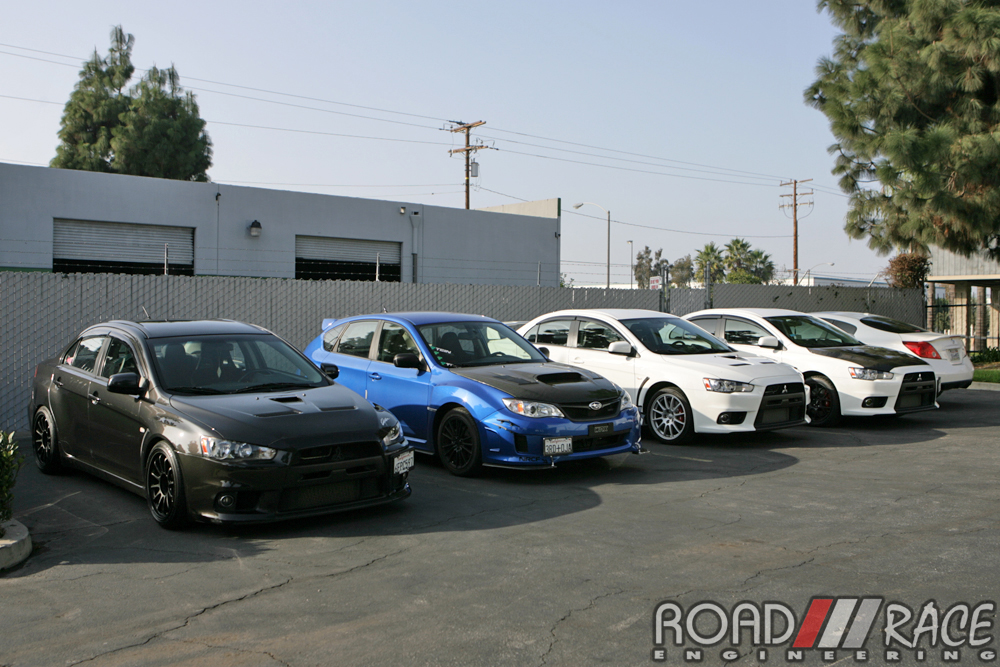 I got to the meet an hour late because I woke up late but I still had to wash my car.  I thought it would be no big deal to get there an hour late but I was wrong.  I ended up having to park out on Shoemaker.  La Dana Ct. was full.  There were also a ton of cars over at Road Race Motorspots.
When I got there, Rossy had some models helping with the donations.  They were also handing out food tickets and raffle tickets.  On the left is Ashley Clark, in the middle is Rossy Welch and on the right is Amanda Kerr.  Tons of respect to these ladies for donating their time to a truly worthy cause!!  RRE IS FOR THE CHILDREN!!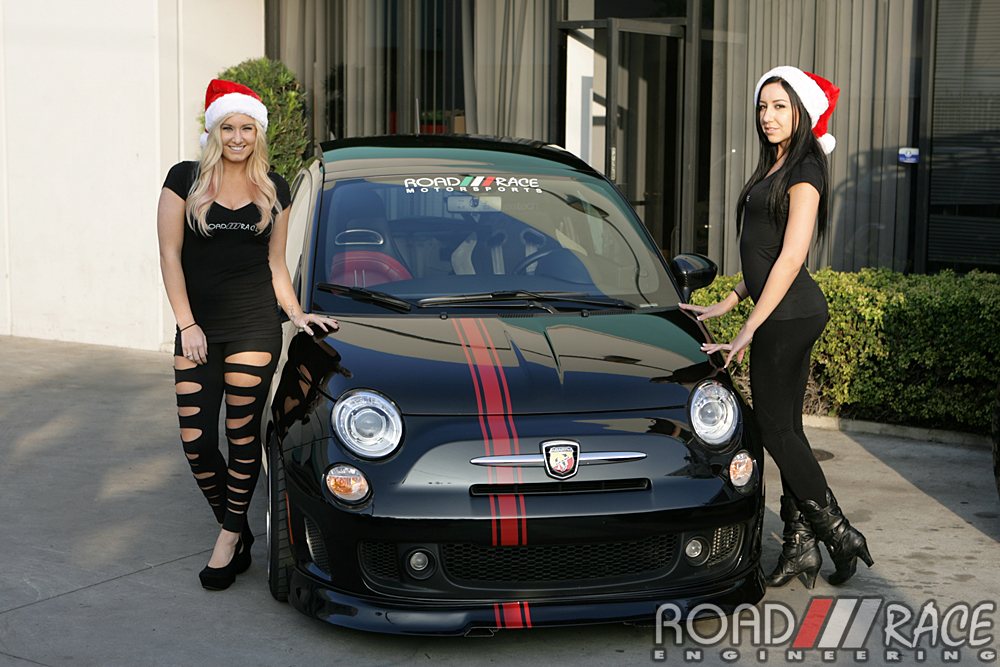 The new Fiat seems pretty lame to me.  I see them on the freeway and they look like any other little econo box.  The Fiat at Road Race Motorsports changed my uninformed opinion forever.  This thing is a bad ass little machine!!  You know a car is set up right if you are still looking at the car even when it is flanked by two models.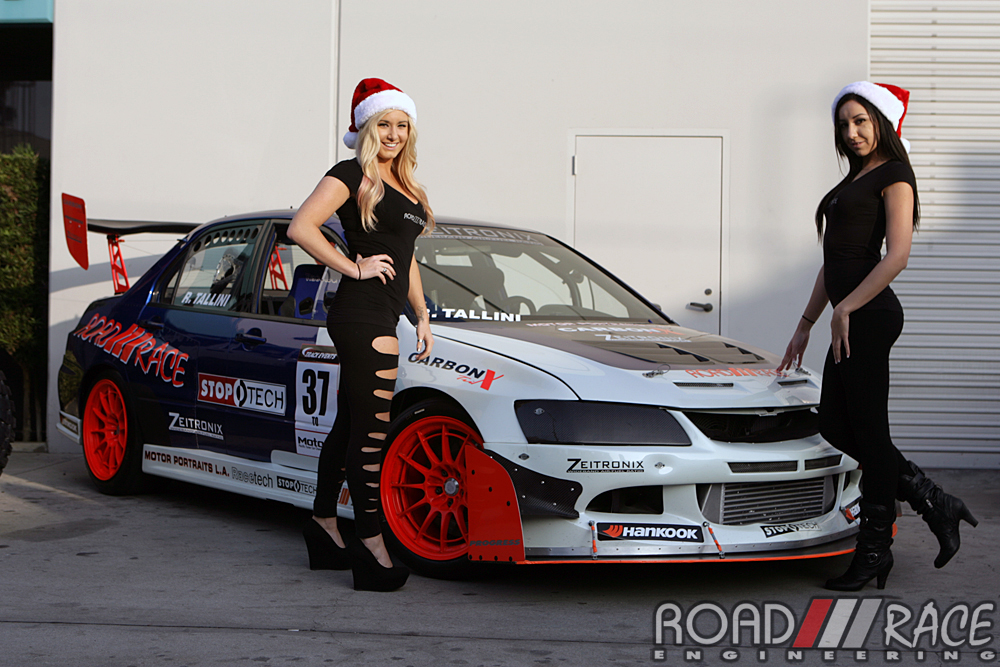 Of course the usual crowd pleasers were there as well.  There were some full race prepped cars and even moster trucks.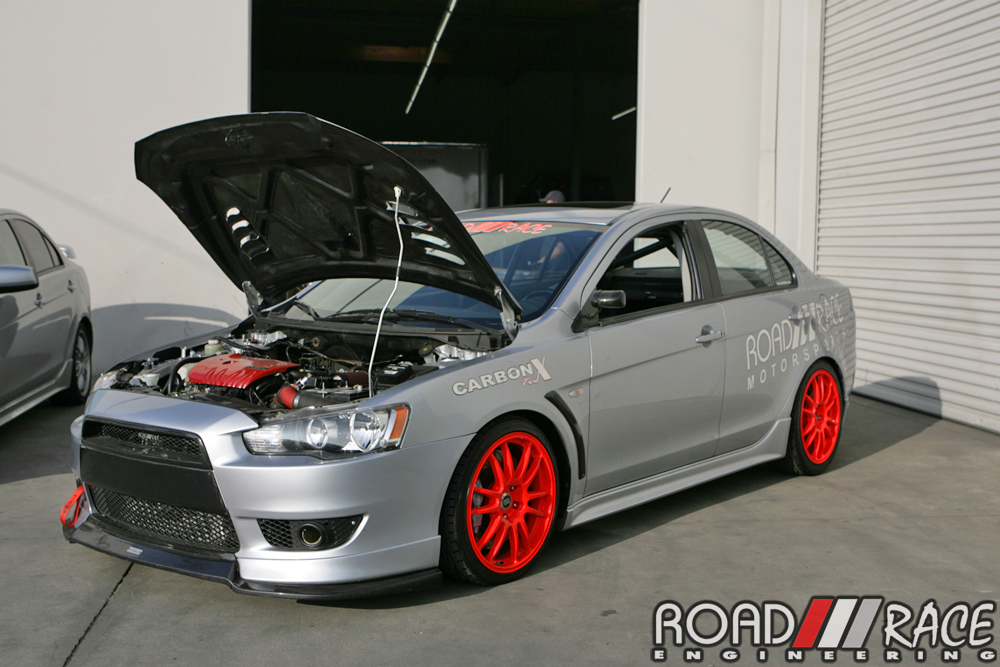 This turbo Lancer could be the ultimate sleeper without stickers and bright wheels.  As it sits, this looks like it would be a very fun daily driver and weekend track car.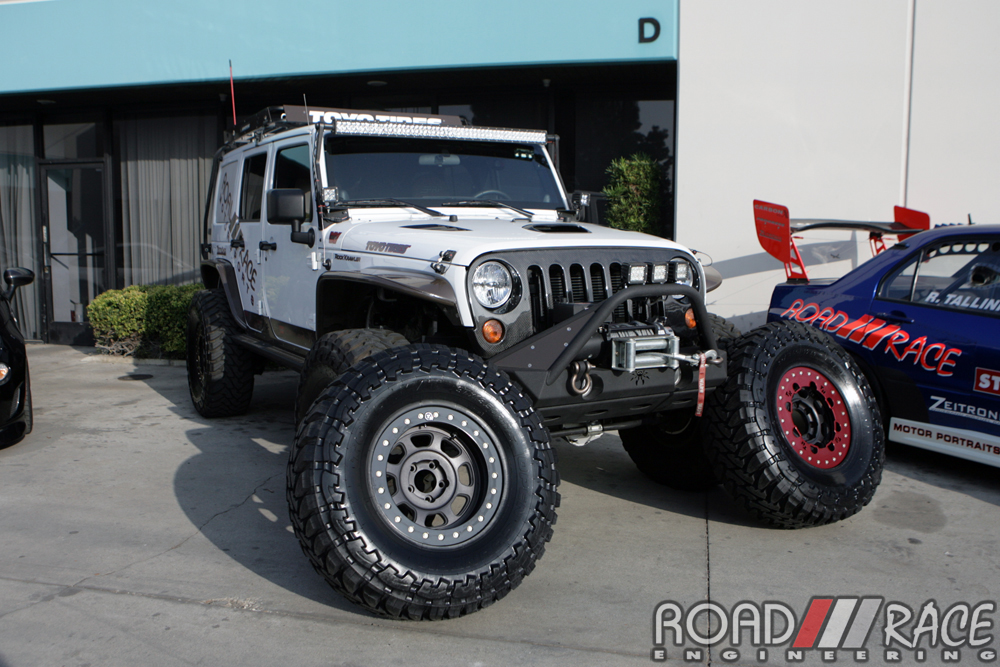 This is what I need to commute in LA traffic!!  Prius in my way?  NO PROBLEM!!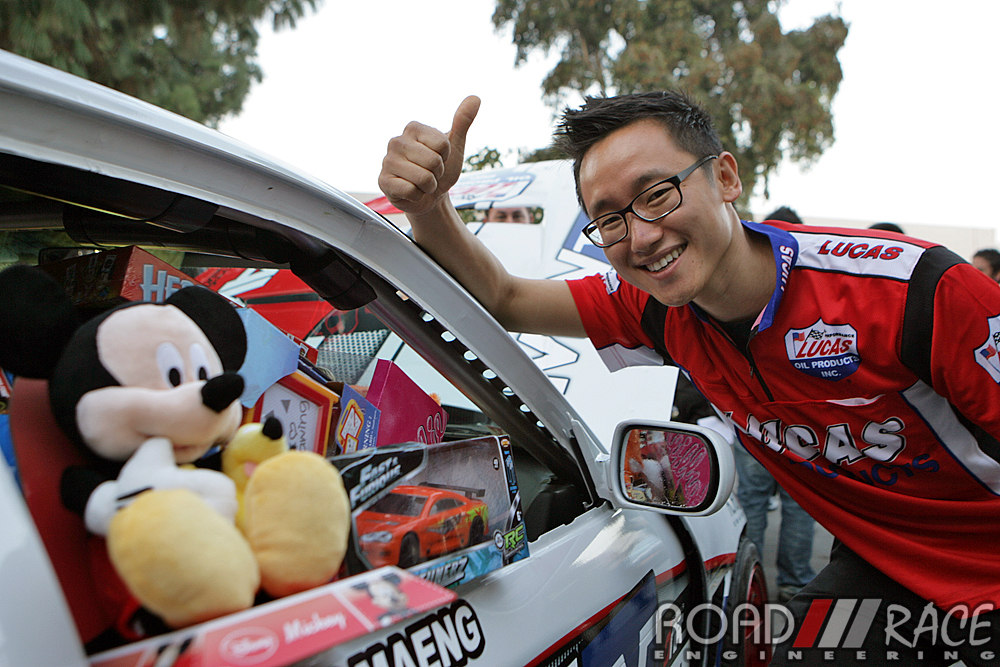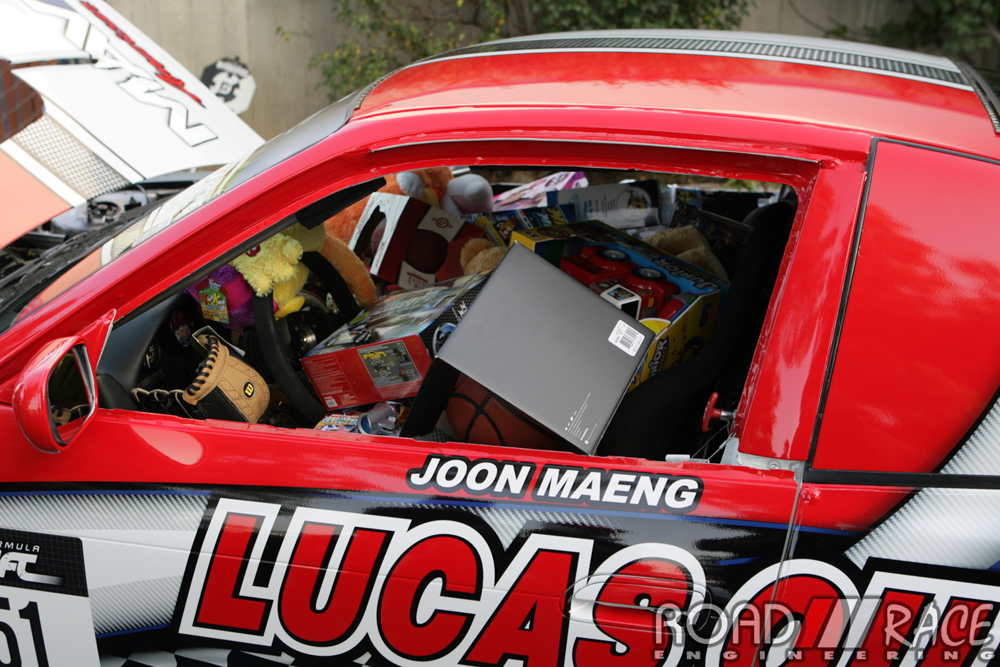 When I first got to the meet, the toys were already half filling Joon Maeng's FD car.  Once I made it back from checking out the cars at Road Race Motorsports, the car was packed to the point where they started to fill a second car.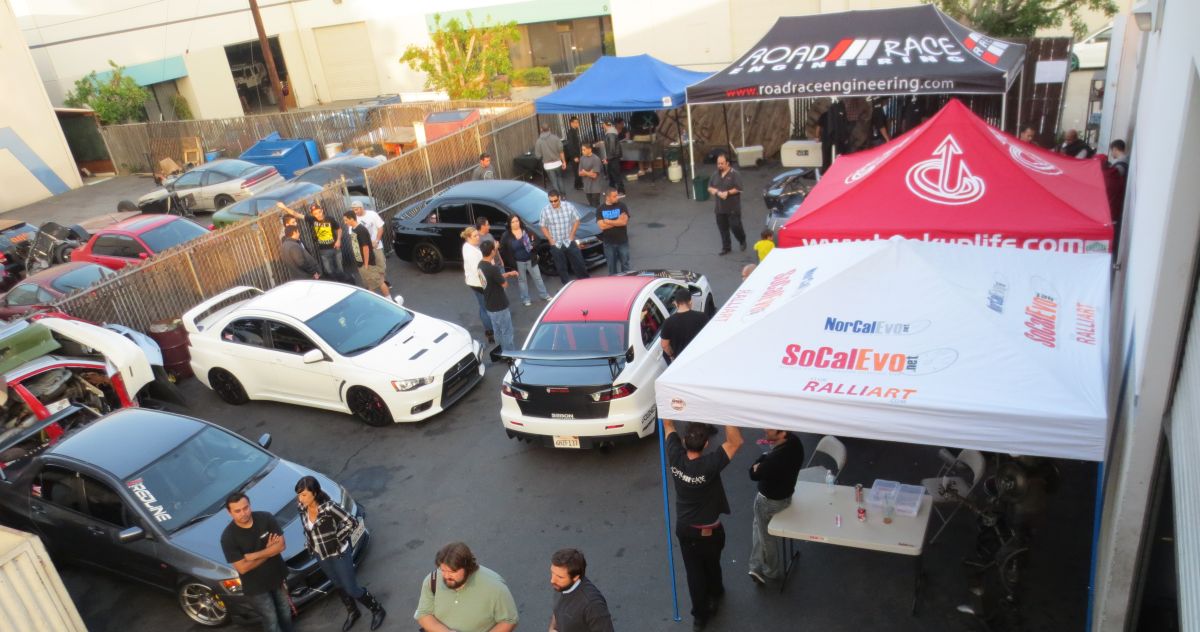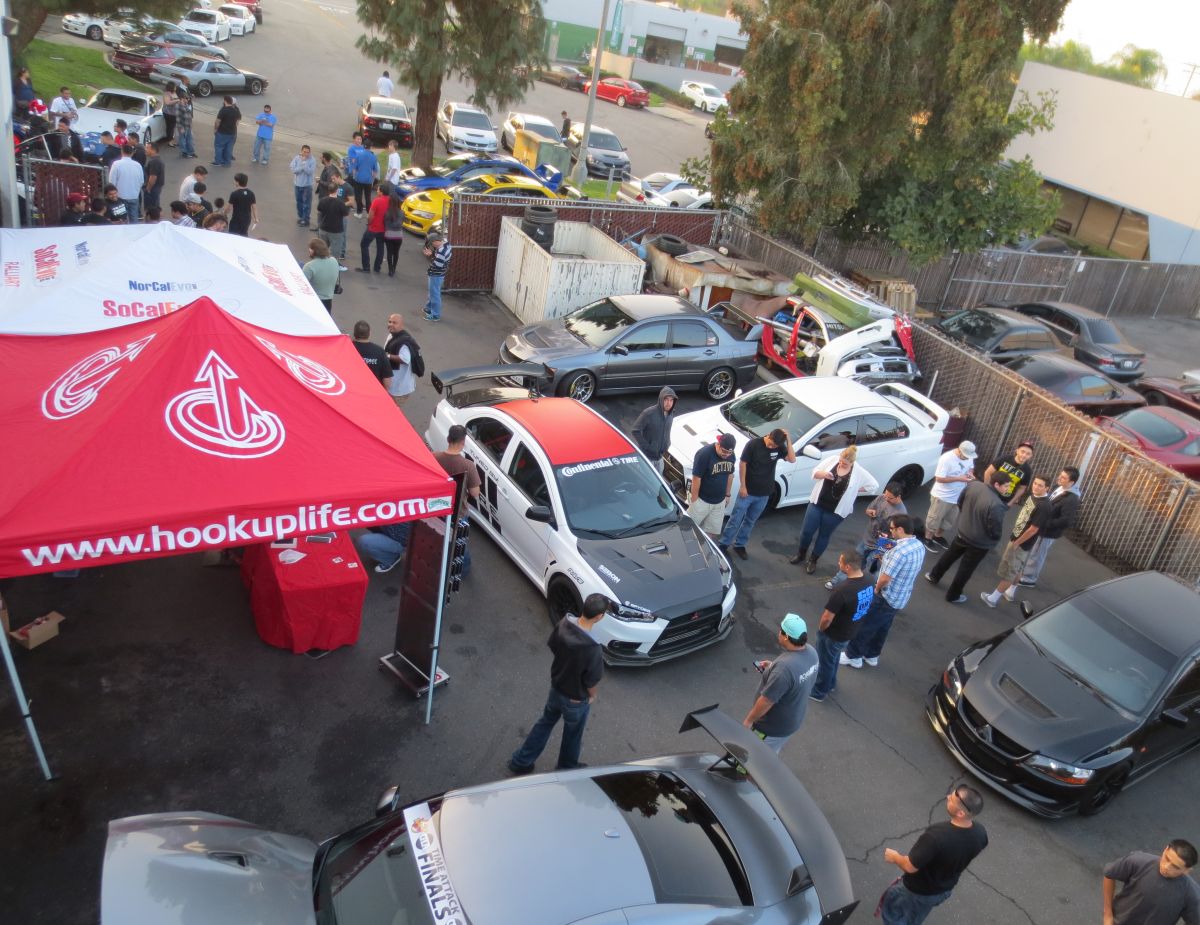 From up on the roof, you can see all the cars in the lot.  You can see part of this bad ass GT-R, Coco Zurita's EVO X with that he has been hitting the track with.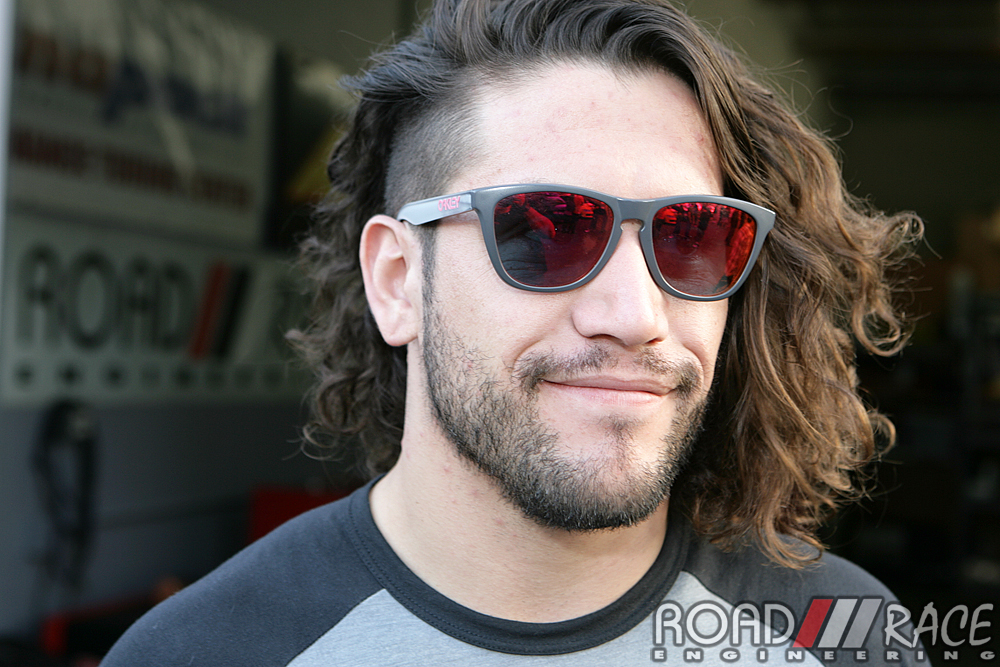 I don't know what Coco did to get his car so hooked up but I am sure that his being really really really ridiculously good looking doesn't hurt.  It might also have something to do with the fact that he is one of the world's best BMX riders and happens to also rip up the track on a motorcycle as well.  I am sure now that he is hitting the track in his EVO X, Coco will be someone to look out for at Time Attack events!!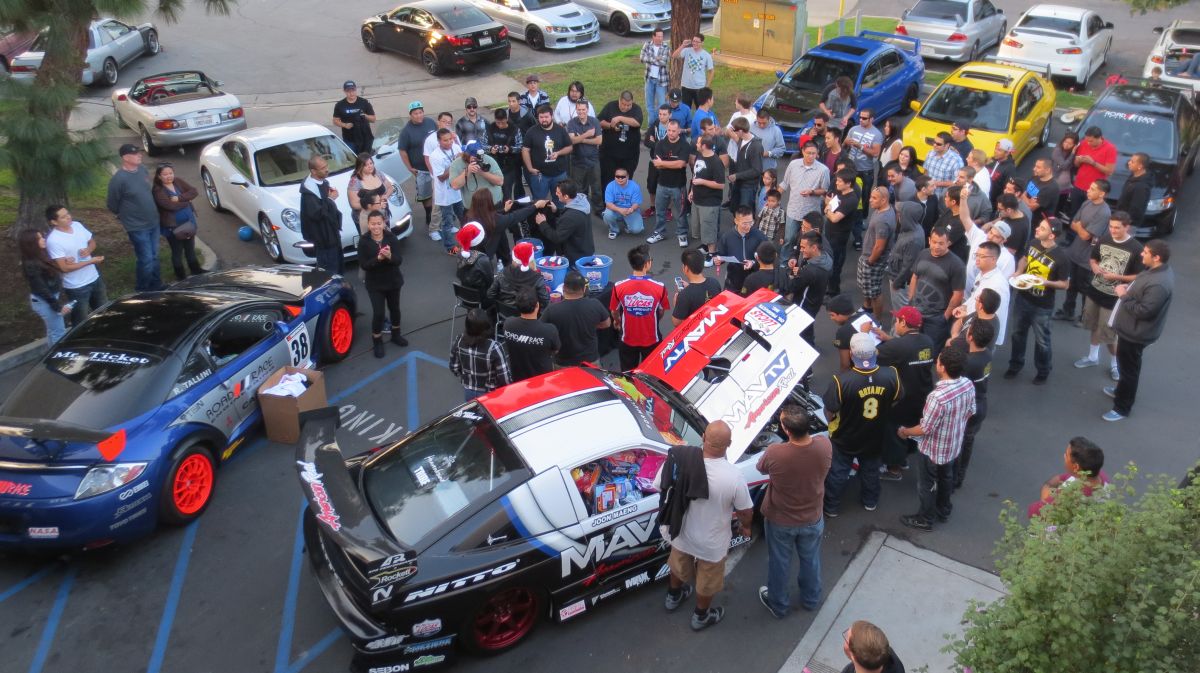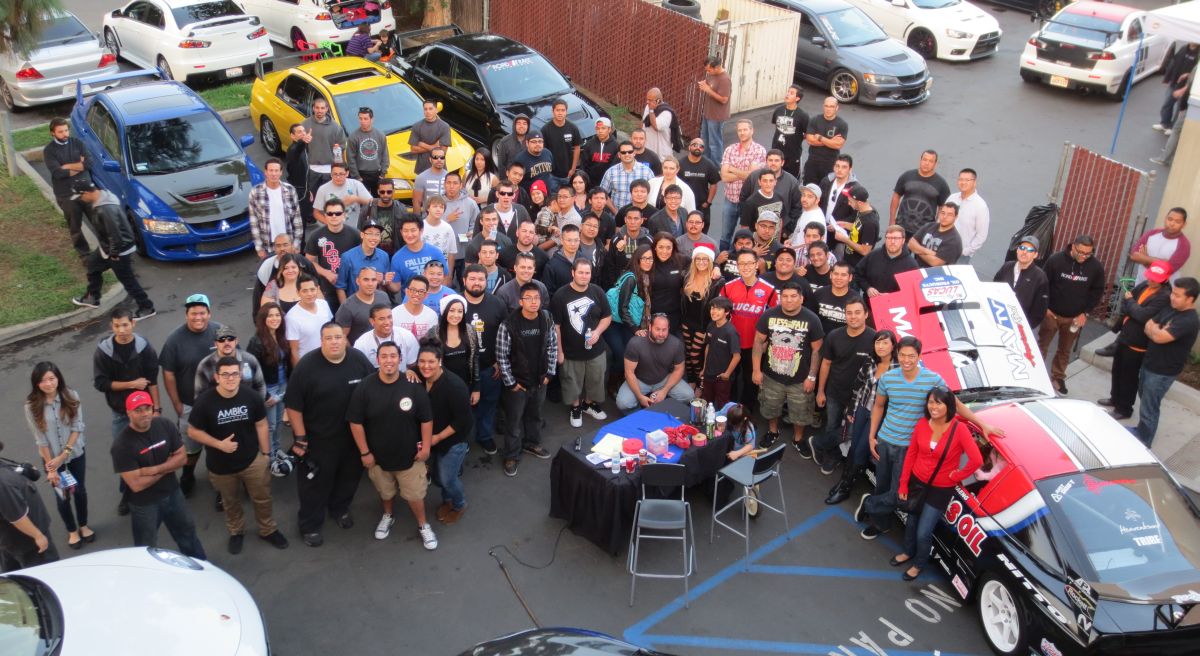 Once the raffle started people crowded around to get a chance at winning some prizes from the sponsors of the event: Lucas Oil, Formula Drift, D Sport Magazine, Dayuum, Mackin Industries, Rallinspired, SoCalEvo.net, Zeitronix and RRE.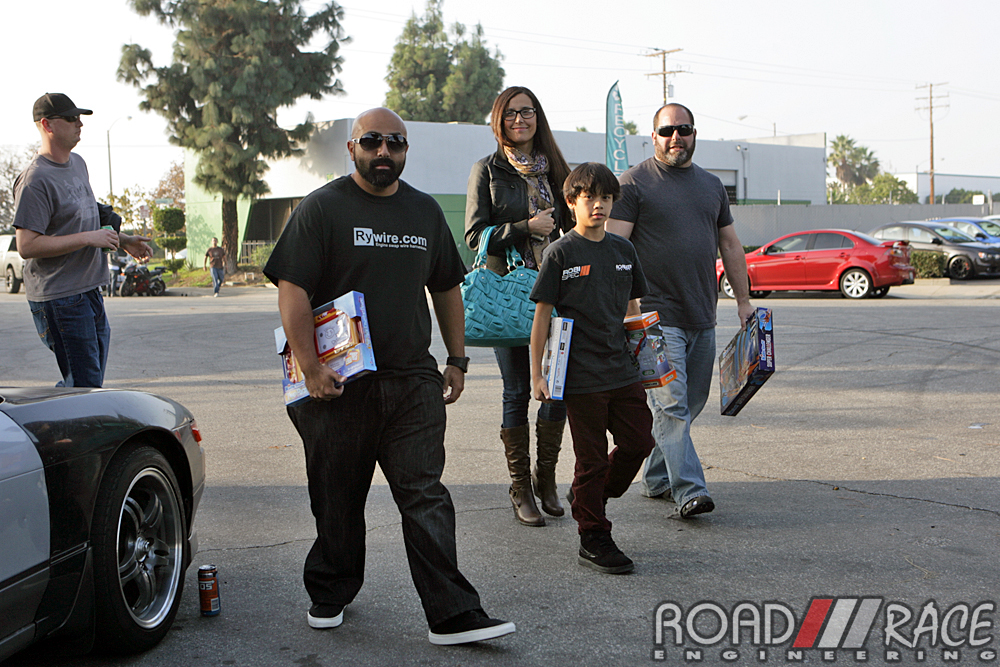 There were even some internet celebrities at the event like Big Mike who over the years has built up one of the most legendary Honda Prelude builds EVER.  I teased Big Mike that this was not a Honda meet.  All joking aside, he told me that he was down to support the community to do something for the kids regardless of the make and model of cars represented.  This is why so many people love Big Mike.  He is a true car enthusiast and a good guy!  Repping for the kids!!  Also, Big Mike showed up with another import model who happens to race a GT-R as well, superstar/badass Kerryann De La Cruz !!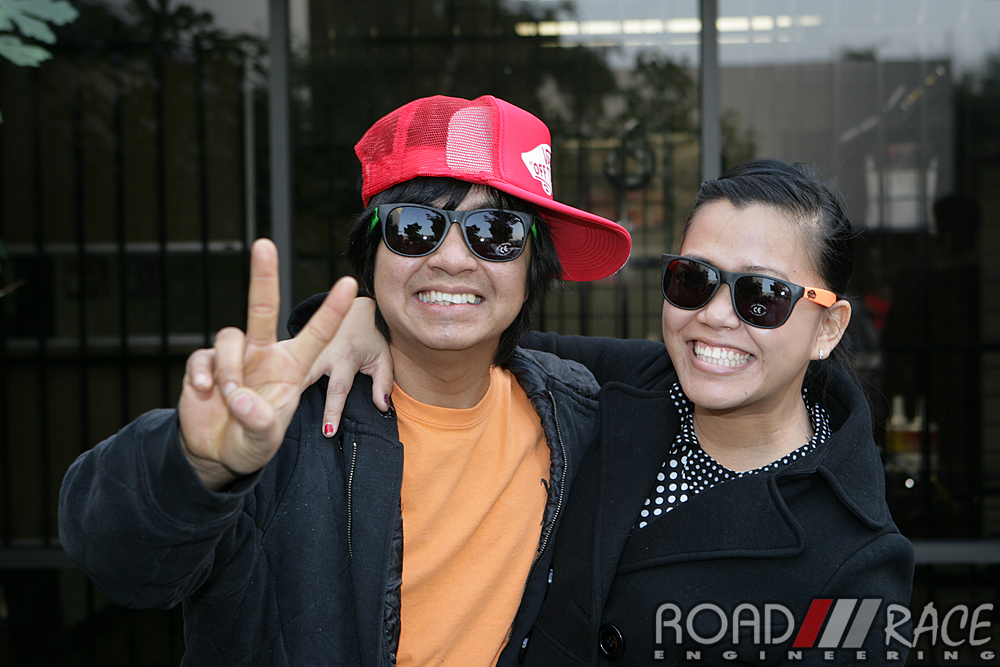 Lod///Lace Engineering!!  Check out the upcoming RRE sitcom "Everyone Loved Lod" next season.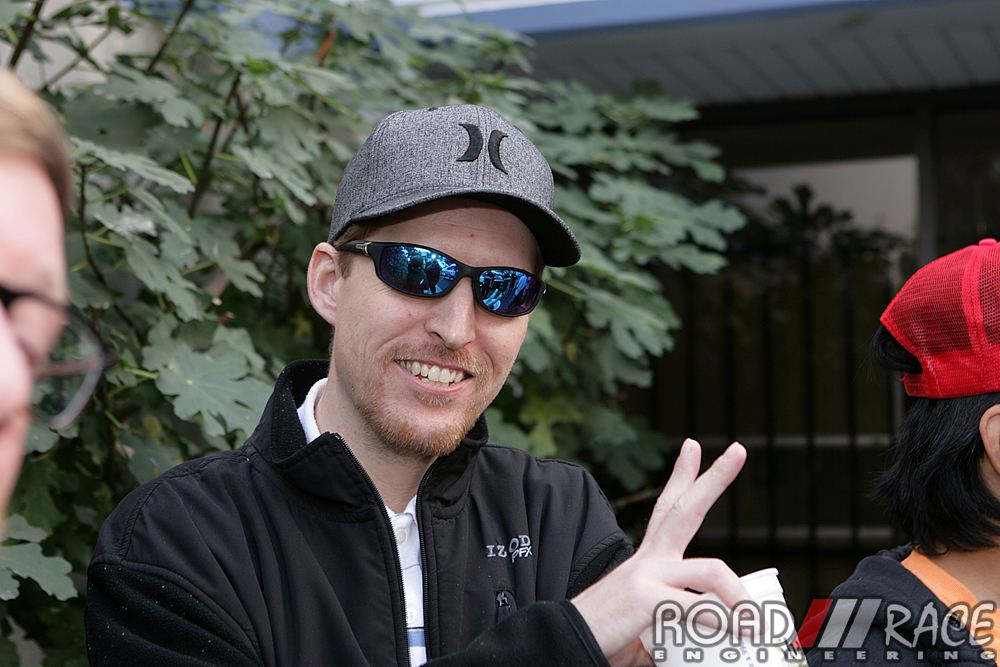 Steven owns one of the best Ralliart fastbacks built to date.  There were lots of track guys, show guys, drift guys…there were lots of guys in general, haha.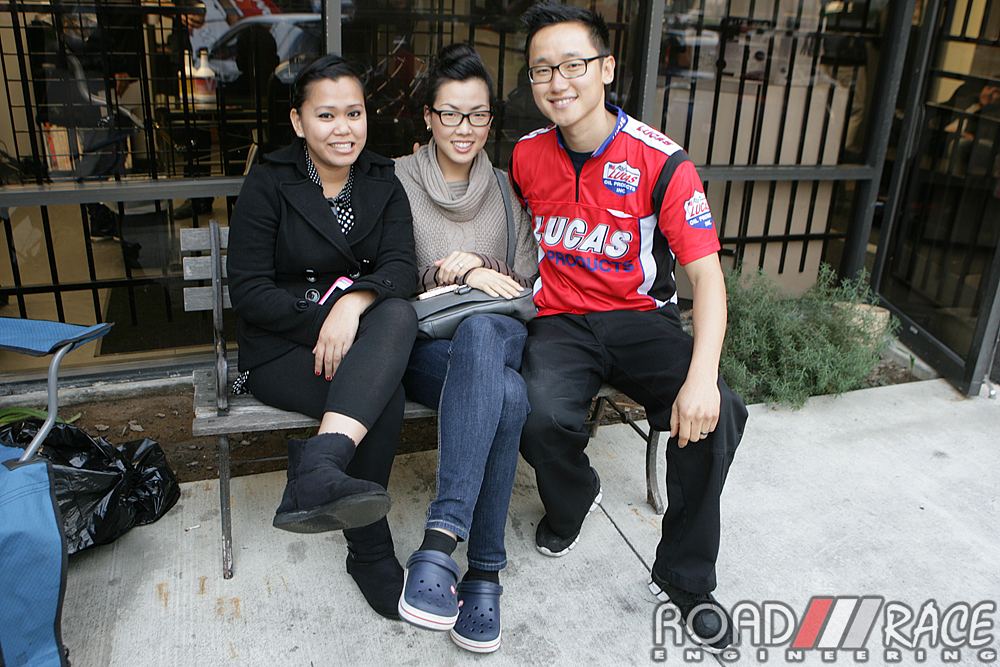 Luckily, some lovely ladies showed up as well!!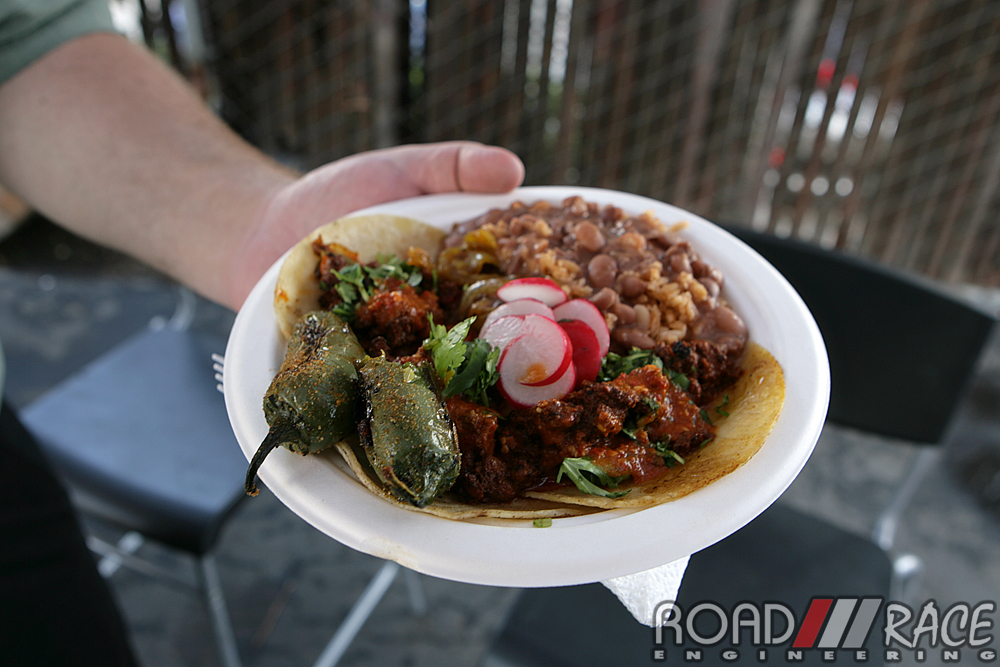 Everyone got some tacos.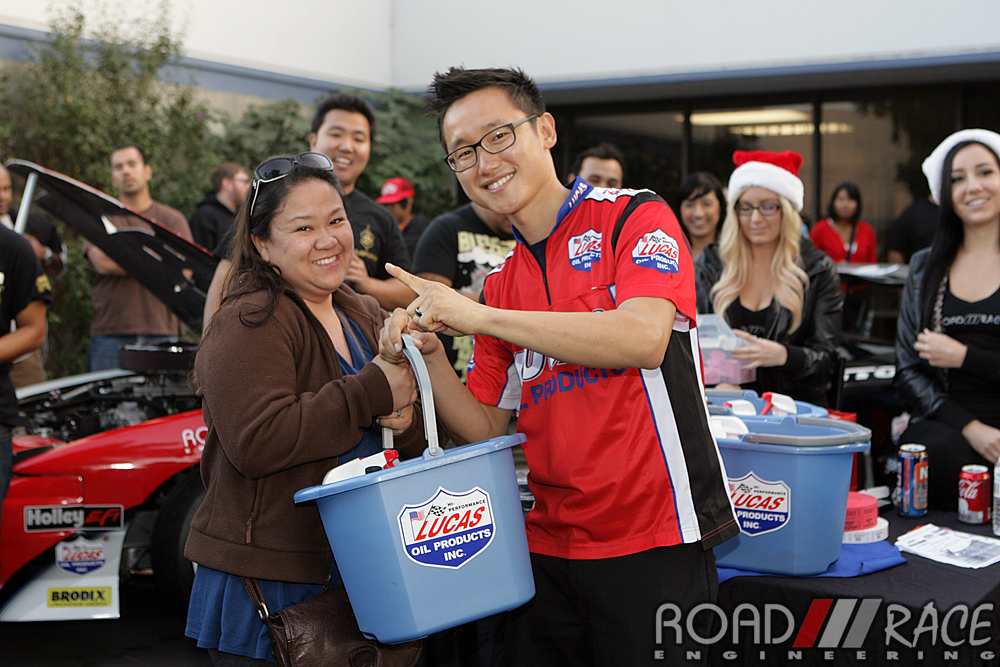 People walked away with some dope prizes.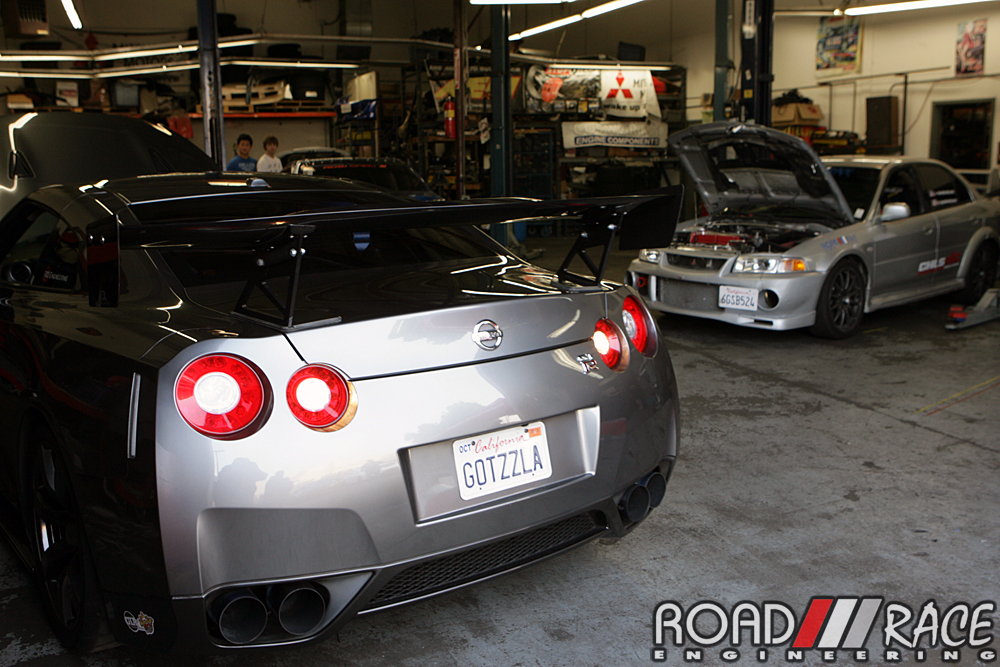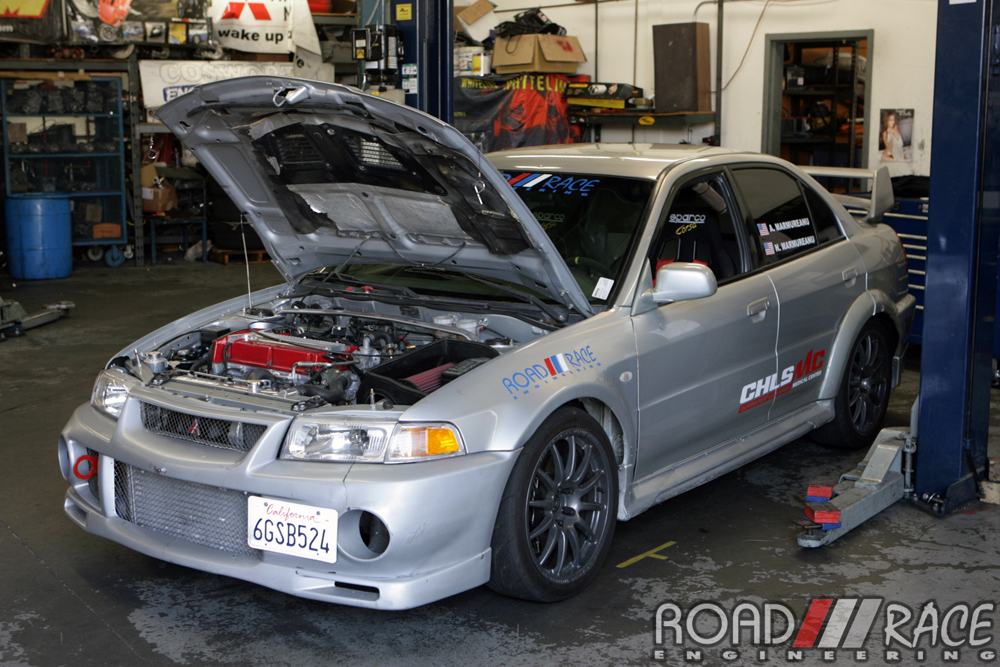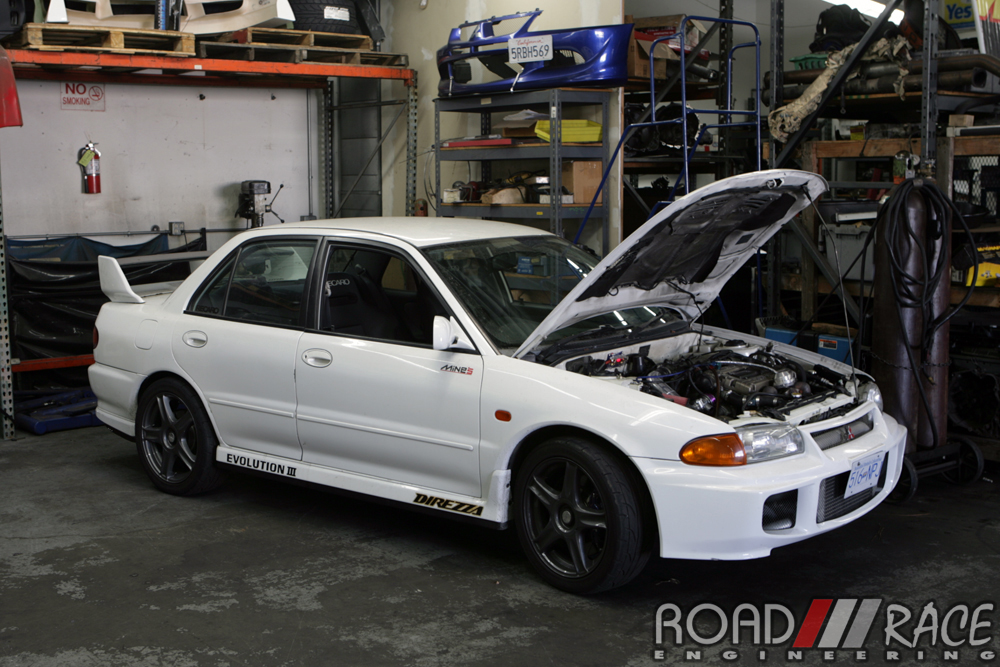 There was more than enough drool worthy cars in attendance.
and in the end a bunch of toys made their way to the kids at City of Hope.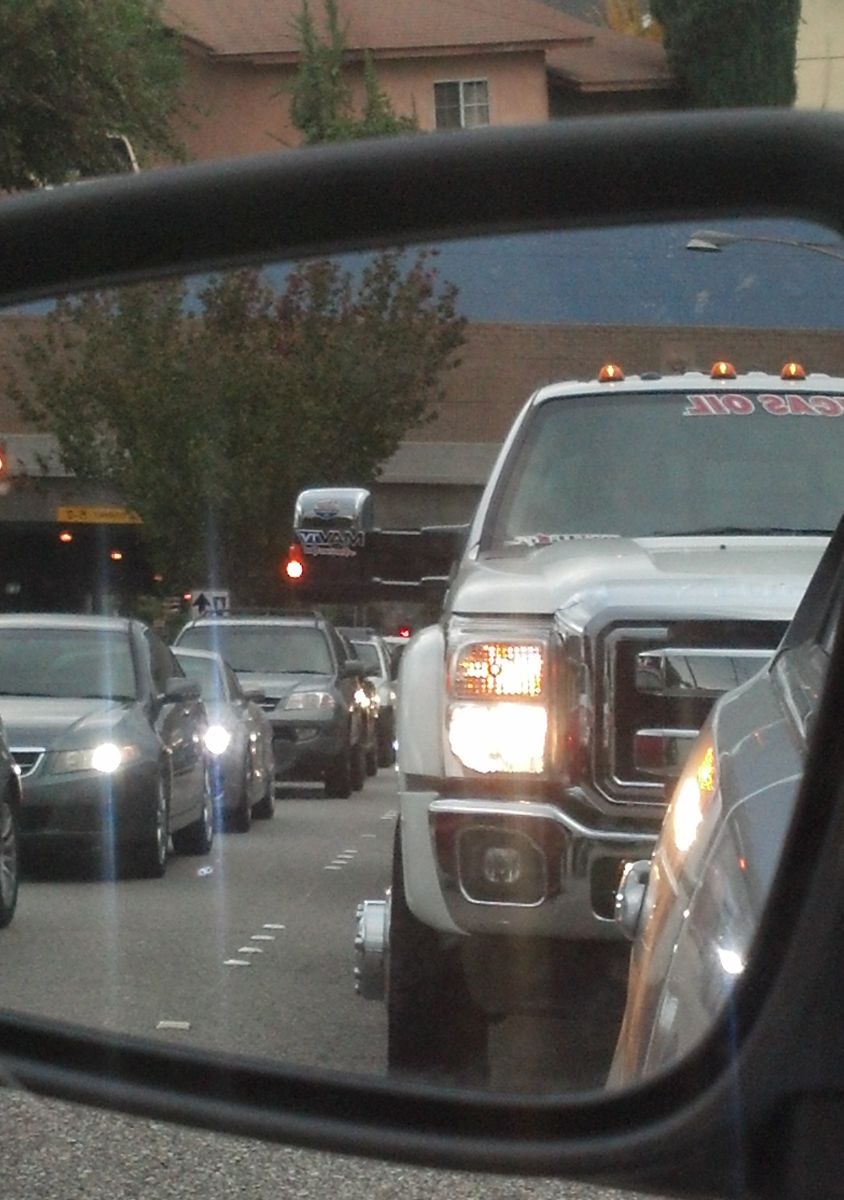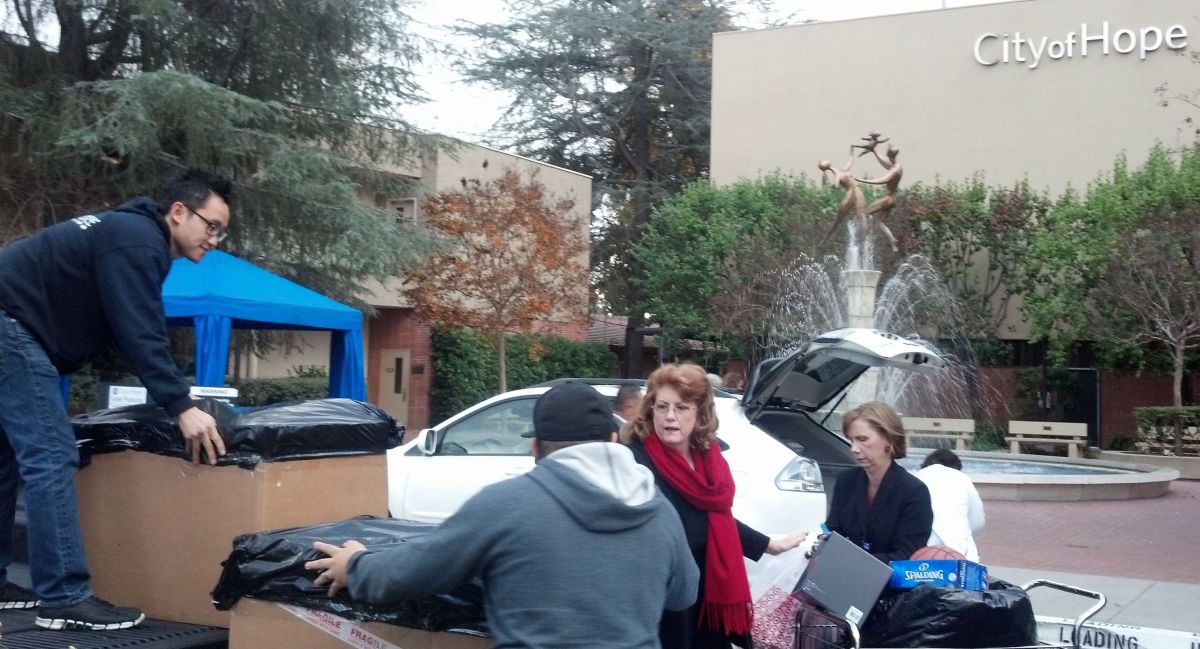 in the end, the event was a HUGE success.  If you did not make it, do not lose hope.  The Myans were wrong about the end of the world and all that, so there is a good chance you can hit up the event next year.  Do not forget to bring a toy so you can be in the raffle!!