First Drives: Shaking down my RRE built EVO VIII at Streets of Willow for the first round of the AWD Challenge
[Part IV in a series]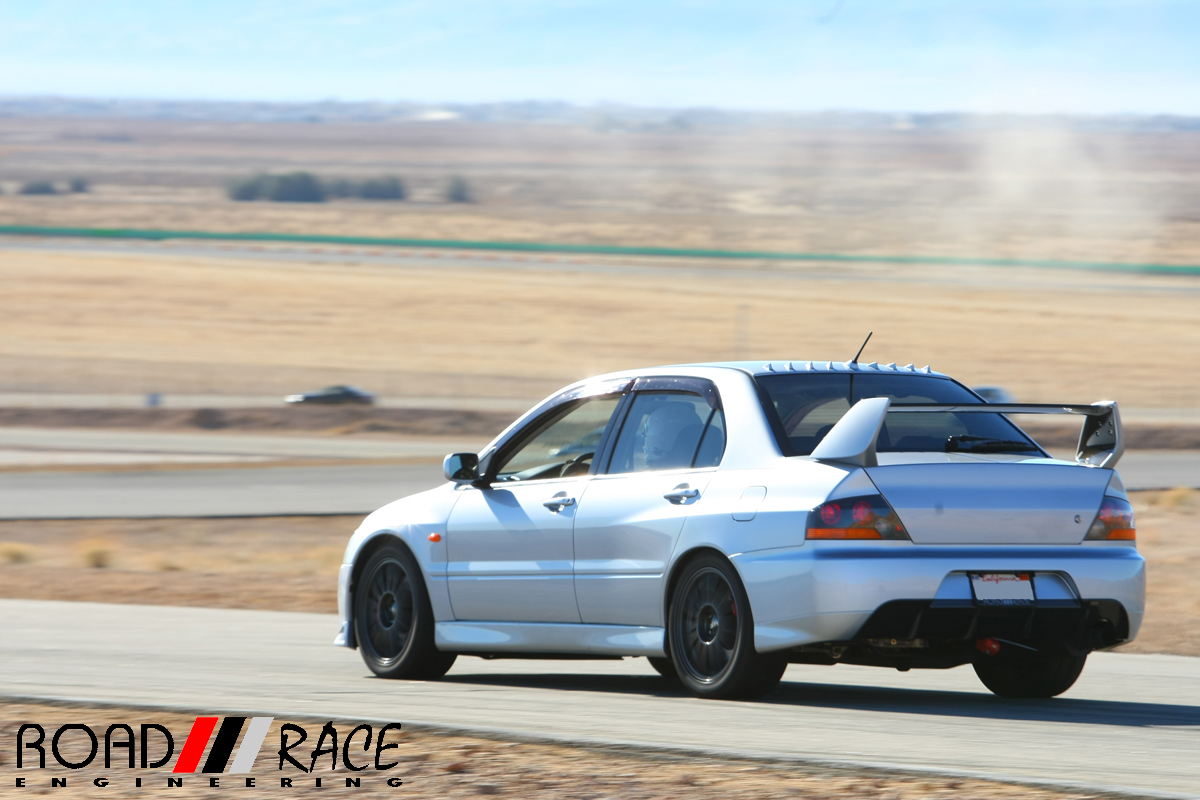 words by James Singer
stills by CaliPhotograpy
video by my GoPro and Aldric's GoPro
In previous blog entries, I have said that I am a pretty normal guy that is trying to track his car without going broke while maximizing fun.  I started writing about my experiences while running NASA's HPDE series from HPDE1 to 3.  After that, I started trying out some time attack competitions with Extreme Speed in their AWD Challenge.  Since starting out, I have had some ups and downs.  I have gotten a lot of support and even some hook ups but I have also shattered a piston due to my own stupidity.  However, I did not give up and this is the next chapter with a new set up for 2013!! 
After a bummer time at Buttonwillow in August where I shattered a piston in the first session of the AWD Challenge, I decided it would be a really big waste to just give up tracking.  It took me a few long sleepless nights to figure out what to do though.  I thought about everything from just buying a used car and parting out my EVO to building it up to be a track only car.  In the end, I decided to keep my EVO a street going car that is focused on some daily driving but is more clearly focused on tracking.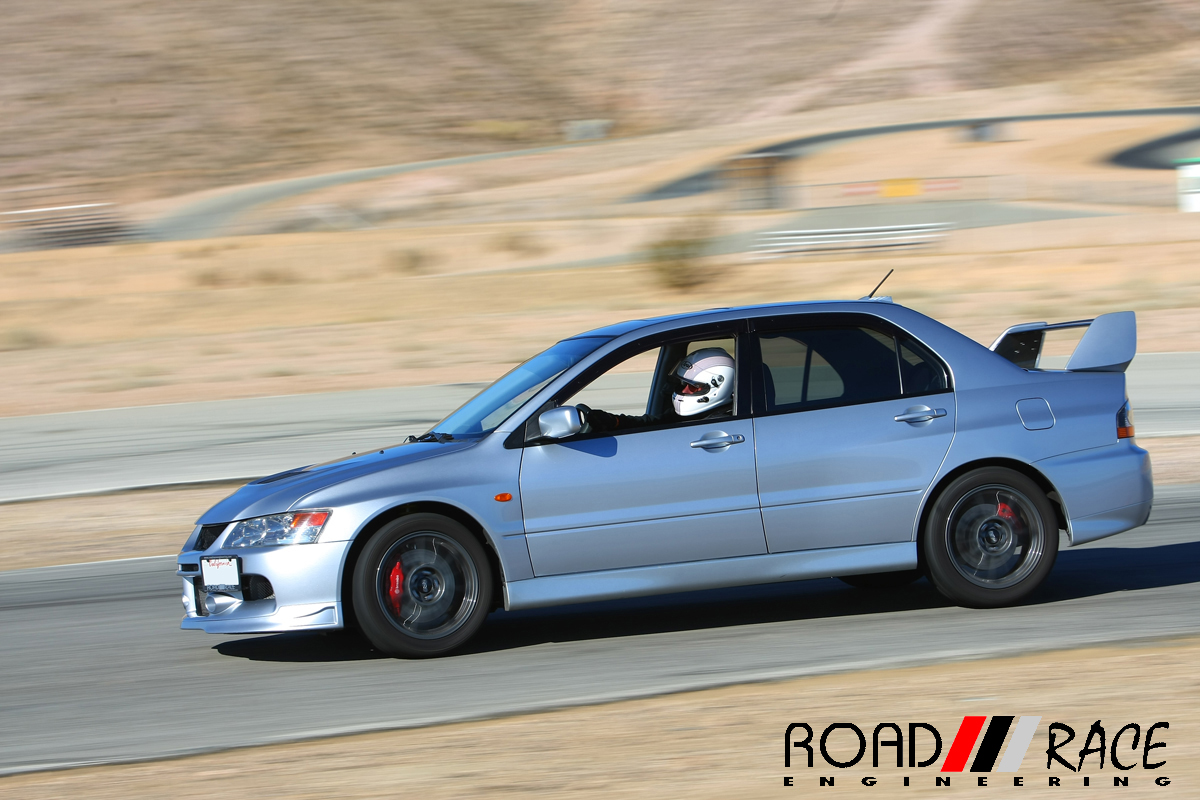 [I owe Mike Welch $5. After running track pads ONE day on my repainted Brembos, the calipers turned a lighter shade of brown and the stickers turned BLACK!!]
After talking to the guys at RRE a few times, a coherent build came together.  I went with the RRE 2.3 stroker build on my motor, headwork with GSC S1 cams and a BBK Full ported.  This build was focused on response rather than high horsepower.  At the same time, I felt it would be unwise to not rebuild my transmission.  I was having a slight third to fourth gear grind at high RPM but only at the track.  Also, my clutch was old.  It was the RRE Crazy Boyee Gold Tooth Baller Clutch but it was in the car before I owned it, so who knows where it had been.  I have a strong feeling that it had been hanging out on the wrong streets in Compton before I had known it if you know what I mean.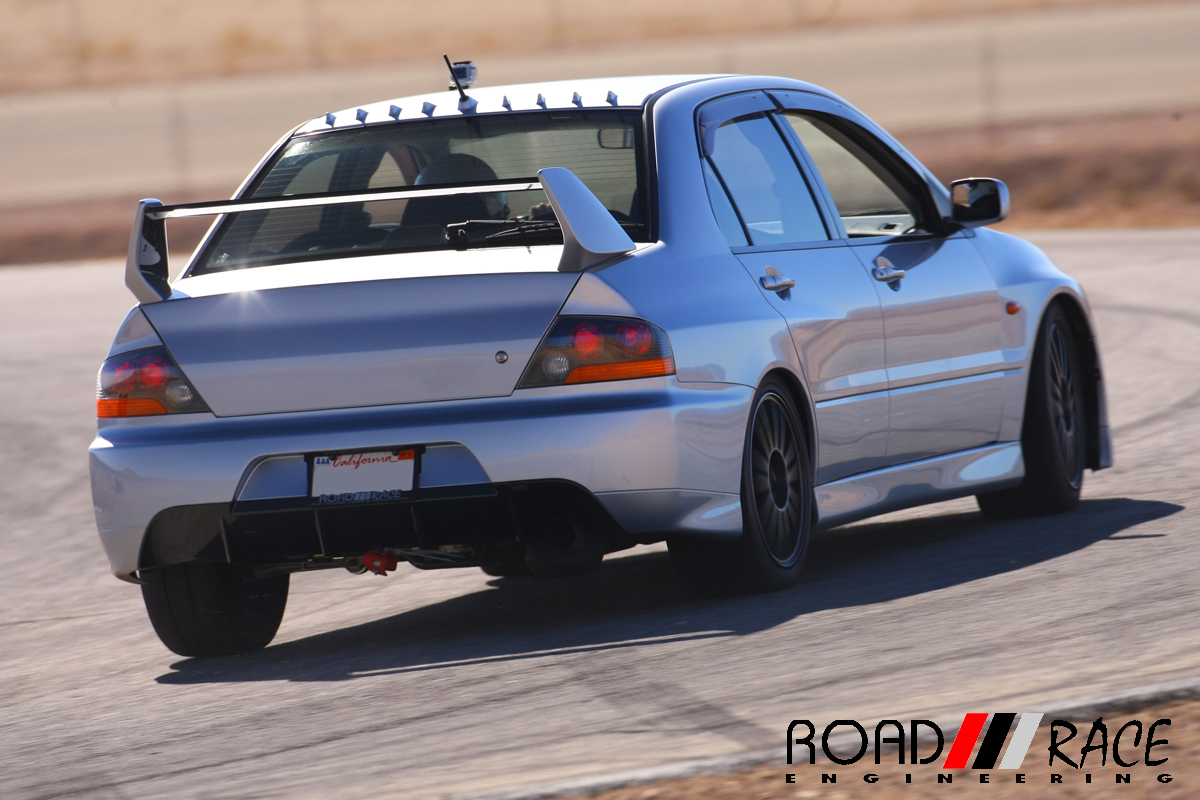 After getting the car back and breaking in the motor, the car was dynoed for 91 and E85 to really good conservative results.  However, I could tell immediately that my brakes could not stop the car in relation to the new found power even with a pretty mellow tune.  Additionally, the Tanabe springs on stock GSR shocks were not up to the task of cornering with the much higher power.  This became really obvious after the break in period and after the tune.  First gear became virtually useless under heavy acceleration.  I could just spin tires to 7k and shift.  Second could break loose on all four as well, even on relatively good NT05 tires.  Further, once I was up to speed, brake fade on my once adequate Stoptech Performance Pads came much too quickly for me to feel confident beyond making a few friends pee pee their pants while jumping on the freeway.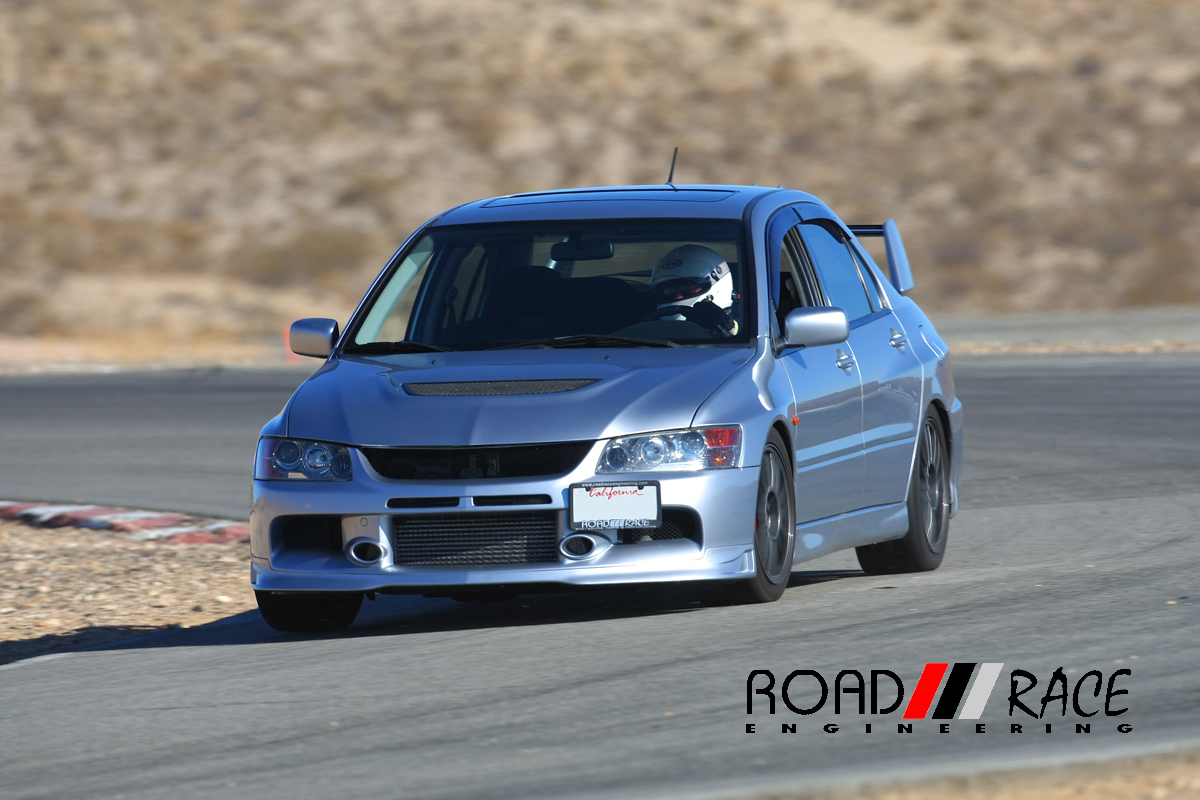 Luckily, over in the SoCalEVO classifieds, a guy was selling some Robispec KW Clubsports.  For the last year, I had been trying to save up to either go with Muellerized Ohlins or Robispec KW Clubsports.  After a ton of reading, research and dreaming, I really could not decide which set up would be better overall but I knew the Muellerized Ohlins and the Robispec KW Clubsports would be the best set ups for me and that Muellerized and Robispec are best tuners in the US for suspension on EVOs hands down.
I even asked some drivers that were sponsored by Ohlins and by KW at events and over email.  One driver who runs on Ohlins told me that he would choose KWs for his personal car over Ohlins and another driver told me that if he were to start over with his set up, he would choose Ohlins over the KWs he was running.  Great.  Beyond that, most average to semi-pro sponsored people had similarly conflicting views on the two options I was planning to go with, which is basically a high end coilover set up for the track that can handle some street driving but may not be the best for daily driving.
To further complicate this decision, as mentioned above, Muellerized and Robispec are probably the 2 most respected suspension tuners for the CT9A chassis in the US.  Additionally, both suspension tuners were equidistant from my house.  Muellerized resides behind the dreaded Orange Curtain in Costa Mesa and Robispec is located in a beautiful dirt field with couches commonly called Hesperia.  I felt either decision was a win and either decision was good but what ultimately made the decision for me was a cheap pair of lightly used Robispec KW Clubsports sold over SoCalEVO.
On Christmas eve, I went to Robispec and had him set up the suspension for my car along with his Solid Bushing Kit and some Nagisa fender braces.  The process includes an alignment and corner balancing as well.  This really changed the car a lot.  Traction did improve greatly in straight line acceleration but I only got to test things out on Angel's Crest with a bit of late night "spirited" driving—staying 100 percent in my lane and following most of the local laws and regulations most of the time.
Unfortunately, while driving around feeling out the upgraded suspension, one thing was still painfully obvious, brake fade.  Pushing 463hp on E85, the brakes simply could not bring the car to a stop in a way that I felt was safe on public streets at full acceleration.  For this reason, I knew that tracking the car with this set up would be a disaster.  My NT05s had 2 track days left in them and my brakes were struggling but the rest of the car felt really great.  I skipped the last round of the AWD Challenge as a result.  I wanted to do a shakedown of the car for the last session in 2012 but I just felt that the car would be dangerous at the track.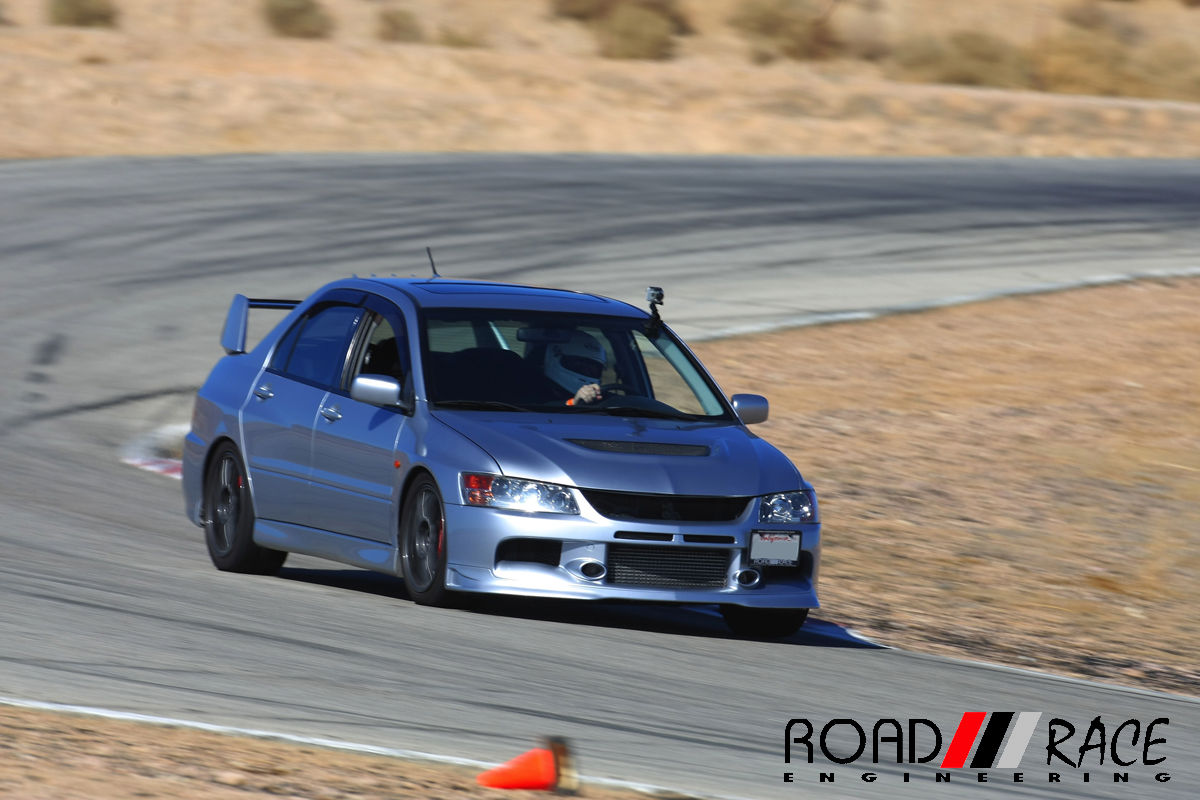 For the first round of the AWD Challenge in 2013 January 20th at STREETS of Willow, RRE and Mackin Industries hooked me up with a set of Project Mu's new Club Racer brake pads to try out.  I took the advice from Mackin along with Lod Tonkul's added advice and had the rotors resurfaced as I changed the pads.  Taking off the rotors and changing the pads was a bit of work and I had to ask Lod a bunch of (probably annoying) questions but in the end, this is something you could do comfortable with a jack, 4 jack stands, the needed sockets, a simple electric impact gun, a hammer and that little brake pin knocker outer thingy and some zip ties (for when the calipers are unbolted so they are not just hanging there).  After getting the Project Mu pads on the car with the resurfaced rotors, I drove home and did a bit of bedding-in.
There are TONS of theories on how to bed in brakes all over the interwebs.  I feel pretty confused by all that info.  The Stoptech write up seems the most legit to me, so I kind of followed it.  Instead of reading internet forums all night, I basically just drove to a vacant street and did a few medium speed to low speed stops.  Then, I drove to the freeway.  Since it was very late, I could do a few higher speed to lower speed stops but not super high speed or anything because a few cars were around.  After that, I just drove normal the rest of the way home.  There was some light traffic on the 210 when I got on there coming off the 605 because of construction.  I just tried to never sit on my brakes and I just came to a slow rate of speed, sped up, slowed down, sped up and so on until I got home.  From this process, I did bed in the brakes well.
Nevertheless, regardless of bed in theories, as I was warned by Mackin and RRE, these are NOT streetable pads.  You can drive them to and from the track but on city streets, you will be a menace and you will scare the crap out of pedestrians, cyclists, moms walking their babies, people in cars and even people in their houses were jumping up to look out the window as I rolled down the street—all of which I experienced in the 24 hours I was on these pads before heading out to the track.  Regardless, the bite was obviously MUCH more powerful on these pads even in daily driving conditions.
Once I got to the track, the additional bite was even more obvious.  I was used to the power doing straight line blasts at this point but going from the top of turn 13 at Streets of Willow, hitting speeds of well over 100 and then jumping on the brakes to basically do a u-turn at speed over the skid pad while trying to hit the apex on both turn 1 and 2 really illustrated how amazing these pads were.  Also, blasting through the chicane from "turns" 5 and 6 into the straight to the braking point of the bowl really showed me that with these pads, I could brake later and for a shorter amount of time.  It wasn't just that I could brake later but I could also let off the brakes earlier and get back on the power sooner, which is key.  Additionally, these pads did not overheat after 1 or 2 laps like other pads I have used did.
[youtube]http://www.youtube.com/watch?v=lcVxXLpKmIo[/youtube]
[I know my line needs work…a lot of work but you can tell that besides struggling with too much HP for me on too little tire, my car is super stable and my brakes are working at a level that is more than adequate]
At one point, I did a hot lap but got hung up right at turn 14.  Then, I did another hot lap and got hung up again at turn 13.  However, I felt like I was really progressing with my confidence in the new set up, so I went a third hot lap and finally ran my fastest time of the day of 1:29.2, which was two tenths of a second off the third place finish of the day in Mod Class.  On Hawk pads that I ran previously and Stoptech pads that I ran most recently, I would never have been able to pull that many hot laps without serious fade even at my previous horsepower level of 320.  Overall, I am very happy with these pads and I will definitely continue to use them.  I am now mainly interested in how long they last overall.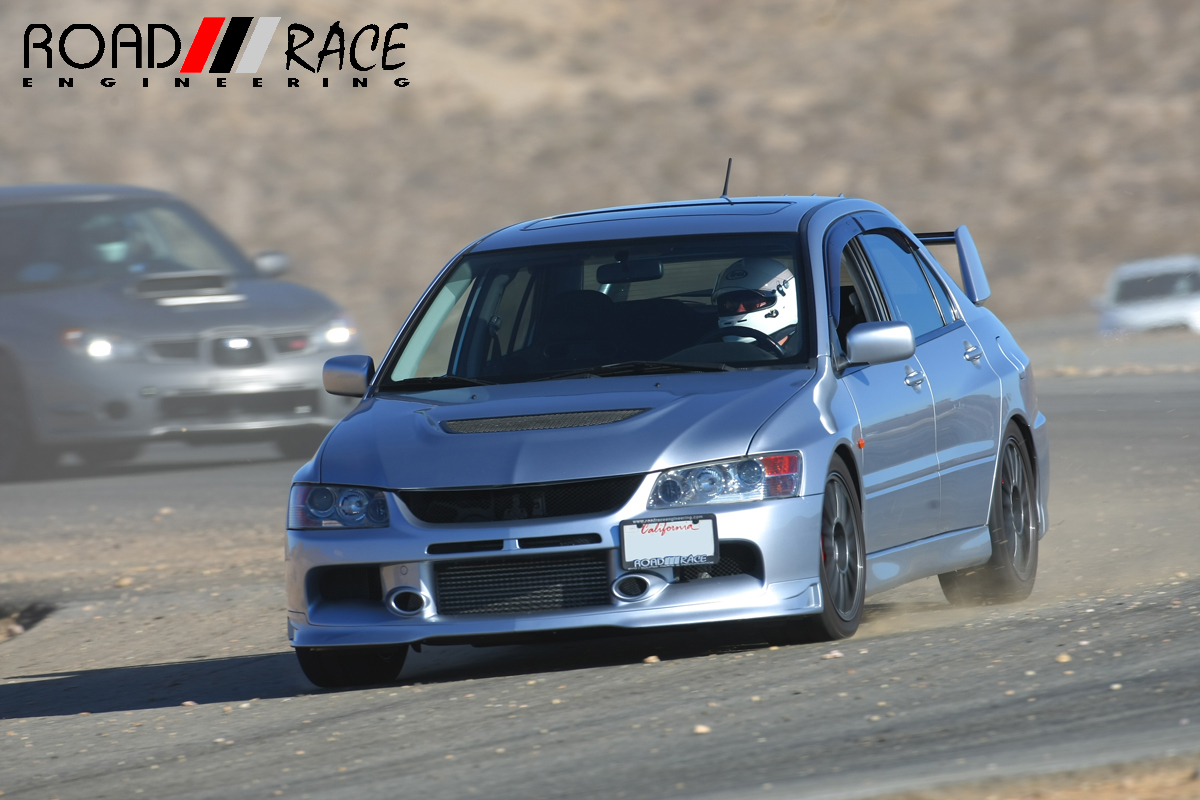 [RALLY!! Thank you Steven for the shower! …You owe me about 5 paint pens!]
Now that I felt my car was well balanced in regards to power, suspension and braking what really became apparent were tires.  For example, when I would come in to Turn 12, I could brake way later and let off way earlier but with my old set up, I would just gun it going up the hill.  The lag on my previous turbo set up would allow me to just put my foot to the floor and wait for the boost to kick in to carry me in to Turn 13.  However, with my current set up, this is not possible.  If I floor it aggressively while turning at any point on the track I immediately spin all 4 tires and then start understeering right after.  For this reason, in most turns, I would stay in a higher gear, or just modulate the throttle more conservatively.  Regardless, in turn 12, if I would push it, I would spin all 4 tires and it felt like I was spinning tires all the way up the hill.  As a result, when I would get to turn 13, my tires would be overheated and I would start sliding in a more neutral sense towards the dirt at the top of the hill.  At one point, when I felt this happening, I tried to power oversteer through it but I dropped 2 because I do not even really know what power oversteering is, so really I just gave more throttle and tried to countersteer.  It does sound cooler to say power oversteering though.  Nevertheless, instead of trying to save the lap, and in doing so, possibly destroying my car, I just let the car go off and spin around naturally because I was way off the driving line at that point anyways.  So, for most of the event, I was just trying to figure out how much throttle I could give and how fast I could brake, turn in and power out with the tires.
[youtube]http://www.youtube.com/watch?v=8ljDkIlSWiQ[/youtube]
[I think the first two laps are my 1:29.3 and my 1:29.2 but it is really just a guess with my current GoPro set up. I plan to add data logging in the near future.  The spin was on my last lap at the end of the session.  It was a really good lap until I overheated my tires and dropped 2 into the dirt]
All that being said, the more subtle point is, all I was focusing on by my last session was my tires and keeping them at temps where they would not go all greasy slip and slide on me.  Other than that, I was trying to get more confident overall, which I feel like I was starting to get—although to be completely honest, my car does still scare me to the point where I stayed in intermediate all day even though I would normally run advanced, so I could work on my line, which had become sketchy because of the differnce in power between my car on my first time at Streets of Willow and my car now at Streets of Willow.  I got asked to bump up in to advanced after each session because I was running consistent 1:29s in traffic while getting hung up but that was the point.  I was worried that if I just went out there and went nuts with the advanced guys pushing me faster, I would be riding home in a tow truck, or worse.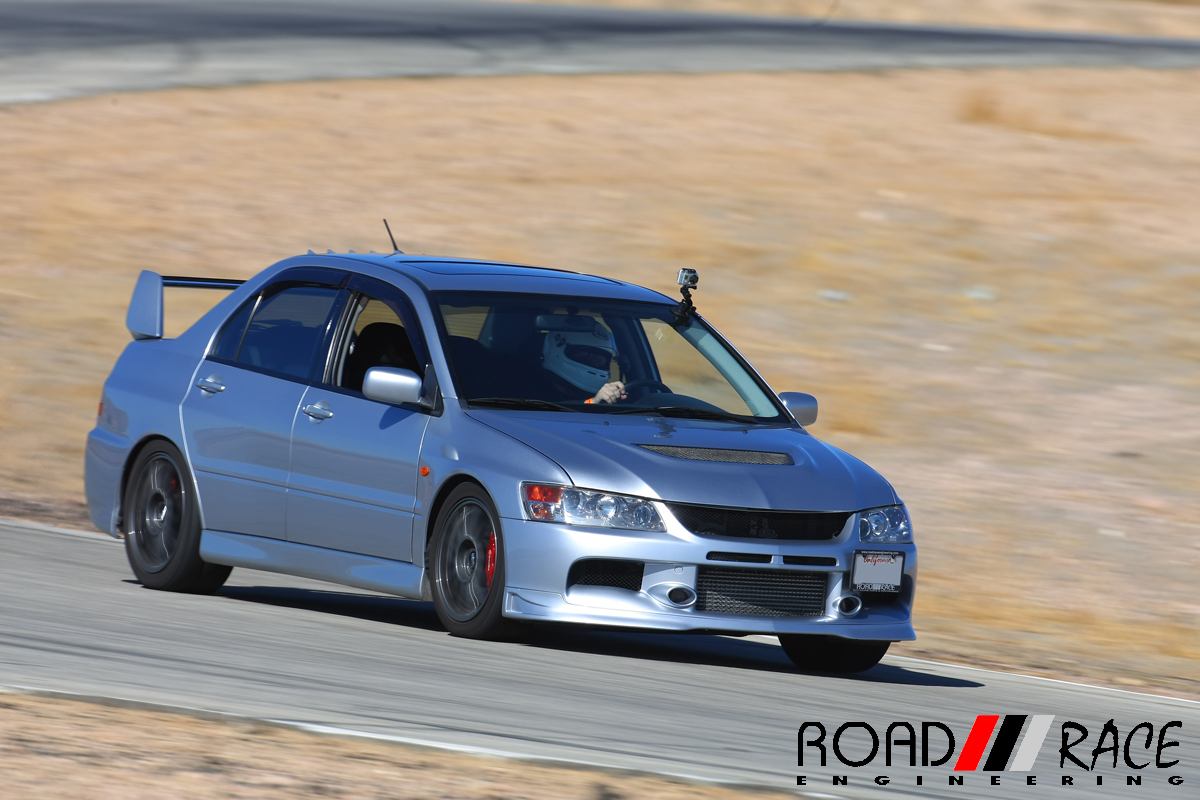 Overall, I feel like the day was really successful for a first time out with a new motor, transmission, suspension and more grippy pads in addition to this being my second time at Streets and my first time there in daylight.  The motor had zero issues all day.  The transmission also felt good the entire day.  I was still trying to get used to the new suspension and pads a bit but both outperformed my expectations.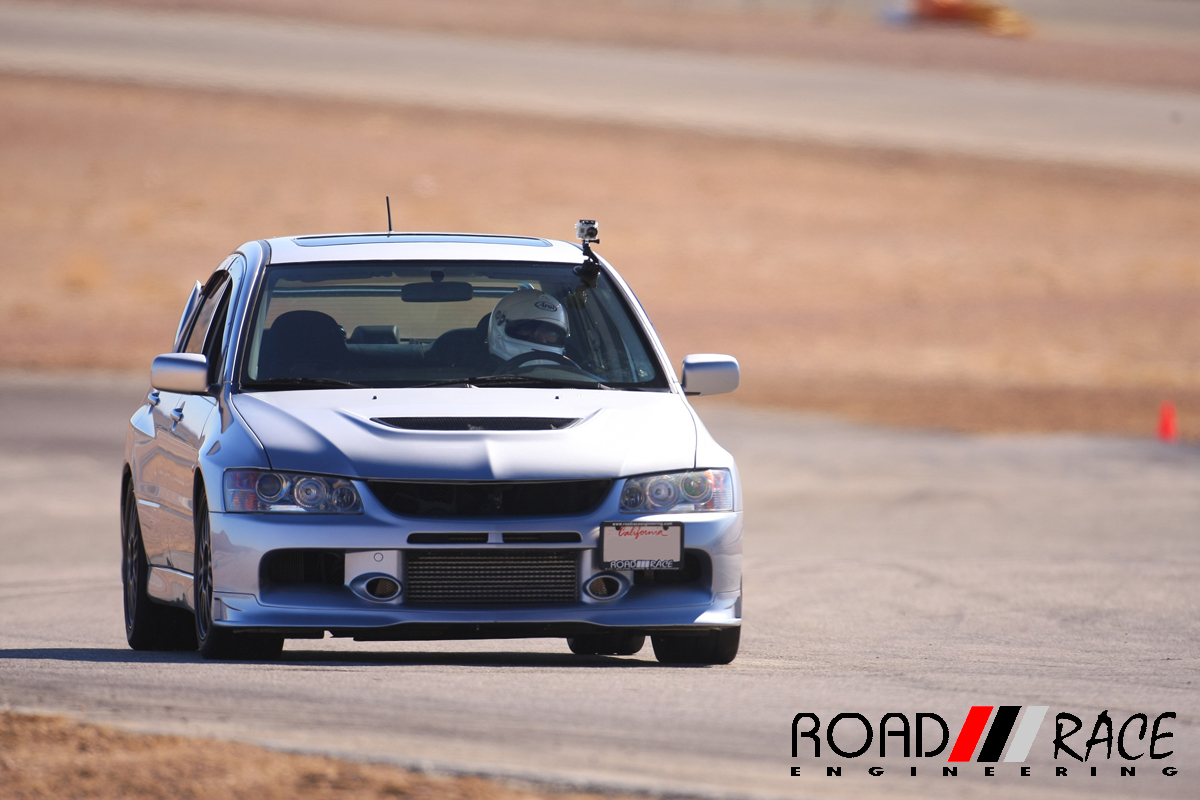 Moving forward, I will go over everything to prep for February.  I will also try to get a hook up on tires and I will focus on building confidence with my new set up.  February's round of the AWD Challenge is at Buttonwillow February 16 running the CW13 configuration.  This is my favorite track and my favorite configuration, so I am excited to see howthings will go!  I hope to see you out there!  Thank you for reading.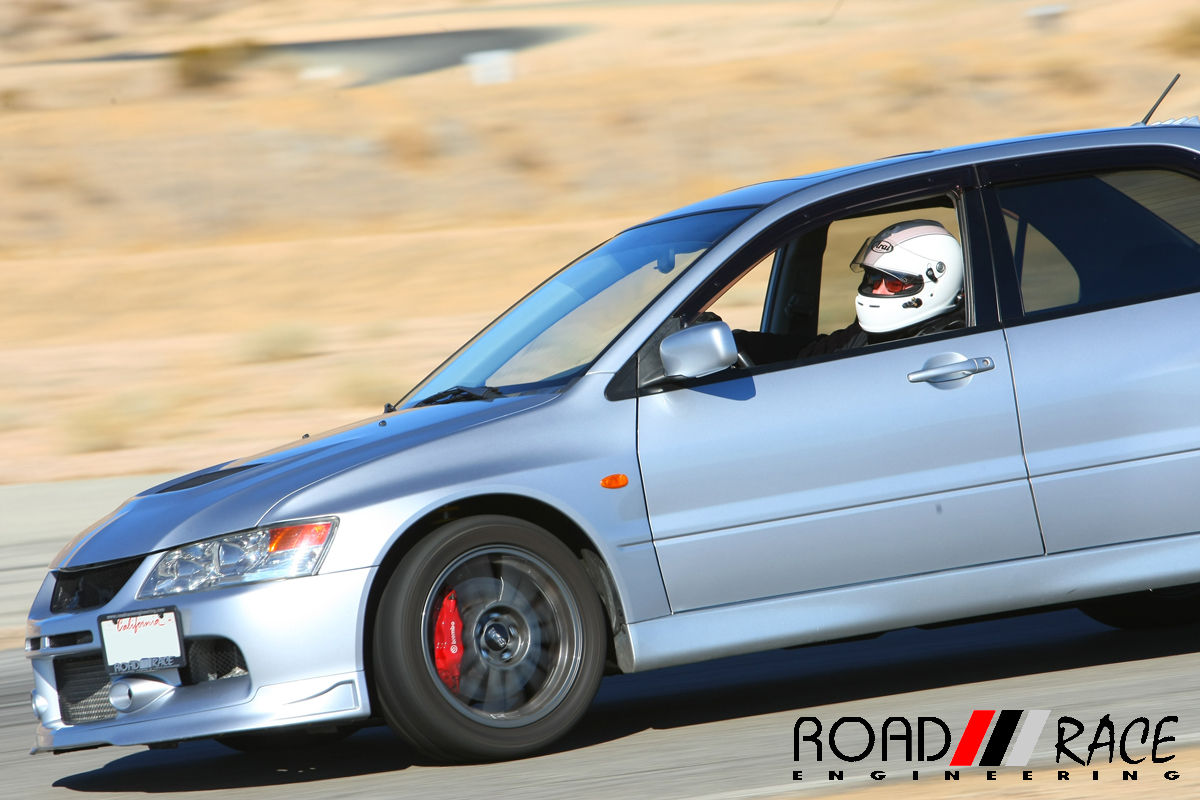 [this is the last time you will see my brakes looking this minty, so please take a moment of silence for them. As I have said before, if you track your car, you WILL damage the finish of your car and parts.  You might see a bunch of guys putting blue tape on their cars but that is about as useful as putting lipstick on a pig.]
Thank you to Mackin Industries for letting me test out their Project Mu Clubsport pads.
Thank you to Robispec for the great suspension set up.
Thank you to Road Race Engineering for the continued support.
Last but not least, I want to thank my wife Candice for supporting me to pursue my dreams and for making me a kick ass track box + filling my cooler up with yummy snacks!! <3!!