Pikes Peak 2016 – Jeff Denmeade EVO 8 – Practice and Qualifying
As day two arrived, it was a 2:45 am wake up call to get ready to head up the mountain. It takes about a half hour to get through the gate and to the pits. Then set up, get the car and driver warmed up and be ready for the session to start as soon as it is light enough to drive without headlights. We have the Pikes Peak Highway available for practice and qualifying runs until 9 am each day. The competitors are divided into two groups of cars and one group of motorcycles and quads. Each group runs a different section of the 15 mile 152 turn course. The start line is at 9,000 feet with the finish just above 14,000 feet. The air is thin at the top!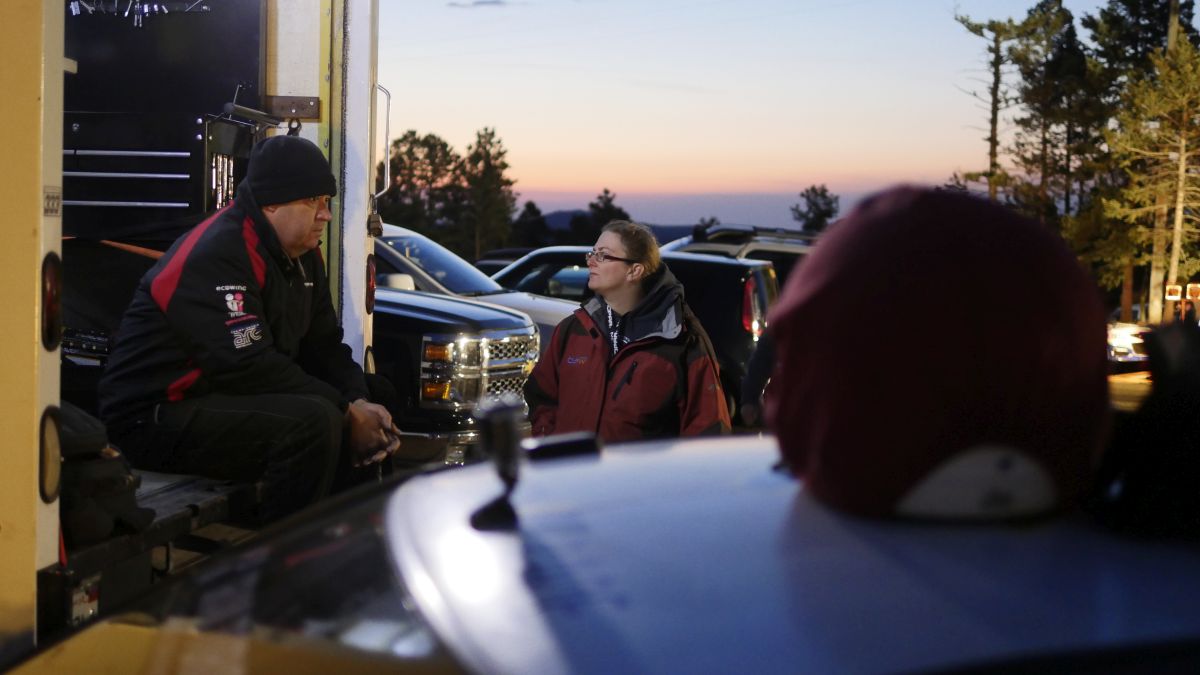 It often works out that you get only 2 or 3 runs on the longer bottom section. On the two upper sections you can get as many as 5 runs if everyone behaves. Today will be our day for qualifying on the bottom section.  It was the other race car group's qualifying yesterday and will be the motorcycles for qualifying tomorrow. Early on there were some offs and mechanical break downs with the other competitors and it became clear that we would only get 2 runs. We chose to concentrate on data logging for boost and to monitor temperatures.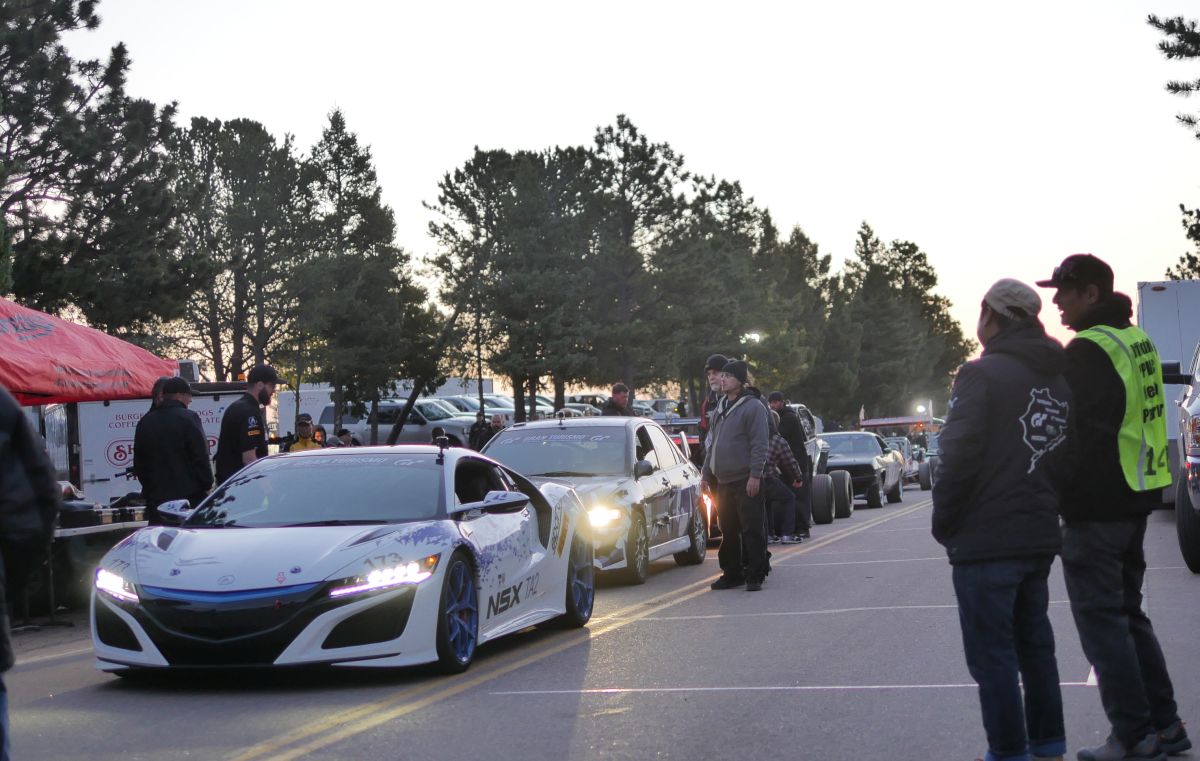 Our MeadeSports/Road Race EVO 8, which was taken back to stock configuration for this year's event put in a good effort to qualify just 1.6 seconds behind the Electric Class Tesla running in Ludicrous Mode. We had been running 3rd in our class all week during practice. Running a bit behind the 2017 Hybrid Acura NSX and the faster of the two 2016 Viper ACRs. The second 650 hp Viper ACR finally found its mountain footing this morning and we were bumped. Our qualifying time of  4:48 put us 4th in class.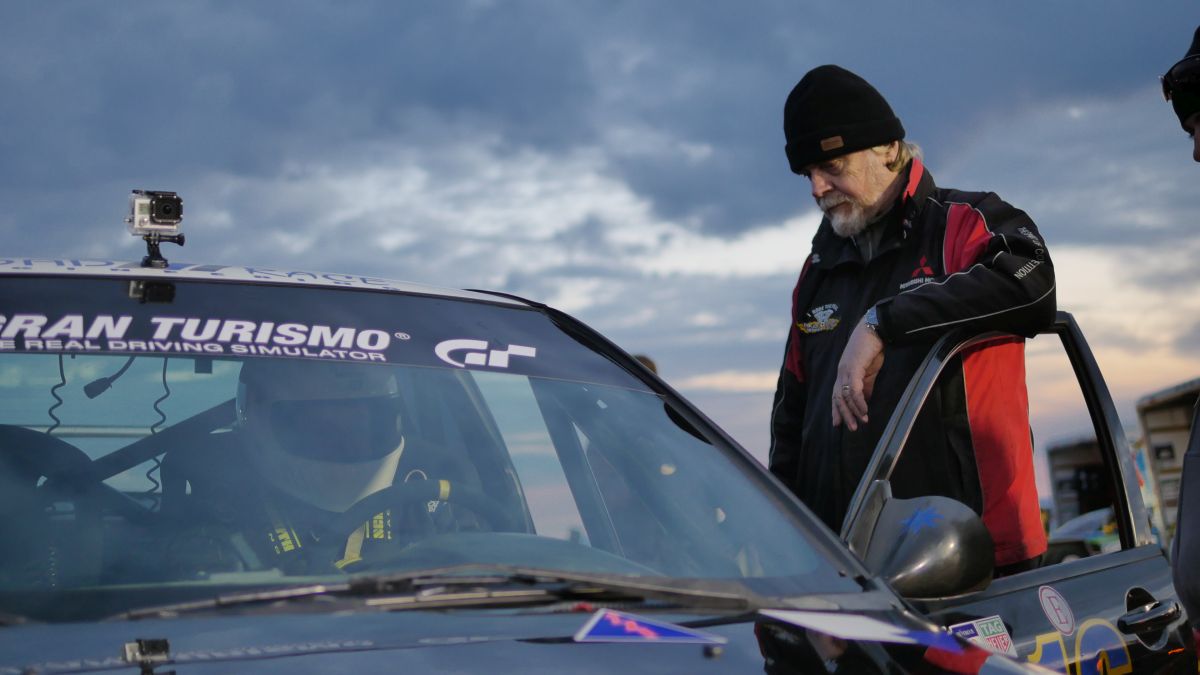 In all, the team was satisfied with the running and as the times got quicker. Jeff was actually faster than he had run in qualifying in 2012 in the Australian built carbon fiber Skelta sports car.
"We take these qualifying times as an indication, but race day is so very different than practice and qualifying as we run in the heat of the day on race day, whereas qualifying is done in the cooler early morning. We have half the power of the top 3 cars now ahead of us, but the mountain saves its joker cards until race day" Jeff said. "We're getting closer to the business end of the week of work, I'm exhausted, but excited", Jeff went onto say.