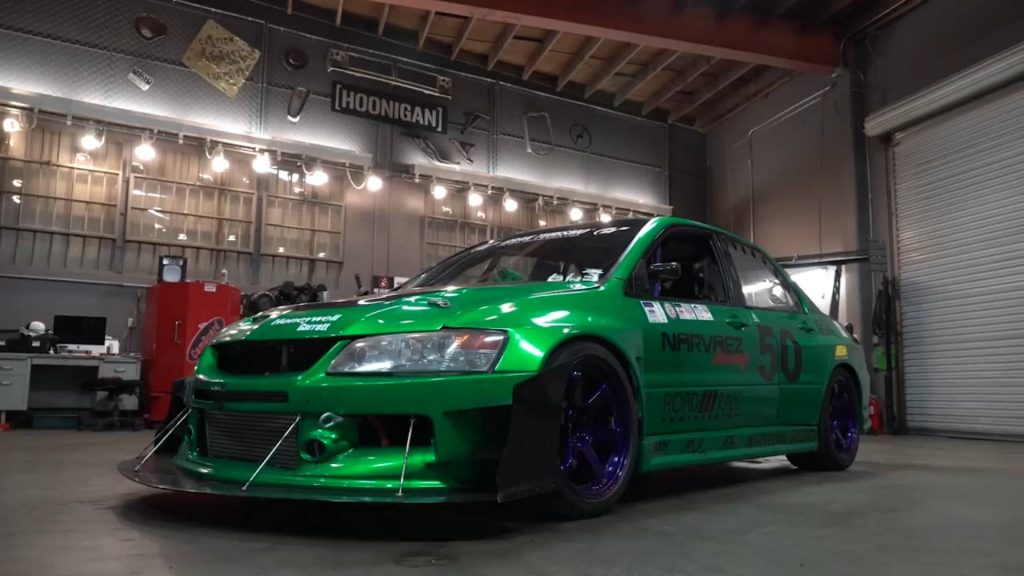 The Hoonigans just did a Build Biology video feature on Roy Narvaez's EVO 8 that we built for him back in 2015 for Pikes Peak.
We built the car for Roy out of James Singer's old street car that got rear ended by a girl in a Jeep putting on her makeup in the morning commute. Even though the damage in the rear was just the rear body panels and rear part of the floor, the car was declared a total loss by an idiot insurance adjuster that didn't know the difference between a Lancer and an EVO. Roy bought the shell and RRE took it from there.
Roy raced the car in 2015 but that year the course got shortened due to weather. He came back in 2016 for some satisfaction to complete the full course. But that year the mountain got him instead. He was driving in practice up in the W's section and the straight road just moved and made a curve out of nowhere. You can see it in the crash video.  You can watch the in car video and the road moving out of no where just stuns poor Roy and side of the road just wrecks into the car. Weirdest thing to watch it is. He was done for that year's attempt.
Back in LA Roy took it to a body shop to fix but they tole him the car was wrecked so it was unrepairable. Yes, the body shop said because the car was crashed they couldn't fix it. The frame was bent. Silly us we thought that was what body shops did, fix crashed cars. The car had too much work in it to throw it away. So Mike got out his big hammer and with some 1950's frame pulling technology he straightened the core shell and floor and replaced the frame rail and radiator support. Some new APR bod panels and suspension and it was ready to race again  for the 2017 Pikes Peak Hill Climb.
Check out the video for a closeup look at the car and some stories from Robert Garcia about the build.