Marc S – Pomona in May: 110mph and Sub 12.5's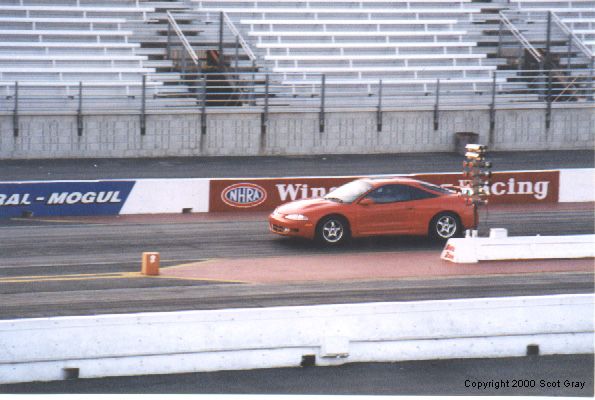 Had a great time yesterday! Sorry that more people couldn't make it…
Pomona: The Viper club had its own class… It was a blast watching those
things run… Some of the modified ones were insanely fast & clicked off mid
to low 10's. Quite a few Vipers ran high 12's and very low 13's though.
An Impala SS club showed up too… About 15+ Impala SS's, ALL with the same
rims and either black or very dark brown paint. They all had little "SoCal
SS" stickers on their windows, many of them w/ a web address… They were
the local chapter of a national club, just like us… Gotta love it. Unlike
us though they get great turnout at these events. There were only *4*
SoCal DSM's that ran at the track (a 5th showed but didn't run).
My track times… I ran a 12.40 @ 110 mph. 4 runs total, the slowest was
12.52 @ 109.1. This is on a 16G, stock 2G motor/2G head, and a lot of
great work & advice from Road Race Engineering. (Thanks RRE!)
On the way over to the BBQ, me & JR spanked some obnoxious NOS Civic that
dared to have big writing on the back that said "Bow down to those who are
faster than you!" (or "Bow down to this car" or something like that)… Hehe
I kinda got separated from the caravan I was following (JR, Scott T, Jeff T
& gf) to the BBQ 'cause I had to teach that Honda a lesson :)… (Thanks
everyone for waiting for me to catch up!) This was after I said right
after we left the track "let's drive slow & also be sure not to step on the
gas since we're running pump gas now & the ECU still thinks we have race
gas"… Ah well!
BBQ was cool, thanks John! I suggest everyone brings sunglasses next time,
either that or someone has to pry the digital camera out of Dani's hands so
we don't get nailed by the flash! 1 beer for Dani is 1 beer too many! :)
Nice seeing everyone, looking forward to the next event.
-Marc