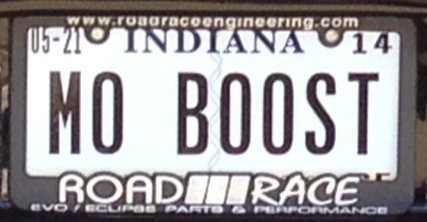 Long time RRE customer Nic sent me a pic of his personalized Indiana license plate with the RRE plate frame on it. I asked for a little more info on the car and Nic sent me this:
Hi Mike,
Here are some pics and info on my 95 Eagle Talon TSi. Some of my mods include:
MHI Big 16G turbo
Injen Intake
Punishment Racing FMIC/piping
3" Exhaust (Apex'i Dunk cat-back)
Mishimoto Aluminum Radiator
255lph Walbro Fuel Pump
AEM Big Rotor upgrade
NGK Iridium Plugs
NGK Wires
CX Racing Fuel Pressure Regulator
H&R lowering springs
Tokico adjustable struts
NXS Manual Boost Controller
Auto Meter Phantom Gauges (A/F, Boost, Oil Temp, Oil Pressure, Water Temp)
Wings West Aggressor front bumper
Z3 Fenders
18" Nippon Racing Wheels
HKS Turbo Timer
Kenwood touch screen head unit
Optima Yellow Top battery
Custom fabricated wing
There are a few other goodies here and there, but that is the big stuff. Thanks for supporting DSMers for so many years. I'll be rooting for the RRE team when I head down to Road Atlanta for Formula Drift next month.
Thanks,
Nic Harnishfeger
Evansville, IN
---
---
---
---
---
---
---
---
---
---
---
---