RRE EVO X Suspension Parts
Whiteline Lowering Springs – EVO X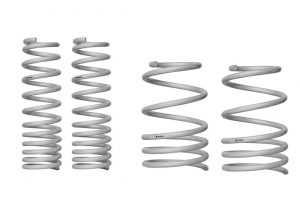 Whiteline Springs deliver improved vehicle performance whilst maintaining safety and ride quality characteristics. By lowering the vehicles center of gravity the unique and progressive rate coil design not only improves performance but enhances overall appearance. Developed and manufactured in Europe from the highest quality materials, coating and to the finest tolerances guaranteeing exact fitment. Whiteline Springs are engineered for optimal balance with OEM and aftermarket shocks. These are a good match with Whiteline Sway Bars and and roll center kits for unrivaled handling and optimal vehicle performance.
Part number WSK-MIT002  – Lowers 35 mm front, 25mm rear
Price includes ground shipping within the lower 48 states.
---
Whiteline Sway Bars
Engineered to "Activate More Grip", sway bars are principally designed to reduce body roll or sway. By reducing body roll, lateral loads are spread more evenly across the tires thereby increasing cornering grip and improving outright performance. Whiteline 3 point adjustable sway bars = more grip = better handling = outright performance – it's the best dollar for dollar handling improvement you can make to your vehicle. In fact, benefits extend to improvements in handling, safety and tire wear without affecting ride quality or comfort.
Start with a rear sway bar to make the car more neutral. Add a front bar to make the car feel flatter. Use the available adjustment points to dial it in to your experience level and preference.  For best results use the adjustable end links available below.
Part Number BMF55Z – Whiteline Adjustable Front Sway Bar  – 27mm
Part Number BMR84Z – Whiteline Adjustable Rear Sway Bar   – 27mm
Price includes ground shipping within the lower 48 states.
---
Whiteline Adjustable Sway Bar End Links – EVO X
Aftermarket sway bar effectiveness can be hindered by worn or inadequate mounts, drop links and lateral stoppers. Whiteline adjustable sway bar links are engineered to be up to the task with top spec, light weight componentry combined with a window of adjustability, eliminating sway bar preload on installation but most importantly ensuring the maximum output of the sway bar for improved grip and better handling.
Front Sway Bar Link Kit Part Number KLC139
Rear Sway Bar End Link Kit Part Number KLC174
Price includes ground shipping within the lower 48 states.
---
Whiteline Front Roll Center/Bump Steer Correction Kit – EVO X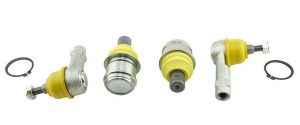 A must for lowered vehicles, Whiteline KCA396 roll center and bump steer correction kits are designed to correct roll-center geometry using specially engineered ball-joints and tie rod ends. Raising the front roll-center results in a substantial increase to front roll resistance and a significant reduction in suspension compression of the outside front wheel during cornering. The result is more even weight distribution and improved tire contact ultimately improving front end grip and cornering speeds.
Price includes ground shipping within the lower 48 states.
---
Front Control Arm – Lower Inner Rear Bushing – EVO X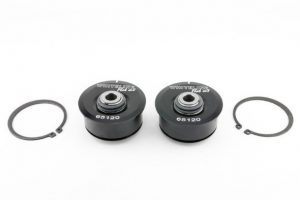 The Whiteline Anti-Lift Kit features lightweight aluminum bushings which offer zero compliance and increased static caster. The result is dramatically improved front end grip, corner speed and steering response.
Motorsports Competition Only – Part Number KCA400M
Price includes ground shipping within the lower 48 states.
---
Rear Control Arm – Adjustable Lower Arm Assembly – EVO X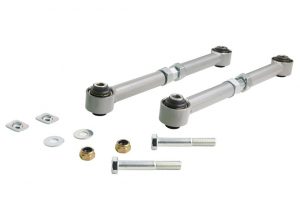 Whiteline's KTA135 is a complete kit of 2 adjustable control arms fitted with zero compliance bearings designed to modify factory camber & track on the rear of Mitsubishi Lancer EVO X. With an additional 100mm of adjustment the greater range & more precise and easier adjustment make prepping and tracking your EVO X a much more enjoyably experience. If you have tried messing with the stock rear "cammed" toe adjusters you know the problem. You will also gain  a more direct connection between body & rear suspension delivering more predictable dynamic behavior. There are Chinese lower arms readily available for about half the price, but we dont feel this is a place to cheap out.
Price includes ground shipping within the lower 48 states.
---
Rear Control Arm – Upper Inner Front Bushing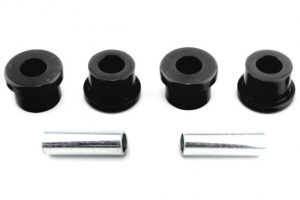 Over compliant front control arm bushings have a huge influence on vehicle stability, steering precision and braking efficiency. Whiteline's kit is specially designed to improve deflection rates for improved response and chassis control. Part Number W0593
Price includes ground shipping within the lower 48 states.
---
Factory Style Lug Nuts – Chrome and Black
Factory Mag style lug nuts are needed for the factory wheels. These use the regular 21mm socket the same as stock. Other "Acorn" style lug nuts and cute anodized and JDM fruity colors lug nuts wont work correctly with the factory wheels. They will not seat correctly, these do. Now available in Chrome and Black finish.
Price includes USPS Priority Mail Shipping in the US (2-3 days delivery)
---
ARP Extended Wheel Studs EVO X- 100-7717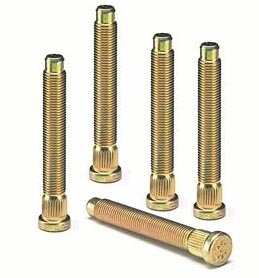 ARP's heat-treated 8740 chrome-moly cadmium plated extended wheel studs are a much-needed upgrade for any EVO running in autocross, track, or drag racing. They have a tensile strength of 200,000 psi and are able to easily handle the high acceleration, shock loads and stretching found in competition especially using wide sticky tires. This includes 4 packages of 5 studs for a total of 20 wheel studs to replace all the studs on your Mitsubishi EVO X. Also available as a single pack of 5 for replacements.
Knurl Diameter 0.565˝
Overall Length 3.000˝
Knurl Length 0.270˝
Nose Length 0.350˝
Diameter – Pitch M12 x 1.5
Prices include standard ground shipping within the lower 48 states.