EVO X Brake Upgrades
---
Centric Posi-Quiet Brake Pads EVO X
Posi-Quiet brake pads provide outstanding wear characteristics at a high friction level. The friction performance remains stable across wide temperature range. Posi-Quiet pads are about a dust free as a performance car pad can be. Good all around street pad that will deal well with spirited driving.
Extraordinary wear and fade resistance means superior braking performance for all driving styles.
Posi Quiet friction formulas create less dust keeping wheels cleaner.
All Posi Quiet friction formulas are 100% asbestos-free.
Highest quality OE-designed shims reduce vibration ensuring noise-free braking.
All Posi Quiet brake pads feature a positive molding process that eliminates any impurities in the friction compound.  This provides a more stable friction consistency and ensures a more consistent pedal feel and better braking performance.
Price includes USPS Priority Mail Shipping within the lower 48 states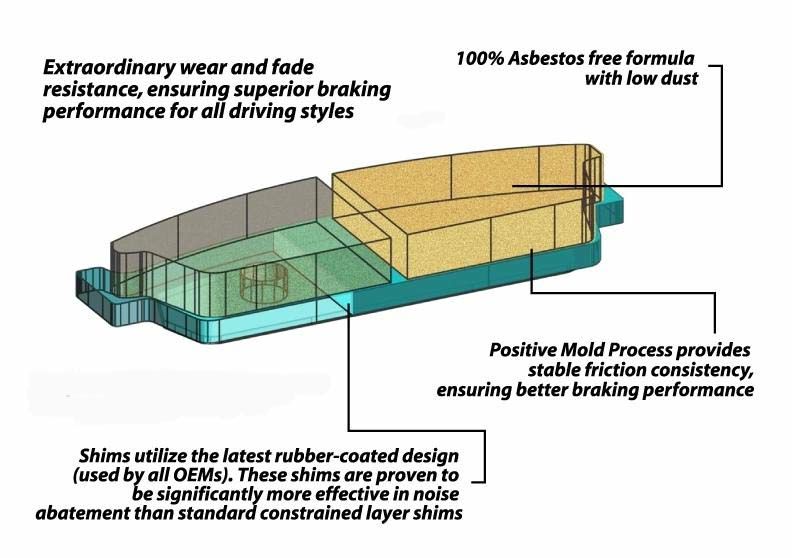 ---
StopTech Street Performance Brake Pads EVO X
StopTech Street Performance brake Pads are engineered to meet the demands of high performance driving while maintaining the refinement and comfort expected in everyday driving conditions. StopTech brake pads combine the benefits of premium street brake pads with aggressive friction formulas suitable for light track day and autocross use. Para-aramid composites are specially formulated to provide linear response at both cold and hot temperatures, delivering optimum stopping performance over a wide range of driving conditions.
Price includes USPS Priority Mail Shipping within the lower 48 states
---
Centric Brake Rotors for the EVO X (2008-2015)
Centric Stock Replacement Brake Rotors
These are stock size high quality rotors. Centric standard rotors feature a double disc ground, taper free finish. Double disc grinding ensures parallelism, eliminates run out and provides near perfect disc thickness variation (DTV). Double disc grinding leaves a non-directional finish on the friction surface area for more effective pad-rotor break in. This special finish also provides quieter and smoother stops.
These Centric rotors feature 100% fully machined finishes including rotor hats. This extra process provides better rotor balance and creates a cleaner, more finished looking component. In addition, Centric Premium rotors are inspected for balance and mill-corrected to a tolerance of less than 2oz. per inch
Center-split core castings provide proper heat transfer and thermal efficiency, resulting in superior braking power and safety.
Centric brake rotors are mill balanced to a tolerance of less than 2oz. per inch. This additional machining operation reduces feedback associated with rotor vibration and provides a smooth confident application of braking force.
Price includes Standard Ground Shipping within the lower 48 states
"Warpped Brake Rotor" Myth and Tech Nerd Info
Super Deluxe OMG Overload Tech Nerd Brake Wonk Info
---
Stoptech Slotted Rotors EVO X (2008-2015)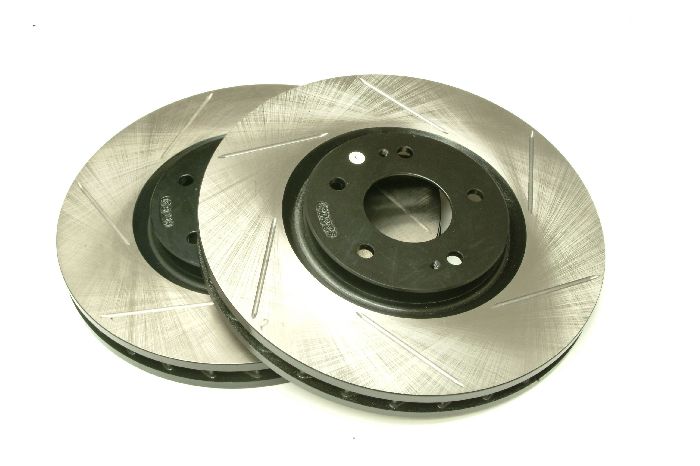 For the Mitsubishi Evolution, Stoptech uses a special Power Alloy metallurgy to improve high temperature performance. Excessive heat can cause resins in your brake pad to vaporize or "outgas." As the brake pad wears, the used friction material turns into a fine dust. This boundary layer of heat, gas and dust builds up between the pad and rotor surfaces and inhibits performance. Here's where Stoptech slotted brake rotors make a big difference.
Stoptech's exclusive Vac-U-Slots are machined into the rotor and help evacuate gasses and dust, shed heat, and keep the brake pad surface clean. Stoptech rotors are finished in a durable black e-coat on the hat, edges and internal vanes to prevent corrosion. The braking surfaces are left in a bare iron finish to improve brake pad bed-in. A combination of StopTech High Performance or Centric PosiQuiet brake pads and Stoptech slotted rotors will deliver superior, reliable braking for your EVO,  even under hard driving and track day conditions.
Stock thickness and diameter. Direct bolt on installation.
Standard Ground Shipping is $20 within the lower 48 states
"Warpped Brake Rotor" Myth and Tech Nerd Info
Super Deluxe OMG Overload Tech Nerd Brake Wonk Info
---
StopTech Racing Brake Fluid
Available in STR-600 and STR-660 formulations for high performance street and racing applications. StopTech High Performance Brake Fluid is a DOT 4 motor vehicle brake fluid, engineered to optimize brake system performance at high operating temperatures. In addition to guarding against boiling and subsequent loss of efficiency at severe racing temperatures, StopTech Brake Fluid maintains its excellent viscosity, lubricity and non-compressibility.
StopTech Brake Fluid comes bottled in a special metal container that is not only more durable, but also gives the fluid up to 25 percent longer shelf life than typical plastic bottles provide. It is also mixable with all DOT 3 and 4 products.
Stoptech STR-600 is our default fill fluid for all service operations in the shop for street cars and track day cars. Our dedicated race cars use the more expensive STR-660 fluid. If you are driving hard enough to turn your stock calipers maroon, then use the STR-660. If you are turning your calipers brown or black, then it is time for a StopTech Big Brake Kit!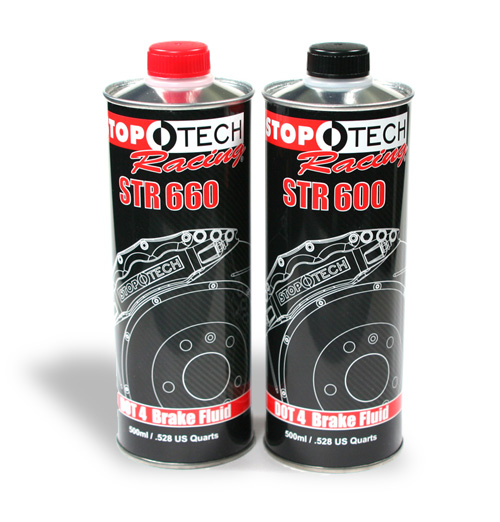 StopTech STR-600 High Performance Street Brake Fluid
Typical Dry Boiling Point: 594°F (312°C)
Typical Wet Boiling Point: 404°F (206°C)
Minimum Wet Boiling Point: 383°F (195°C)
500mL metal container gives fluid a 25% longer shelf life
StopTech STR-660 Ultra Performance Race Brake Fluid
Typical Dry Boiling Point: 622°F (328°C)
Typical Wet Boiling Point: 404°F (206°C)
Minimum Wet Boiling Point: 383°F (195°C)
500mL metal container gives fluid a 25% longer shelf life
Nerd Technical Overload Info on Brake Fluid