Tree Line SCCA Pro Rally Azusa Canyon – Results
Hi Everyone,
We are back from the rally, Good news.
Tony Chavez in his GVR-4 Rally car won his first Pro
Rally over all. He has won his class before in his old
Golf and FWD Eclipse but this is his first overall win.
On the first leg (three stages) up the mountain to Mt
Wilson, Chavez  lost a little time with a loose I/C hose.
He was 30 seconds behind Lauchlin O'Sullivan in an
Audi Quattro. Ron Wood (Audi Quattro) broke
a rear axle and had to go on with 3WD. Rui Brasil's
Audi Quattro hit something and lost a lot of time driving
with about 5″ of toe-in.
On the way back down the mountain Chavez won
every stage. There was a lot of hugging and kissing
going on when he got in and realized he had won.
Chavez is now running 2G 8.5 pistons, a 2G ported head
on a early 1G motor, a 1.6 Mirage Turbo intake manifold
(2G size w/1G coil mounting) and 1G automatic cams.
He has a VPC/AFC, 550cc injector combo with a
TDO-5 16G 8cm turbo. He uses a Starion I/C. We tried
to set it up as the ultimate all around bottom end-top
end motor.
Paul Timmerman's 323 GTX broke the transmission on the
first stage. Possibly it was damaged 2 weeks ago when
he rolled the car testing.
Bruce Brown's 323 GTX ran fine with no problems and
he finished 3rd in AWD Open class.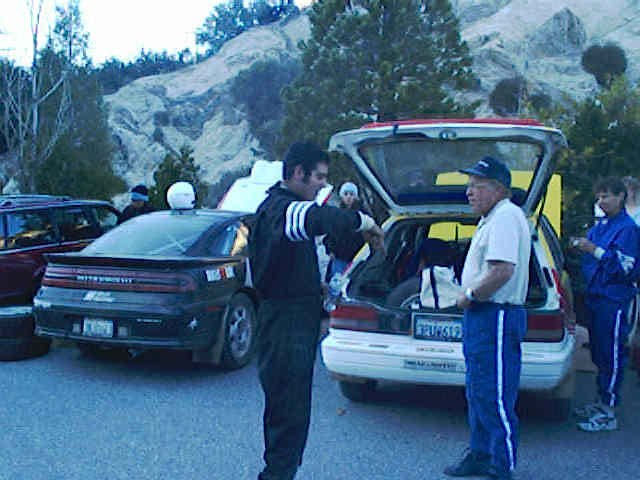 Robert Garcia ran his FWD Laser with Tony Vu as his
Navigator. When he came into the service area, Tony
looked glad just to be alive. The front of Robert's
bumper was smashed into the skid plate so I asked
Robert what he hit. "Everything" he said. I guess they
spent some time stuck on a berm almost hanging over
a big drop off. Some workers helped get them going
again. Robert finished 3rd in 2WD Open class even with
getting stuck.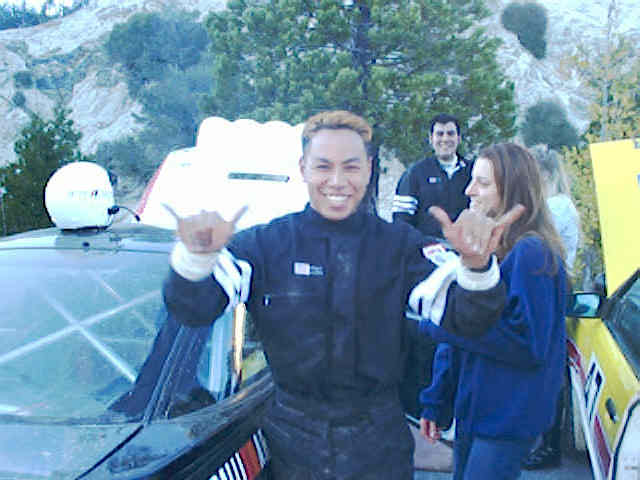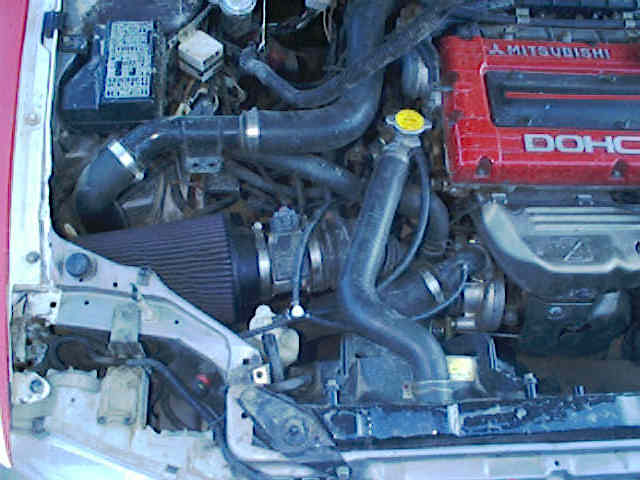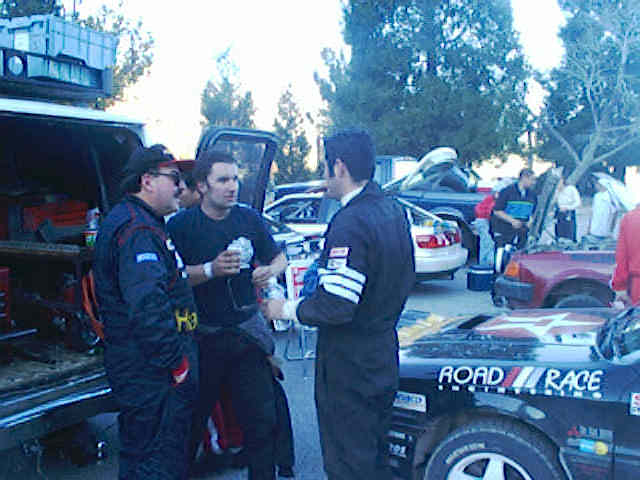 Robert Tallini hurt his back at work and was not able to
drive his Corolla GTS. Lu Ryba (he does a lot of the
fabrication here at the shop) rented the car for his first
time rallying. He has a lot of experience in SCCA Pro
Racing and IMSA road racing, this was his first time
playing in the dirt. His wife navigated for him but got
car sick on the 3rd stage. He lost some time driving
solo and ended up with a respectable 2nd in 2WD open.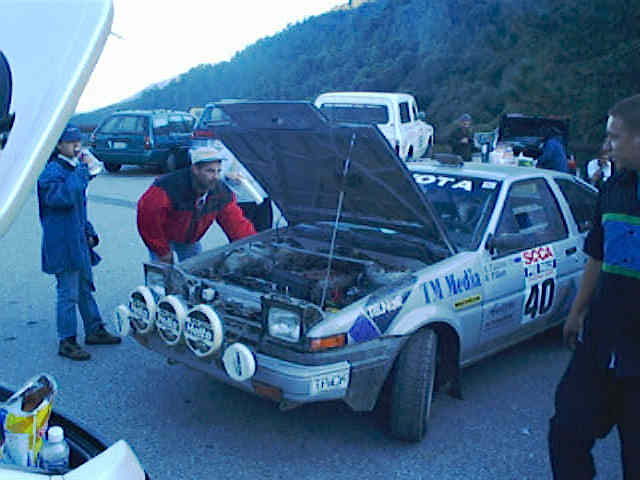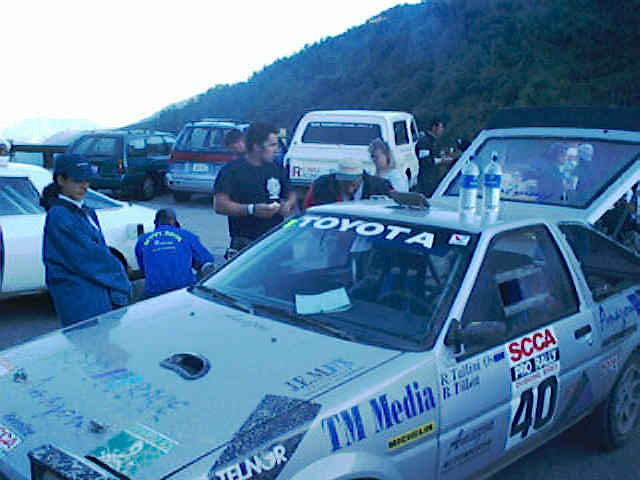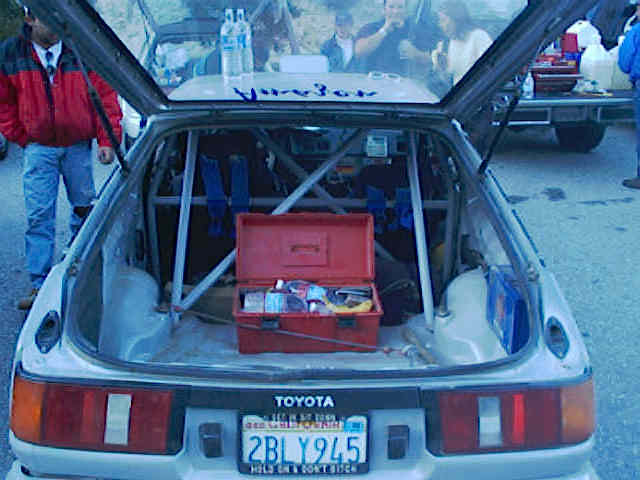 Robert Shibao got booted out of Stock class because
the guy that owned the car before him had installed an
adjustable rear brake bias control. That meant he had
to run his Mazda GLC against RX-7s, Robert's FWD
Laser Turbo, 1.6 Corolla GTS's, and a Saab Turbo.
Well Robert must turn into some kind of Incredible
Hulk when he drives because he ended up with 1st in
2WD open class. This is a 1.5 liter, carbureted, 8 valve
old POS ! The only mods he has is a head he ported him
self here at the shop, a Mutiny cam, and a straight
exhaust. His navigator Matt must have been pedaling too.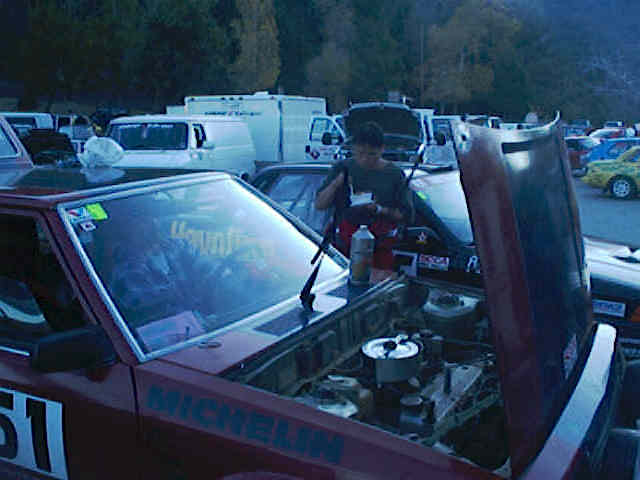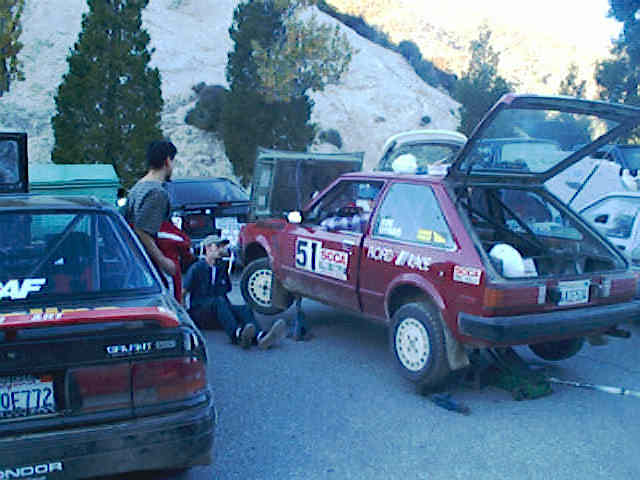 We ended up with 1st and 4th in 4wd Open Class
and a 1st, 2nd, 3rd sweep in 2WD.