SCC Magazine – Best 10 Used Car Buyer's Guide – 323GTX
The crew SCC magazine told me they were putting together a 10 best used car buys guide and asked for our input on the Eclipse and the GTX. Here is the GTX article:
Sport Compact Car Magazine – December 1998
By Dave Coleman
Reprinted with permission
What would we do without rally cars? To be considered a production car for Group A rallying the FIA mandated that 5,000 road-going versions of that car had to be built. The 323 GTX, like most of the world's coolest cars, was built for production to homologate the all-wheel drive turbocharged 323 as a legal, production-based Group A rally car. The 323 GTX first appeared in Europe and Japan in 1986, but didn't make it to our shores until 1988,when Mazda was trying to bolster the image of their rather pedestrian 323. Over its two year run in the United States, only 1,243 were sold, making It difficult to find one now but not impossible. If you can locate a GTX, its relative anonymity translates into a remarkably low resale value.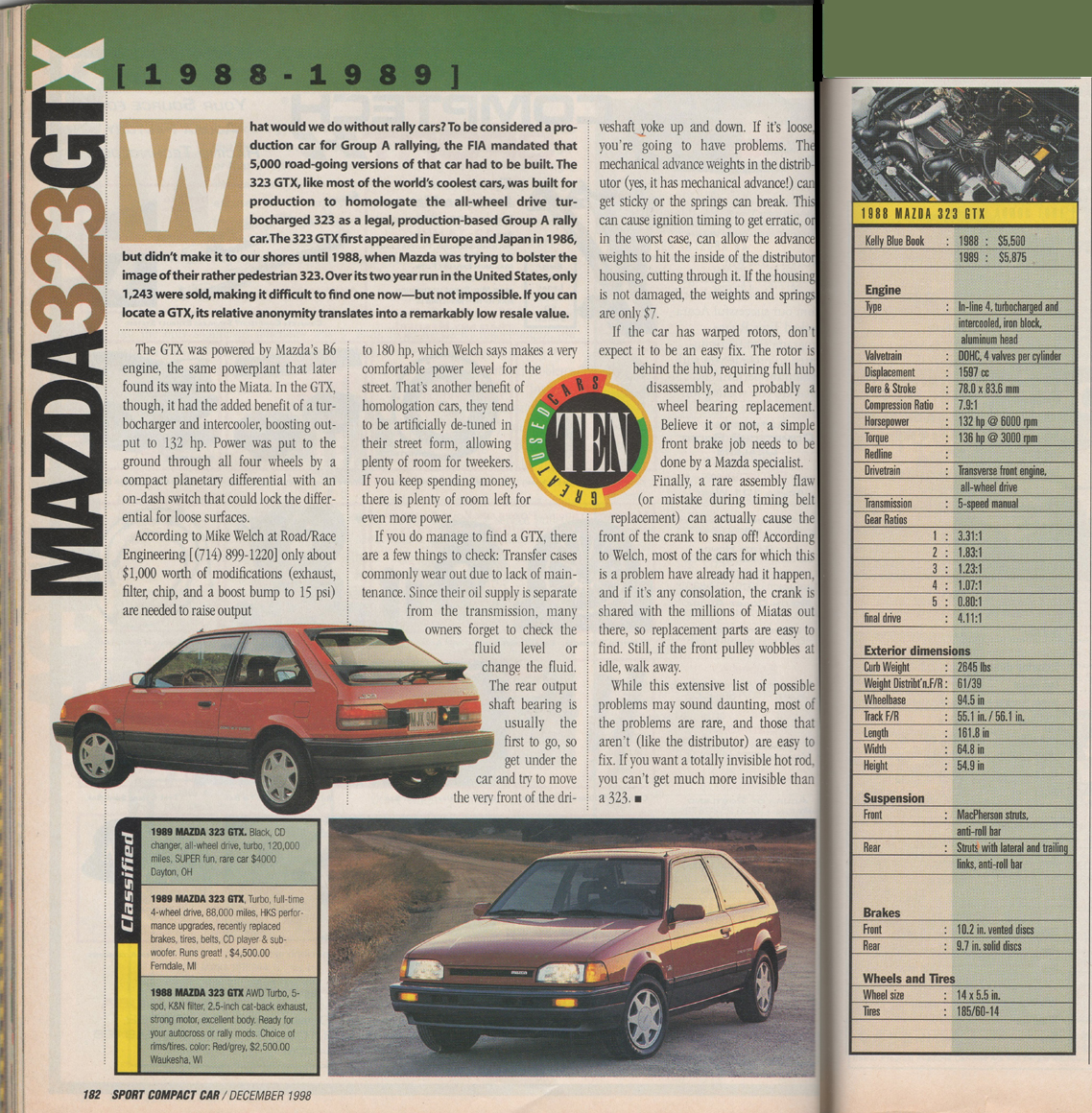 The GTX was powered by Mazda's B6 engine, the same power plant that later found its way into the Miata. In the GTX, though, it had the added benefit of a turbocharger and intercooler, boosting output to 132 hp. Power was put to the ground through all four wheels by a compact planetary differential with an on-dash switch that could lock the differential for loose surfaces.
According to Mike Welch at Road/Race Engineering [(714) 899-1220] only about $1,000 worth of modifications (exhaust, filter, chip, and a boost bump to 15 psi) are needed to raise output to 180 hp. which Welch says makes a very comfortable power level for the street. That's another benefit of homologation cars, they tend to be artificially de-tuned in. their street form, allowing plenty of room for tweakers. If you keep spending money, there is plenty of room left for even more power.
If you do manage to find a GTX, there are a few things to check: Transfer cases commonly wear out due to lack of maintenance. Since their oil supply is separate from the transmission, many forget to check the fluid level or change the fluid. The rear output shaft bearing is usually the first to go, so get under the car and try to move the very front of the drive shaft yoke up and down. If it's loose, you're going to have problems. The mechanical advance weights in the distributor (yes, it has mechanical advance!) can get sticky or the springs can break. This can cause ignition timing to get erratic, or in the worst case, can allow the advance weights to hit the inside of the distributor housing, cutting through it. If the housing is not damaged, the weights and springs are only $7.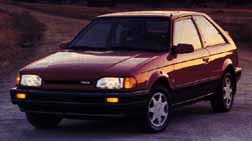 If the car has warped rotors, don't expect it to be an easy fix. The rotor is behind the hub, requiring full hub , disassembly, and probably a wheel bearing replacement. Believe it or not, a simple front brake job needs to be done by a Mazda specialist. Finally, a rare assembly flaw (or mistake during timing belt replacement can actually cause the front of the crank to snap off! According to Welch, most of the cars for which this is a problem have already had it happen, and if it's any consolation, the crank is shared with the millions of Miatas out there, so replacement parts are easy to find. Still, if the front pulley wobbles at idle, walk away.
While this extensive list of possible problems may sound daunting, most of the problems are rare, and those that aren't (like the distributor) are easy to fix. If you want a totally invisible hot rod, you can't get much more invisible than a 323
Engine Type : Inline 4, turbocharged and intercooled, iron block, aluminum head
Valve train : DOHC,4 valves per cylinder
Displacement : 1597cc
Bore and Stroke : 78.0 X 83.6 mm
Compression Ratio : 7.9:1
Horsepower : 132 @ 6000 rpm
Torque : 136 hp @ 3000 rpm
Drive train :Transverse front engine, All wheel drive
Transmission :5-speed manual
How do you tell if it is a GTX by looking at only the VIN number ?
There are 17 numbers in the (USA) VIN numbers
Example:
JM1 BF 23 4 7 J 0 100001
The first three are the World Manufacturer Identifier
JM1 is for Mazda's US and Canadian cars.
4th and 5th characters are the car line series
BF is for the 323 (in 88-89)
6th and 7th are is the body style code
22 is 4 door – 23 is 3 door hatch back – 34 is hatch back
8th is the money code number
2 is 1600cc EFI 2WD
3 is 16oocc DOHC Turbo 2WD
4 is 16oocc DOHC Turbo 4WD
The ninth digit is a check number from a mathematical formula
Keeps you from making up your own number.
10th digit is the year code
J is 1988 – K is for 1989
11th digit is the assembly plant
0 is Hiroshima
12th thru 17th is the production serial number
You want the 8th digit to be a "4" for a GTX