RRE EVO 8/9 Stealth Exhaust Dyno Test
The RRE Stealth Exhaust for the EVO 8/9 occasionally gets picked on by haters for being restrictive. Threads come and go with speculation. The standard RRE Stealth cat back uses straight through perforated core resonators. These do not restrict anything. We use very mild angle mandrel bends and a large straight through Magnaflow stainless steel muffler. There are a few people out there that ask for the more restrictive louvered core resonators that would cost you a few hp depending on how much hp you are making.
In this thread I threw down the gauntlet.
http://www.socalevo.net/forum/index.php?topic=80224.0
———————

Quote from: sxe_davexxx on June 22, 2009, 06:09:58 PM

The RRE stealth exhaust is overrated… Its super heavy, you'll loose power significantly, and it is not that quiet.You should try the Cobb exhaust or the

——————–

Quote from: Mike W on June 22, 2009, 05:54:22 PM

Would you like to prove what you are saying? I will help you.Back it up or take it back.mike@roadraceengineering.com

I will give you my cell phone number and we can work out the details of "significant" and when and how to dyno your car at no charge to you.

MiKe W

——————–

Quote from: sxe_davexxx on June 21, 2009, 12:03:55 PM

Emailed, awaiting your reply =)
Sexy Dave was nice enough to volunteer his car and his buddies and he did the parts swapping on the dyno. He has a nice running stock turbo EVO 9 tuned by Bryan @ GST on E-85. The car us using ECU boost control. His exhaust is an RSR X-Mag. It is very loud and growly no resonators and a straight through small body muffler.
Dave brought his car by on a Saturday afternoon and we did some baseline runs.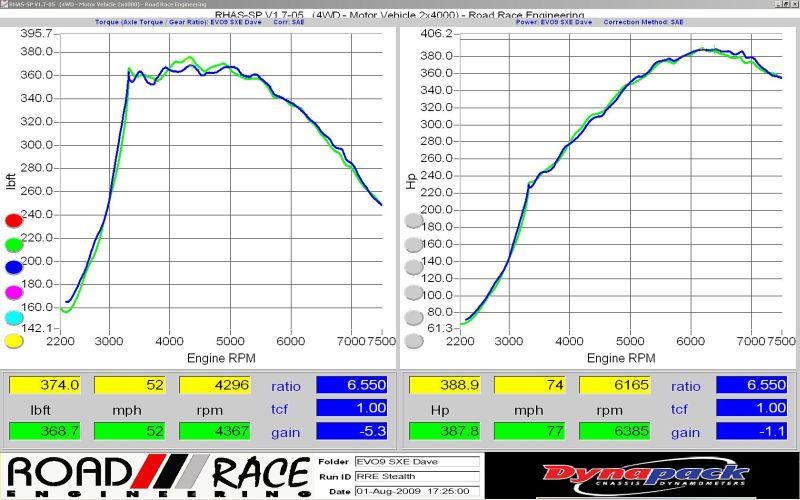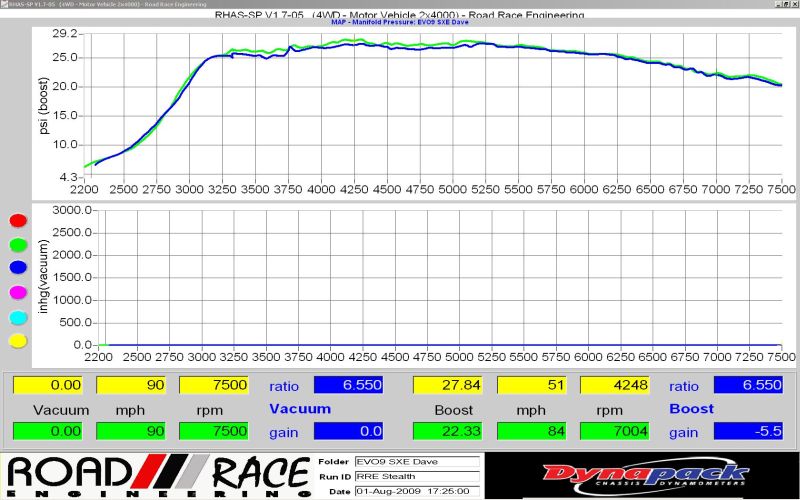 Not bad at all, especially for how stock he has things looking under the hood. Boost was smooth with a peak of 27 psi and finishing at 20 psi at redline. The first run was a little peaky with the hp, with the car warmed up hp stabilized at 388-389 hp and ~370 ft pounds of torque.
Then Dave and friends swapped out the loud RSR exhaust for the RRE Stealth.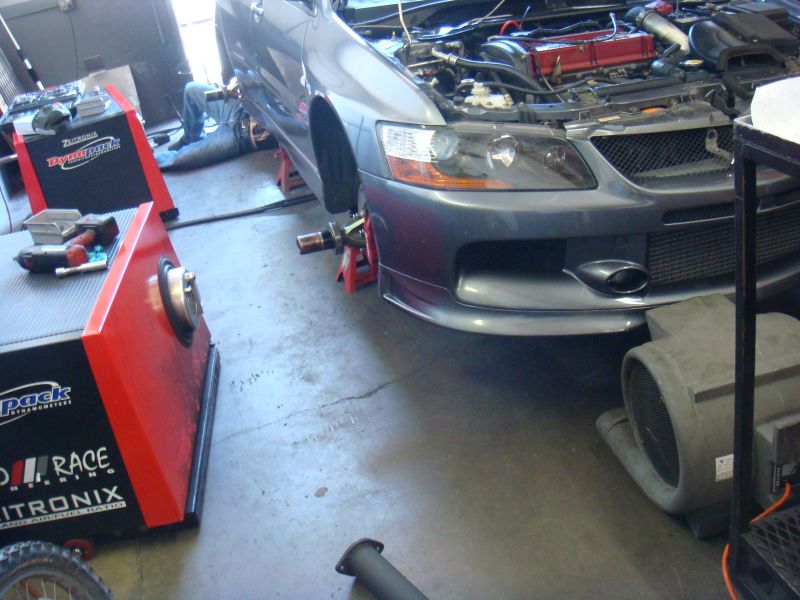 We went to make some pulls on the RRE system.
Again the first pull was a little choppy. But once warmed up it was making consistently higher hp pulls.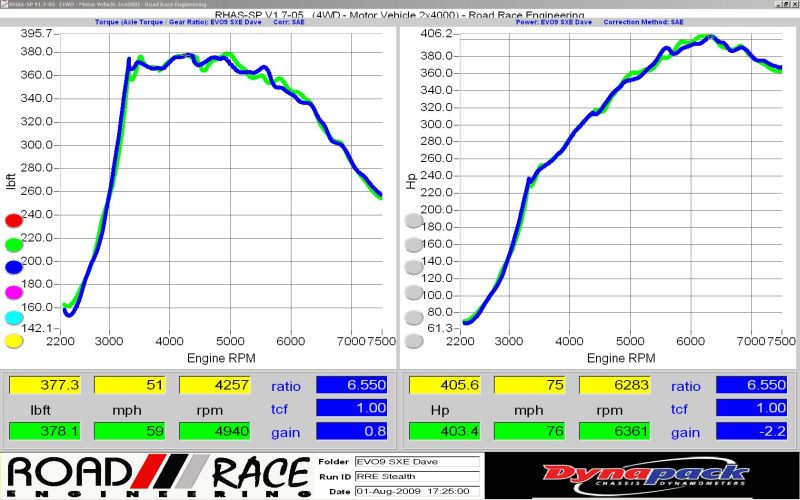 Over 400 hp now and peak torque was up too. Boost was a little choppy but not surprising considering that it was tuned for the other exhaust system. Interesting was that boost dropped off with it making more hp. Shows that the RRE exhaust actually flowed better than the RSR :-P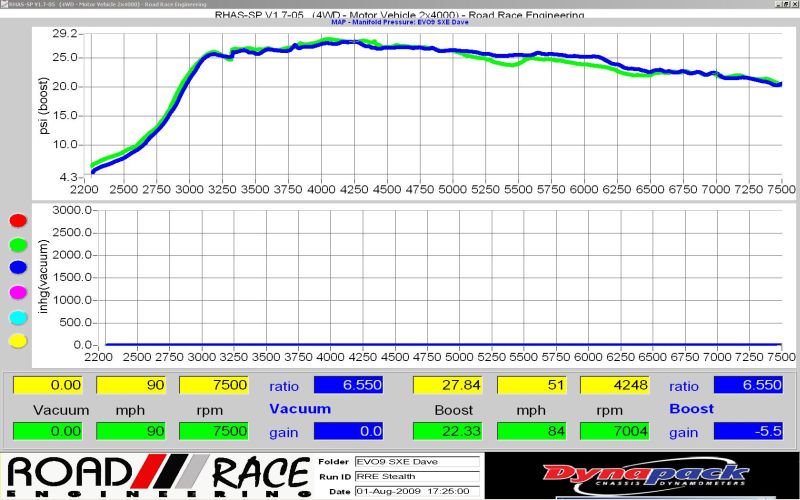 So here is the RSR (thin lines) vs. RRE Stealth (thick lines)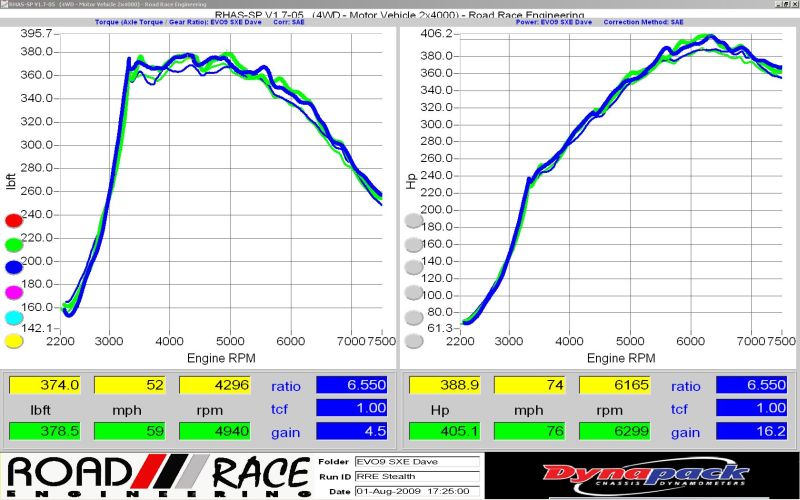 Boost, again RSR (thin lines) vs. RRE Stealth (thick lines)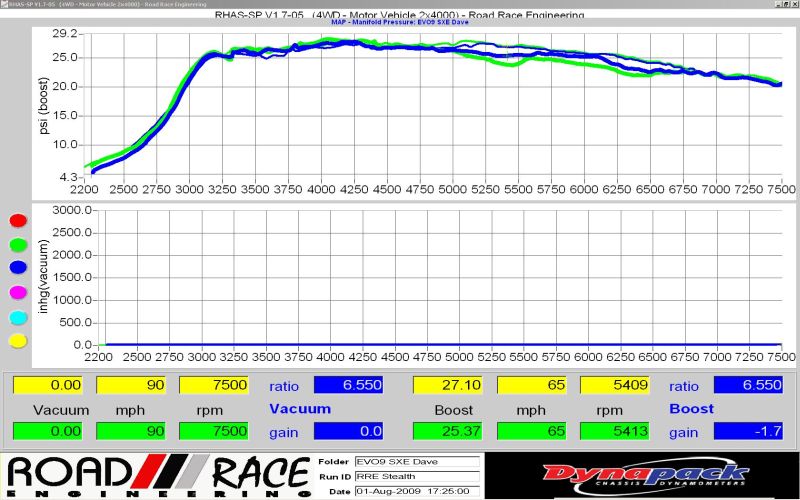 And for fun the two wild card first runs of each exhaust, RSR thin lines, RRE Stealth thick lines.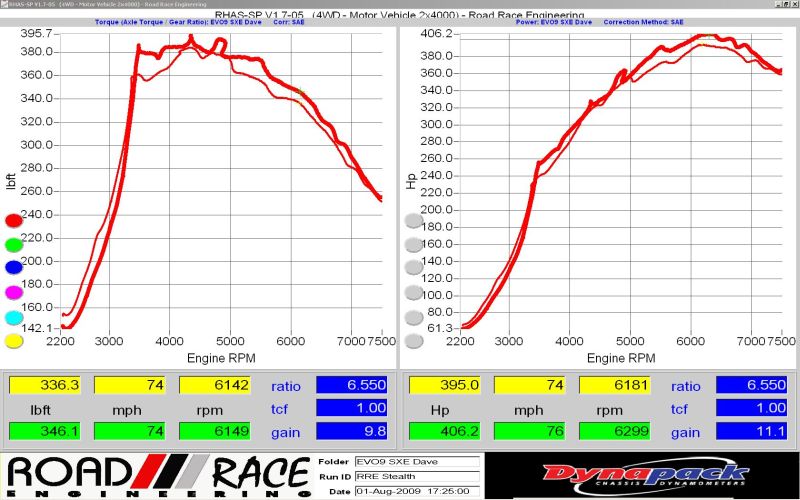 Here is a video of the two dyno runs. IT just further prooves how internet sound clips are totally worthless. The little cameras we all use to make these has self adjusting/limiting microphones. You can hear the idle difference in the RSR. But at WOT they sound essentially the same. In real life the RSR was ear splitting on the dyno. The RRE was just loud.

Any questions?