Modified Magazine – AEM Intake & MagnaFlow Cat-back – Nissan 370 Z
AEM ETI Air Intakes & MagnaFlow Cat-back Exhaust System
Allowing our 370Z Nismo to breathe better in seek of more horsepower
From the May, 2011 issue of Modified Mag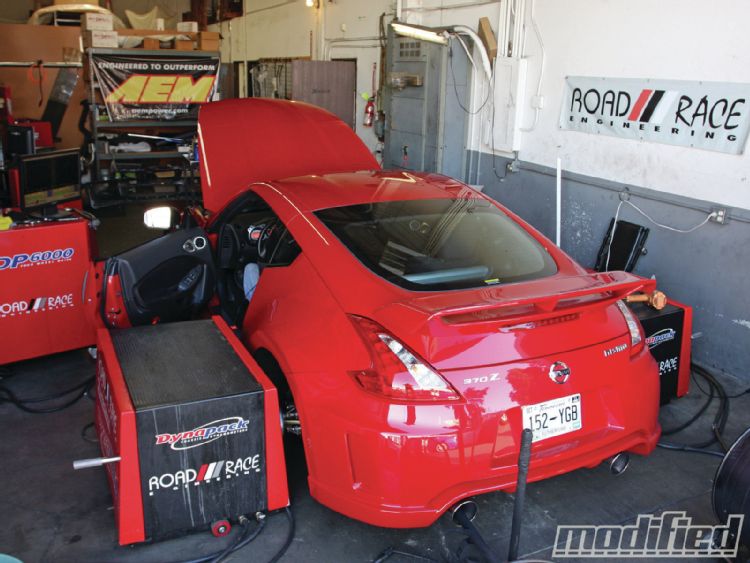 Pretty much everything has been said about intake and exhaust systems by now. By replacing the factory-equipped units, one hopes to increase airflow and decrease exhaust backpressure, allowing the engine to churn out some extra ponies for your enjoyment.
Sounds simple enough, and it usually is. However, some cars, such as the Nissan 370Z, are extremely finicky when airflow is altered, especially around the MAF sensor area. The ECU doesn't like different readings, and the usual result is less horsepower than you started with.
AEM has gone to great lengths to remedy this problem by introducing electronic tuning to its intake systems. A black box is connected to the MAF sensor and ensures that the ECU still sees the airflow counts that are within factory calibration, while the larger AEM intake tubes provide more airflow into the engine, resulting in more power. It's a great and, best of all, 
safe
 solution for adding intakes to your 370Z.
The Nismo Z already comes with a great flowing exhaust system, but MagnaFlow set out to add more power and sound with its stainless steel dual 2.5-inch exhaust system. Using all mandrel-bent piping and a high-flow muffler, MagnaFlow's exhaust system will wake up your Z from its sedate-sounding stock exhaust sound to a much more lively note.
Results