Got Spoolup?
I cant say that I have ever seen this kind of spoolup with this kind of top end potential. This is a track car with a Buschur Racing  2.3 liter @ 10:1 compression. The turbo is the new Borg Warner on a Full Race manifold with dual Tial wastegates. AEM EMS and E-85 on 1600cc RC Engineering injectors tuned by Scot Gray here.
Running the car at different boost levels. Robert Fuller (RobiSpec) does the track prep and coaching on this EVO 8 and was  was looking for something in the 500 whp range to keep the car somewhat driveable on a road course for his customer.  Scot could not get the car to run below 18 psi so 524 is the lowest hp there can be.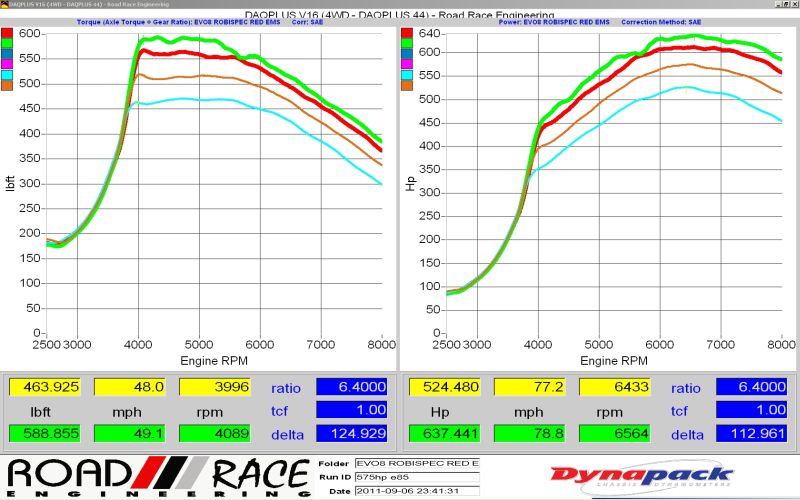 Up around 30 psi and with E-85, there was a little ignition breakup. This car has a Sparktech COP setup which is one of the only COP kits we see that is trouble free. But whit this WHP and E-85 it could use an ignition amplifier box. The red pull at 28 psi peak and ~600 whp is the highest clean pull. The green pull is the most that the ignition could take.
The numbers in the green and yellow boxes are the boost, torque or hp wherever the markers are set at. On this set of runs they are set on the highest and lowest peaks.
Full chart showing the weather station info. This is the red clean run. We are in a bit of a heat wave here in So Cal (101 daytime at the shop), it was still pretty warm in the dyno room. :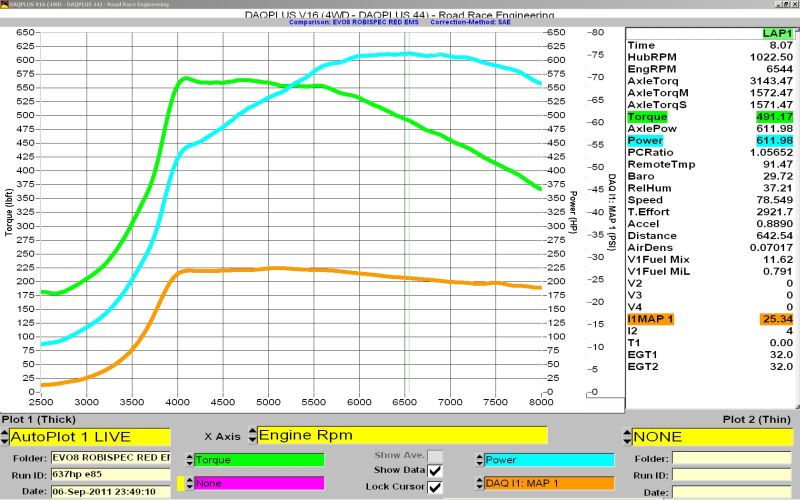 Looks like the weather station SAE correction hit 5.6%
For a currency conversion to your favorite dyno… his clean 600whp run compared to dead stock untooned 2011 X MR (red and blue) and a 2010 X GSR (red and green)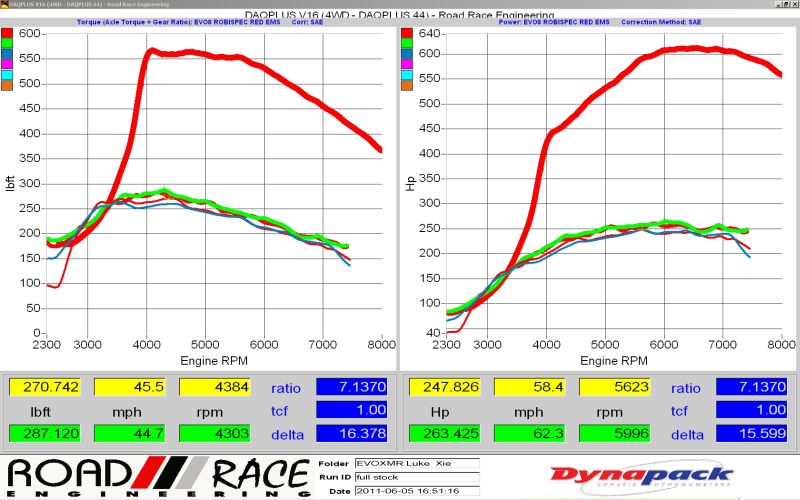 This turbo/manifold/motor setup rocks :-P I have a 2.4 with a 30R on E-85 on our own RRE track EVO 8 and a 2.5 with a 30R customer car and they can _almost_ match the spool of this setup. But they need to run way more boost and have nowhere near the top end of this kit.
Full forum thread and EVOm Style Fling Poop Fight Here:
http://forums.evolutionm.net/evo-dyno-tuning-results/573459-borgwarner-twin-scroll-7670-dyno-graph.html
Ben's full setup:
30LBS on e85.
Motor Setup:
Buschur Racing 2.3RPM 10:1 Compression
Bushur Racing Built Head
Buschur Racing Intercooler
Buschur Racing Intake
Buschur Racing Double Pumper
Buschur Racing MB
Fullrace Twinscroll Manfold
Fullrace Twinscroll Downpipe
Fullrace Twinscroll Midpipe
RC Engineering 1600CC injectors
280 HKS Cams
JDM intake
AEM 5bar MAP Sensor
Aem 1313-U EMS
Spark Tech Non-CDi coil pack
Borgwarner TwinScroll 7670
Dual tial MVR Wastegates (dump tubes)
Tial Q BOV