Updates From A Track Wannabe [Part III in a series]
Rough Times Edition
by James Singer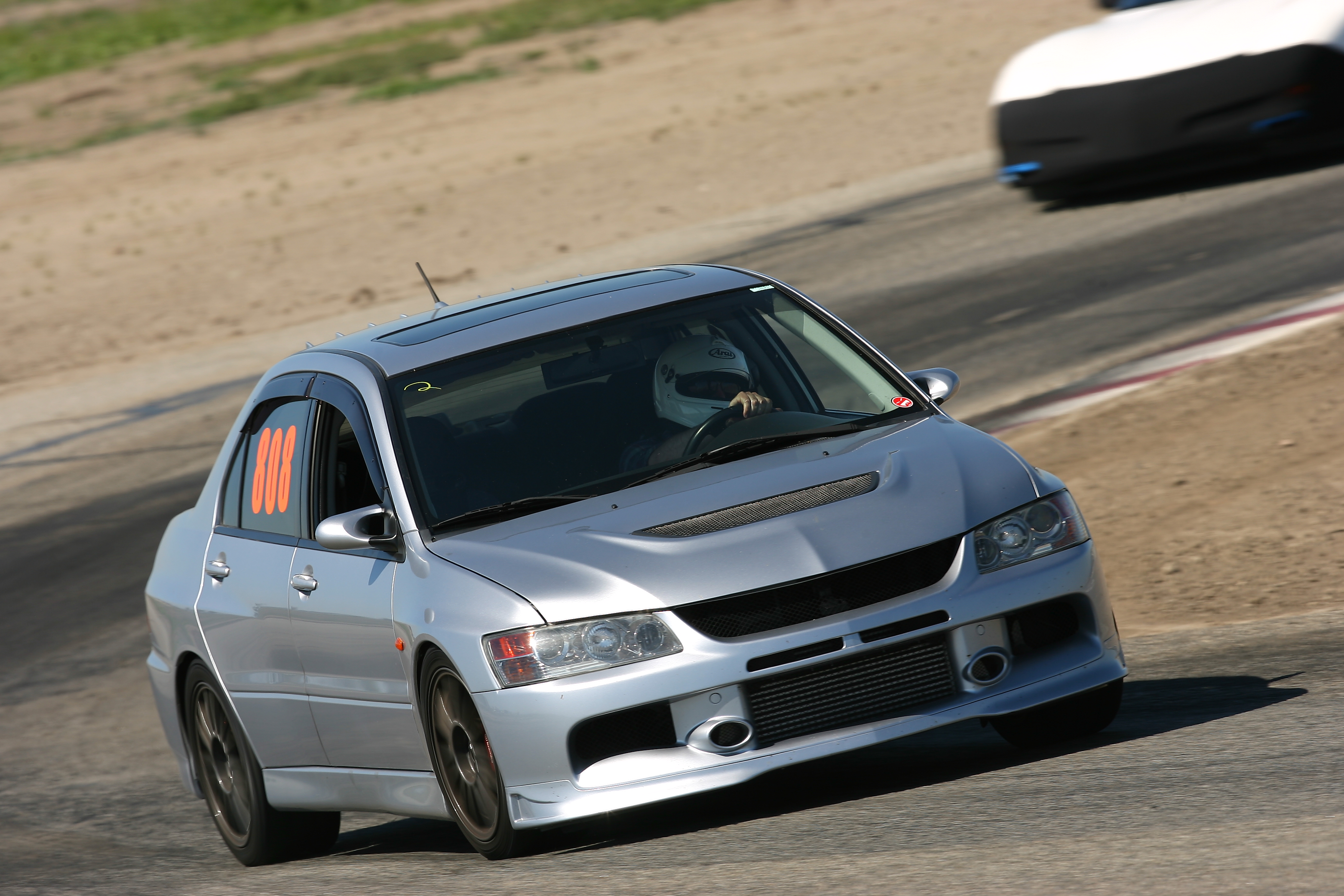 check out the novel after the jump!!
In my last blog post I discussed my growing frustration with NASA overpopulating events.  I said that I do feel NASA is a great organization.  Their instruction and their safety are top notch, which are two primary factors in why I decided to start doing HPDEs with NASA first based on the famous Robert Honda's advice.  However, by my fourth weekend with NASA, I no longer needed the in car instruction that I had once relied on and I was starting to get hung up in traffic a lot.  Also, because NASA is so large, it was hard to move up into a more advanced run group even when I had been cleared to do so because the instructors were busy with their other responsibilities and all the run groups were packed.  In addition, people in the higher-level run groups were telling me the traffic was the same in their groups, if not worse in some cases.  As a result, I decided to try out some new events with other organizations.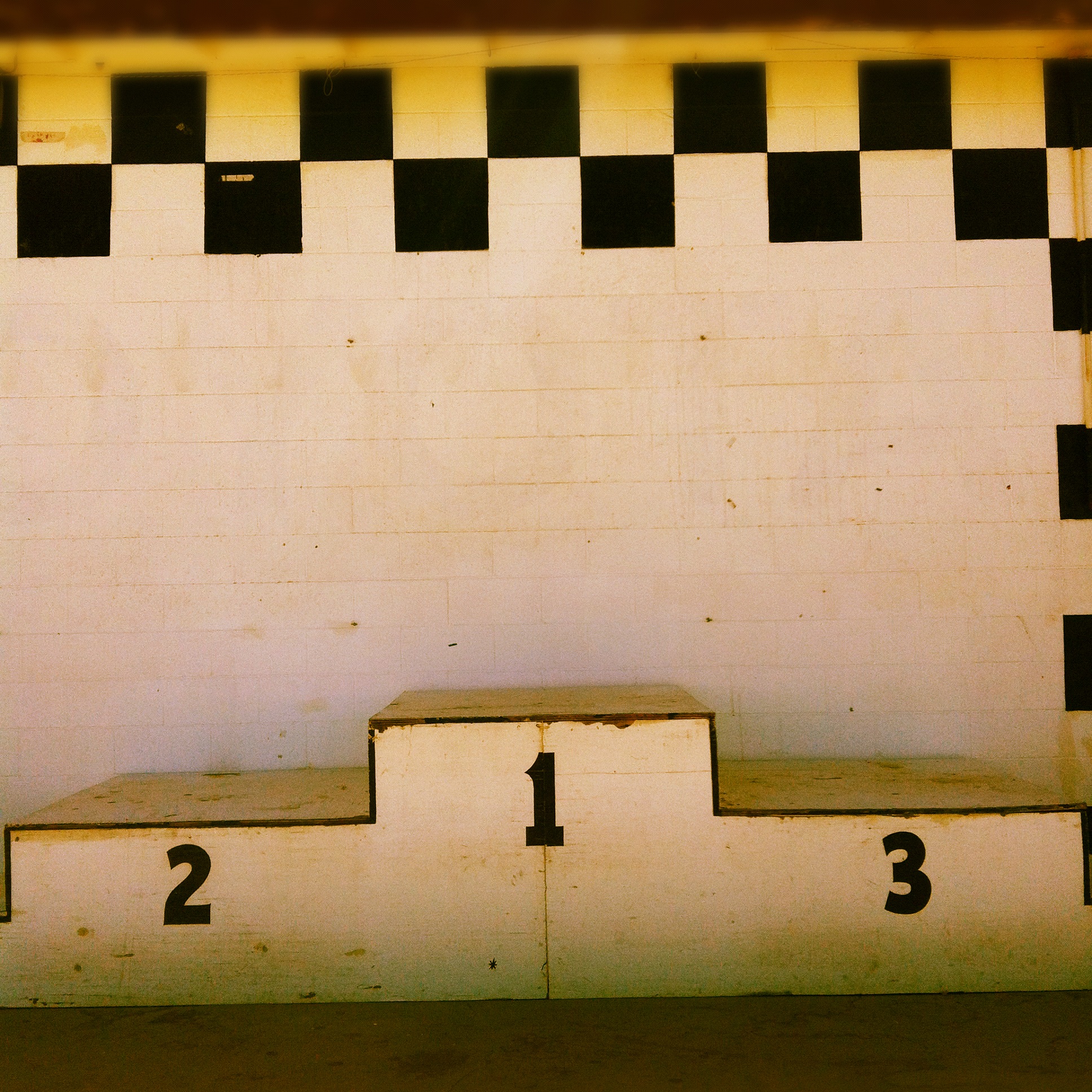 In July, Extreme Speed was holding another round of their AWD challenge at Streets of Willow.  After a frustrating weekend at Buttonwillow with NASA in June, I was unsure if I even wanted to run again in the summer at all because my car seemed unhappy running at outdoor temperatures over 90 degrees.  However, Extreme Speed was holding a twilight event.  I decided to go check it out and "maybe" drive.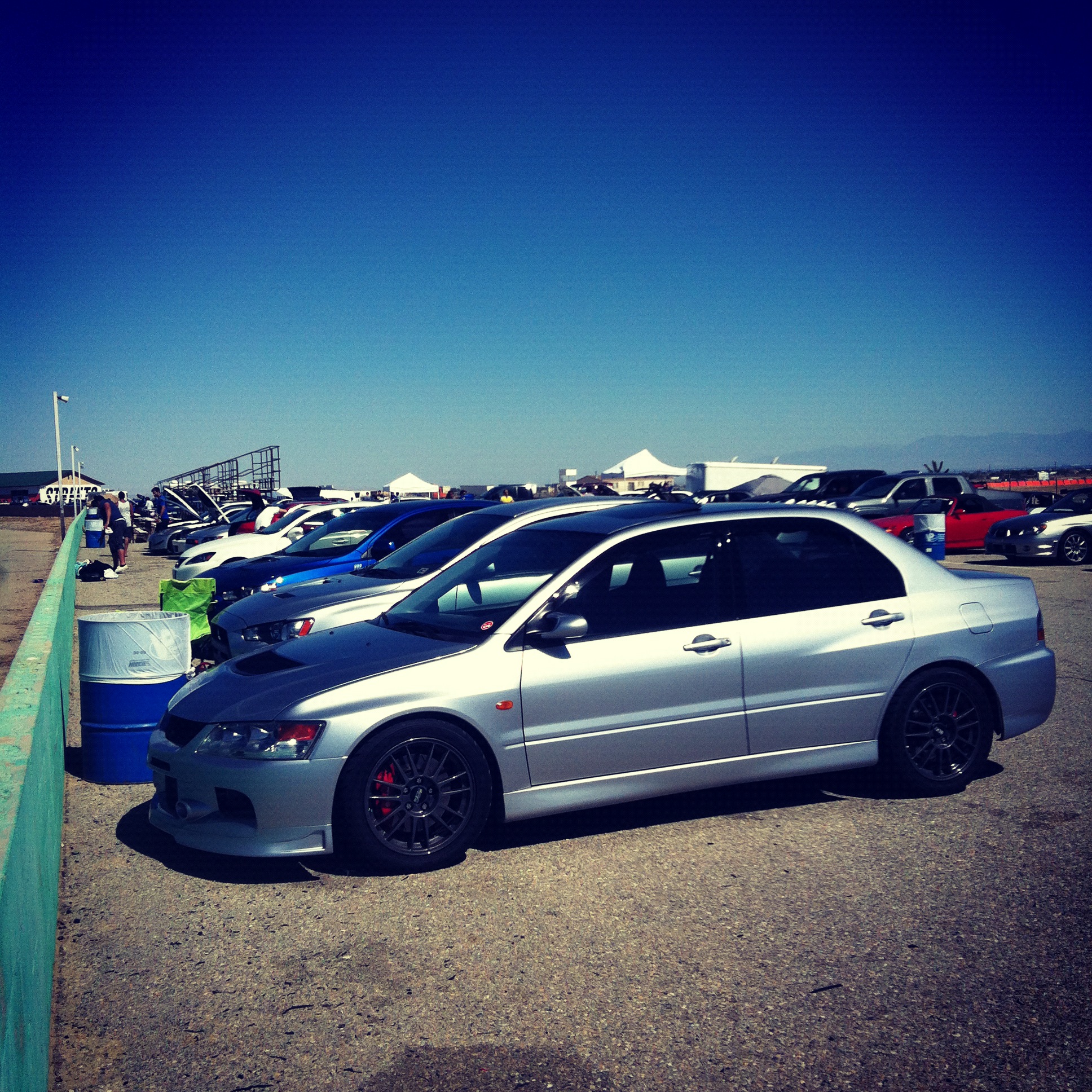 Once I got to the track, I met up with John Carson and after about .2 seconds of him pushing me to race, I signed up to compete in the AWD Challenge.  It was a twilight event, so I only got to run once in the dusk light before the lights came on.  My times were not phenomenal but they were decent enough for me to place in the top ten for the competition.  It was my first time at STREETS and it was my first night event, so I was pretty stoked on the results.  Regardless, it was definitely one of the top driving experiences of my life.  I knew my car was outclassed, so as a result, I was just out to have fun and it was super fun.  Nothing beats a cool summer night hanging out with a  bunch of like minded weirdos racing around a track in everything from a 72 Skyline to some of the original NWP4LIFE people to my SoCalEVO friends without the fear of cops breaking everything up.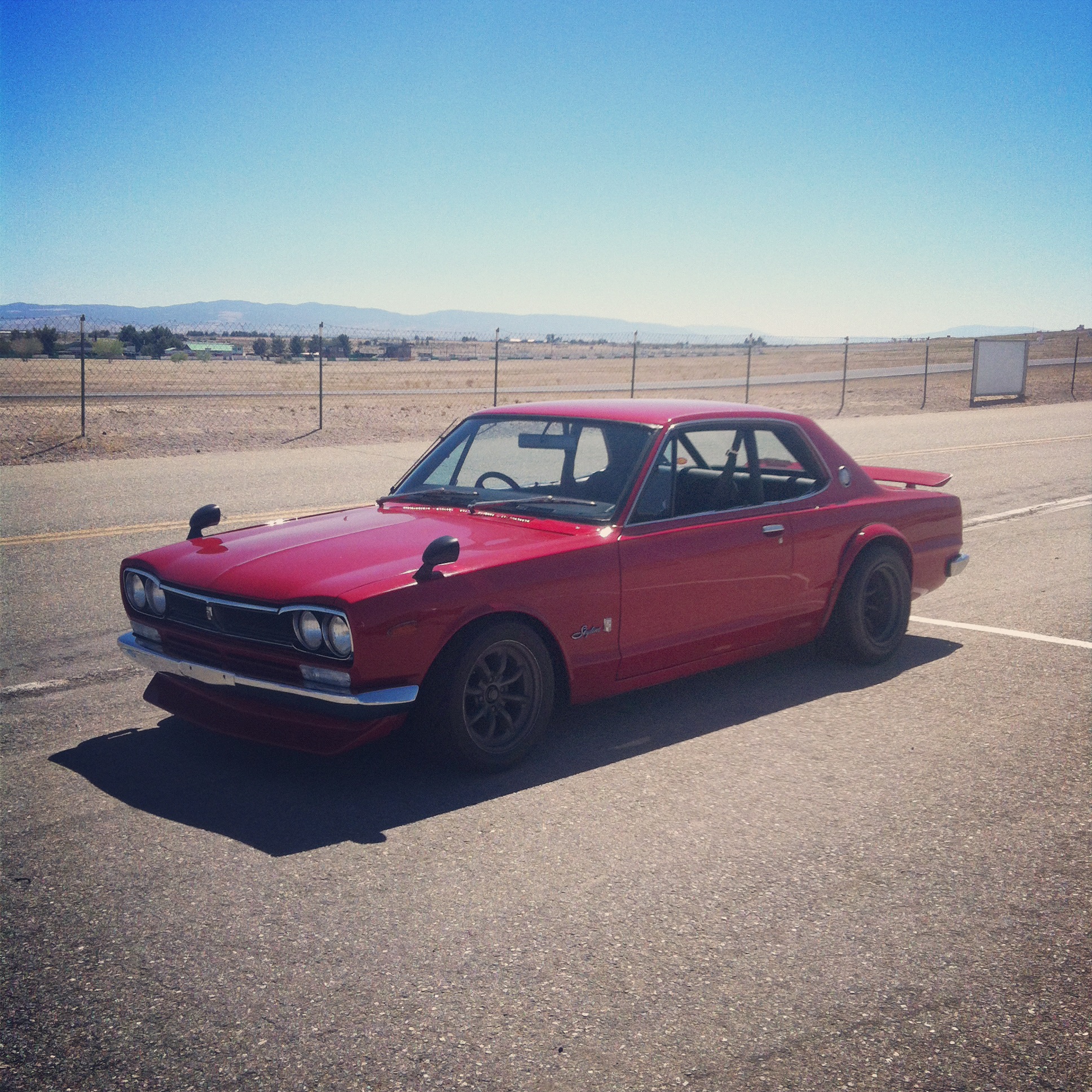 After having a good initial experience with Extreme Speed, I decided to go back in August to compete in another round at Buttonwillow (CW13).  I knew that it was going to be hot in August, so my goal was to only run hard in the first AWD Challenge session of the day and maybe the other early morning run group session.  After that, I was planning to just work on my line and stay out of people's way as much as possible.
[youtube]http://www.youtube.com/watch?v=gXwvLZkQSSo[/youtube]
[Zhong Cheung going pretty fast]
I was really tired and feeling lazy after setting things up for the day, so I did something I would later regret, which was to not fill up with some 100 octane before the first run.  I had half a tank of 91 octane and I figured that since it was the first run of the day it would not be super hot or anything, so running on a half tank of 91 would be okay.
I made sure to grid after all the faster people in Street class.  My car still only had 320hp.  The cap in street class is 400hp, so a lot of people have much more power on tap than me and way better suspension set ups.  I am still on Tanabe springs and stock shocks and struts, so my suspension is far from up to spec with the other people in the group as well.  Also, I am trying to learn from the more advanced drivers, so I spend a lot of time looking at their lines and how they strategize their sessions rather than trying to constantly blast.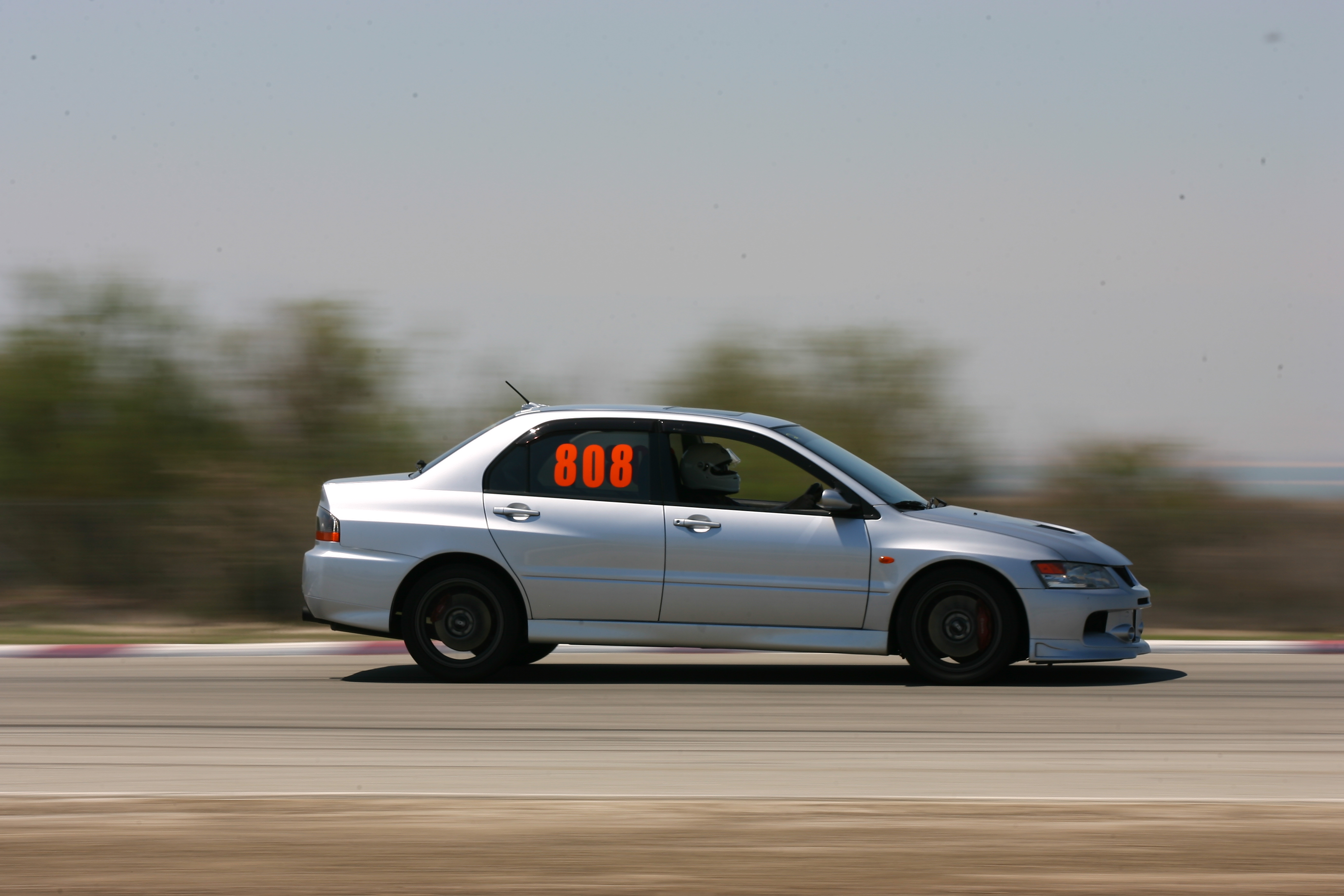 Once we were out on the track, my car felt really good on the warm up lap.  On the second lap, I started pushing it.  I did not see my car knocking or anything, so I pushed a little harder and got caught up in traffic a bit.  After sunset, I let a faster driver pass and let up a bit but got on it hard after they passed so I could chase the guy and try to run a hot lap without traffic.  My car was feeling really good going around off ramp and in to cotton corners.  I nailed the weight transfer into grapevine and kept pushing hard all the way through Riverside.  I was still on the car that I pointed by but he gained on me a bit through Phil Hill because I went in a bit hot and slid down the back side.  I picked up some space on the sweeper and cleared the esses without upsetting the car on the curbs.  As I got out of the esses, I floored it and as I hit full boost, I felt a hesitation.  The last time I was at the track, I was having issues with my UICP popping off over and over, so I immediately thought it had popped off yet again.  I looked in my rearview to exit the track and saw a HUGE white cloud of smoke.  I limped my car back in to the garage hoping it was nothing major.
[youtube]http://www.youtube.com/watch?v=2ep6pNkJbmc[/youtube]
[Flying Scot, aka Kevin's, view of my saddest moment].
When I got back in to the garage, I noticed oil had sprayed all over the passenger side of the windshield on my car and there was oil streaking down the side of the car.  Also, oil was just bleeding out onto the floor of the garage.  I popped the hood and noticed right away that my dipstick was gone.  I had seen this happen before, so I figured the dipstick popped out and sprayed oil everywhere.  I found the dipstick, laying on my intake manifold, put it back in and then added 2 full quarts of oil.  When I started my car, I could tell there was something more serious wrong than just the dipstick popping out.  My engine was clearly only running on three cylinders.  I tried not to panic and I waited for Mike W. and the RRE posse to get to the track while a bunch of people came by to give their random opinions on what might be wrong further freaking me out.
Once Mike arrived at the track, I helped set up the RRE stuff while my car fully cooled down.  When my car was finally cool, Mike had me pull my plugs.  The tip on the cylinder 1 plug was smashed.  We replaced the plug and started the car again.  I was still running on 3 cylinders and the car was smoking really bad.  After a bit more checking that I do not remember because I was completely freaking out at this point, Mike decided to put my car up on the trailer.  My day was over before 10am.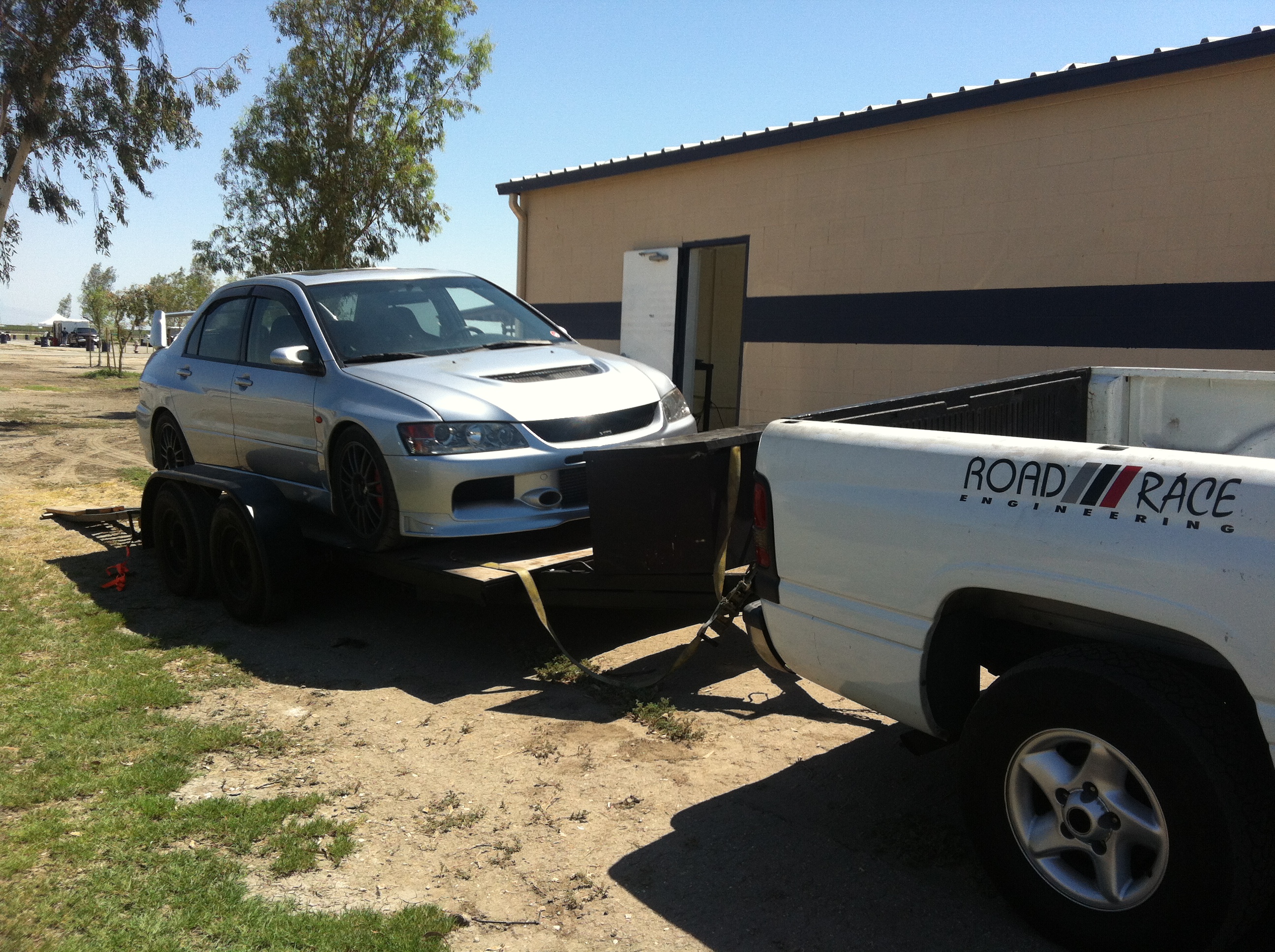 [a horrible feeling].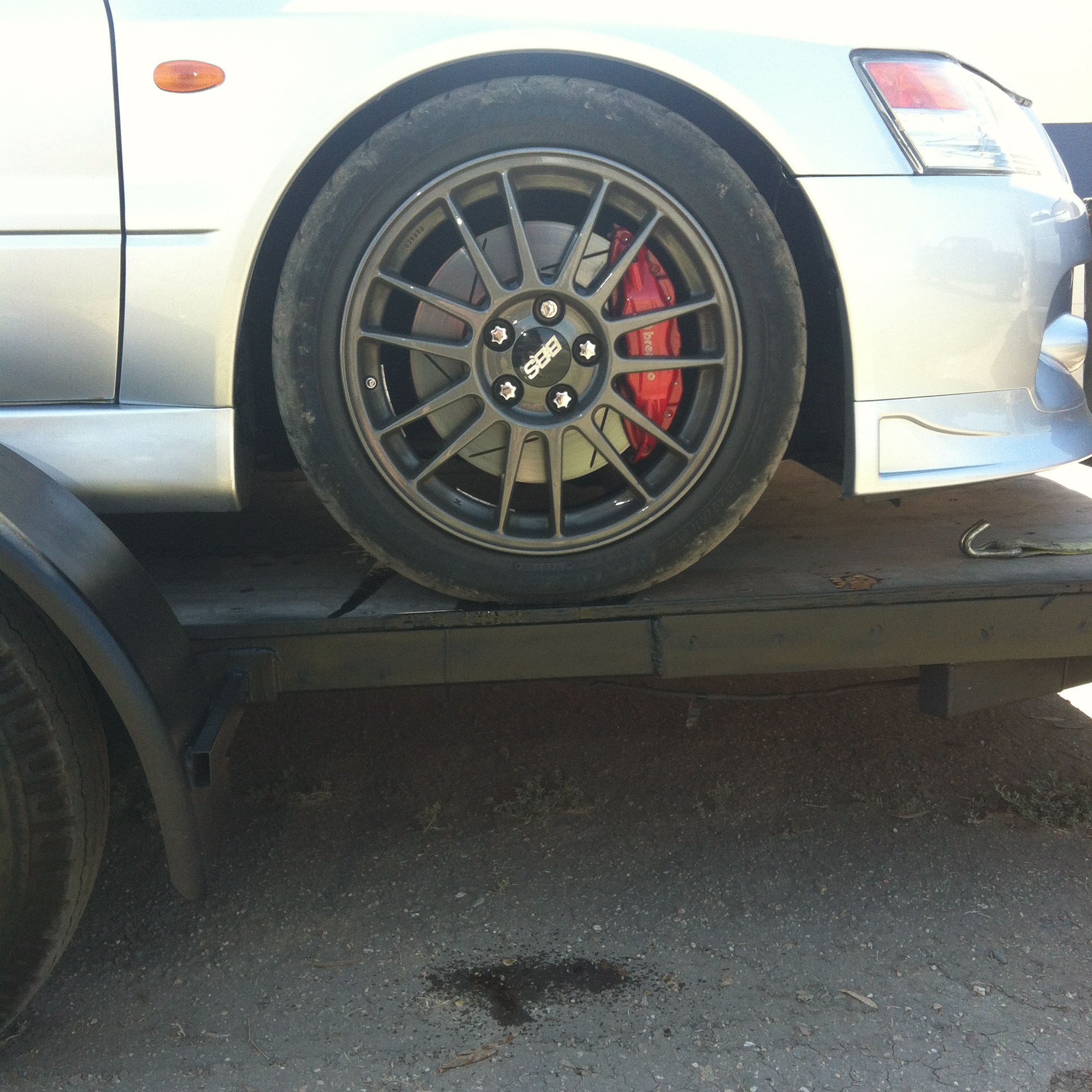 [still bleeding to death and marinating Mike's trailer in fresh oil].
After the event was over Mike trailered my car back to RRE to be diagnosed.  The next day the guys pulled my engine and took off the head.  My cylinder 1 piston was shattered.  The diagnosis was that the cylinder 1 had run lean and the shattered piston was the result.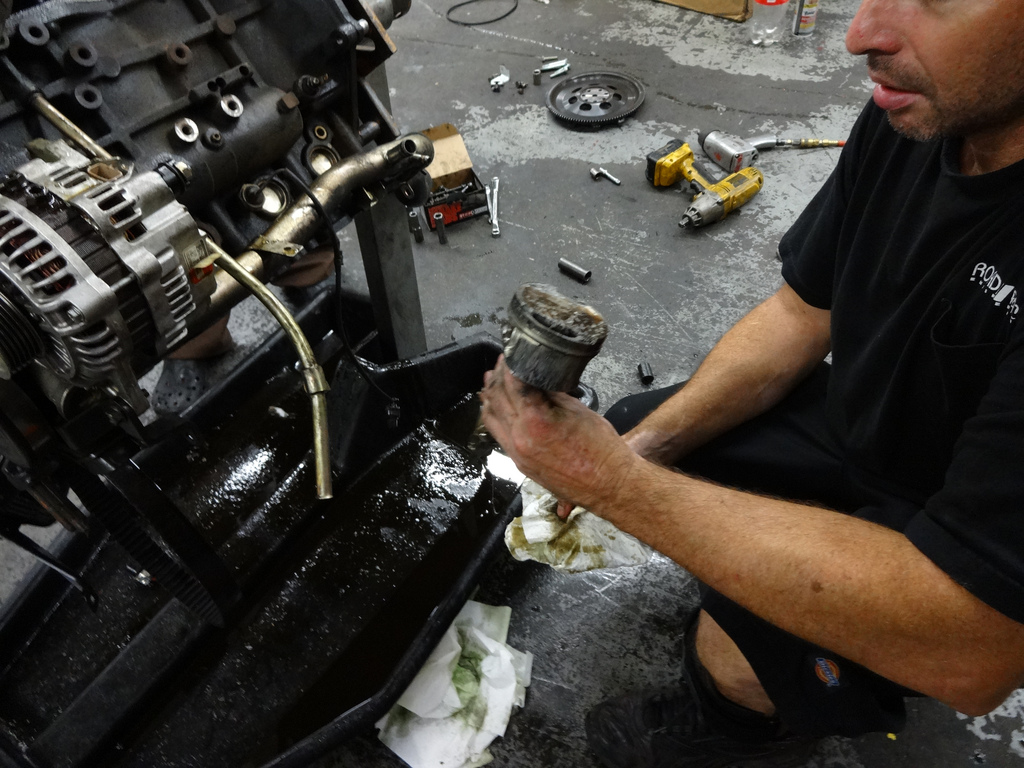 [Mike W stating the obvious, "Uh, dude, not good"].
After a bit of discussion the most logical conclusion was that because I had started with half a tank of gas and I was on my 3rd lap, at 3mpg or so, I was most likely below a quarter tank when things went wrong.  Further, I was just coming out of the esses.  In the esses gas sloshes around a lot.  The fuel pump on the EVO is on one side of the tank which is divided by a hump in the middle.  At under a half a tank of gas, it is possible for your EVO to run lean when going around corners, through chicanes, and sadly, through the esses at BRP.  In addition, now that I have seen a few cars drained of 91 to tune for E85, I noticed that right under a quarter tank, the fuel becomes frothy rather than a jet stream of liquid.  If you add the frothyness to the sloshing, you get a dangerous combination where you can run very lean, which lead to a shattered piston in my case.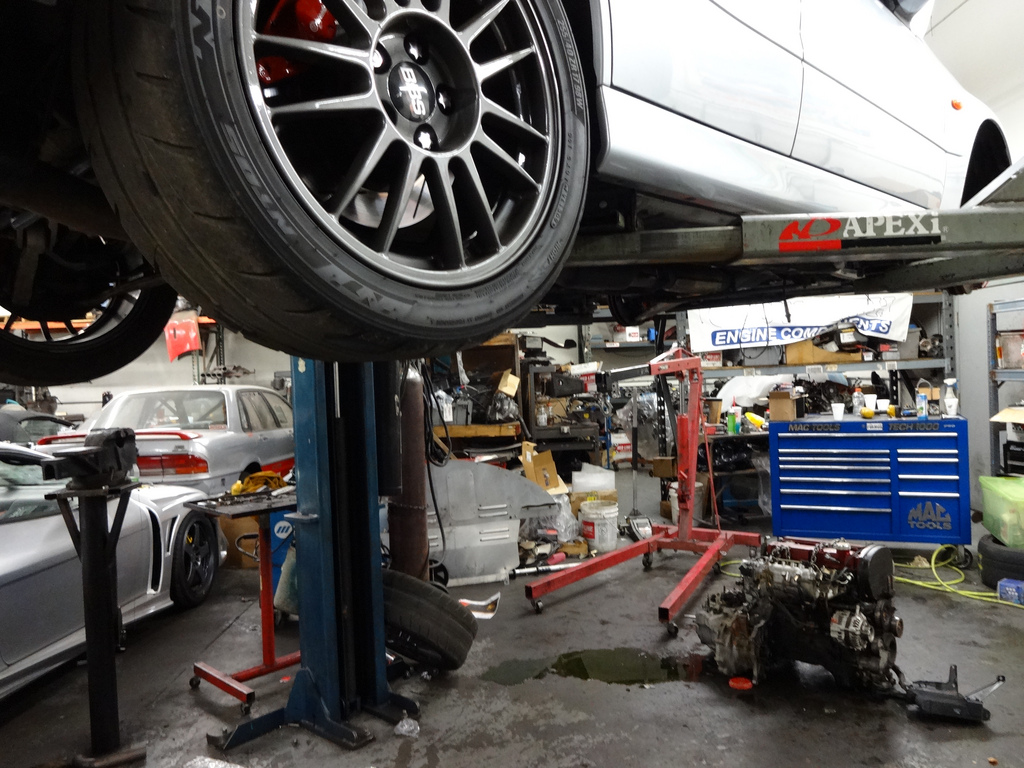 [bleeding to death]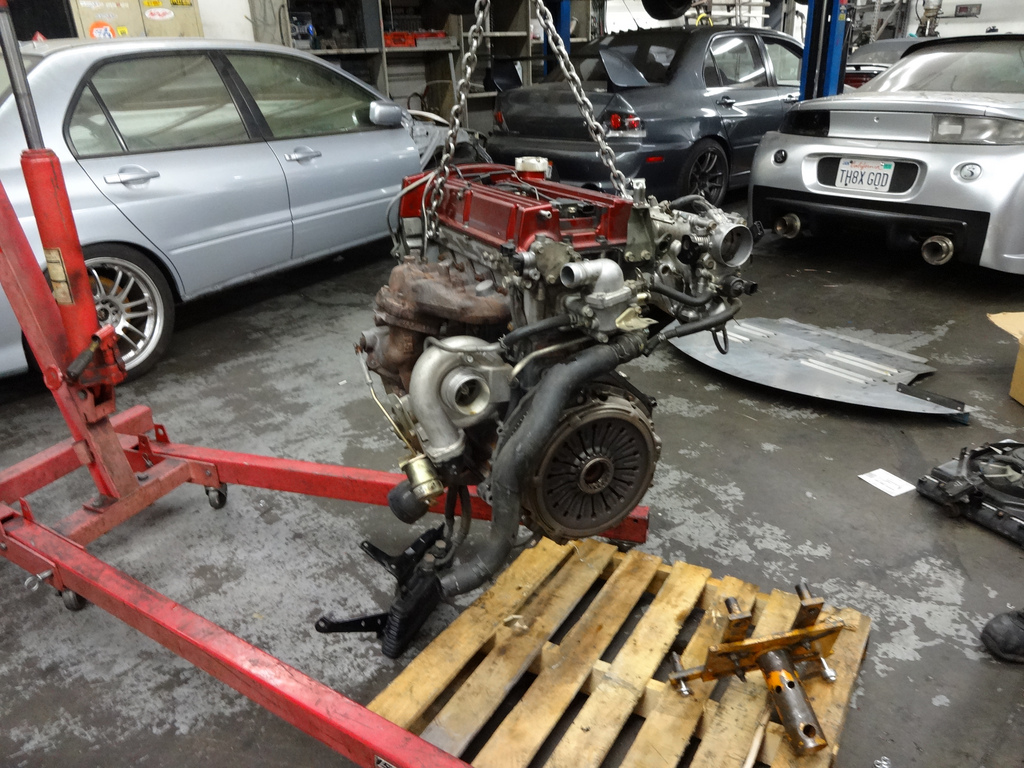 [Moving the motor over to disassemble it].
The only upside to the whole situation is for the last 2 track days I was having a 4th gear grind when my car was hot.  Also, my engine was at 93k and it had been knocky since I had gotten it at 50k.  Further, I drive my cars hard.  I take good care of my cars but I always drive in anger at the track and even on the streets in LA I make full use of my car.  Also, my car has had 2 previous owners, so who knows what happened with those guys.  I don't even want to think about it.  Needless to say, I was not surprised that something went wrong.  I am happy I got almost 4 years out of it.  The other upside to the situation was that there was no serious damage to the motor besides the shattered piston.  The cylinder wall was only scored a bit but there was no nasty gouge and there was no giant hole in the block.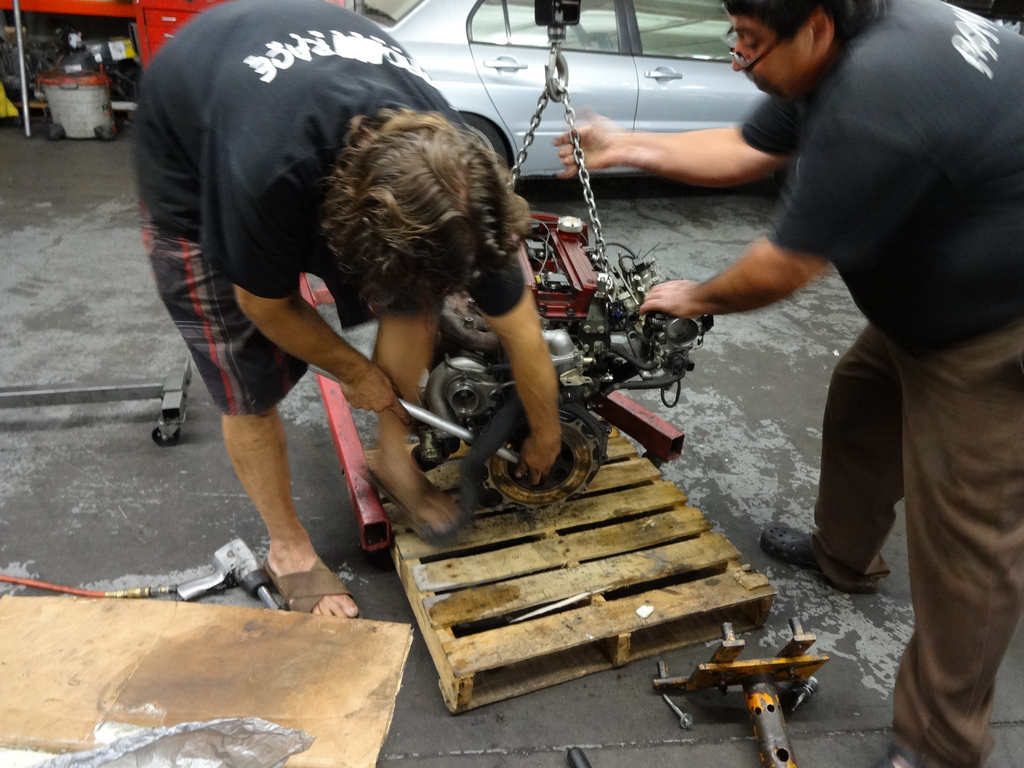 [Always wear proper footwear when working on engines suspended from chains above a wooden crate].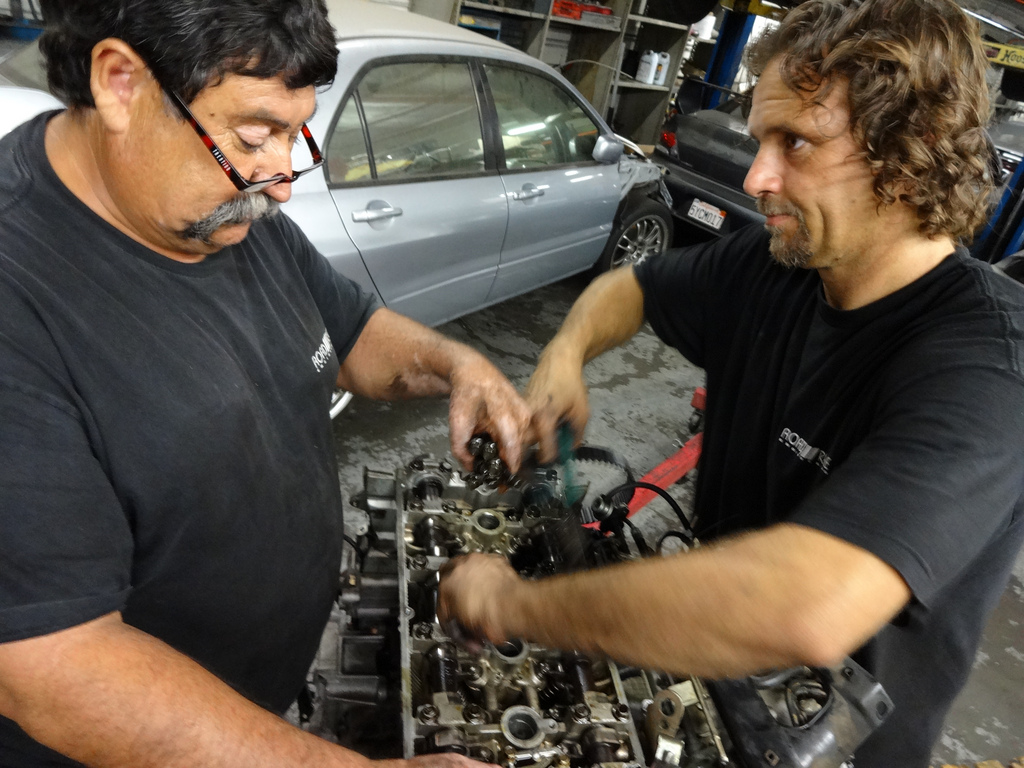 [lovers].
After my engine was dropped out of my car and diagnosed, I decided to have my car towed back to my garage at home.  By doing this, I could really think out my engine build and not have to stress about my car or add stress to the crew at RRE who would have to push my car in and out of their garage every day.  After a few discussions with Robert Honda, Mike W and the crew at RRE, I decided to go with the most versatile route I could take my car in. I decided to go with a "performance" rebuild on my transmission with Jack's Transmissions and an ACT clutch with a 2.3 built motor through RRE.  In addition, I decided to rebuild my turbo as a CBRD BBK Full Ported and have a Wavetrac LSD installed as insurance on top of a bomb proof transmission and engine.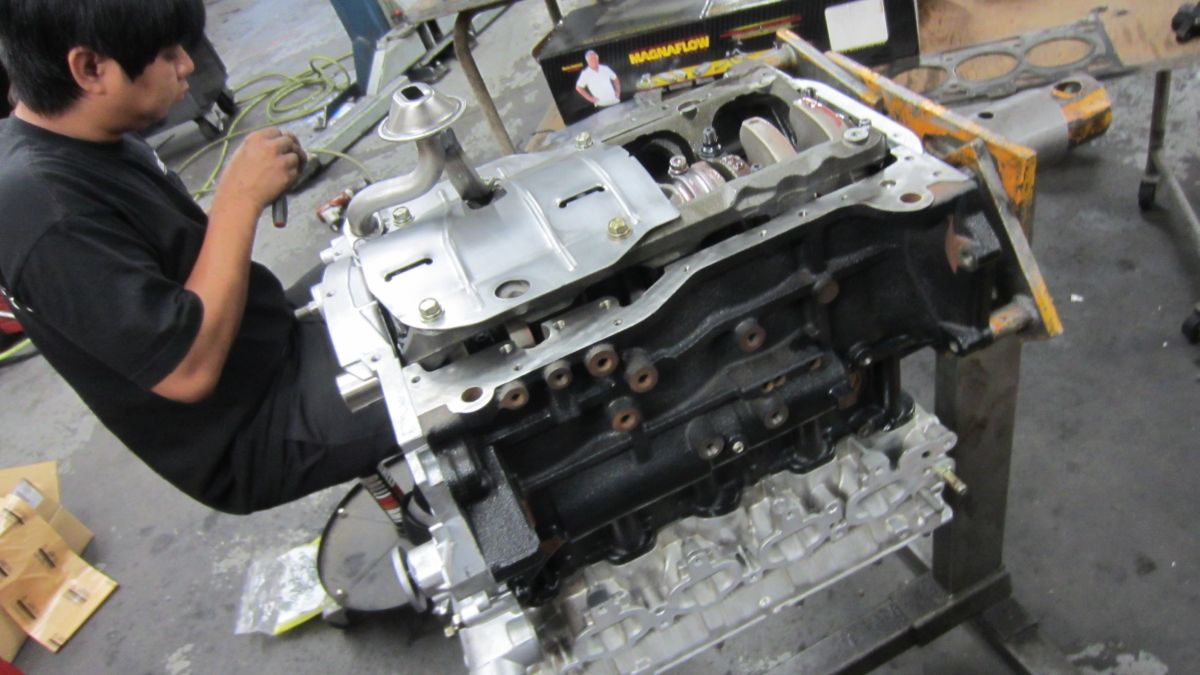 [Lod doing Lod things].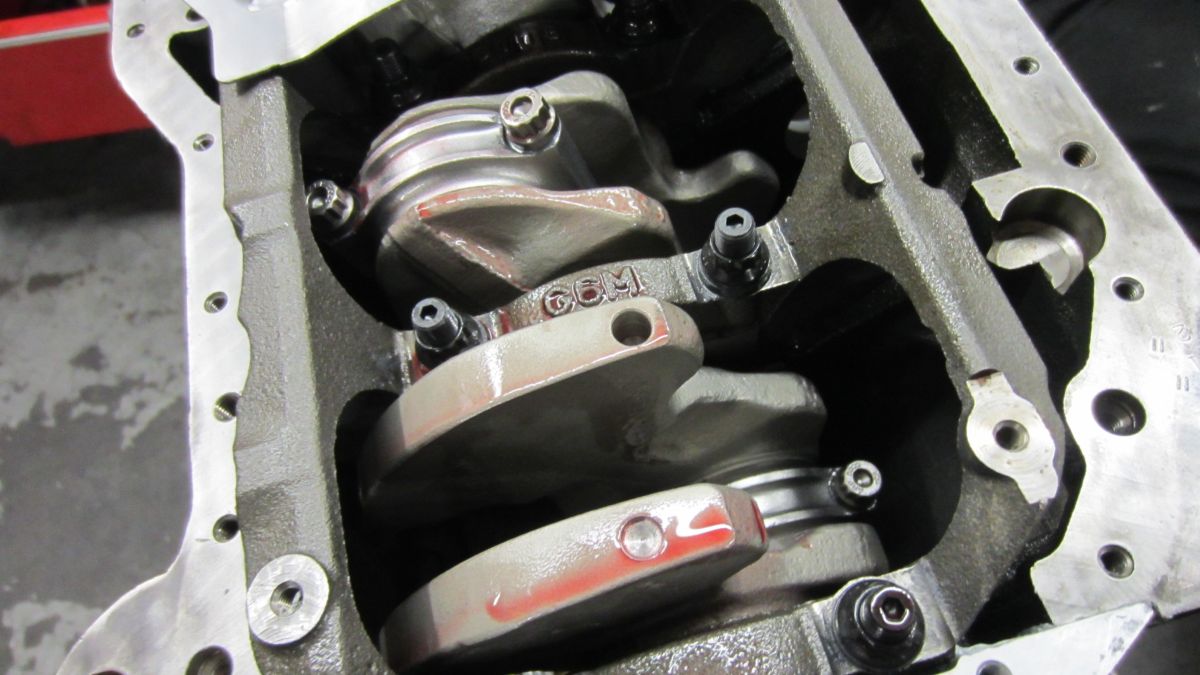 [Lod /// Lace Engineering.  MANley Forged Crank].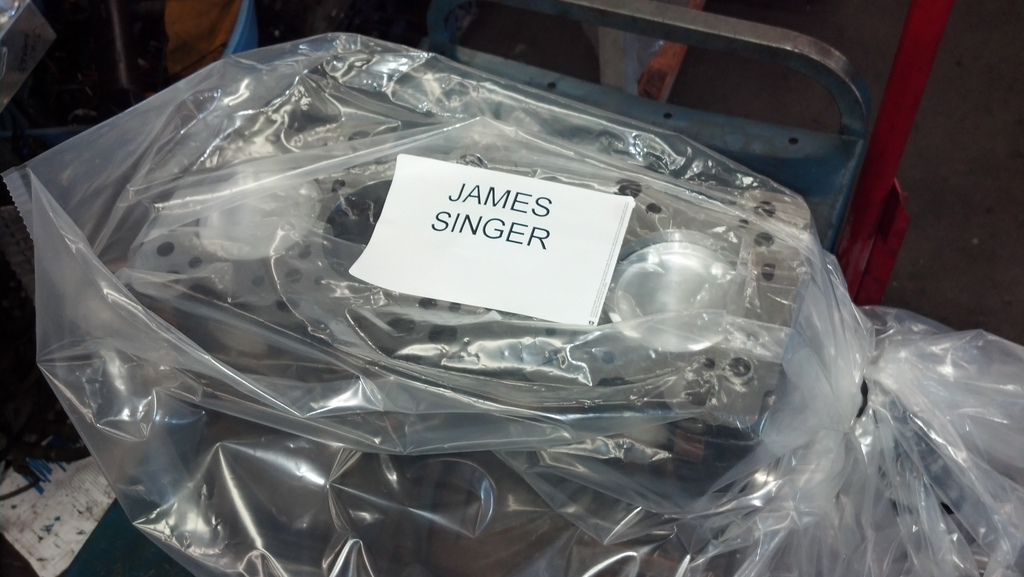 [Fresh Motor].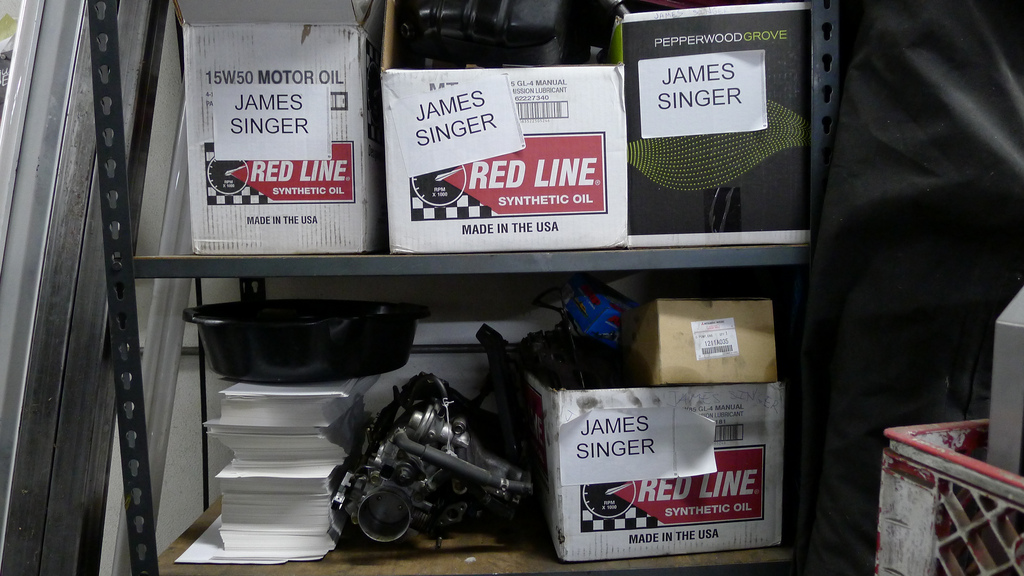 [Stuff].
My biggest worry at this point was that the whole process would take forever.  Honda Robert told me that RRE could have my engine built before the transmission and turbo made it back to the shop.  I was skeptical and worried because I do not have a daily driver besides my EVO, which means I would be driving my wife's 2006 Civic, riding my bike and taking the train while my EVO was in the shop.  If there is one way you can make your wife or girlfriend hate your hobby, it is to have it impede your relationship or get in the way of their life.  I knew that if this build took too long, it would end my wife's support of my interest in racing cars possibly forever.  In the end, my worries were just worries.  I blew my motor on August 19th.  By September 12th my motor was built.  On September 17th, my turbo got back from CBRD.  By the end of the week, I was driving my EVO on a base tune to break it in.  In the end, the build took less than a month including making decisions, which is an impressive build time for such a big project.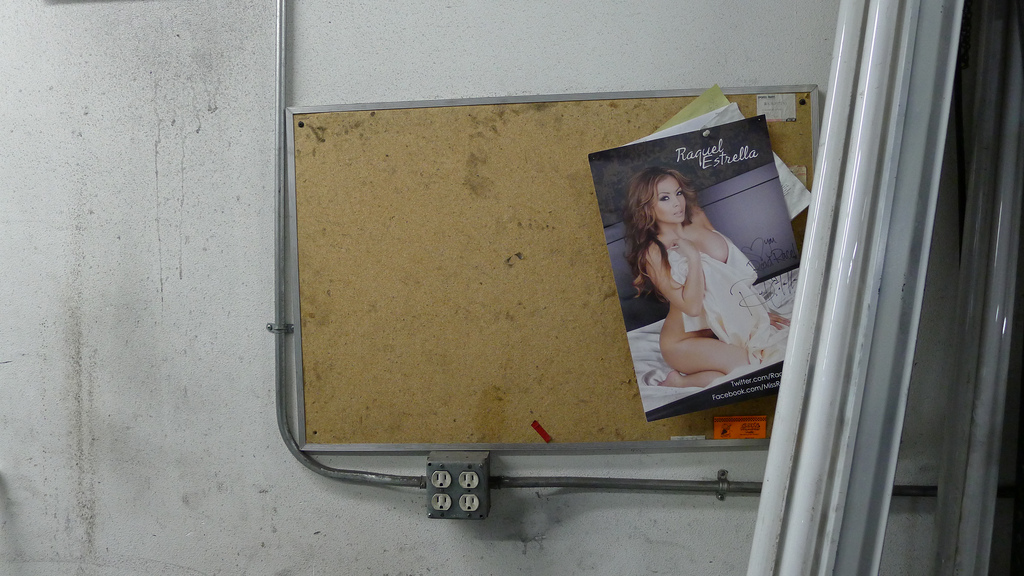 [RRE shop].
Driving around on the base tune, I could already tell that the car was very different.  The 2.3 changed the characteristics of the daily around town feel of the car.  Even running at open wastegate, the car felt much more torquey.  Besides the idle being a bit rough on the base tune, the car felt smooth even with the balance shaft eliminated.  I drove the car to and from work for a couple weeks and then drove it do San Diego for a friend's bachelor party.  On the drive to San Diego, I just varied my speeds but otherwise, the whole break in period, I just drove my car normally.  I could not really smash on it because the tune it was on was very conservative and the boost was still set at open wastegate.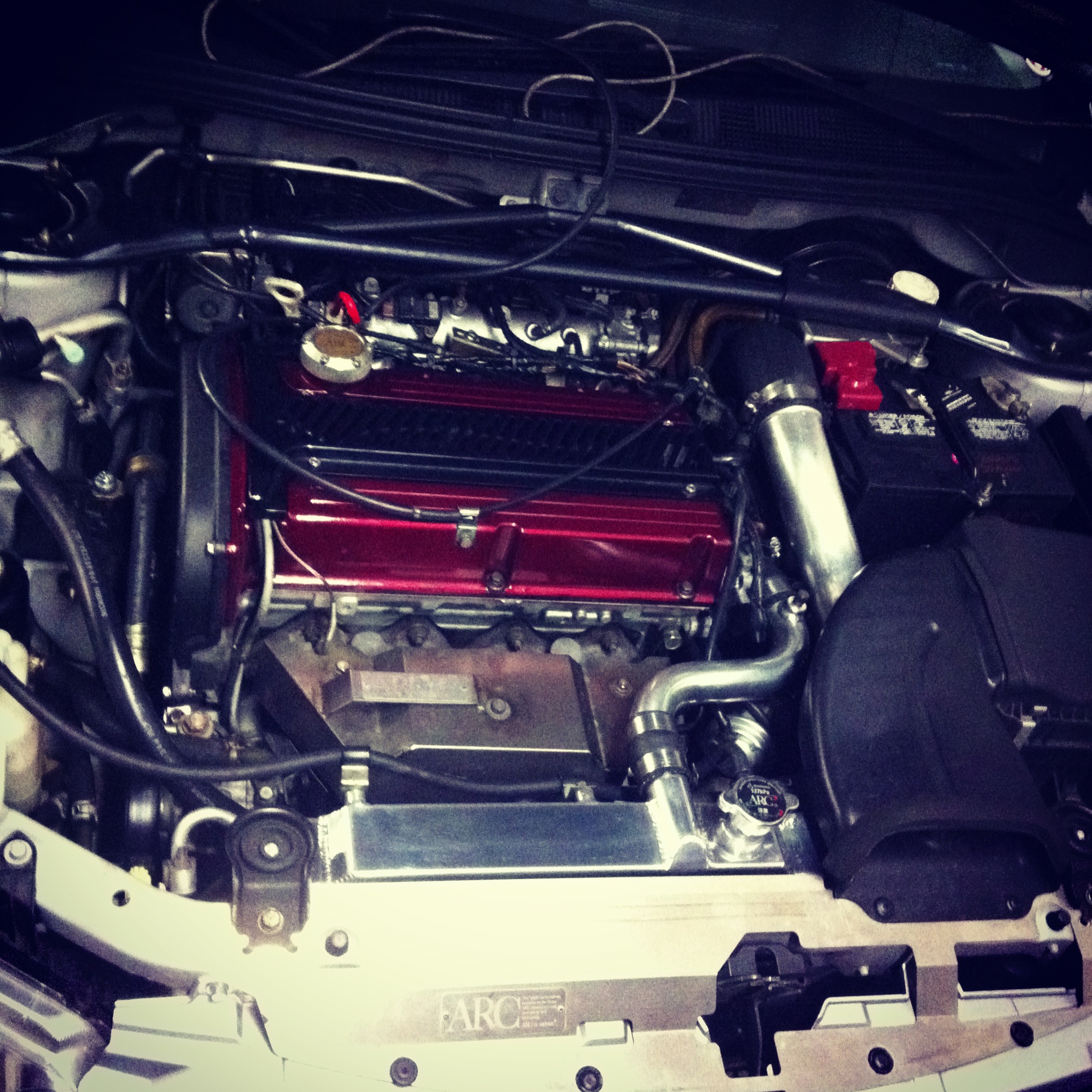 [Besides the shiny Koyorad Racing radiator and the ARC hardpipe, this built motor looks the same as before the build, which is exactly what I wanted to do].
After about 1000 miles, I brought the car back in to RRE for a tune.  At the same time, I upgraded to the RRE Baja Oil Cooler, a Koyorad Racing Radiator and I got some RC 1200cc injectors with an RRE 3 port boost set up so I could do a 91/E85 dual map tune by Dr. Scot Gray.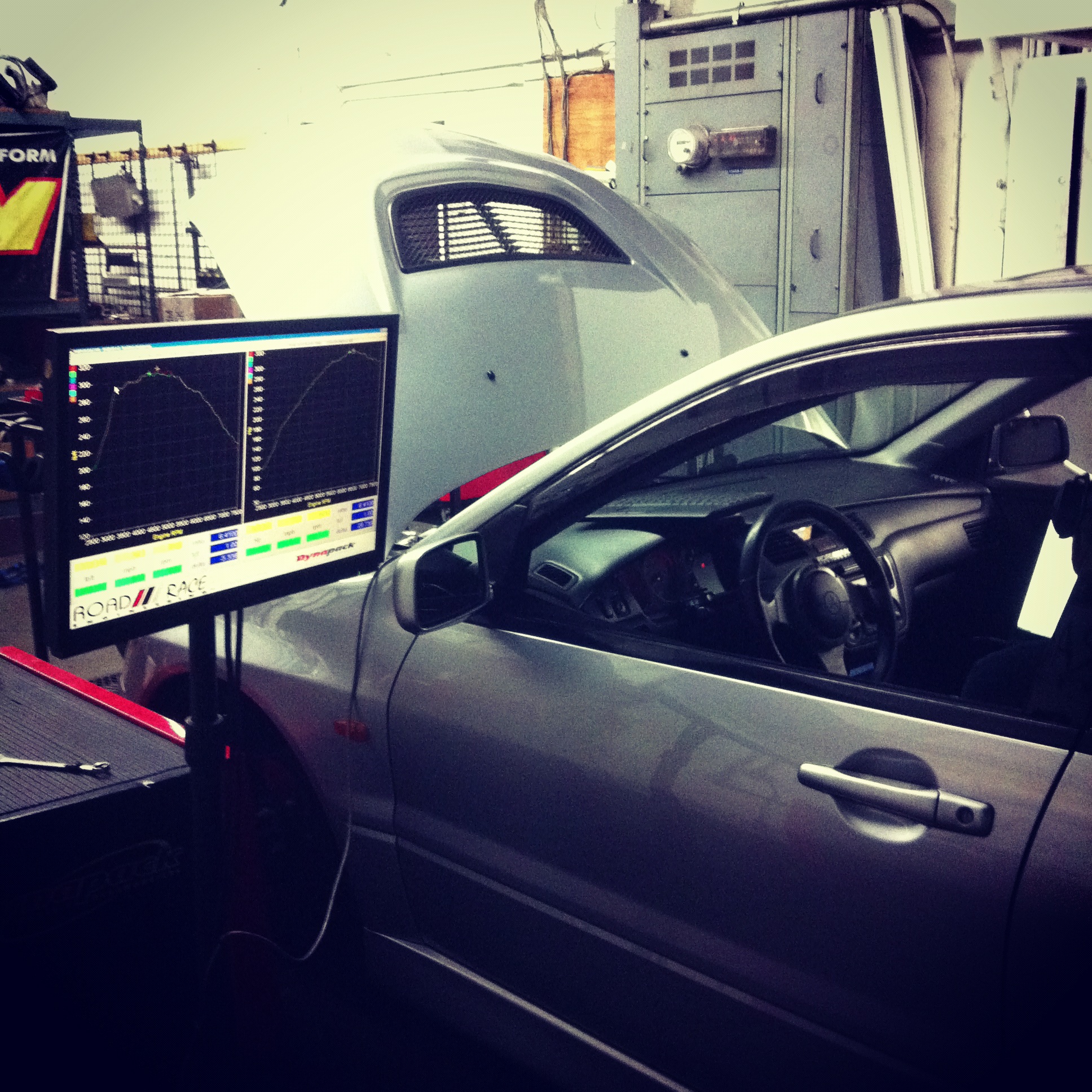 [Scot Gray doing his thing].
Once the tune was done, I left RRE with a full tank of E85.  I remember when I first got my EVO.  Before that I had a 1997 Civic coupe with full track ready suspension and brakes set up by the RRE of the Honda world Raceline in Temple City.  However, I never got in to the engine on that car before trading it for my EVO.  This made my Civic super fun to drive because it had around 100hp but with suspension and brakes that far overpowered the small amount of HP.  Nevertheless, when I drove away with my EVO, I remember the car scared me the first night I had it.  It took me a few weeks before I felt comfortable with the 320hp tune that was on the car at that time.  Similarly, when I drove away from RRE after getting tuned on E85, I felt like I was driving a car that was as close to a superbike as one could get.  The car was conservatively tuned at 463hp and 461tq on E85 and 388hp and 376tq on 91.  Regardless, the car was scary fast.  However, once I got used to it from daily driving, I am surprised at how livable the build is.  Driving around town is actually smoother than before due to the added displacement and once I learned the sensitivity of the throttle with the new set up, I find that although I cannot use all of the power in any socially acceptable way on the streets, the day to day drivability is only changed for the better with this build on the tuning wizardry of Dr. Scot Gray.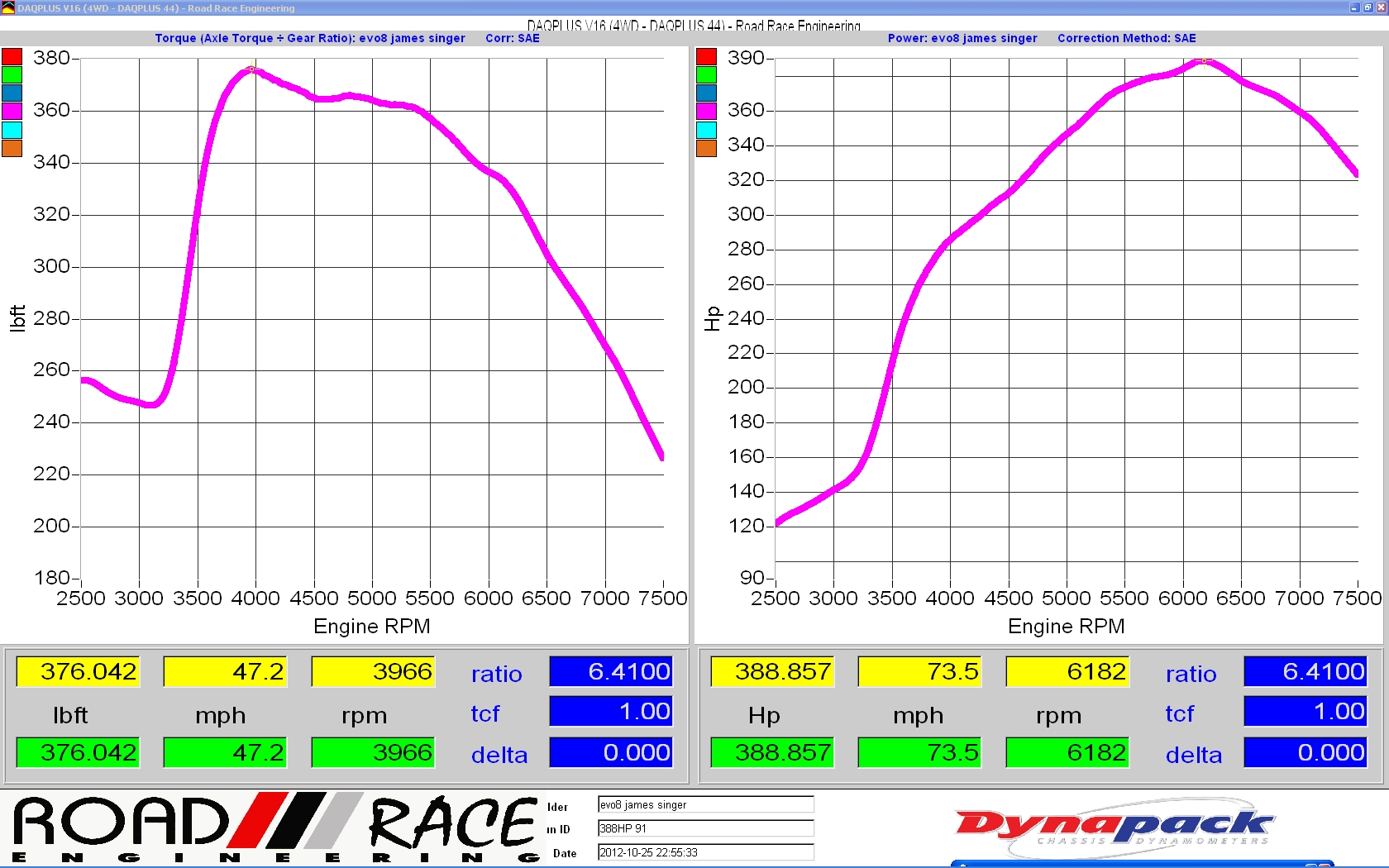 [91 map].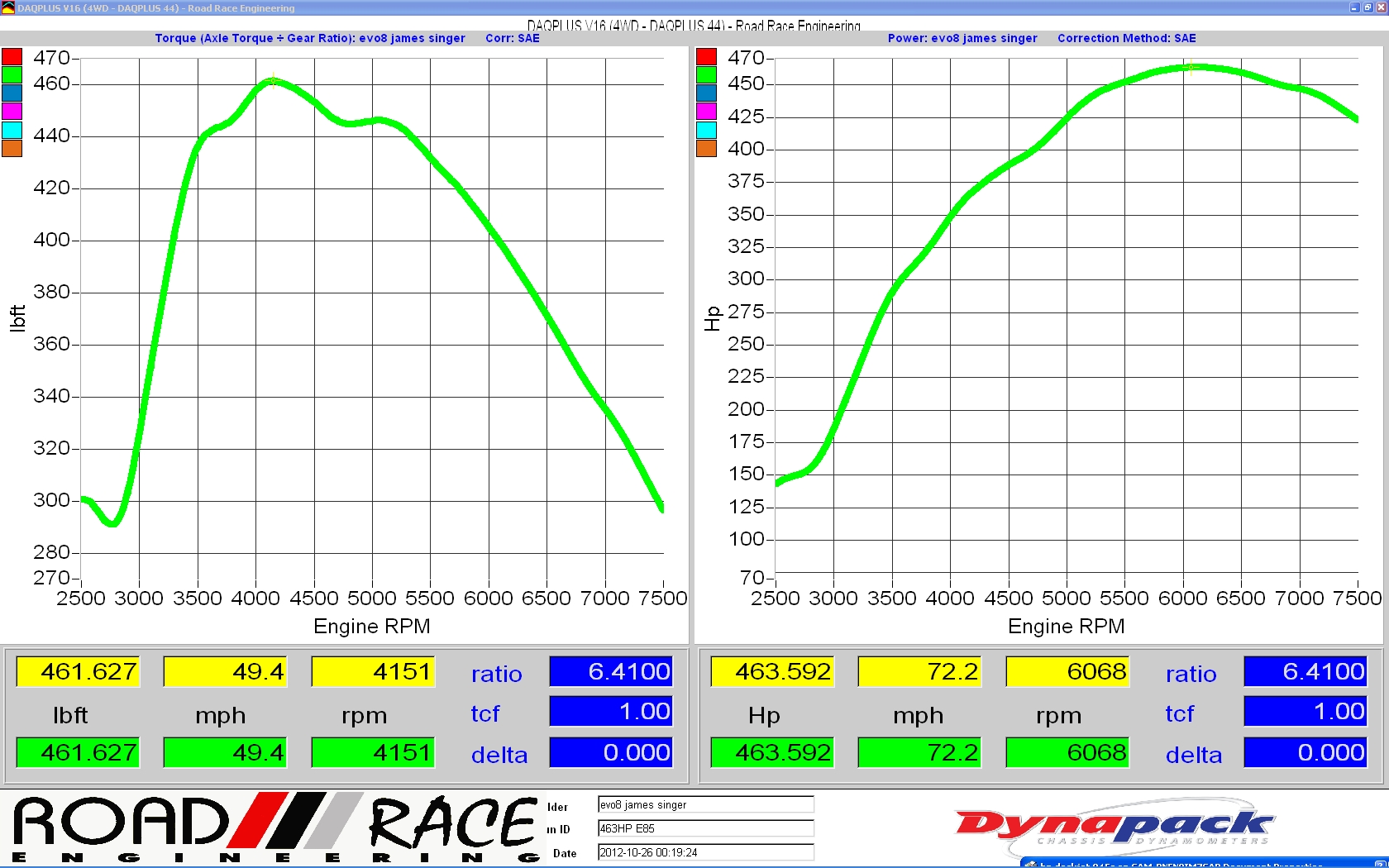 [E85 map].
I have not had the chance to do a proper shake down of the build at the track yet.  However, I can already tell that the stock EVO brakes feel insufficient when going from full acceleration to a stop on the street, so I am assuming that this will be even more the case on the track.  I am hoping to get some level of sponsorship to run as many AWD Challenge races as possible in 2013.  Right now I am working on learning how to approach potential sponsors.  I will blog about this in a future post.  Regardless, in the mean time, I will have to upgrade my pads and rotors to something a bit more grippy if I want to be able to stop at the speed and level of acceleration that my car is now capable of.  Once I have the ability to do so (or the sponsors), I will need to upgrade to a big brake kit.  At the same time, it will be necessary to upgrade wheels as well.  However, before I do any of that, my suspension was already inadequate for actual racing on the track and now it is just ridiculous.  My EVO is now the exact opposite of what my Civic was and it is the opposite of how I would plan out a build for a car if my engine had not let loose.  For normal every day street driving and even for HPDE 1 and 2 with NASA, the stock suspension with the addition of Tanabe Springs was decent.  However, with this level of power, I will need to do some more serious suspension upgrades.  I am hoping I can get a sponsor for coilovers and other additional suspension components as well.  I will hopefully be updating you with good news soon!!  If you are reading this and are looking to sponsor the coolest person you could possibly find, inquire within!!
I want to thank RRE for helping me through this build.  I am a car guy and have been in to cars my whole life but I do not have even ten percent of the level of knowledge Mike Welch and his crew at RRE has.  They put in a lot of work to get me back in to my car as fast as possible with a very high quality build that will be versatile in regards to racing classes and bombproof.  This engine should be able to withstand a great deal of abuse if taken care of properly.
2003 EVO VIII
RRE 2.3 Engine Build
Wiseco Pistons
Manely Crank
Manley Rods
ACL bearings
ARP Studs
RRE Balance Shaft Eliminator Kit
RRE Baja Oil Cooler
Koyorad Racing Radiator
ARC Radiator Hard Pipe
GSC S1 Cams
GSC Beehive Springs
CBRD BBK Full Ported
CBRD WGA
ETS 3.5" FMIC
RRE LICP
RRE Stealth Exhaust
RRE O2 Housing
MXP DP
RRE HFC
RRE 3 Port Boost Control
OEM EVO IX BOV
Cosworth drop in filter
Avid front motor mount
Transmission
Jack's Transmissions Stage 1 Performance Rebuild
ACT 2900 Clutch Kit with RRE light weight flywheel
Wavetrac Limited Slip Differential
Fuel
RC 1200cc Injectors
Walbro 255lph Fuel Pump
Suspension
2006 EVO IX struts/shocks
Tanabe GF210 springs
Whiteline 24mm Swaybar
Energy Suspension rear control arm bushings
Brakes
Stoptech brake pads
Stoptech/Powerslot rotors
Stoptech SS brakelines
Motul 600 brake fluid
OEM IX MR Brake Guides with RRE fabbed reinforcements
Wheels/Tires
EVO VIII BBS MR
NITTO NT05 255/40-17
Elctronics/Misc.
Scot Gray tune
Zeitronix Wideband Stage Eleventeenth package
HKS TT
OEM window visors
OEM IX front bumper
OEM IX SE lip
JDM EVO VIII MR taillights
JDM EVO VIII Amber sidemarkers
JDM IX rear bumper
ARC shift knob
ARC Cooling Plate
ARC Heatshield
ARC oil cap
ARC radiator cap
ARC catch can
OEM IX MR vortex generator
RRE Hot Dog Grill Plug Cover
VOLTEX burn shield
Beatrush Undertray
Ganador Super Mirrors