Sport Compact Car Magazine July 1999 – Michael Ortiz's Mirage Turbo
Sport Compact Car Magazine, July 1999
Written By Shiv Pathak
Photography By Josh Jacquot
Reprinted With Permission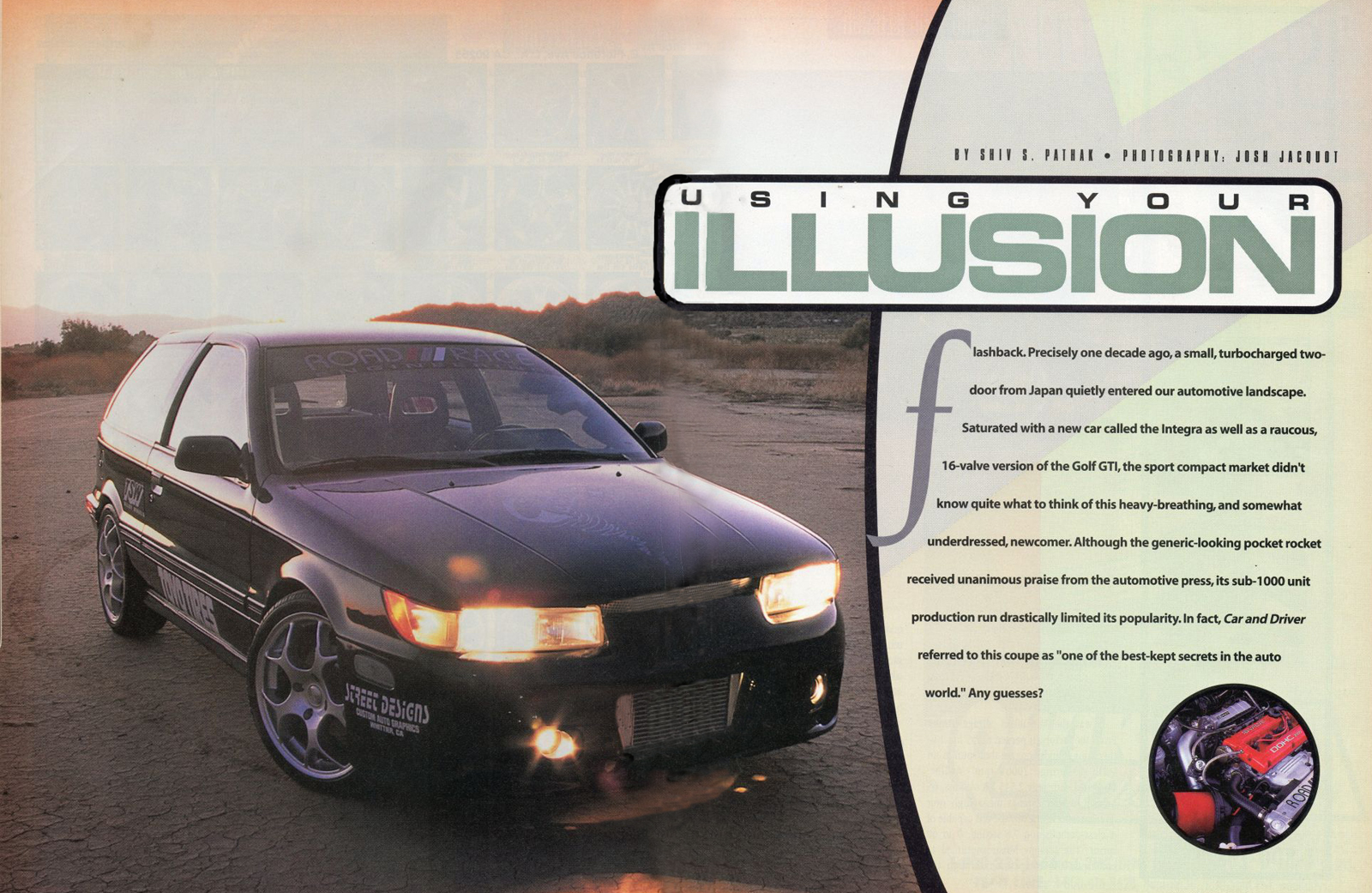 FIashback… Precisely one decade ago, a small, turbocharged two door from Japan quietly entered our automotive Iandscape. Saturated with a new car called the Integra as well as a raucous, 16-valve version of the Golf GTI, the sport compact market didn't know quite what to think of this heavy-breathing, and somewhat  underdressed, newcomer. Although the generic-Iooking pocket rocket received unanimous praise from the automotive press, its sub-1000 unit production run drastically Iimited its popularity. In fact, Car and Driver referred to this coupe as "one of the best-kept secrets in the auto world." Any guesses?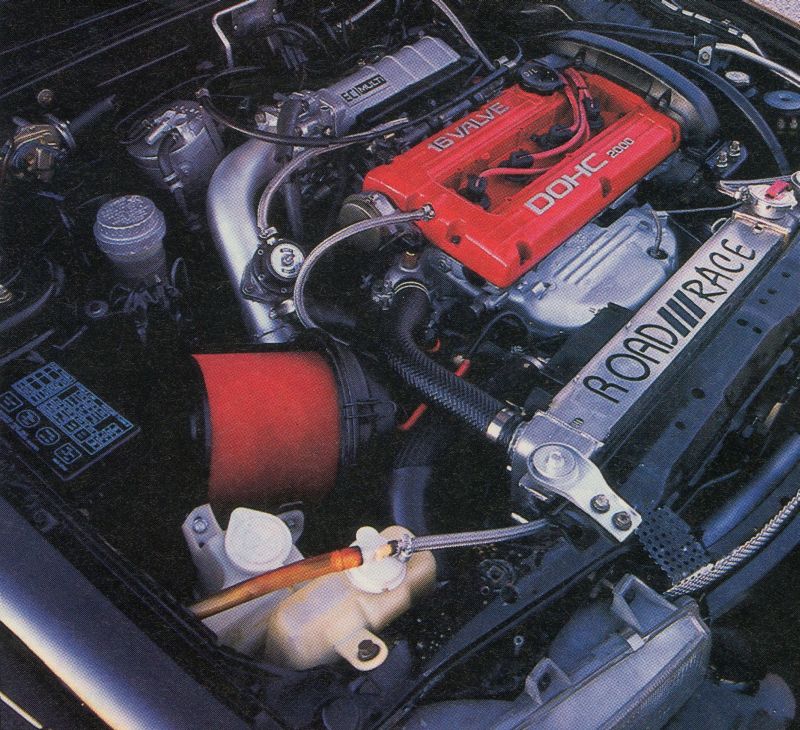 Isuzu Impulse Turbo? Nope. Mazda MX-6 Turbo? Bzzt. Try again. The Suzuki-built, Chevy Sprint Turbo? Three strikes, yer out. Go back to the little league   dug-out   and drink your pink Yahoo.
It was the Mitsubishi Mirage Turbo. From the factory, it packed a 135 hp, 1.6 liter, four-cylinder engine that spun to an earth-shattering 7000 rpm redline. Burdened with only 2,545 lbs of mass, 65 percent of which hangs menacingly over its front wheels, the Mirage was capable of a class-demolishing 7.8-second, 0 to 60 sprint. The scrappy Mitsu  continued to embarrass the competition through the quarter-mile with a 15.9-second run at a retina,-detaching 87 mph. At each corner, massive  14×5.5-inch, cast aluminum wheels, wrapped in HR-rated Yokohama A-406 tires, clawed the 300-foot skidpad at a brain-sloshing 0.78G.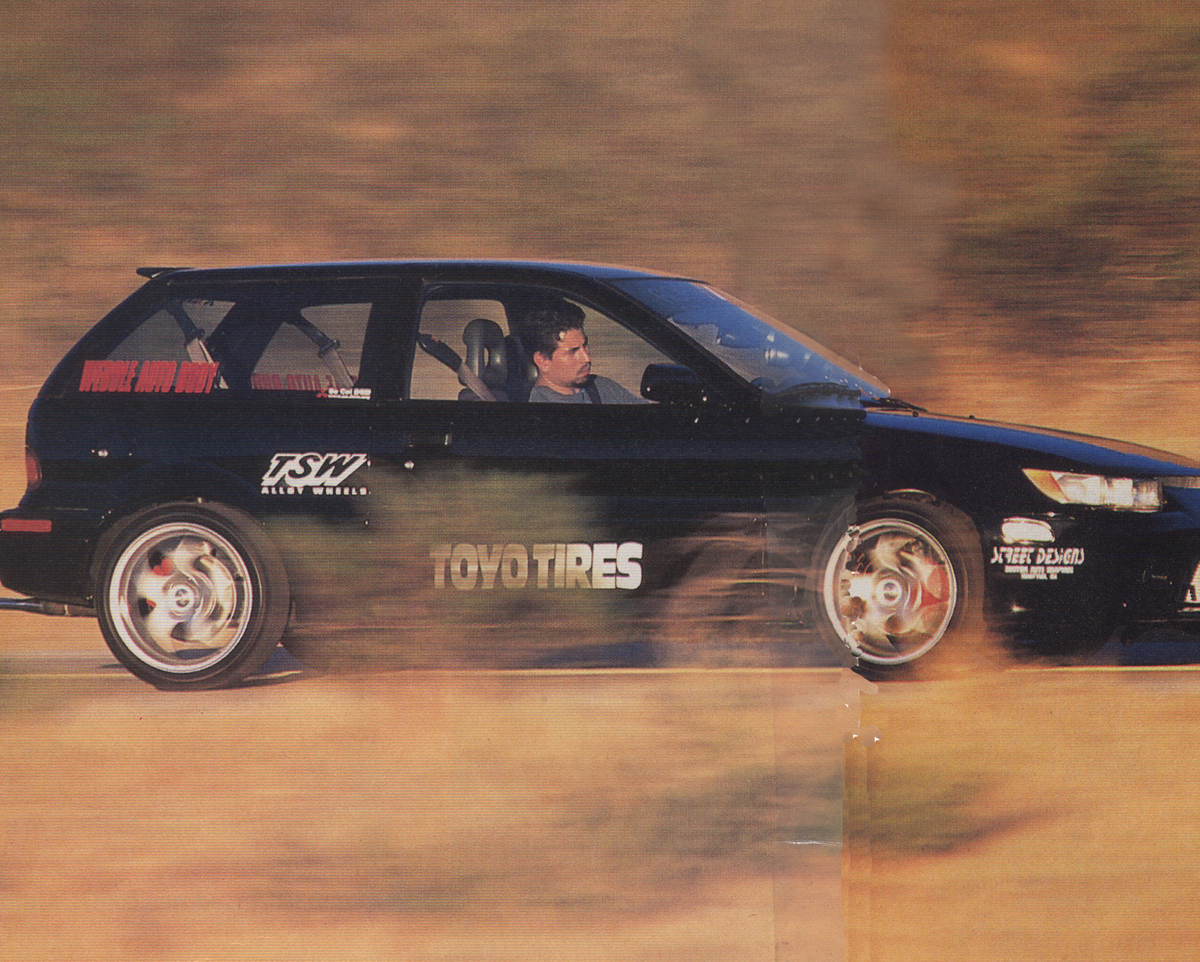 OK, OK, perhaps by today's standards, the Mirage Turbo doesn't look like a giant-killer. However, in its era, it was a formidable   performance   machine   that   could show its ungainly taillights to most other cars on the road. Unfortunately, Mitsubishi   discontinued   this   remarkable little hatchback well before it had a chance to firmly establish itself in the busy playing field. However, just in time for the new millennium, the staff of SCC were thrilled to  find what could only be described as a modern day Mirage. Nearly five years of careful updating, modifying, and real-world testing has been invested in the striking vehicle you see here.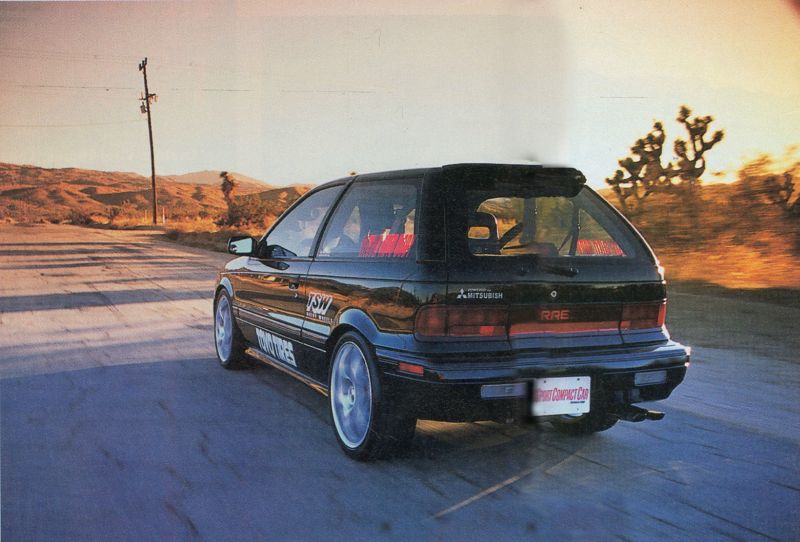 Michael Ortiz, of Whittier, Calif., was the man   behind   the   machine. Bought in 1990 at an Auto Auction for just $7,000, the little Mitsubishi proved to be the ideal daily driver. For nearly three years Ortiz resisted the temptation and kept the Mirage factory fresh and bone stock. However, once the warranty expired, he finally got his way. No longer the king-of-kill, the aged Mirage desperately needed some extra  punch to to remain competitive in the ring.
Working  closely with Mike Welch, the Mitsubishi guru of Road/Race Engineering, Ortiz  installed a series  of standard, well-proven upgrades, including a free-flow K&N intake, Magnecore plug wires, Jamex sport springs, KYB stock absorbers, a blow-off valve, slotted rotors, stainless steel brake lines, and a large-diameter Ultraflow exhaust. Once properly tuned and ready for action, the new and improved Mirage ran a traction-limited 14.8-second, quarter-mile at nearly 105 mph!
Unfortunately,   it   wasn't   long   before the all the fun was brought to a catastrophic halt. One afternoon, while cruising on the highway, the timing belt snapped, decisively destroying the motor and leveling Ortiz ' s enthusiasm. Immediately, Welch asked, "Did you know  that the  Eclipse 2.0-1iter turbo motor would fit into your engine bay?" Words of wisdom, indeed.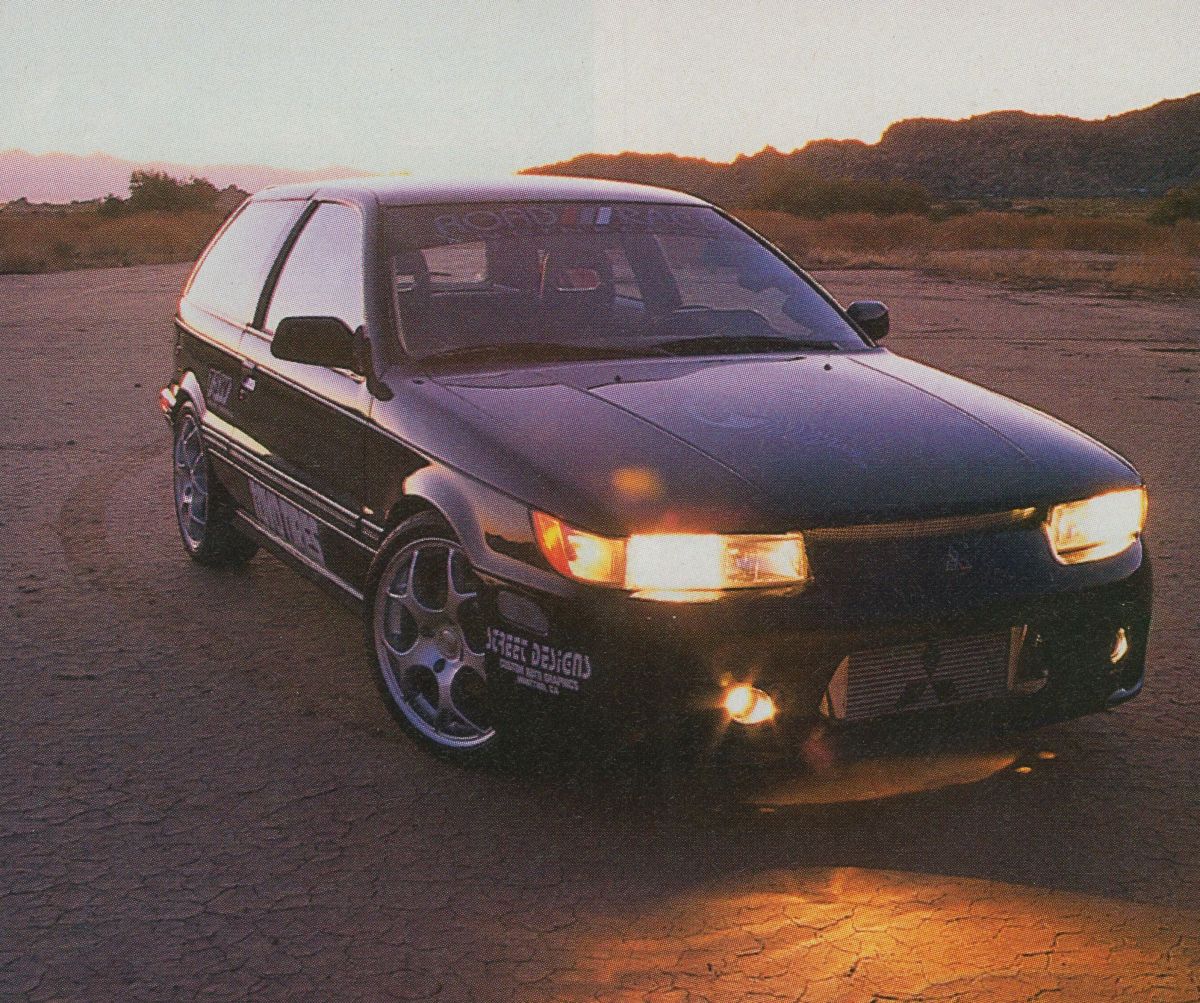 Before long, Welch got the go-ahead, located a used Eclipse turbo engine and tore it down. Once he installed new piston rings and bearings, Welch ported the stock turbo and made provisions for an EGT sensor in the factory exhaust manifold. Ready for duty, the new engine was simply dropped in the Mirage's vacant engine bay. Saving considerable cost and effort, both the stock 1 .6-1iter and the 2.0-1iter Eclipse engine   shares   nearly identical exterior dimensions, as well as matching motor mounts.
Also   included   in   the   comprehensive build-up was an upgraded fuel pump, a rear-mounted battery, and an oil cooler. To meet the thermal demands of the significantly higher output engine, the cooling system upgrade included a double row racing radiator from Griffen. Mike Welch also expertly fabricated a custom, front-mounted intercooler, which sits behind the bumper cover; it was originally sourced from (yes, you guessed it) a 1997 Eclipse GS-T! Once assembled and ready for the road, Ortiz drove the trick Mitsu to Weddle Auto   Body   [(562)   698-1087] for a full body paint job and graphics. The final touch took the form of eye-catching 17×8.5-inch TSW VX-l, wrapped in Toyo Proxes FZ4 tires.
While Ortiz has yet to test his Mirage at the local drag strip, the extra displacement will certainly be represented in the time slips. With an estimated 285 hp on tap, the 2,500 lb coupe should have little trouble breaking deep into the 13s. Whatever time it manages to run, the performance behind this Mirage is certainly no illusion.