Mitsubishi Owner's Day 2010
by, James Singer – RRE Conscript
MOD 2010 was my first Mitsubishi Owner's Day working for RRE. I was a bit overwhelmed working MOD.  I had been there for the 2009 show and kind of stumbled around but this year I woke up at 6am on a Saturday to drive from LA down behind the Orange Curtain to MMNA HQ in Cypress, CA.  When I got to the Mitsubishi HQ Cypress campus, I was blown away that the lot was already full.  My car was relegated to EVO parking in a far corner away from the main booths.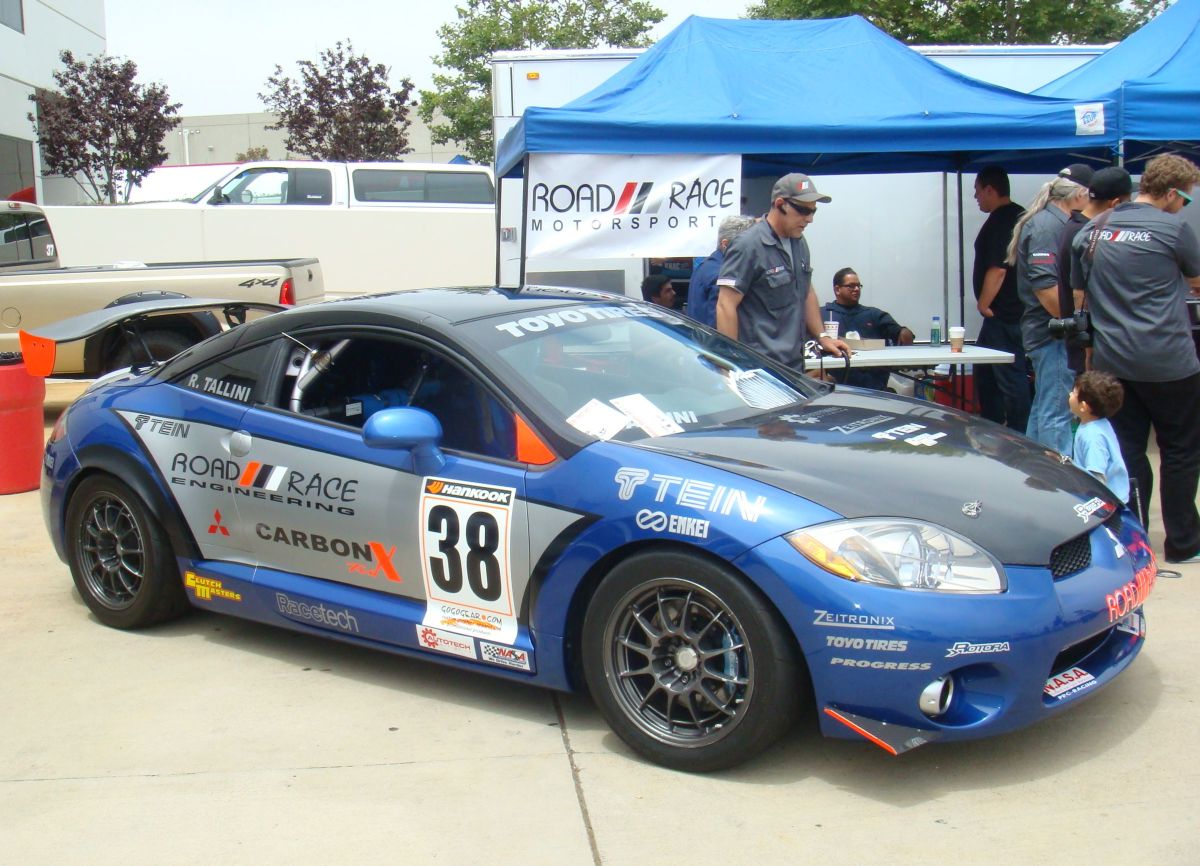 The RRE shop race cars set up and on display.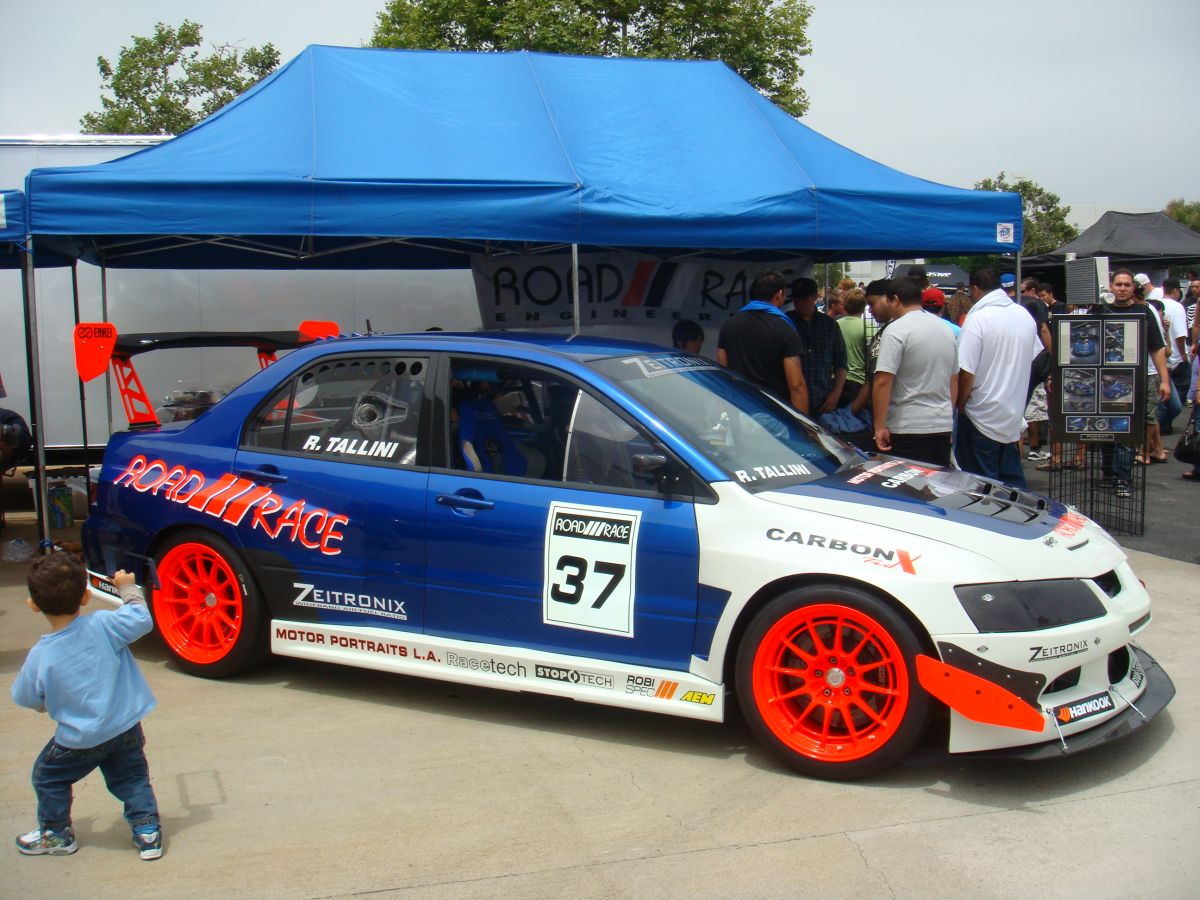 I rushed over to the RRE booth to find the RRE crew already there setting up even though I was a half hour early. I was put in charge of the 2 extremely hot import models Natalia Marie and Nikita Esco.  I was also given a few bags of RRE lanyards, placards, stickers, license plate frames and flyers to give away to people.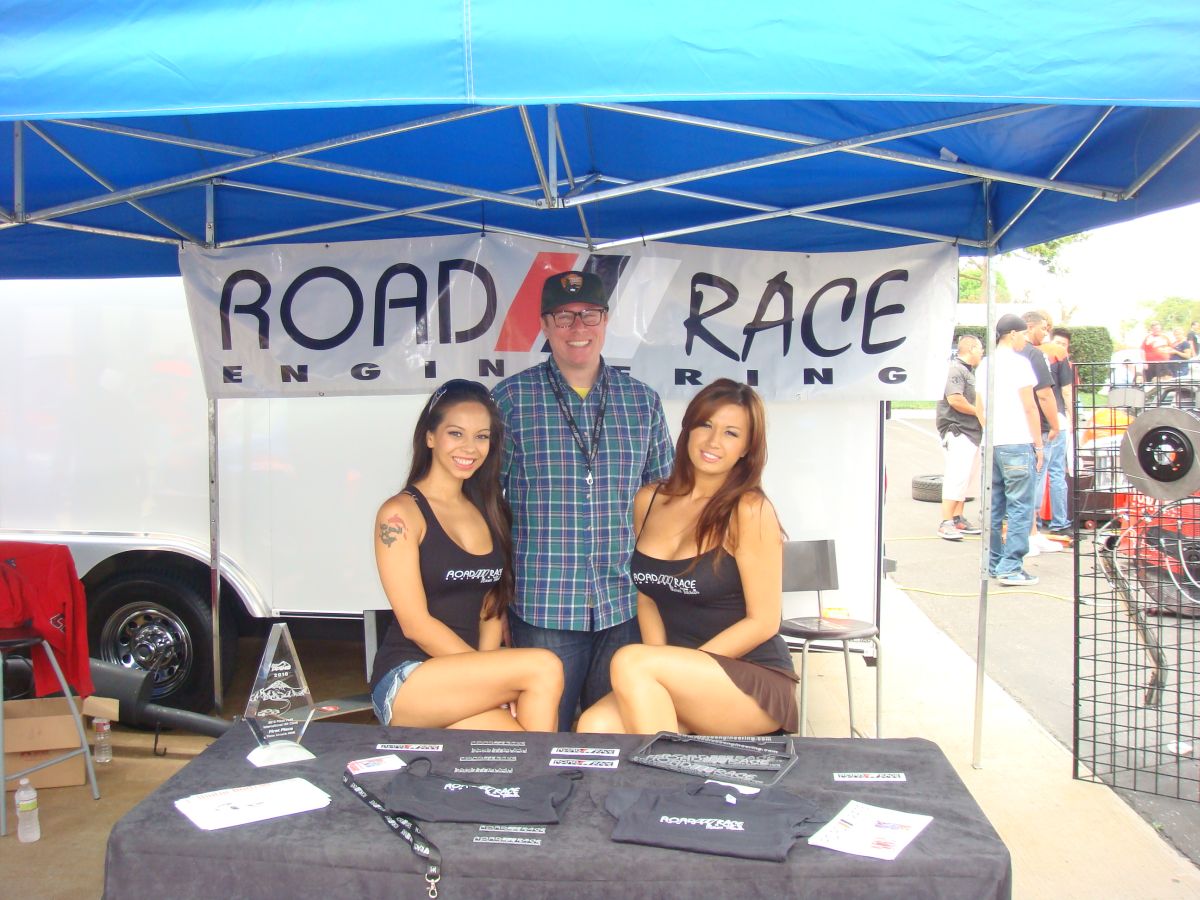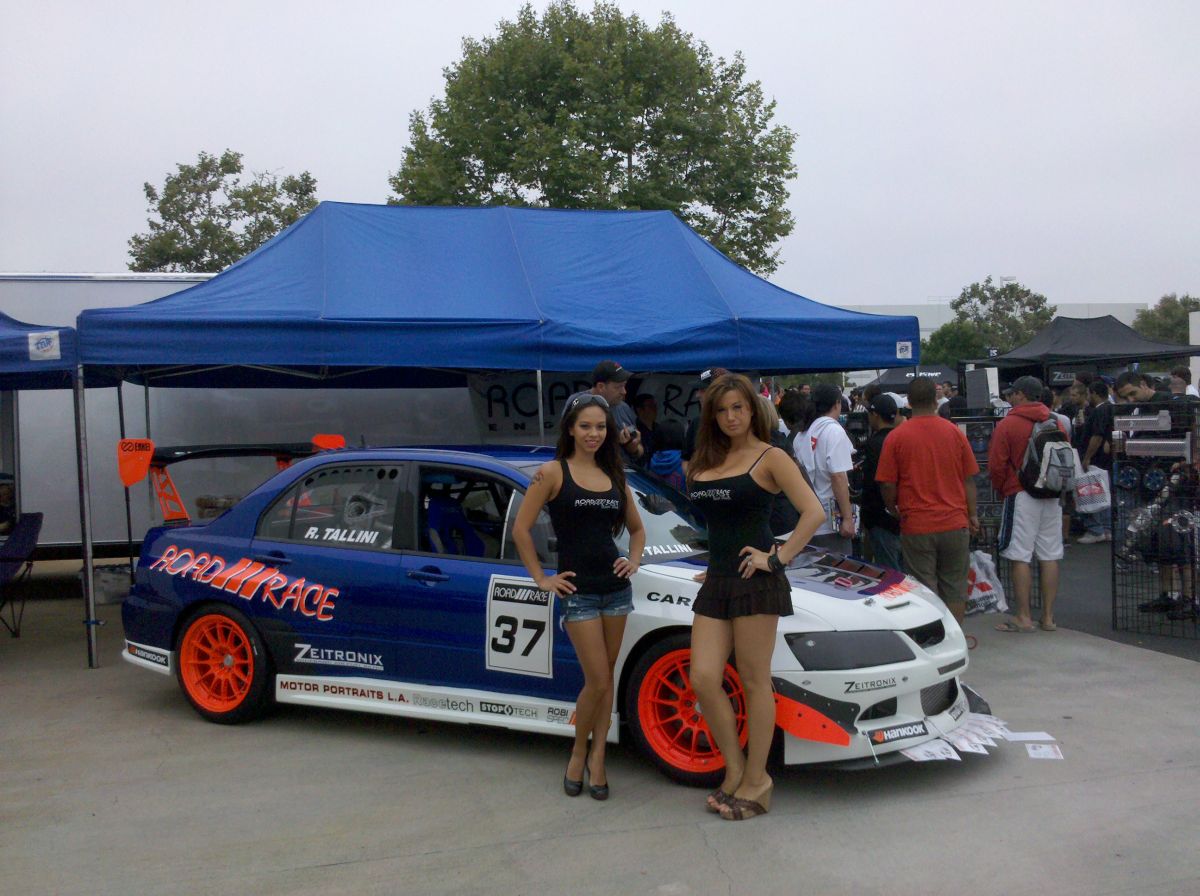 However, Natalia and Nikita and I were not the main attraction at the RRE booth much to my surprise.  The main attraction was the DYNO SHOOTOUT!! (scream that all caps part in your head while reading it again). DYNO SHOOTOUT!! (good).  The popularity of the DYNO SHOOTOUT!! kind of blew my mind.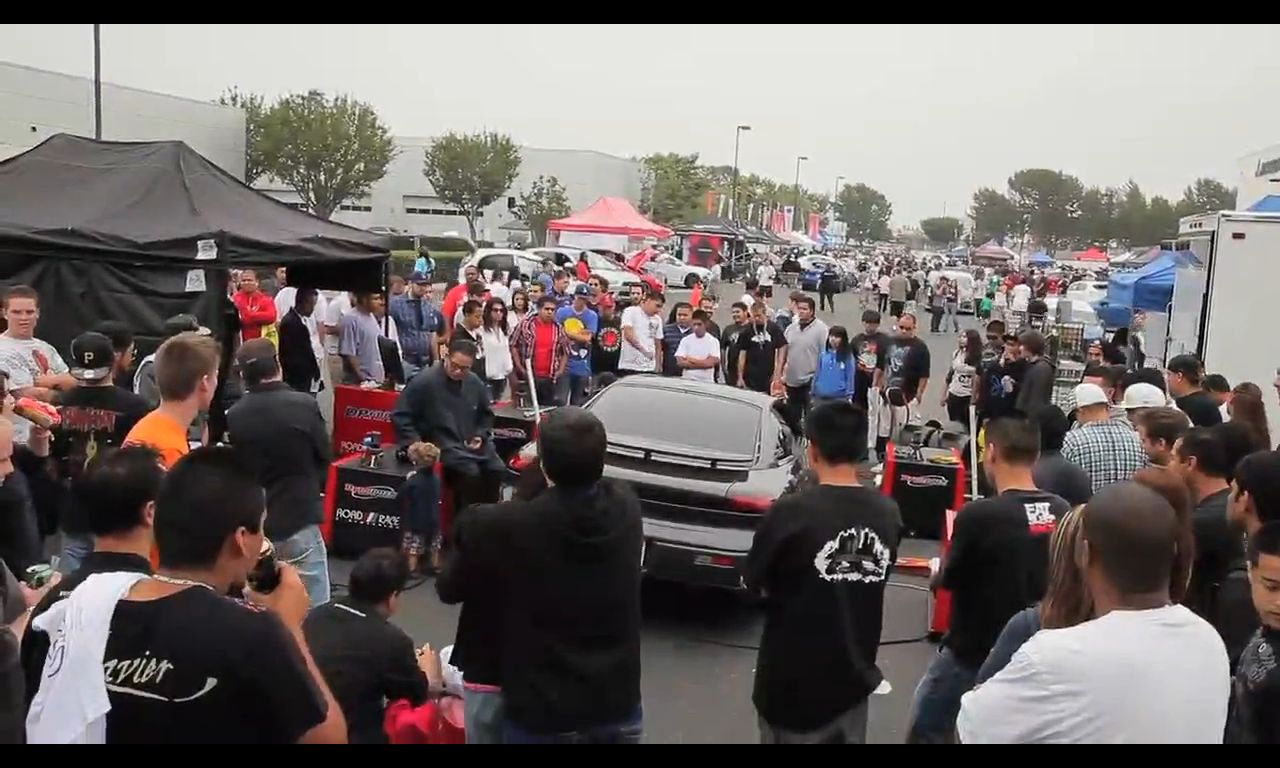 Think about this for a second, there are 2 really attractive girls dressed in clothes that might be NSFW status and ME handing out free stuff but people were more in to seeing EVOs and DSMs belt out some runs on the dyno.  If we were at Import Hot Showoff, there would be at least 100 creepy creepers lurking all over me and these ladies but instead, I was left lurking all alone.
I don't know if you guys know this but the dyno is ON at RRE almost every day and night but people were jumping over the models, the free stuff and each other in the hot hot July heat to get a chance to check out cars on the dyno, which is also further from the shade. At some point, I let Natalia and Nikita take over giving out free stuff for a minute to check out the dyno runs and I saw why people were jostling around and screaming over the sounds of open exhausts blowing ear drums.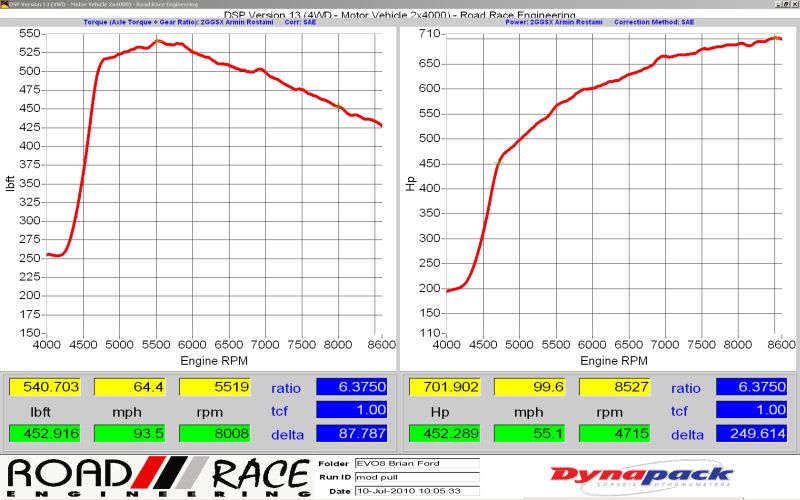 [Winner at MOD. Brian Ford's EVO VIII. AEM EMS tuned by Scot Gray @ RRE. I need to get a full mod list for this car. E-85 insanity].
This is a chart from a 700 and change dyno run.  I got my EVO tuned on the Dynapack at RRE.  I thought it was pretty bad ass.  I was ready to lay down some numbers!  I think I peaked out at 321 or so.  I remember making sure to wear the RRE ear goggles that night as they tuned my car.  Even then I felt like it was a bit rowdy through the ear goggles and through my RRE stealth exhaust.  Now imagine +2x that amount of HP through a seemingly open exhaust with a bunch of people standing a couple feet away in hot July So. Cal weather and you can understand the spectacle of a DYNO SHOOTOUT!! (good job yelling it in your head still BTW).
[Notice how less people are standing behind the car.]
Some other honorable mentions from the day were: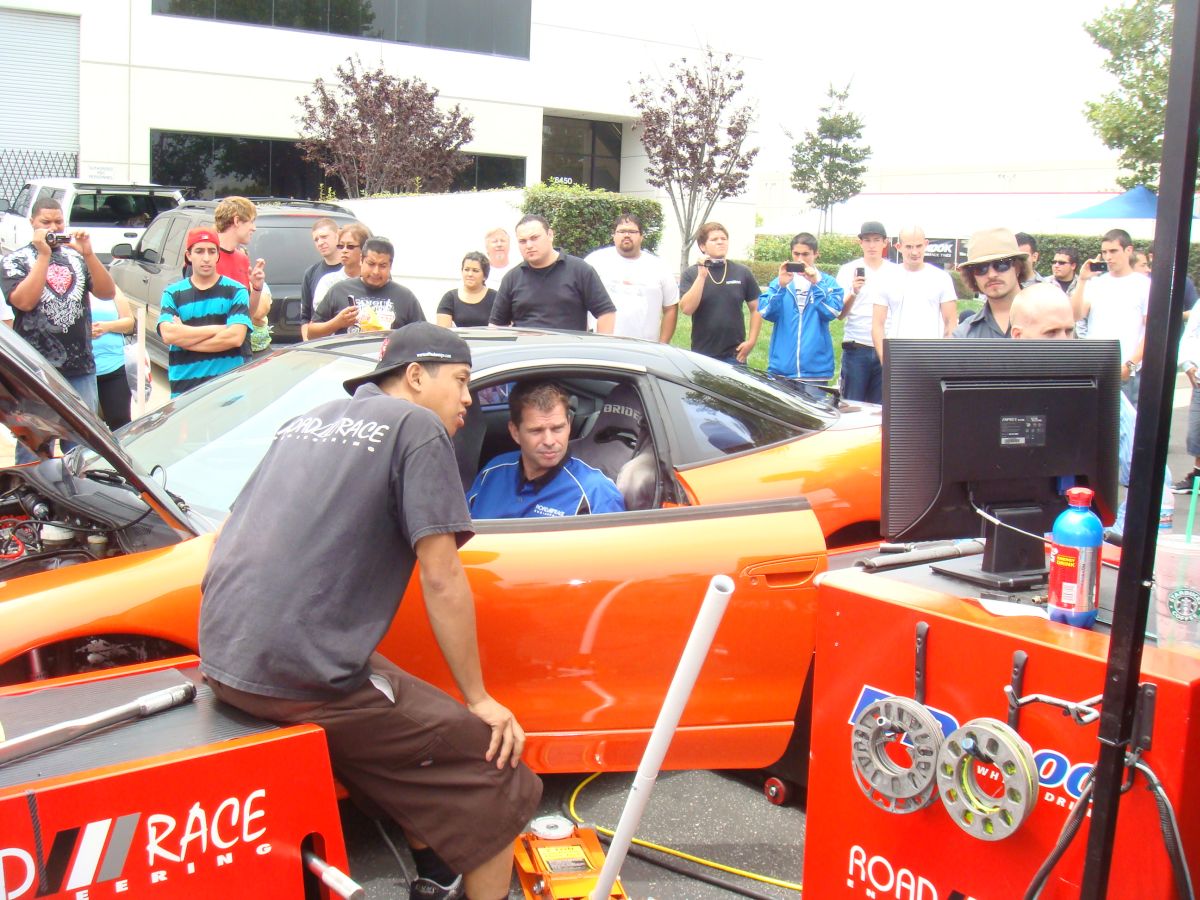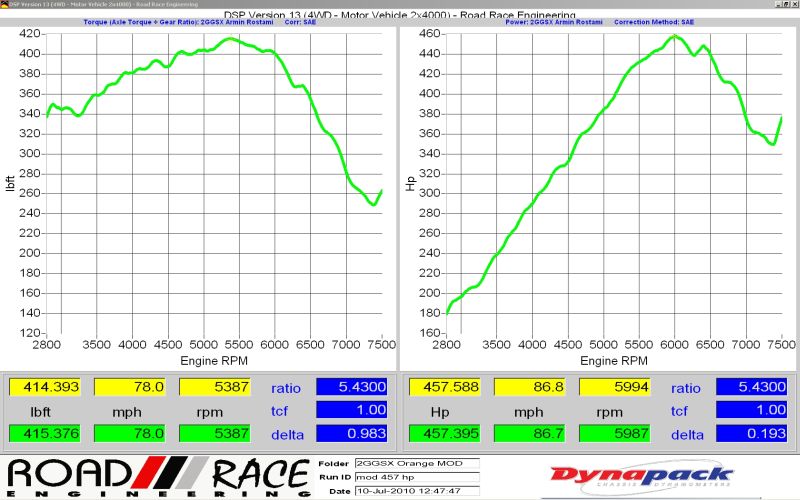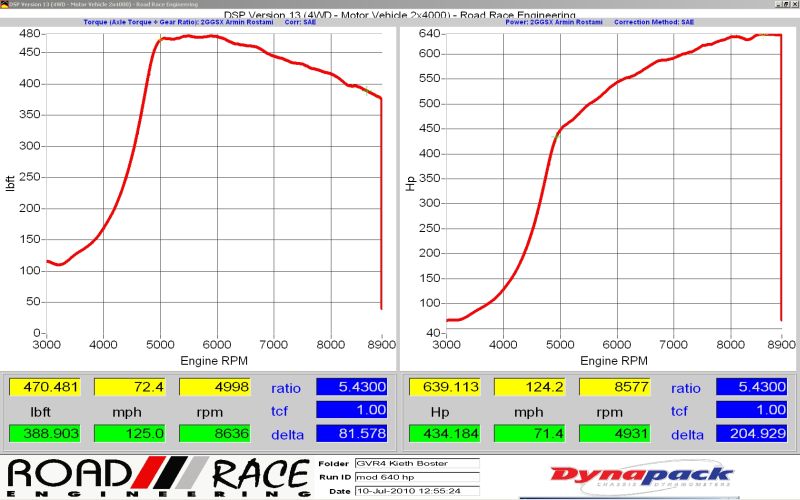 Mr. Boster's white GVR4. 18 years old and kicking 640 whp in a car that looks like a taxi cab!!
Check out his boost chart!!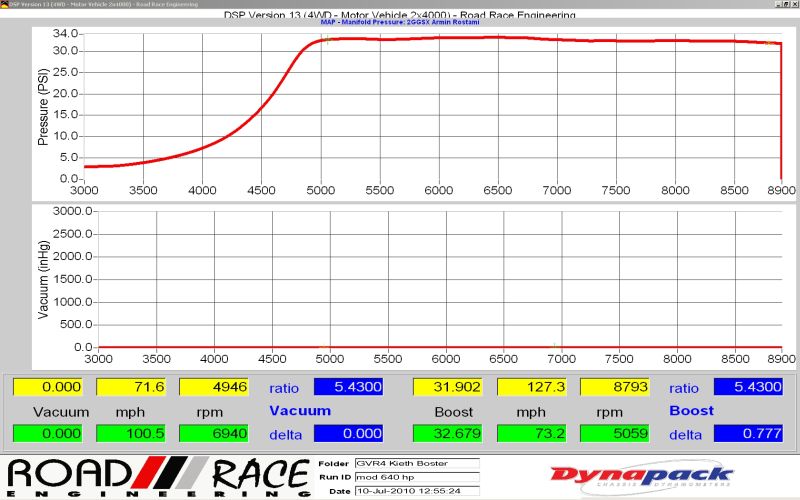 That was the big attraction.  Hot models, Meh.  Free In-N-Out, whateverrrrr.  Rowdy Roddy Dynopack, Hells Yes!!  DYNO SHOOTOUT!!
Got video? LA DSM knows how to represent!
Video highlights: Christ bothering models, SAM being grumpy and ART too busy eating a burger to cover his other ear.
Check us out next year at MOD 2011!!