EVO X – Full-Race ProStock Tubular Exhaust Manifold – Dyno Test
Normally when a customer with a Mitsubishi stumbles into the shop and the first thing they want to do is put on a header, our first question is "Was your last car a honda?" Typically the answer is "Yes". The stock cast exhaust manifold on the EVO is a great match for a stock turbo. Even with an upgraded stock style turbo the stock EVO exhaust manifold will easily support 500whp on our dyno. If you want a little more power, do some porting on the stock manifold is what we usually suggest.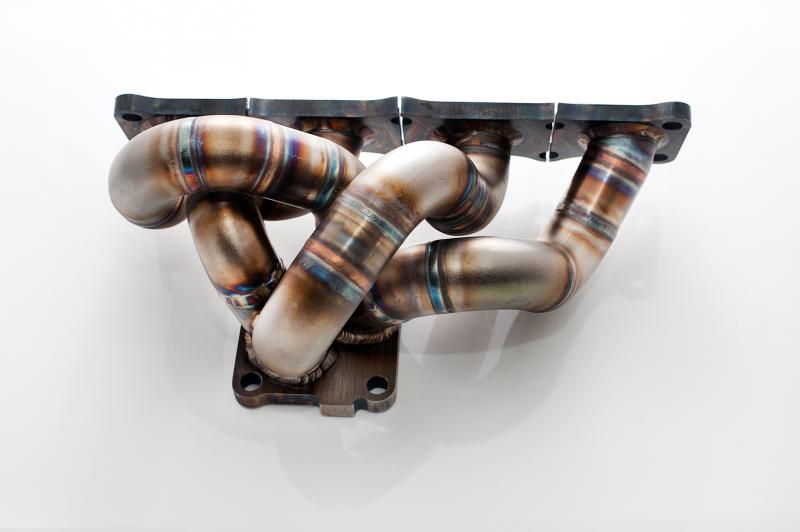 Knowing this, when Mark Z really really wanted to add a header to his already well running EVO X GSR race car, we tried to talk him out of it. Any of the big loopty-loo tubular manifolds would just put too much heat back there between the motor and firewall and on the track that is a lot of work to keep things from melting. The gains would be too small for the cost involved we explained.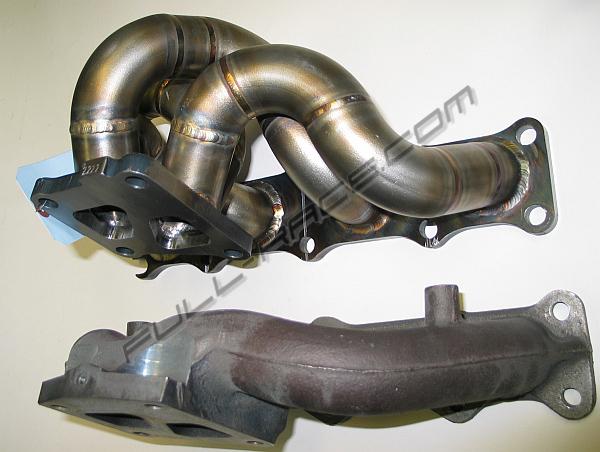 But Mark was persistent and he did have enough upgraded parts to to be able to use some additional airflow. AEM intake, ETS 3.5″ FMIC and full piping. Full exhaust with an AMS  DP bolted to a CBRD BBX stock frame turbo. With 1200cc RC Engineering injectors and a Blaqops/Walbro 255 lph fuel pump kit, the stock bottom end was pushing the limits of reliability on E-85. We like to keep stock bottom end EVO Xs to 360 foot lbs of torque. This limit seems to keep the stock skinny rods and pistons happy in competition.
There was one option to recommend, the Full-Race ProStock tubular manifold. While super sexy curvy, it isn't too tall to practically use the stock manifold heat shield. We have seen mixed results with the polished Chinese manifolds. With the Full-Race super thick SS tube walls and consistent robotic welds, we didn't have to worry about an expensive failure haunting us later on.
Here you can see the Full-Race manifold installed before we put the stock heat shield over it.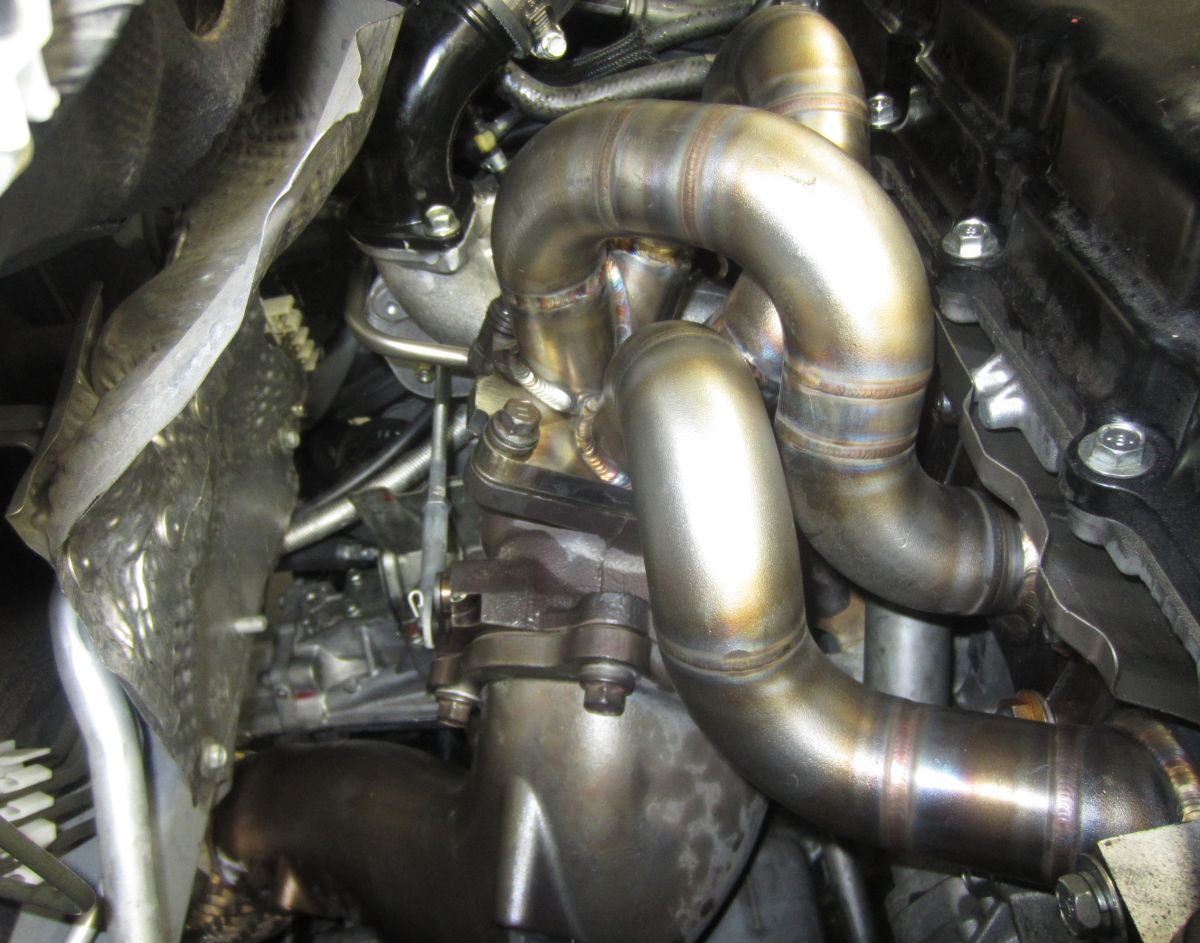 The install was not too bad. Only one bolt is a little tight to get to. There is better access than on other tubular manifolds. It is still an all day job and you run the risk of snapping stuck bolts. Mark's CBRD BBX turbo had recently been installed so it went OK. Lots of penetrating oil always helps. All buttoned up and onto the dyno.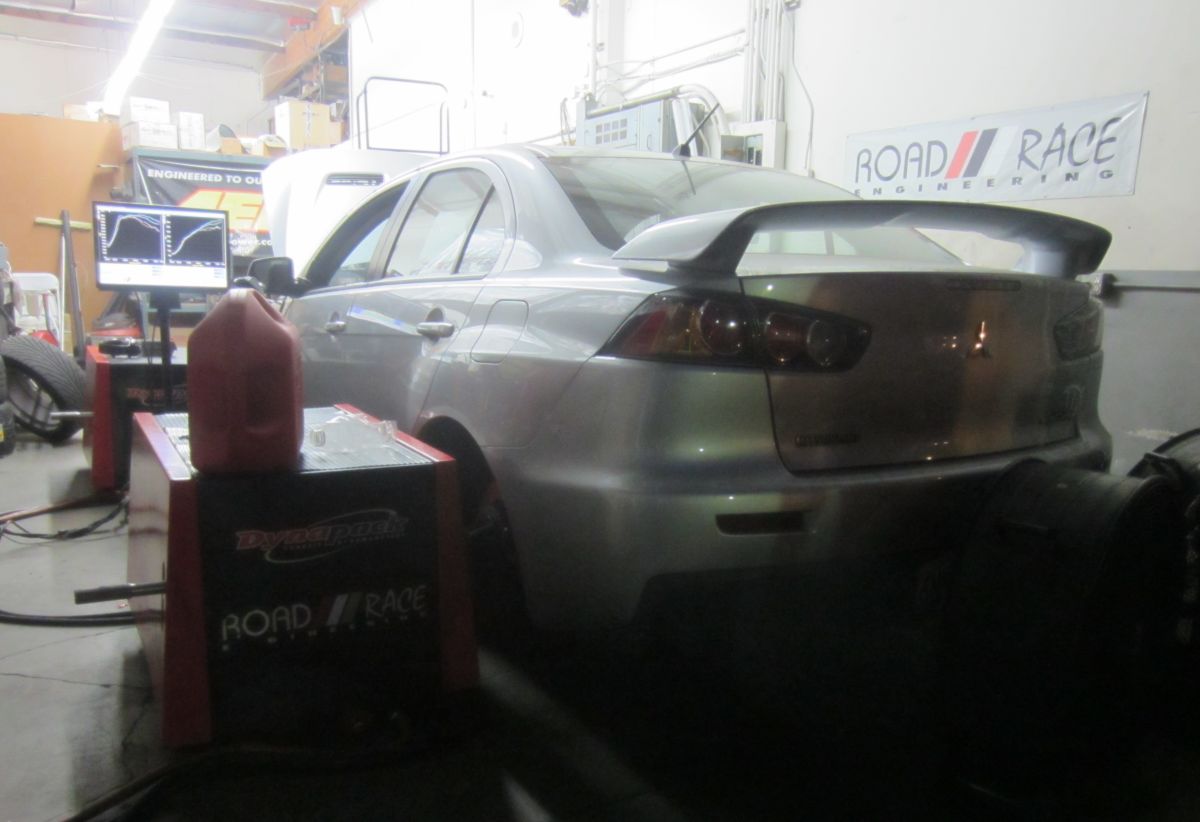 Right away we could see the motor flowing more air up top. With the boost left the same, power was up by 30 whp for one thousand RPMs. Boost is limited below 4500rpm to help keep the torque within our limits for a stock bottom end. We lost a couple hundred RPM of spoolup but the gains up above 5500 RPM are well worth it.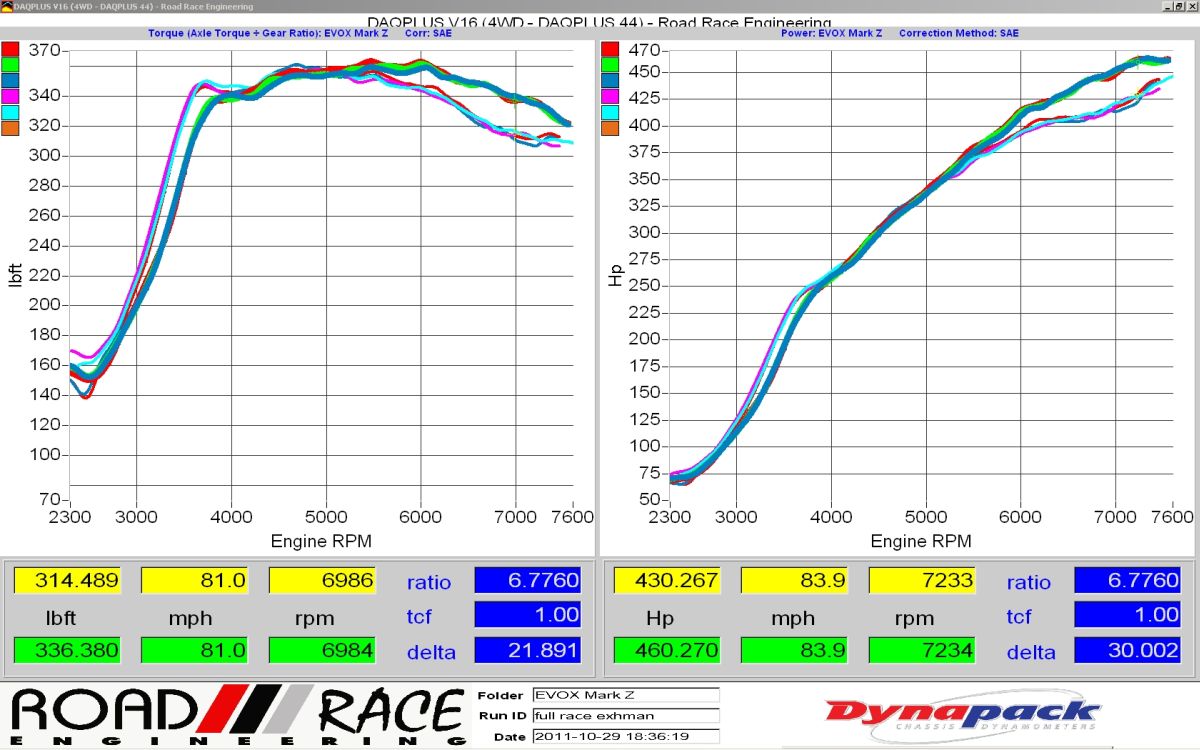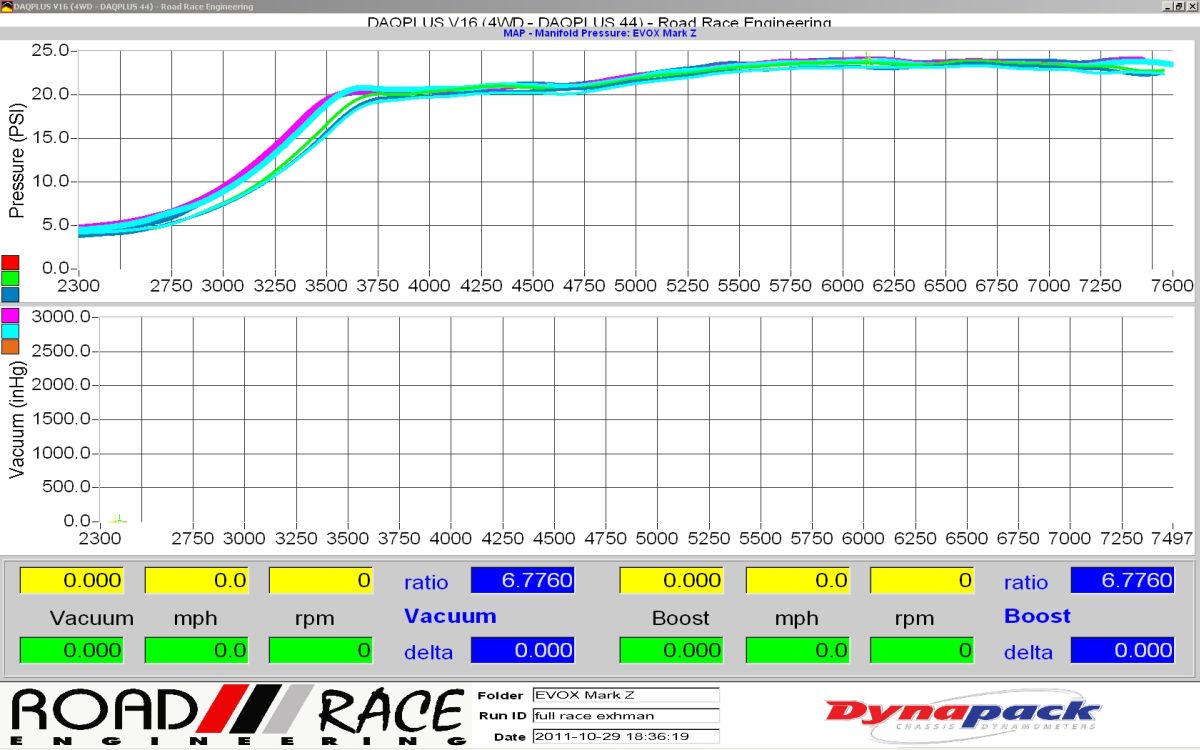 The Full Race ProStock Tubular Exhaust Manifold sells for $1099. The total package price installed works out to $1500. If installing it at the same time as an upgraded turbo, the labor would be included with the turbo install.
Full Race Propaganda:
This high quality robotically-TIG welded stainless steel turbo manifold is a direct bolt-on replacement for the OEM cast turbo manifold. Designed to work with any stock or stock-based upgraded turbocharger up to 550whp, IE Garrett Evo X 30R, Blouch, FP, etc. If you are looking to maximize power output for a stock-based turbo setup this header is for you! Includes Lifetime Warranty.
EVO X Prostock Turbo Manifold features:
Precision Fabricated from thick wall stainless steel
Robotically TIG welded construction
CNC/Ported head flange
Sealing surfaces machined flat ensuring a leak free seal
ProStock design allows use of all factory or aftermarket components (02 housing, down pipe, oil&coolant plumbing, charge pipes, etc.)
Retains the stock heat shield for lower under hood temps