Super True Stories From The Track [part II]
Part I is here.
Text by James Singer
Photos by Mike W
Prep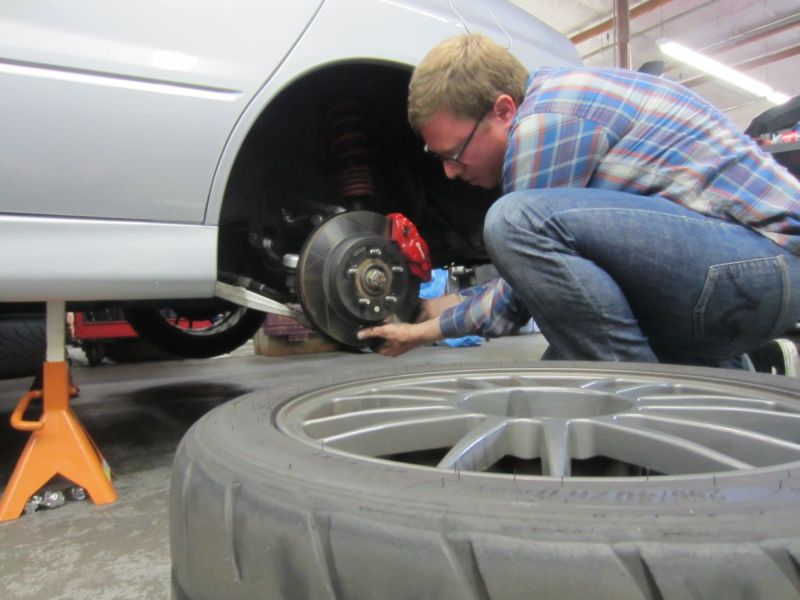 [it isn't the camera, it is rosacea]
I am a pretty average guy as far as driving cars on the track goes.  I am also a pretty average guy in the sense that this economy has taken its toll on my ability to indulge in track days.  As a result, I prep my car painstakingly before going to the track to avoid breaks and other disasters.  This month, before going to the track I changed out my blown suspension to OEM IX GSR suspension off a guy's car who only made it to his first oil
change before heading over to Muellerized for some buttery Ohlins.  Since I am a broke school teacher, I swooped on his stock suspension for cheap off SCE and decided to run on this with Tanabe GF210 springs until I can afford some big boy coilovers.  I also took my car over to SCM for a 90k service and for them to further look over the car.  After everything checked out, I packed up my track box with help from Mike W and food with help from my wife.  This year my wife got me a cooler, which I now highly recommend because it made a hot day more bearable.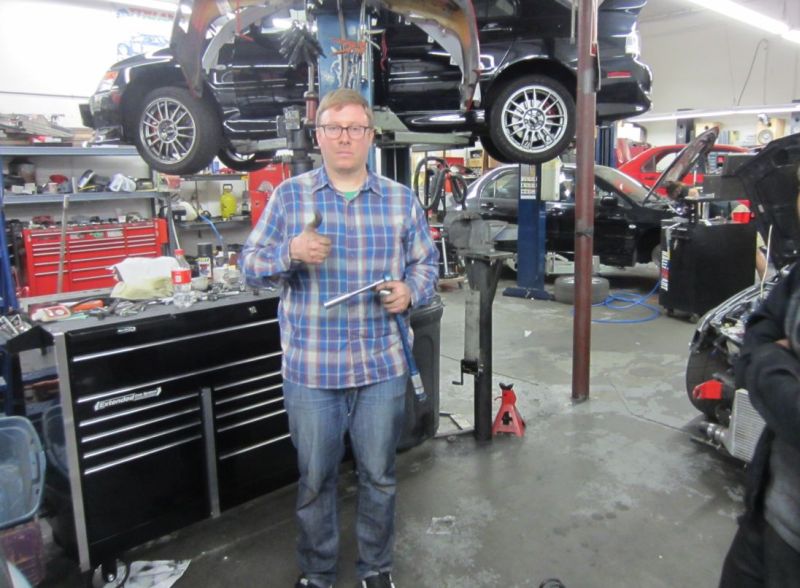 [don't rub your face when there is grease all over your hands]
This year my goal for track days was to graduate to HPDE3 through NASA and then to start trying out some other track day events like Speed Ventures, Extreme Speed and Raceline events.  Next year, I hope to start competing in street class at some time attack events like Extreme Speed's AWD Competition Series or Global Time Attack.
After a full year of doing NASA events consistently, I like NASA and I feel that NASA is a safe and fun environment but it does become limiting in the sense that the events get crowded, which creates difficulty in moving up in classes unless you are willing to harass and annoy the instructors to notice you.  I am not that kind of person.  I am more chill.  This means that I have now been stuck in HPDE2 for 2 full weekends waiting to be fully cleared.  I have gotten cleared by individual instructors on my passport but there is some weird hoop where the main instructor of HPDE2 has to watch you as well and that has not happened at the last 2 overcrowded events I have been to at both Willow Springs International Raceway [Big Willow] and Buttonwillow Raceway Park [BRP CW13].  So, I have been cleared for HPDE3 on 4 separate days at 2 separate events and I am still waiting to be on grid with HPDE3.  For this reason, I am getting massively hung up in HPDE2, which is frustrating.  Essentially, my experiences are that I drive pretty fast, catch up to people, pass them, drive fast, catch up to people, pass them…and repeat… Sometimes I get hung up so bad that I have to go in the hot pits to get space and sometimes I get so pissed doing this over and over, I just go park and get a snack.  This is obviously a problem with NASA as I have heard quite a few other students with the exact same complaint.
At The Track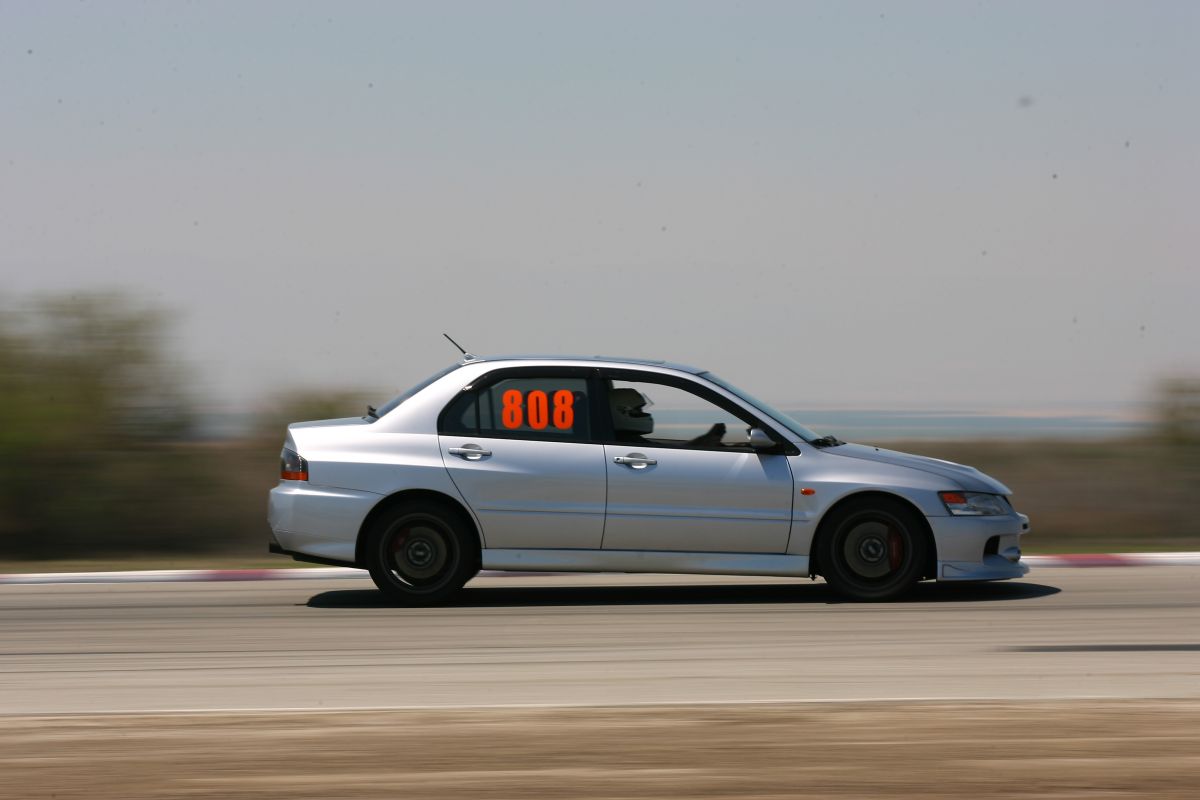 I have to give a Motorsport Activity specific SHOUT OUT to RRE and Mike W directly for helping me out at the track this last SUPER HOT! weekend (4/21-4/22 2012) at NASA [BRP CW13]. (+95 degrees both days, which is when stuff starts to really go wrong).  I did not buy anything from RRE to deserve the level of assistance they gave me at the track, which speaks even more to their level of support for our community and which is why I am writing this blog post.
I saw a few EVOs at BRP and was stoked to meet John Le for the first time in his black EVO VIII with a nice set up sitting on Orange wheels all Halloween status.  I also got to hang with TV star Russ Taylor and Victorville heartthrob Matt Dennison (aka O-Town Fl, aka Hawaii 5-0).
On a personal note, I have been super quiet at NASA in HPDE 1 and 2 just waiting to bump up to 3 (per Honda Robert's advice to just chill and learn).  My first day at the track (BRP CW13 March 2011), I was bumped into HPDE2 but then I have spent a weekend at Big Willow in HPDE2 but cleared by my instructor for HPDE3 and then a whole other weekend back at Buttonwillow (CCW1) cleared for HPDE3 but waiting for a final evaluation (without asking or hassling but as a result NOT getting evaluated).  However, as a lot of you know, I was starting to get hung up a lot in HPDE2 at the end of my 3rd weekend, so this last weekend my goal was to bump to HPDE3 on Sat. and then run HPDE3 a full day on Sunday.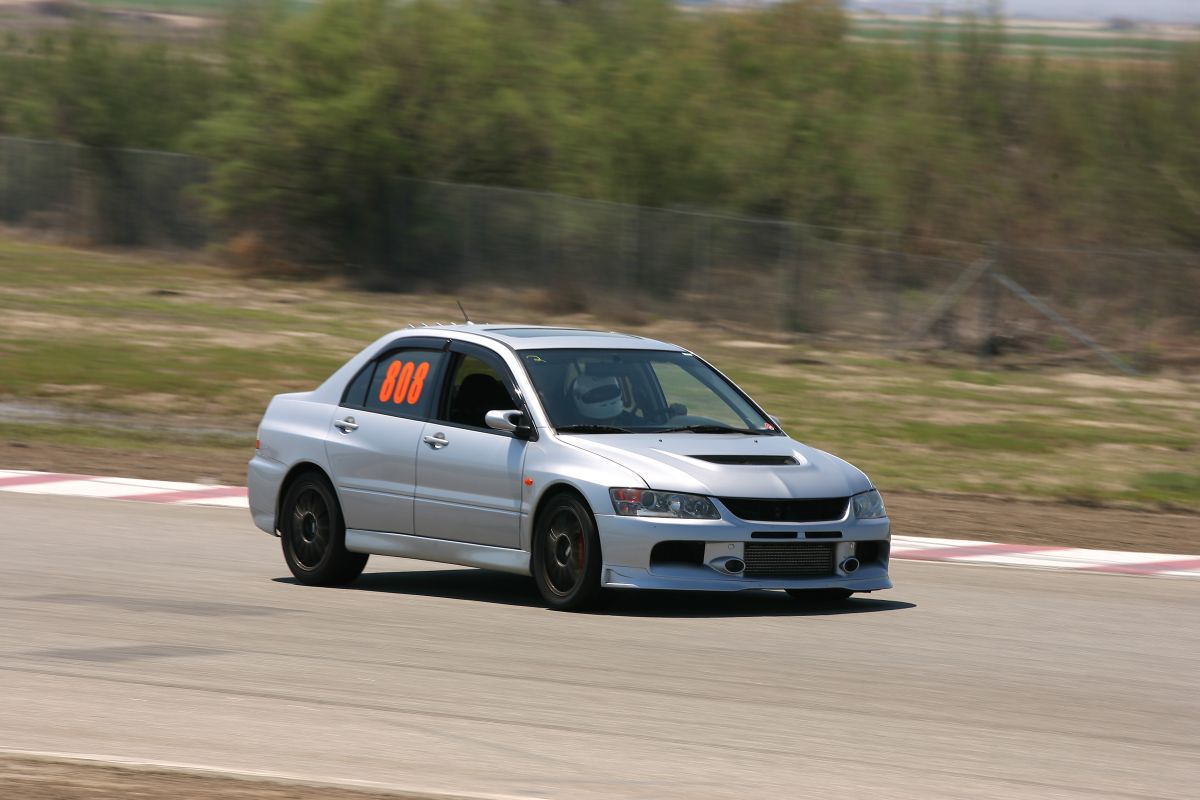 [riverside]
Unfortunately, the entire event was overbooked.  As a result, I spent my whole day Saturday waiting for a final eval. but there were no extra instructors and the instructor leading the group and I were having trouble in traffic to the point where we did not get one hot lap in 4 sessions Saturday.  At this point, I was actually starting to get really frustrated but I heard HPDE3 was overbooked as well, so I just chilled and hoped things would happen.
Then, on Sunday, there were less students, so the driving instructor tried to evaluate me on the first session but there was some drama in HPDE1 that hung him up, so he put an instructor in my car second session to avoid not being able to eval. me once again, which was when my UICP decided to blow off under full boost mid club corner.  As a lot of you also know, going from full boost flat out in 3rd gear about to hit 4th to 0 boost and limp mode is similar to flooring it into a corner and then just lifting right around the apex.  Needless to say, after getting my rear end under control, I limped it into the pits feeling pretty defeated.  You can watch my sorry ass as John Le sees it passing me in limp mode somewhere around bus stop.  You cannot see my tears through my visor though, sorry.
[youtube]http://www.youtube.com/watch?v=lWogAcQQ_Ik&feature=youtu.be[/youtube]
[somewhere around 10:30]
Luckily, Mike W was waiting for me in the hot pits and did a quick fix to get me back on the track.  My instructor said I caught the car well when everything went nuts but that because we only got in a half session, he'd need to run with me again.  I got in a cool down lap after the fix but not enough for another hot lap.
I was pretty shaken up by all that.  The hose popping was the least of it but overall, I was feeling frustrated and worried about my car.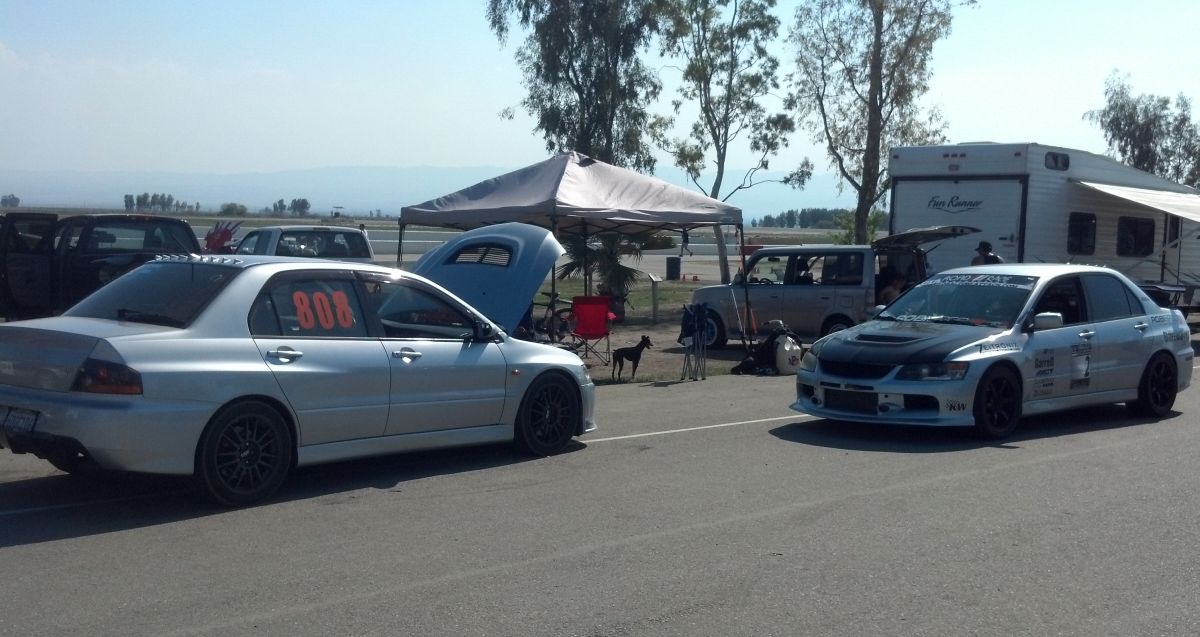 [in the pits Mike got under the hood of my car and Matt Dennison hooked me up with a new clamp. I was back on the track in 5 minutes!!]
I decided to leave it, let my car cool and eat some lunch.  I checked over my car before going out.  Everything seemed good and my UCIP seemed solid.  The clamp was sufficiently tight and it looked like nothing would move.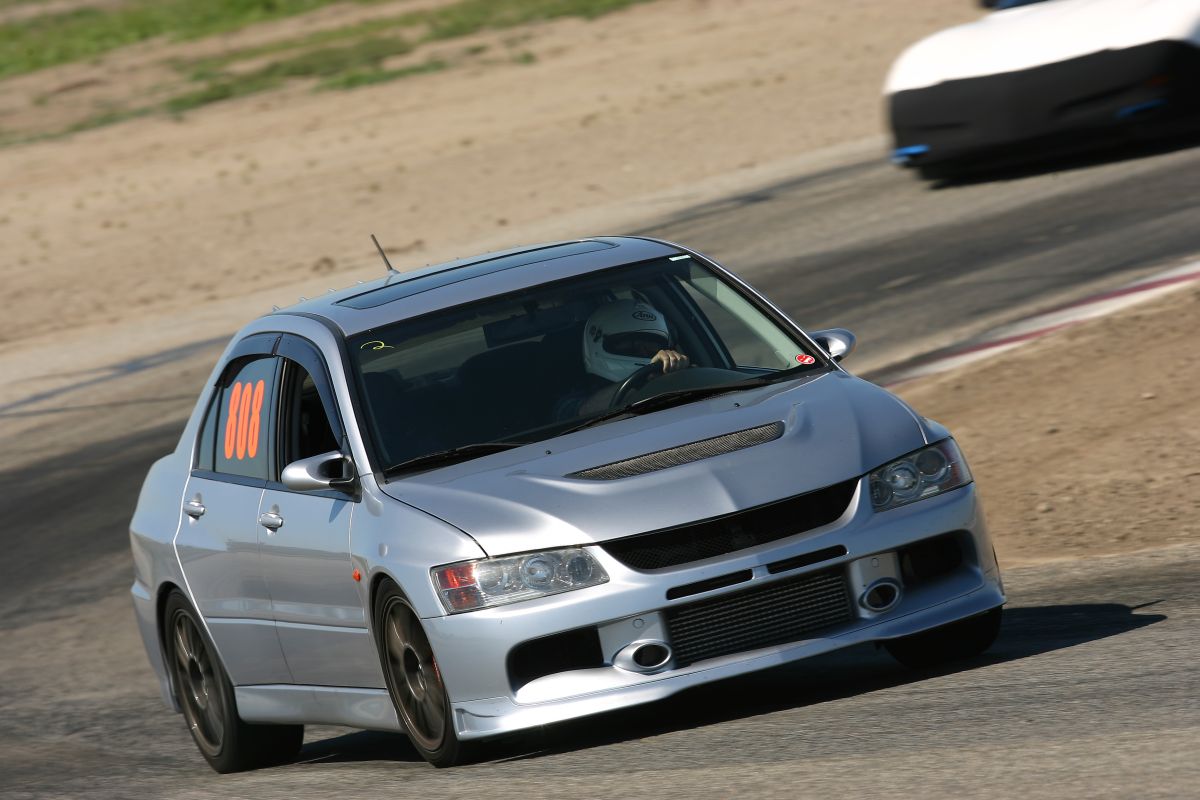 [my side mirrors are MAD JDM Ganadors from my friend JAY, which means during regular driving, I can't see crap but at the track, they are actually positioned perfectly]
In my third session, I got another instructor to ride with me for an eval. and once again, my UICP popped off mid session under full boost, this time on top of Phil Hill after the apex, in full boost, 3rd gear about to shift into 4th at the bottom, flat out.  Once again, I got super squirrely, caught the car sideways, reeled it in, and tried to limp it to the hot pits.  Unfortunately, the hose was fully off this time, so the car just started bucking like when you first learn to use a manual and you let out the clutch too soon.  Since you cannot get out of your car even in the dirt where I pulled off, this time, I had to be towed in, which was a bummer and embarrassing AND the tow guys decided the best spot to tow me from was my strut tower bar, which added a whole level of frustration to my day because you are just watching them scratch the shit out of your car and basically not care that they are doing it.  Nevertheless, the instructor cleared me as we sat waiting for the tow vehicle but said he would still want to ride with me in the last session if I could fix my car.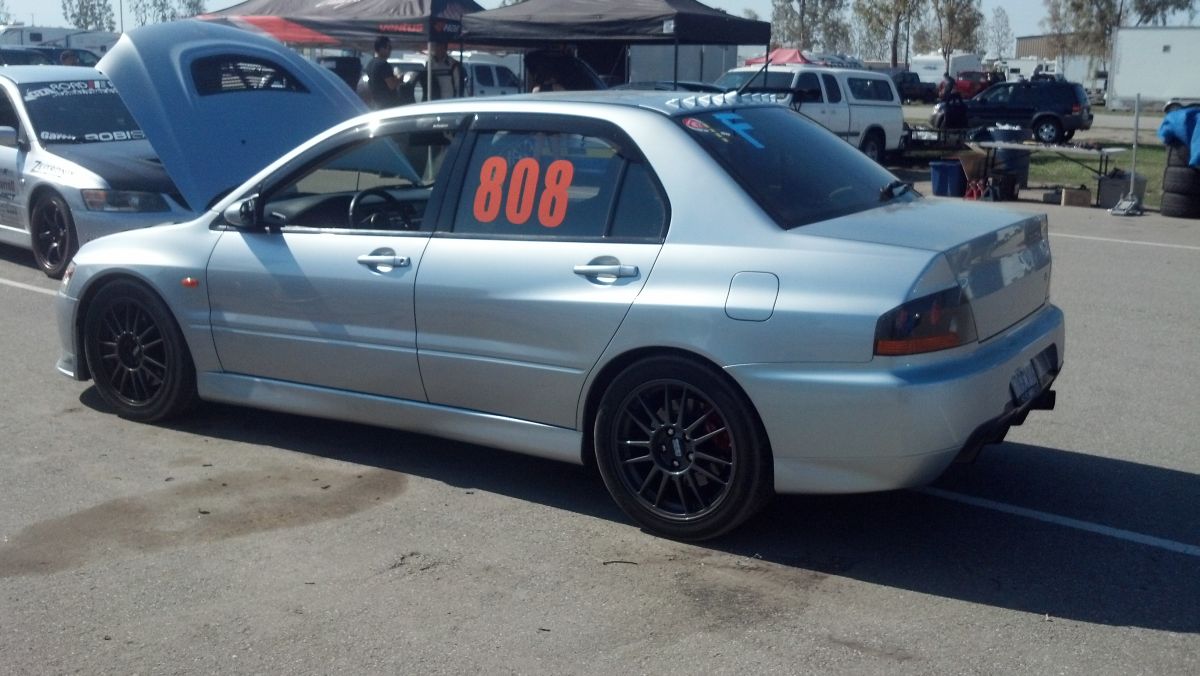 [rough times]
Luckily, once again, Mike W was there with a new upgraded clamp for me and he got me fully situated for the 4th session where I finally got full clearance for HPDE3.  The 4th session was not crowded because a lot of people take off after lunch or after 3rd session, so I got in a bunch of good hot laps.  Afterwards, I cleaned up and cruised home to LA without incident.  I have since driven to work and back twice without drama.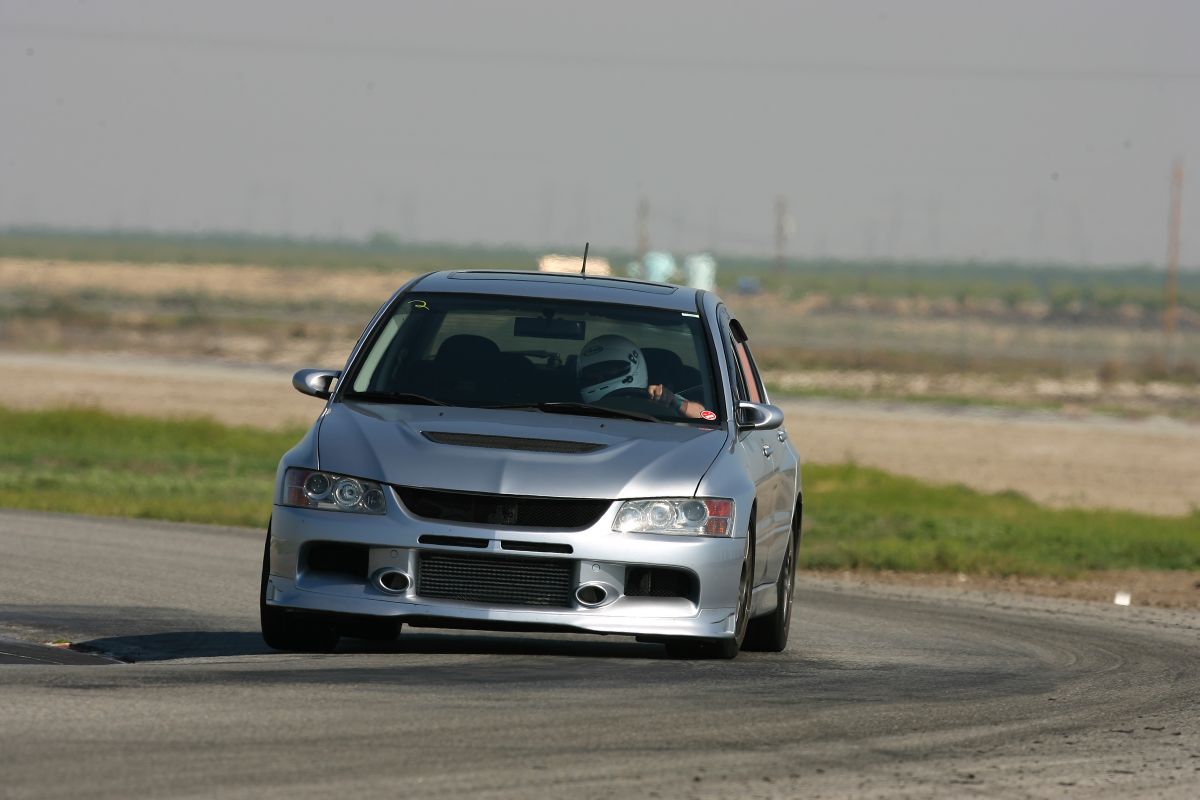 [back in action]
IF Mike W and the RRE people were not at the track, I would have surely given up.  I would have reattached my UICP and just drove straight home crying.  I might have also just given up and never gone back to the track.  I was having a bad day and I was reaching a peak of frustration but the RRE people brought me down and helped me out.  I really appreciate RRE's support of the community overall and especially for track days like NASA and Extreme Speed.  I have been running NASA consistently for a year now, quietly, not really trying hard to move up or make any waves and now that I am in HPDE3, I do feel like I will be ready to do some events outside of NASA.  I owe this to RRE and Mike W for being at the track with everything from clamps and hoses to brake pads and even serpentine belts!!  I watched Mike work his ass off all weekend running around like a madman to fix my car, Russ Taylor's car and Matt Dennison's car besides all the other things he was up to (like Rossy feeding everyone around lunch!!!).  This really shows RRE's dedication to the community and for that reason, we should all support them to the utmost!!
THANK YOU MIKE W, ROSSY and RRE.
I also want to give a shout to Gilbert from Muellerized that helped get me back on the track as well.  I owe you dinner next time we are at the track.  John should give you a raise!!
My final reflection on this weekend is that it was a good learning experience.  The previous 3 weekends I have been at the track, I had a fine time where the worst things that happened were going off and having some guy run over all my water in the paddock.  Otherwise, I have had drama free events.  However, this weekend taught me to just stick with it no matter what even when all kinds of crap is going wrong.  I was very frustrated but I reached my goal for the weekend (a little late but whatever) and I got to hang out with some good people and I even got to meet my favorite Japanese celebrity, TARZAN YAMADA
[I hope I can get back out there soon but I need new tires and a lot of prep work.  Please sponsor me!!]
Thanks for reading my novel.