Sport Compact Car Magazine – Project Mazda 323 GTX: Part 1
Here is Josh Jacquot's Project 323GTX. We no longer sell parts for this car since they have to be custom made on the car in the shop. But since I got my start working on AWD rally cars on the 323 GTX working for Rod Millen back in1990 I always have aspecial sentiment for these fun little cars.
In this article we helped the SCC Mag guys with getting acquainted with the car and basic maintenance.
Sport Compact Car Magazine – August 2000
Writen By Josh Jacquot
Photography by Les Bidrawn, Josh Jacquot
Reprinted with permission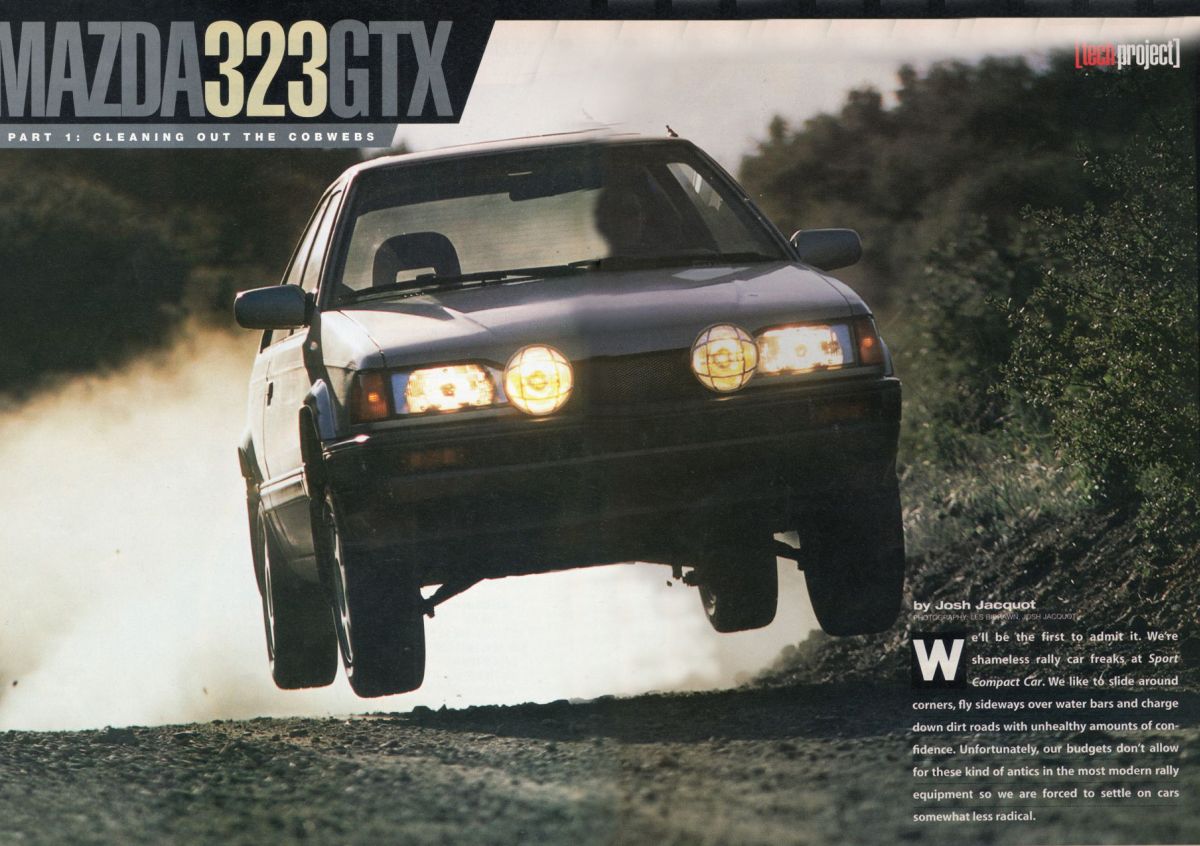 We'll be the first to admit it. We're shameless rally car freaks at Sport Compact Car. We like to slide around corners, fly sideways over water bars and charge down dirt roads with unlealthy amounts of confidence. Unfortunately, our budgets don't allow for these kinds of antics in the most modern rally equipment, so we are forced to settle on cars somewhat less radical.
In this case, our choice for old-school rally equipment is a 1988 Mazda 323 GTX. With only about 1,200 of these cars sold in the United States in '88 and '89, they are a rare breed. We'd normally feel guilty about beating the life from a car this rare, but since ours was mostly dead when we bought it, we figure instilling a little rally car life back into its veins is the best thing we can do. Besides, its body is in fairly rough shape to begin with, so don't plan on seeing pages of pretty pictures touting our GTX's beauty. It's not the best-looking SCC project car, but it may be the most functional.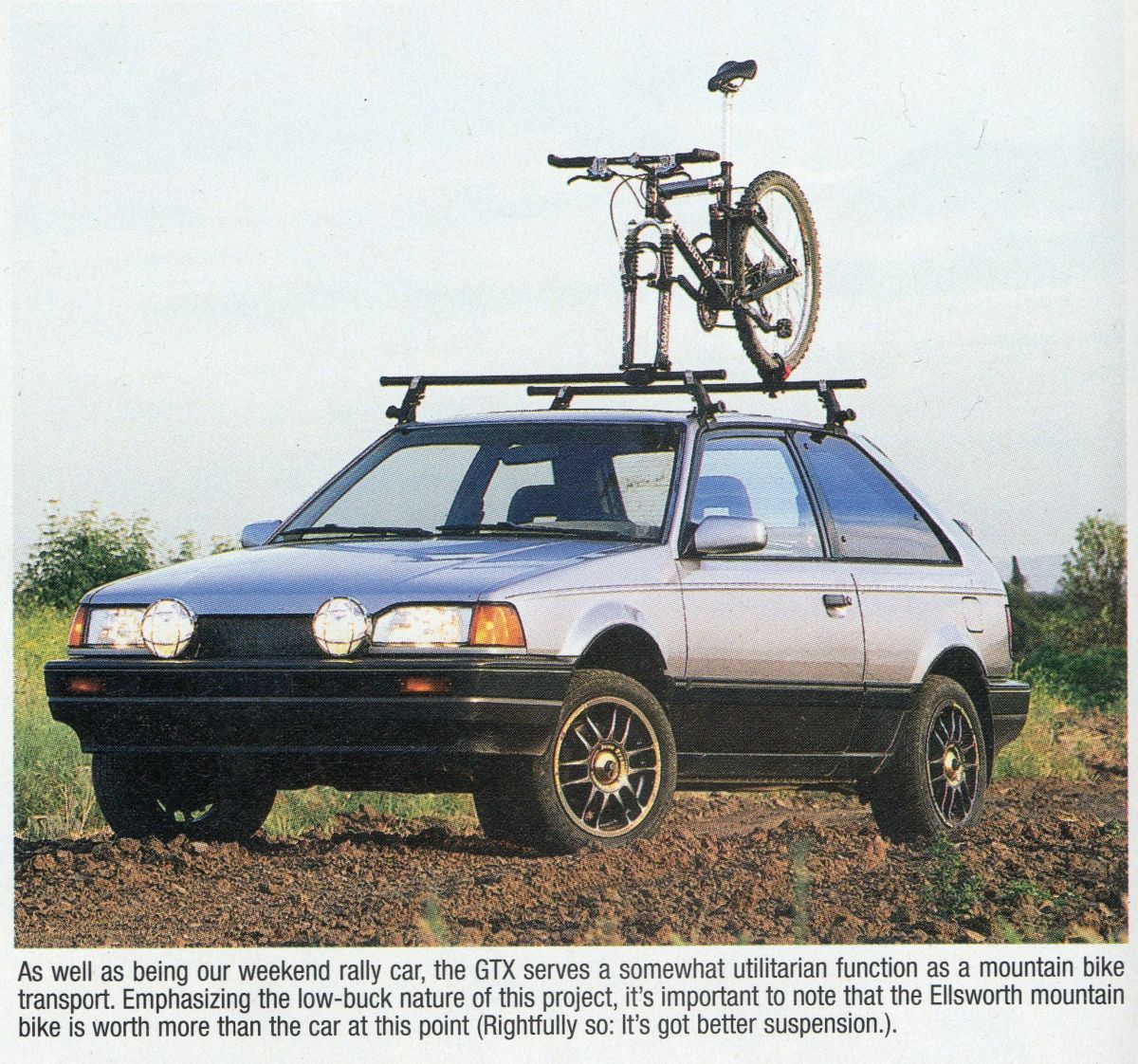 Goals
Since we are appealing to an exceptionally small crowd with the GTX, we're going to keep this buildup short. This installment we'll   explain   a   few   of   the   rudimentary problems every GTX owner has faced or will face in the near future as their car shows the signs of age and high mileage. After dealing with the most nagging GTX problems, we'll address the power issue over the course of a few more installments. When we're finished, we should have turned a car with one wheel in the grave into a reliable,  low buck hot rod.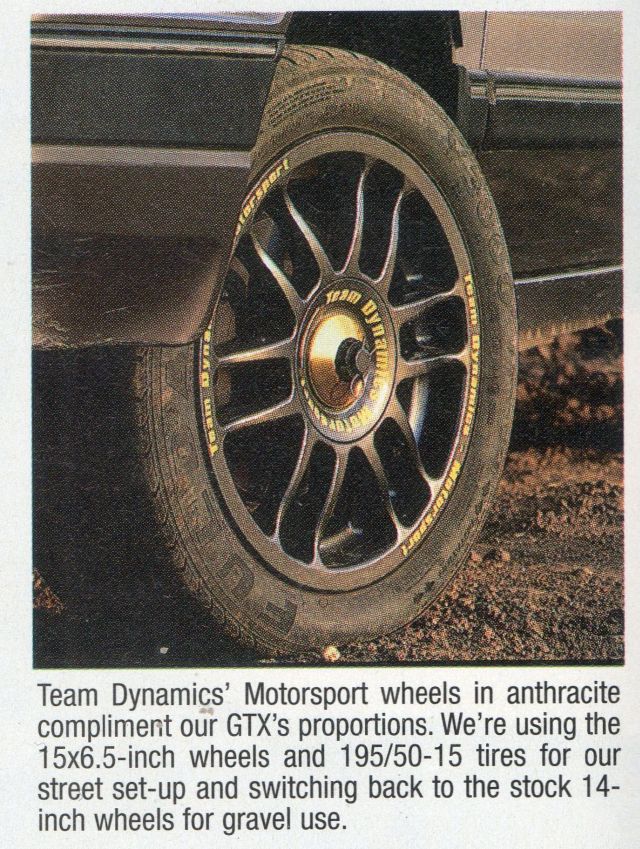 Project 323 GTX won't be a competition car. We'll leave building a low-buck rally car to engineering editor Dave Coleman and his Datsun 510.  Our car will kep its interior and sound deadening material while adding many of the go-fast parts common to competition GTXs. Central to this project, however, is price. We want to build a car you can duplicate at a price most normal people can afford. Obviously, much of what we do can't be repeated exactly. But by sharing our parts venues and using a little patience, building a similar car isn't impossible.
If you read our introduction to Project 323 GTX in the March '00 issue of SCC, you know that we paid $2,000 for the car-a decent price for a car this capable. With lots of work on the horizon, we knew we'd be spending more money soon. The GTX needed its suspension reworked, had one bad wheel bearing, a nasty second-gear syncro and a distributor that had seen better days. The initial goal with Project 323 GTX was to pound on my fellow SCC scribes Coleman and Shiv Pathak at a California Rally Series rallycross in Ridgecrest, Calif. To do that successfully, there was no room for mechanical mishaps. It was time to get to work.
Transmission woes
Early on it became obvious that our 323 was suffering from the dreaded second-gear syncro problems for which GTX transmissions have  become famous. Before heat built-up in the tranny, it was fine-shifting normally through all the gears. However, after a few minutes of operation, it became difficult to get the car into second gear without a painful and expensive-sounding crunch from the gearbox. This we couldn't have.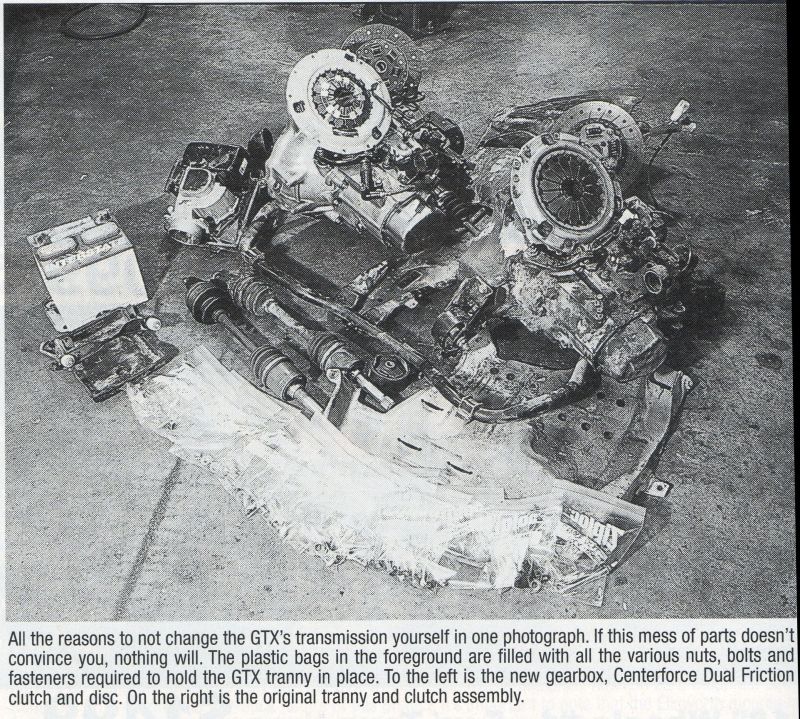 Mike Welch, the illustrious owner of Road/Race Engineering is perhaps the best-schooled GTX guy in the country. He has prepared the cars for years and knows them inside and out. In fact, without Road/Race for local support, we wouldn't have settled on a GTX for our dirt duties. Keep in mind that RRE specializes only in the four-wheel-drive turbocharged version of the 323 not in lesser two-wheel-drive 323s or Proteges.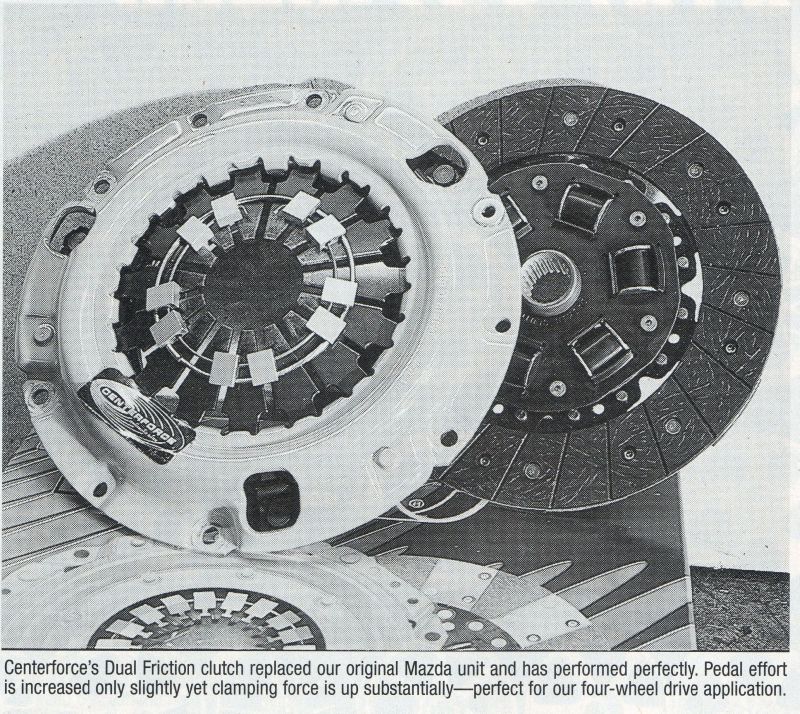 So, it was with Welch's recommendation that we purchased a used tranny from a local importer instead of trying to repair the original. Welch notes that it's smarter to buy one that works than to take chances with a repair. Besides, at $495, it seemed likely that buying a used tranny could also be more cost effective.
Welch provided a list of importers which have been known to have GTX transmissions on hand and after a few phone calls, we discovered that CNS Motors in South El Monte, Calif. had what we needed. For less than $500, including tax, CNS loaded the tranny into the back of the GTX and we were on our way to Road/Race for the tear down. In the meantime, we placed a call to Centerforce for one of the company's Dual Friction clutches.
Removing and replacing the transaxle/transfer case in a GTX is not a job for the ill-equipped. In fact, we absolutely recommend getting a professional to do the job. Without the tools and expertise on hand at Road/Race, our car would still be in pieces. This is especially true since every nut, bolt and fastener on our car was rusted together. We'll spare you most of the gory details of removing and replacing the tranny, but understand that it's a job for someone with the patience and mechanical expertise of a professional.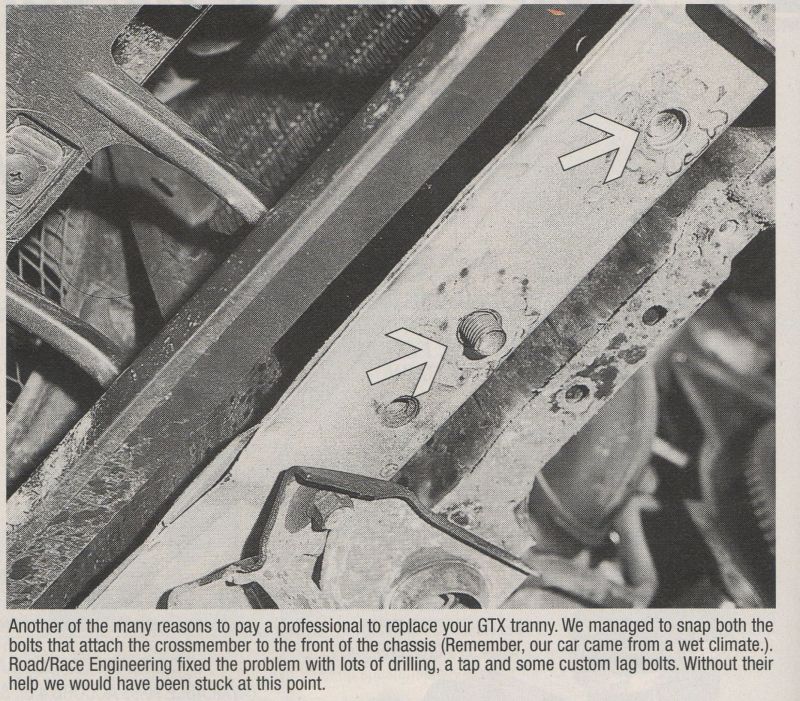 Our car spent most of its life up to this point in Utah, where snow covers the ground for months each year. Therefore, we had the pleasure of breaking every other bolt we attempted to remove, thanks to 12 years of rust buildup. Two of the most critical were the bolts holding the lower crossmember to the front of the chassis. 'We spent an hour trying to remove them without snapping them in half, but our efforts were in vain. After breaking both bolts off inside the chassis, the heroes at Road/Race helped us drill out the remains and tap the holes for new bolts. Welch even came up with a clever solution to the lag bolts' design and custom fabricated spacers to go in the freshly tapped holes.
This is just one of several hassles that wouldn't have been solved without the experts at Road/Race. The pieces went back together with the new Centerforce clutch in place and a new lesson under our belt. If your GTX needs a new tranny and you haven't done the job before, take it to a professional.
Wheel Bearings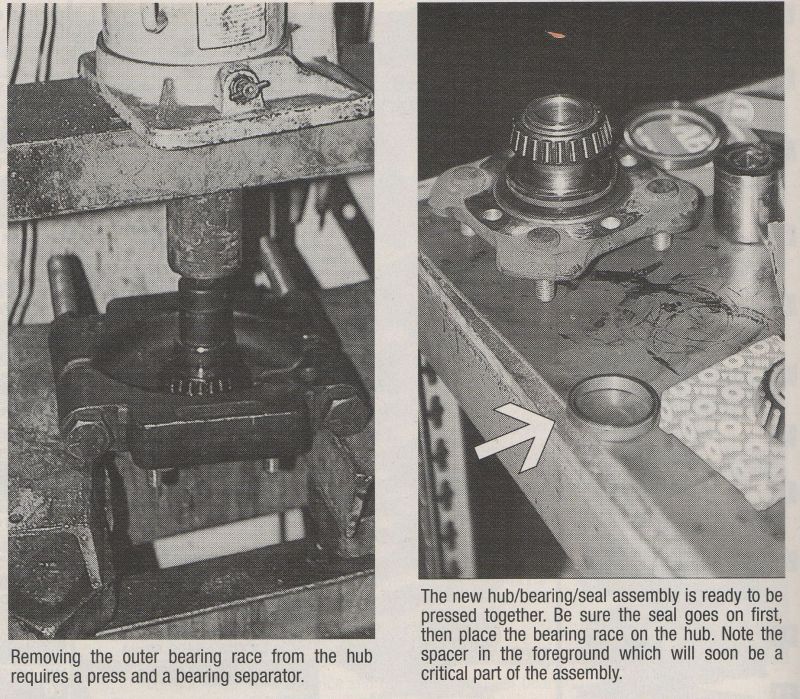 If you already own a GTX, you've certainly heard about the problems associated with the car's wheel bearing/hub assembly design. If you don't own one, this is something worth considering before making the purchase. First, it's a certified pain in the ass. Second, it takes special knowledge of the   parts and assembly procedures to replace the GTX's wheel bearings correctly. Even many Mazda dealers today are often unaware of the correct method to properly replace a worn wheel bearing on a car of this era,. Most GTXs with 100,000 miles will show bearing wear or failure especially if they've been exposed to dirt and moisture as most probably have.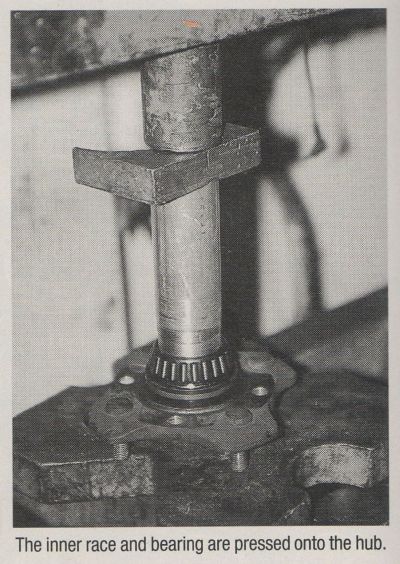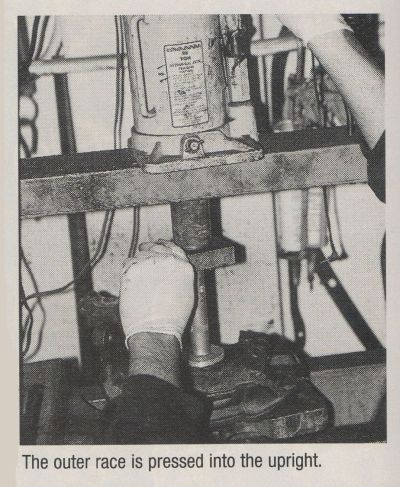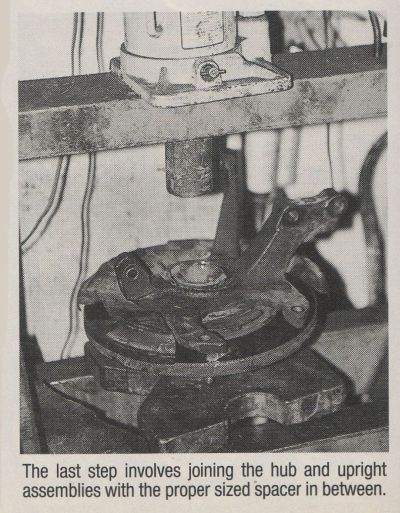 Because the design sandwiches the wheel bearings in the upright, it requires one of 22 different sized Ma.zda space is in between the bearings to be rebuilt correctly. Spacer sizing is based on the amount of wear to the upright and hub surfaces and is usually a procedure which requires trial and error (disassembly and reassembly) to achieve proper bearing tension. It also requires a press and bearing separator, lots of time and an inhuman amount of patience to get right.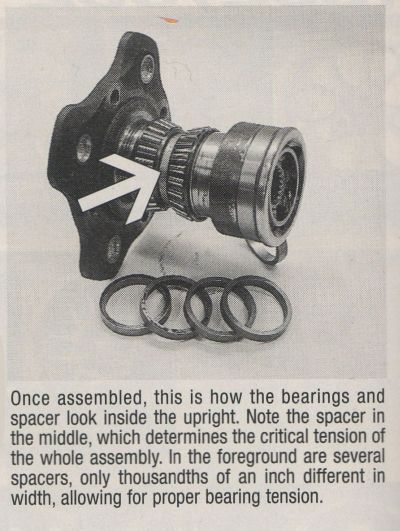 We've illustrated the process to make it easier to understand, but since it requires special tools and lots of time to do right, we recommend finding someone familiar with GTXs to do the job.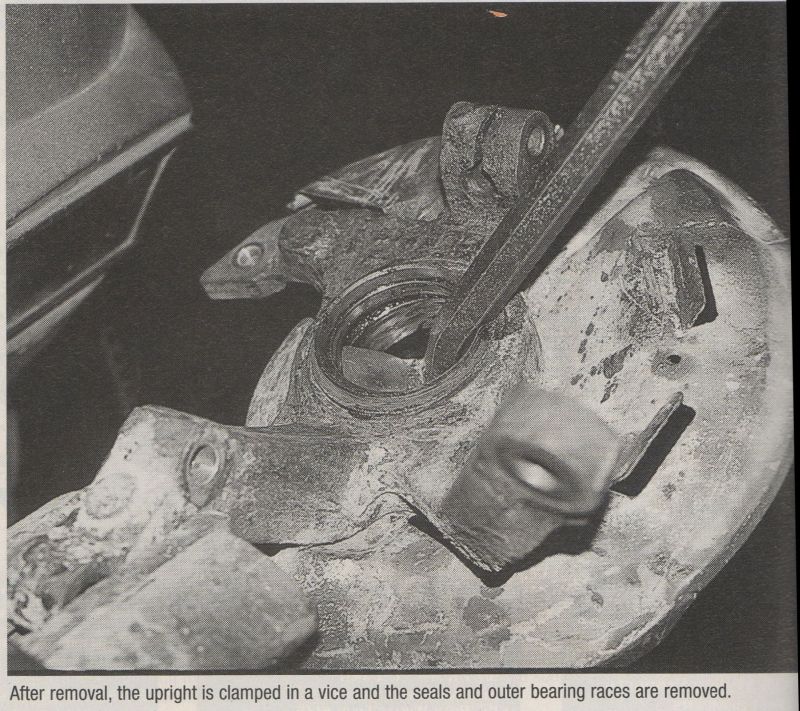 Details, details, details…
Finally, we should mention that despite all the repairs to the car we actually made a few changes that weren't vital to the survival of our wanna-be rally car.  We added a set of Team Dynamics Motorsport wheels in the company's anthracite finish for street use. These 15×6.5-inch wheels are available in a positive 49mm offset so we spaced them back to 46mm with 3mm space is. Using 195/50-15 tires we've managed to avoid clearance issues up to this point. However, it's an extremely tight fit (only a few millimeters) between the tire and our new struts in the rear. We suspect that with smaller stock struts clearance would be greater.
Next month
In the September issue we'll bring you the updates to our suspension that allowed for our striking lead shot this month as well as addressing  the basics behind the GTX's various distributor problems. We'll also discuss the installation of our Toucan Industries driving lights. After that, we'll attack power enhancements in the order Road/Race recommends and take the appropriate safety measures to be sure we keep our prized B6 powerplant in one piece.